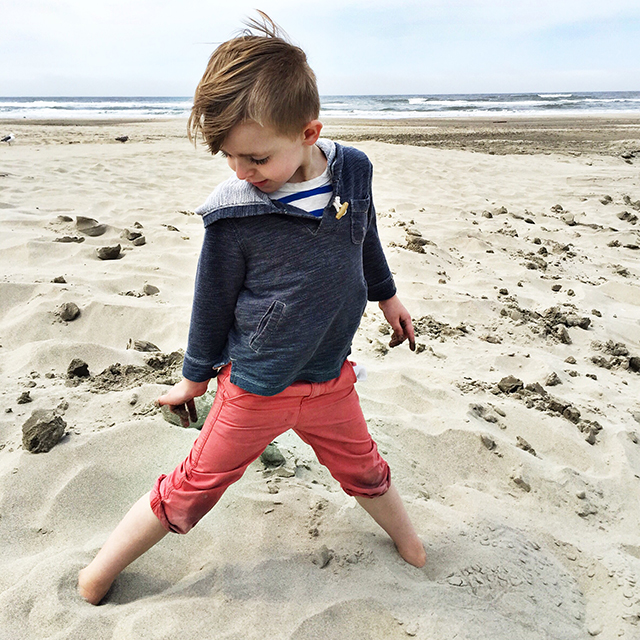 I should have admitted this to myself about a year and a half ago… evidently the toddler years end around age 2 1/2. I've been holding onto that term "toddler" because I am not quite ready to admit my little guy is growing up. I'm in love with each and every stage he has leaped right through. I'm happy he is growing up. It just seems so fast!
Four years ago today I was in labor waiting to meet my little man. This weekend we will be celebrating his 4th birthday. How does it all happen so quickly?
I'm of course in the midst of planning his 4th birthday party. Last year we did a simple pizza party with friends and family and I don't think I even took any photos because I was just enjoying the day. This year, being his last birthday as an only-child, I wanted to do something to make it a little more special. I don't believe parties have to be big or elaborate to be special, so it is still a small pizza party with friends and family. But, we are pulling out a few special items to help give him a few moments before little brother gets here and the attention gets shared.
This year we are doing a "rock n' roll" themed party, because my kid is completely rock n' roll. He loves music, clothes, the spot light, mohawks, and just "rocking out." Our gift to him, which is larger than any gift we would normally give, is actually a double gift in a way that it is going to be our way of continually and intentionally connecting with him after baby brother arrives. He will be getting drum lessons from his drummer uncle and then my husband and I will take turns going out and practicing with him on his brand new set of drums. We will get half an hour to a full hour of one on one time with him and will get to learn something fun and new. We've seen him on a drum set before and know he loves them. I hope that he loves this gift!
This little guy grew up on this blog and I thought I'd share some of my favorite posts dedicated to my Well Crafted Kid…
A Well Crafted Kid:
A Well Crafted Kid's Birthday Parties:
— Third birthday was a pizza party with friends and I didn't blog about it! For shame. :/
And, because it is World Breastfeeding Week check out my series on breast feeding (both the ups and downs) that was published in 2012 and featured the experiences of several different moms!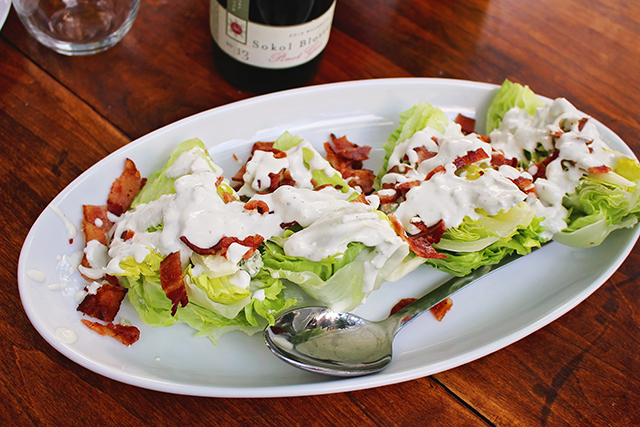 These days you rarely see me in the kitchen anymore. My husband has been taking up most of the kitchen duties due to the combination of a killer work commute and the pregnancy. The few days a week that I decide to venture in to make something I either way over do it and create a 9 course meal based on pregnancy cravings, or I choose to go with super quick and simple dinners that I can throw together in less than half an hour. This recipe is the second of the two. I paired this super quick and easy classic wedge salad with a simple (and delicious) stuffed ravioli dish. However, the wedge salad can be a meal in its own right if you are just wanting to put together a delicious and quick Summer meal.
This recipe makes an easy dinner side for four people or a simple dinner for two!
Ingredients
1 head ice berg lettuce
1/2 lb bacon, cooked & crumbled
fresh ground pepper
blue cheese crumbles for garnish
1 cup homemade blue cheese dressing
OPTIONAL: Cherry tomatoes quartered
For Dressing:
1/3 cup blue cheese crumbles
3/4 cup sour cream
2 tablespoons mayonaise
1/4 cup whole milk
2 tablespoons white vinegar
Salt & Pepper to Taste
Instructions
Put all of the ingredients for the dressing into a bowl and whisk together. Refrigerate for up to a week if not using right away.
Cut butt end off of the ice berg lettuce and then quarter the wedge, trying to keep the leaves together as much as possible.
Drizzle the dressing over the iceberg lettuce wedges.
Top with crumbled bacon and optional tomatoes.
Garnish with more crumbled blue cheese and LOTS of freshly ground black pepper.
http://www.awellcraftedparty.com/2015/08/06/easy-dinner-side-classic-wedge-salad/
Fun variations on a wedge salad:
— Change out the bacon for some lovely crisp chorizo for a flavorful variation on the classic. Try using a smoked bacon or cured Italian meat for another twist.
— Add a little Worcestershire sauce to your blue cheese dressing.
— Substitute butter milk for the milk and leave out the white vinegar for a tangier dressing.
— Change out the lettuce for a more nutritious variation… though, I am a traditionalist when it comes to the lettuce for a wedge salad. I rarely ever eat iceberg lettuce, but when I do it is usually covered in blue cheese and bacon!
— Serve miniature versions of this as a side at a party or perhaps a build your own wedge salad bar with a variety of fun toppings.
You can also use a store bought blue cheese dressing for this recipe to make it even simpler. I just happen to like the flavor a freshly made blue cheese dressing!
---
This post was created in collaboration with Grocery Outlet. All opinions are my own. Thank you for reading and sharing posts that are created in partnership with brands that help support this blog.Grocery Outlet operates 210+ stores in California, Idaho, Nevada, Oregon, Pennsylvania, and Washington.Visit the Grocery Outlet website to find a store near you and sign up for notifications when their new ad comes out!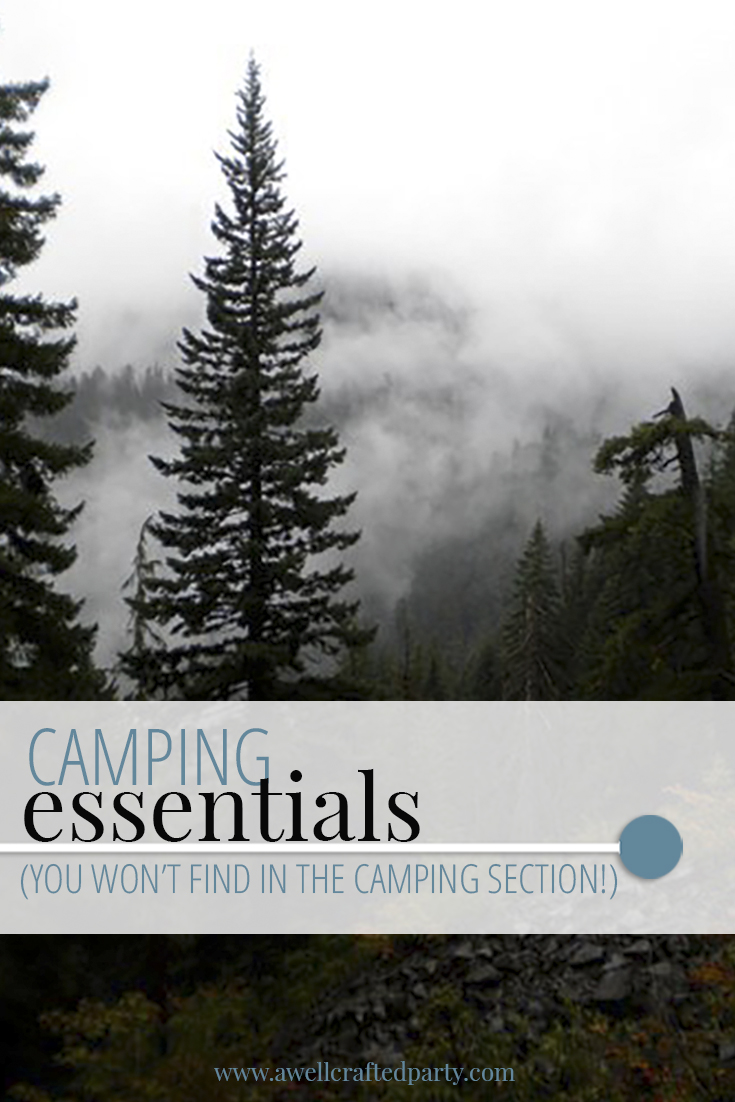 We've been doing a lot of camping this Summer to get away from the Portland heat. Our camping supplies have grown over the years from fairly basic sleep on the ground in sleeping bags to quite the array of convenience camping items. (Pregnant camping needs to have some conveniences!) Someday I'll share a list of all the camping items we've found indispensable, however today I sort of have an ode to three items that have become camping essentials for our family and are not found in the camping section!
Three camping essentials—not in the camping section of the store!
I have not ventured to check out all of the camping stores out there, and likely there are some version of all three of these items that you CAN find in the camping section of the store. However, they'd probably cost a lot more and be a little more fancy than you really need. Here are the three items I'll never leave at home while camping. (Some of the below links are affiliate links. Purchases from affiliate links help support this blog with no extra cost to you my awesome reader!)
I will never camp again without baby wipes.
These little work horses do wonders when camping. Every time we go camping we purchase (or refill, because, let's be honest, I buy these puppies in bulk) baby wipes for our trip. The wipes sit out on the picnic table for any and all to use for cleaning up hands and messes with ease. I especially like these for when the guys go tinkle out in the forest (my son's favorite new pastime) because they wouldn't be likely to wash their hands afterwards if it weren't made this easy. I'm usually cooking when we go camping and having the wipes there for quick clean up of my hands in between touching different meats/veggies/sauces helps keep things from cross contaminating or just being gross. They are great for wiping hands up after applying bug spray or sunscreen as well! Yep, never going camping without baby wipes again.

I will never camp again without face wipes.
Seems silly to have both baby wipes and face wipes. And, before recently, I just went camping with baby wipes. However, on a recent trip a friend brought along her cucumber facial wipes and using them at night and in the morning was so refreshing that I quickly added it to my 'must have' list for camping. Often we camp at campsites that do not have great restrooms with showers or even sinks. We like the rustic camp sites the most for how secluded and off the beaten path they are, but can feel gross quickly without those hygiene conveniences.
While baby wipes will do the trick, the face wipes are much better for taking off the grime and leaving you feeling clean and refreshed. Last time we went camping I used as a little sponge bath to boot. I never felt gross the whole trip! (Though, better believe that shower when I got home was just as amazing as ever!)
I will never camp again without a red solo cup.
I
'm about to get much more personal on this blog than I ever imagined. However, I am doing it for the good of womankind…
I cannot squat and pee outdoors. It is impossible for me. I've tried every trick out there and somehow always end up peeing all over my pants. I'm not about to go get naked in the middle of the woods just to relieve myself, but I also hate making the trek to the restrooms in the middle of a dark, cold evening of camping.
Story Break: I've loved camping for a very long time. So much so that we registered for a ton of camp gear when getting married and camped while honeymooning. It was wonderful and oh-so-romantic camping with my brand new husband. That is, until the first evening, when it was FREEZING at night in the mountains of Colorado in the early Summer months, and I had to pee in the middle of the night. We were at a very rustic campsite and the restrooms were way too far away for me to get there in time. I tried squatting down in the bushes and ended up wetting my PJs so throughly that I had to wake my brand new husband to help me find new pants and find somewhere I could put my freshly wet PJs so they wouldn't stink up everything we brought. SO embarrassing.
We've been camping together for nine years now and I haven't really been able to perfect the art of peeing outdoors. About four camping trips ago I decided to try peeing in a cup instead of trying to squat. We had thrown a pack of red solo cups into our camping items because we were going with a group of people and we didn't know if they'd be prepared with water bottles or cups of some sort. I grabbed a cup and went off into the woods. I was able to easily relieve myself with little to no effort. The cup lasted the evening and then was easily disposed of the next day. Not the most eco-friendly option, I know, but it was an easy and clean way to deal with the one aspect of camping that had really been difficult!
If you are anything like me and cannot squat and pee outdoors while camping, I recommend a red solo cup. (Doesn't really need to be red.) 😉
What are your camping essentials?