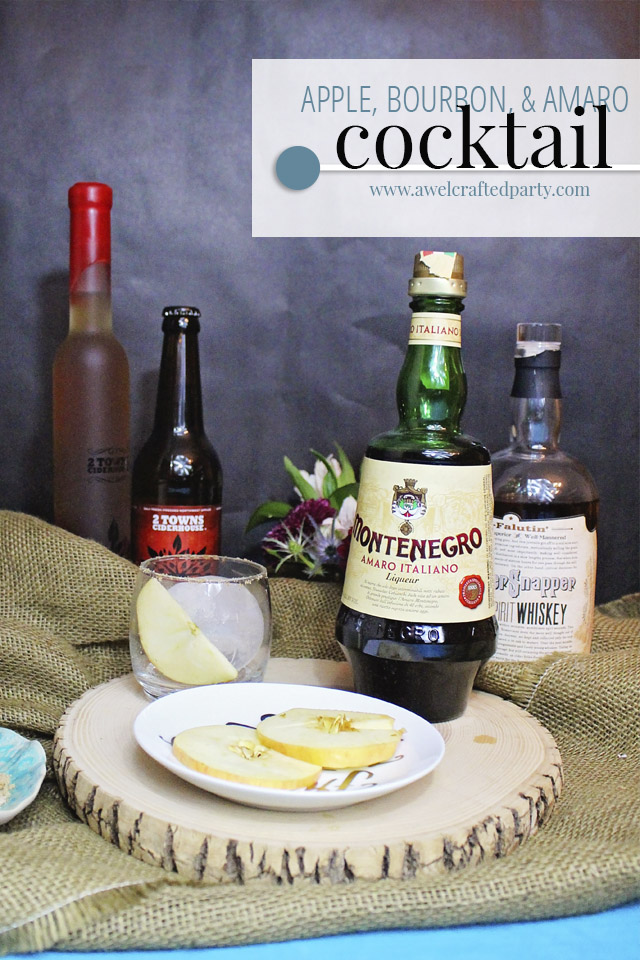 A lot of cocktails are simply too sweet for my tastes. Don't get me wrong… I like a sweet drink on occasion, but the sweetness can often be overpowering and give me a headache the next day. When a drink is smooth and has a complicated, but tasty profile I really dig it and come back to those type of drinks over and over again. In the Summer I gravitate towards refreshing flavors of free herbs and (usually) Gin. In the Fall I want spices and (often) Bourbon. The drink I'm sharing today is absolutely a Fall cocktail. I received a complimentary bottle of Amaro Montenegro for purposes of review. All opinions are my own. Please enjoy the Fall cocktail recipe I created plus a few tasty fall cocktails from Amaro Montenegro! This post is intended for readers of legal drinking age. 
Amaro is an Italian bitter herbal liquor that is often served as an after-dinner digestif. Amaro Montenegro has an alcohol content of 25%. Due to the bitter sweet flavor of the Amaro I decided that I would use it similarly as I would a bitters or vermouth in a cocktail. It gives the cocktail a complex layer of flavor that keeps it from being overwhelmingly sweet.
I knew from the moment I tasted Amaro that I wanted to use it to create a Fall cocktail that was complex in flavor. For a while I was really stumped on the type of cocktail I'd make. But, then I went to an Apple Cider tasting and found some beverages I felt would really pair well with the flavors of the bitter liquor. I chose to pair it with a dessert wine made from apples, a spiced apple cider, and bourbon. The flavors ended up going really well together. It is a pretty strong beverage however, so proceed with caution! This drink would be perfect for sipping next to a fire pit on a cool Fall evening.
Fall Cocktail with Apple, Bourbon, and Amaro Montenegro
Ingredients:
– 1 1/4 oz Bourbon of choice
– 1/2 oz Amaro Montenegro
– 3/4 oz Apple Wine
– Top with about 2 oz of a spiced apple cider
– Mixture of Brown Sugar, Granulated Sugar, and Cinnamon to rim your glass (optional)
– Apple slices for garnish  (optional)
– Ice (you can choose to shake over ice, strain and serve up or serve over ice)
– Glassware of choice (martini glass for serving up and rocks glass for serving over ice)
Directions: 
For Serving Up: Wet the outside of your glass by rubbing an orange slice around the rim or dipping the rim into some of the apple wine. Dip the rim into the sugar and cinnamon mixture to give it a light coating. Then, combine the ingredients except for the spiced apple cider into a shaker filled with ice. Shake until well chilled and strain into a large martini glass. Top with approximately 2 oz of spiced apple cider. Garnish with apple slice and enjoy!
For Serving on Rocks: Wet the outside of your glass by rubbing an orange slice around the rim or dipping the rim into some of the apple wine. Dip the rim into the sugar and cinnamon mixture to give it a light coating. Then, combine the ingredients except for the spiced apple cider into your glass on ice. Stir well to combine. Top with approximately 2 oz of spiced apple cider. Garnish with apple slice and enjoy!
Some other yummy cocktails to create with Amaro Montenegro:
Monte Jack-O-Lantern – Derek Brown, Underdog:
1.5oz Amaro Montenegro
1oz pumpkin puree
1.5oz rye whiskey
3/4oz cinnamon syrup
3oz heavy cream
Nutmeg
Cinnamon
Autumn in New York – Derek Brown, Underdog
1.5oz Amaro Montenegro
1/2oz Allspice Dram
Hard Cider
Orange wheel
Stir Amaro Montenegro and allspice dram in a glass with ice. Top with hard cider and garnish with an orange wheel.
Shake all ingredients except cream over ice and double strain into a coupe glass. Pour heavy cream into a shaker and shake until thickened. Float the cream on top and dust with freshly grated nutmeg and cinnamon.
Have you ever tried Amaro? If so, what is your favorite way to drink it?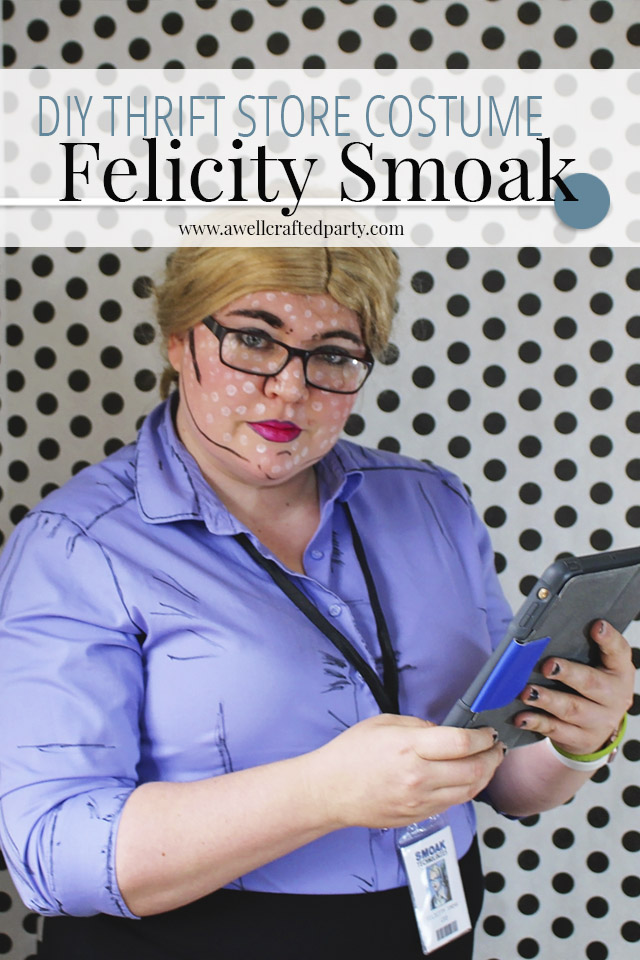 This Halloween DIY post is sponsored by Deseret Industries. Portland's Deseret Industries Thrift Store and Donation Center is located on SE 82nd Street six days-a-week. I created my Felicity Smoak costume out of materials from my closet, the craft store, and items thrifted from Deseret Industries. All opinions are my own. To learn more about my posting policies regarding sponsored posts please visit my policies page. As always, thank you for reading more about the companies that help support this blog. 
Can you believe that Halloween is just around the corner? I feel like the month has flown by and suddenly the holidays are here! Over the past eight years my husband and I have hosted a Halloween party. Some years the parties are more elaborate than others, but it is always one of my favorite parties to plan each and every year. This year's theme is Comic Books and I'm having a blast coming up with decoration and costume ideas for the party. I'll be sharing several projects between now and Halloween. So, check back for all the comic book party ideas which will work for Halloween parties or really any comic book themed event year-round.
I knew I wanted to be Felicity Smoak for this year's comic book Halloween party. I basically live in a pony tail and glasses and am always glued to my screen so I pretty much fit the bill. My husband is going to go as the Green Arrow. My oldest son is going as The Flash. My youngest as Roy Harper/Arsenal/Red Arrow. Our little cast of comic book characters required a hodge podge of different items to create our looks. The Flash costume (affiliate link) was affordable and easy to find via Amazon but, the rest of the costumes I created using a combination of purchases from Amazon, the craft store, my closet, and our local Deseret Industries thrift store.
My visit to Deseret Industries Thrift Store in Portland was fruitful! I have been surprised in the past at how expensive thrifting in Portland is (being trendy and all) but at Deseret Industries I was happy to see the pricing be more in line with what thrift stores in my past have been like. I was able to get several comic books, comic-book themed masks, and clothing items to use for costumes all for less than $50. In my haul I grabbed a couple of business attire type items to see which would work the best for the Felicity Smoak costume.
I love thrifting for costume elements. However, if I hadn't gone in looking to MAKE my costumes I would have been fine to find a pretty wide selection of Halloween gear. There were several racks of Halloween costumes and accessories in the store.
DIY Felicity Smoak Costume
Attire: I ended up working with the blue shirt (looks purple above due to poor lighting as I worked on my costume at midnight!) and black pencil skirt to create the look. I then used a black paint marker to cel shade the shirt so it looked more like a drawing.
Tips for Cel Shading a shirt: In order to cel shade the shirt I first ironed out all the wrinkles. I then went through and outlined all of the seams in the shirt. This gives a good general outline that you would see in any comic. The hard part, of course, is creating the shadows that you would see when someone wears the shirt. I looked pretty hilarious as I was wearing the shirt and shading in the natural creases as I was wearing it! Once it was all said and done however I was pleased with the results!
Accessories: I paired it with a handmade name badge utilizing a comic book picture of Felicity Smoak and an old lanyard and badge holder I had from a previous work conference. I finished off my look with a blonde wig put in a pony tail and a tablet.
Makeup: I wear business attire most days and didn't want to just wear my hair in a pony tail and have on pink lipstick. It wouldn't really get across the idea that I was the Felicity Smoak comic book character. So, I continued my fun with cel shading and did comic book inspired makeup. I shaded in my eyebrows and the edges of my face. I also created the comic book dot look with white paint. (Check out this tutorial for tips on creating this Felicity Smoak make-up look!)
The kiddo and I had so much fun taking photos dressed up for Halloween. I can't wait to break out the costume again for our Halloween party and see it all combined with other members of our little comic book crew!
What are you wearing for Halloween this year? There is still time to pick up last minute items!
About Desert Industries: Deseret Industries is a national non-profit thrift store that provides employment, sponsors refugees and offers vocational and professional training for its associates. The stores collect inventory from individual local donations, enabling associates to process and recycle that inventory to fit others' needs — a circular strategy of service and learning that benefits the entire community. For more information, visit www.deseretindustries.org
Check out other Halloween Posts from A Well Crafted Party here!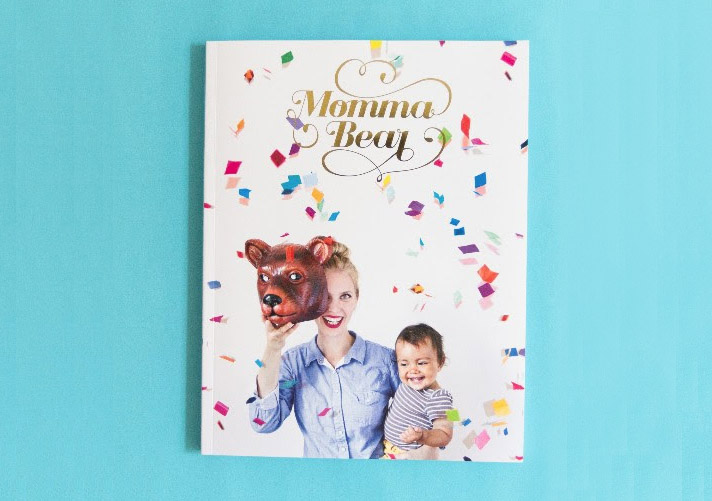 The past few weekends have been filled to the brim with fun Fall-like activities. This weekend, like last week and all of next week, has been pretty much work, work, and more work. Thankfully, I really like my job.
Even with all the work I did have a little time to enjoy some of my favorite fall traditions and read through the newest issue of Mamma Bear Magazine.
Fall Favorite: Fall Foods
Basically every chance I get I am now roasting all of my favorite Fall foods. I haven't had a ton of time to cook recently and I really didn't have time to cook this meal (which took upwards of two hours) BUT, man… I really wanted some tasty Fall foods. It is simply comforting. I roasted up some butternut squash and then made a puree out of it. I served it along side sautéed bok choy, roasted sweet potatoes, and roasted yellow peppers.   The main course was a smoked gouda and apple stuffed roasted chicken. It was GOOOOD.
Fall Favorite: Halloween Prep
I might enjoy the prepping for Halloween as much as I love the holiday itself. It is all kind of wrapped up in one for me. This year I am doing a comic book themed Halloween party and family costume. I was fortunate enough to get to partner with local thrift store Deseret Industries to pick out some items to help create my costumes. Look forward to seeing posts on how I created my comic book themed costume from items found while thrifting.
A Well Crafted Party featured in Mamma Bear Magazine
My favorite part of this whole weekend was receiving my copy of Mamma Bear Magazine in the mail! It is chock full of great articles on motherhood and beyond. I am excited to share that I wrote a little article for the magazine titled, "The Art of a Stress Free Party." This gorgeous magazine is available for purchase at www.mommabearmag.com.
How was your weekend? Did you do anything fun?