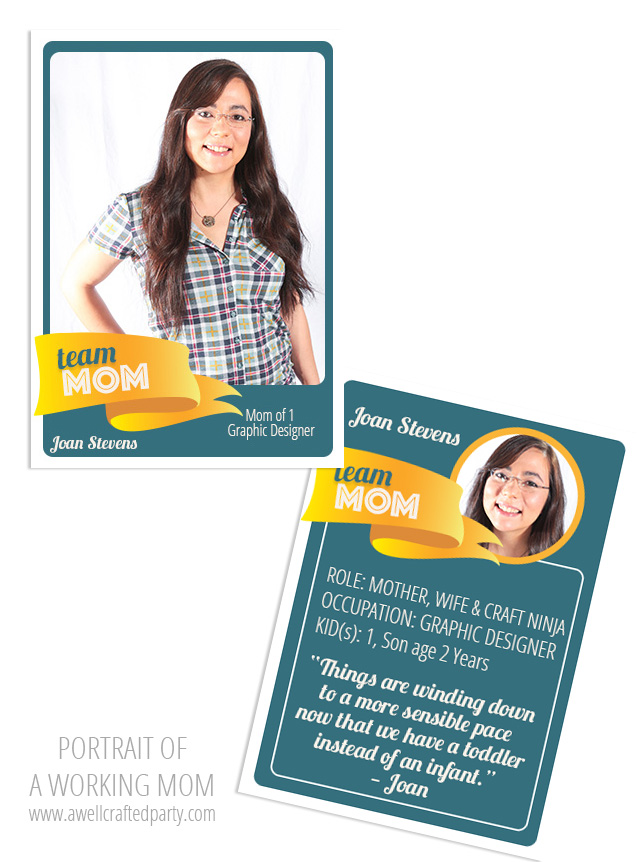 Meet Joan, a working mother and a part of a blog series of stories of working moms. I'm excited to share 13 stories from real working mothers. I also really would like to hear YOUR story and I'd love to hear it. Keep the conversation going in the comments & on social media using #wellcraftedworkingmoms. A huge thank you to the women who volunteered to share their stories, Mary Boyden of Mamma Bear Magazine for her photography and Madeline Roosevelt for hair and makeup!
Joan and I are nearing our ten year friendaversary. We met through my husband as she was a coworker of his at Borders. Joan and I have been through thick and thin over the years and I can truly say that I think of her as a sister. She is my first son's Oddmom and has been a wonderful constant in his, and my life. She is also featured all over this blog so she may be a familiar face for many of you.
I knew long ago that Joan was a fantastic graphic designer. (Check out the work she did on my first and second baby showers. Amazing, right?) I'd honestly equate her ability to turn nothing into something beautiful as magic if I hadn't seen her doing it time and time again. On top of a talented worker, Joan is an amazing parent. I often learn tricks and tips from just watching her with her son or mine. I'm very excited that she agreed to do this interview with me.
Meet Joan, a working mother
Joan and her husband have been together for about fifteen years and have been married for ten of those years. Their son Desmond is two years old. Joan worked as a graphic designer in the printshop of a healthcare company before, during and after her pregnancy.
"I worked throughout my pregnancy, until 2 days past my due date (well into the largeness that makes people's eyes go big with concern.) It was a big priority for me to spend as much time as possible with the kiddo once he arrived, and working right until delivery day was part of the scheme," she said. 
Joan shared about why she likes her job, "My job is a nice mix of creative work and craft. I really love working in print. I love the noise and busyness, the smells of ink and paper. I like bending technology to my will, and using the tools I have to make things more beautiful, useful, and intuitive. I love the moment when a piece of the design falls into place; you exhale, and everything is quiet and peaceful inside. In my more vain moments, I really like seeing something I designed, crisp and perfectly trimmed; or as an enormous print."
She also has found that it is pretty difficult to beat the benefits of working in a union shop at a healthcare company.
She explained, "There is a LOT of comfort in knowing that if something goes horribly wrong with our health, that we won't be broken financially."
In thinking about working during her child's early years she shared that though this is a hard time, it is ultimately what is best for their family.
"I have a lot of fears about leaving the field and not just losing ground professionally, but also losing the confidence it takes to do creative work for a living," she said.
A typical work day in the life of a graphic designer and mother of one
"Things are winding down to a more sensible pace now that we have a toddler instead of an infant. He still needs pretty constant attention, but he'll play independently more often. Also, no more pumping/bottle cleaning shenanigans. Or waking up at all hours of the night," said Joan of their daily work-week schedule. 
She wakes up around 6:45 in the morning. Her husband will make the coffee and pack bags while she gets Dez dressed for the day and ready to head out the door. They leave the house by 7:30 AM and she does her one hour commute that includes daycare drop-off. She typically arrives to work at 8:30 AM.
During her lunch break she typically runs errands, naps, or takes a walk and chooses to eat at her computer. She leaves work around 5:15 PM, picks up her son and is often home around 6:15 PM.
Brandon usually makes the family dinner while Joan spends time with the kiddo. They eat as a family and Joan cleans up while Brandon spends time with Dez. They finish the evening off with some family time before starting the bedtime routine of bath and books. 
"Kid's down by 9:30 and by then we're usually pooped," she said. 
When my child is an adult and looks back at his childhood, I want them to know…
"I think our generation has had a tough time of learning how to be married with undefined gender roles. Each couple finds their own way. It's hard to find a balance that doesn't leave anyone feeling resentful or less than. But when a balance comes, I think it can make for a very profound partnership. As we work on this partnership, our balance right now includes us both working. Dad cooks. Mom cleans. Dad does laundry and mom folds. We take turns with the yard and garbage. We both parent. I hope that as an adult, Dez knows the need for compromise and communication in his relationships—however the norm falls for the next generation. I also hope it lets us both have a close and nurturing relationship with him as he grows up."
Maternity Leave, Childcare & Mom Guilt… oh MY!
I absolutely had to ask a few questions about some of the topics that often come up for the working mom such as maternity leave, childcare, and the challenges & joys of working. I love the answers so much that I felt it was best to just put it in their own words. Read on to learn about the ups, downs, ins and outs of Erin's working mom experience!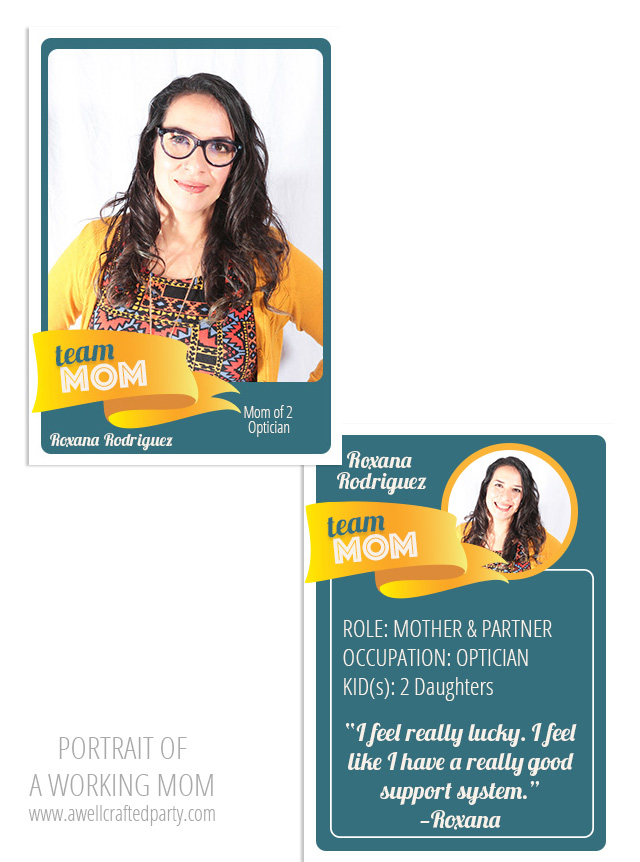 I'm excited to introduce you to Roxana a working mother of two! This post is a part of a blog series of stories of working in motherhood. I'm excited to share 13 stories from real working mothers. I also really would like to hear YOUR story and I'd love to hear it. Keep the conversation going in the comments & on social media using #wellcraftedworkingmoms. A huge thank you to the women who volunteered to share their stories, Mary Boyden of Mamma Bear Magazine for her photography and Madeline Roosevelt for hair and makeup!
You don't forget meeting Roxana. She is such a force of nature (in all the right ways). She is outspoken and passionate about what she believes in. She is kind, caring and funny.  I met Roxana about three years ago at a blogging event. We've since caught up at different parties, girls nights and Facebook.
I was fortunate enough to get to join Roxana for brunch for this interview which felt like the best way ever to get in a catch-up-on-life session AND learn about how she feels about being a working mom. Our conversation also veered into being a mom to girls and the challenges that that can present. I'll be bringing back some of that part of the interview for a future post!
I'm very pleased to get the opportunity to introduce to you…Roxana!
Meet Roxana, a working mom
Roxana and her partner have been together for nine years. She has two kids, Kamilah and Xamara. She had her oldest Kamilah in 2009. Before and during her pregnancy she worked as a cocktail waitress on night shifts. She left her job as a waitress when, at seven months pregnant, the job became too physically demanding. After having her first child the couple decided it was more financially workable for Roxana to stay home with her than going back to work and paying for childcare.
"So, we did that, it was a couple of years of being pretty tight on money," said Roxana of that time, "The economy tanked and [my partner] works in the car business and it was really, really rough on the car business, especially like domestic cars. It was pretty rough."
She continued, "It definitely humbled me at the time. I remember having to stand in line at a church, waiting for a food box."
Roxana said that while she had been really poor in her life before it was never on her shoulders to feed others but rather her mother's shoulders. Roxana looked back and remember the different sources of where food came from when she was a child— her mother provided for the family in different ways including brining home leftovers after volunteering at the farmer's market or from her grandfather brining by foods while they lived in Mexico.
Roxana is currently living with her two daughters, partner and younger sister. Her mother-in-law also lives on the property.
After Xamara, her youngest, was around two years old she and her partner were looking to purchase a house and decided that they needed the extra income of her working. Roxana has worked in the optical industry for a large portion of her life and it felt natural for her to look for a job in that field because it is a pretty stable field and because she has a lot of experience it would pay her well.
"We decided that I needed to make a certain amount and I needed to have certain days off just because logistically my mother-in-law couldn't watch them on Fridays," she said of her new work needs.
"I had a few interviews and the one that seemed pretty solid asked what I wanted to get paid and what my schedule was like," Roxana said of the interview process. She was shocked to find that the interviewer was open to what Roxana thought might be a ridiculous amount of pay or schedule demands.
"It was kind of like if they meet this ridiculous list of demands then I'm going to work. If they don't then I'm not gonna. But, they did… so, I started working," she said.
She is now at a different office but is still currently working as an optician.
"[My employer is] really flexible with my schedule. I am really lucky. I work Monday through Thursday. If I need to go pick up my daughter or my kids are sick they are really understanding about stuff like that, which is really great," she said of her new job that is less of a commute than her previous job had been.
"It's hard to find places like that," she continued, "I feel like usually when you find it, it is with small businesses which is where I'm at now."
A typical work day in the life of an Optician that is a mother to two
After getting out of bed for the day Roxana typically makes the girls breakfast while her partner irons Kamilah's uniform. The girls are able to get themselves dressed for the day so Roxana is able to clean up after breakfast. She then goes up and does the girls hair.
"I have to do their hair every morning. Curly hair girls have to have it in braids," she said.
Roxana's partner takes Kamilah to work. Xamara will either go to her grandma's house or stay home with her father if it is his day off.  
After work Roxana likes to make a meal for the family. 
"I do a meal planner that I loosely abide by, like I usually I do have all the ingredients. I loosely abide by it. Like, if I don't feel like having chili that night then I'll do a recipe from a different night," she explained. 
"Sometimes even when I have the ingredients and a plan I don't feel like cooking, so we have peanut butter and jelly for dinner or cereal for dinner—which, actually, the kids love," she said. 
Maternity Leave, Childcare & Mom Guilt… oh MY!
I absolutely had to ask a few questions about some of the topics that often come up for the working mom such as maternity leave, childcare, and the challenges & joys of working. I love the answers so much that I felt it was best to just put it in their own words. Read on to learn about the ups, downs, ins and outs of Erin's working mom experience!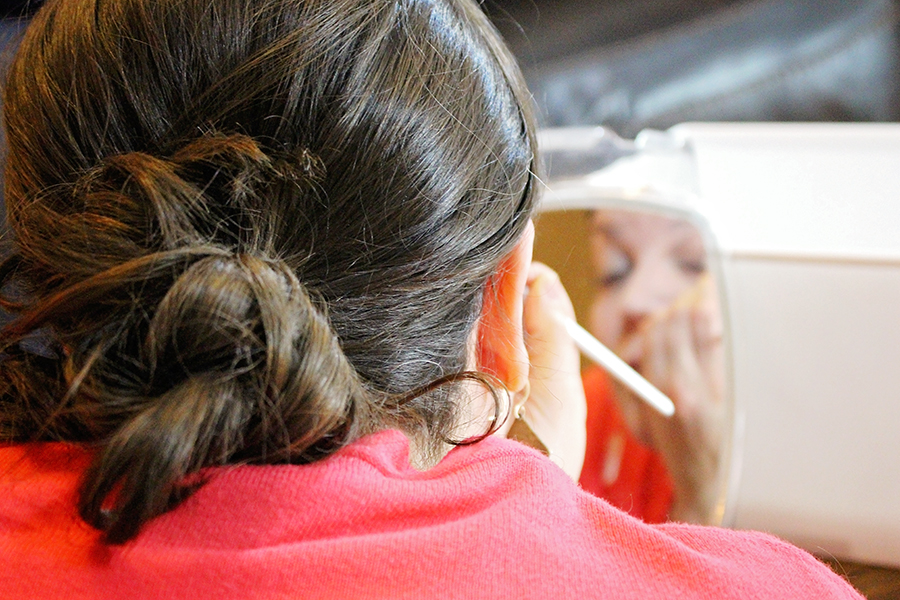 I was sent a variety of Mineral Fusion makeup and beauty supplies to try out and invited some friends over to test out the different makeup options and just get a little silly. My friends are absolutely awesome in that they gave me permission to share their before and after photos as well as some makeup tips.
Stay tuned over the next few weeks as I share more beauty posts including more featuring some of the products sent by Mineral Fusion. While the makeup was sent complimentary with hopes for coverage I only post about brands I enjoy and think you will enjoy as well. For more information about my posting policies visit my policy page.
Testing Mineral Fusion Makeup on Four Different Skin Tones
My friends are gorgeous. I'm just gonna put that out there. They are beautiful ALL the time—inside as well as outside— and they absolutely do not NEED makeup. However, at times, all four of our little group occasionally LIKES to wear makeup. Some of the members of our little tribe LOVE makeup (well, me), some wear a small amount daily and others of our group wear it as they feel it fits the occasion.
We cannot often share makeup however because we are of four very different skin types. Alicia is very pale, you know, that really creamy milk complexion? Joan has an olive complexion. Rachel is also of olive complexion but it is a slightly different tone than that of Joan. Me? I'm basically RED. No, I have a fair complexion that is always more than a little rosy. (See my before photo if you don't believe me.)
Okay, embarrassing photos aside…
We made a bit of a ladies night out of the whole testing situation and enjoy some snacks and wine while helping each other find the right colors, put makeup on, and take photos. The four of us hang out often and are nearly always silly. But, sitting together putting makeup on was a bit new for us. We had a great time, but it did feel a little like a throw-back to high school!
Speaking of high school… that was the last time I wore mineral makeup regularly. My dad sold mineral makeup in a multi-level marketing type situation. I had the best products! But, I didn't find them to be very fast or tidy like some of the compact and multi-use products that I'd find in the stores. After high school time became a commodity and I didn't really spend a ton of time on makeup so I lost interest.
For the most part, mineral makeup has CHANGED since my high school days. The only thing I can say that has stayed the same— mind you, this is a different product than I used before— is quality. I LOVE the way mineral powders cover and sit on the face.
Favorites from the Mineral Fusion Makeup Line
I was sent a variety of items to try and didn't find one item that I could say that I didn't like. However, I do play favorites when it comes to my makeup stash. I need items that do the trick FAST and are travel friendly. (I'm not gonna lie, I often do my makeup in my car in the parking lot when I arrive to work.)
Links below are affiliate links. Affiliate links help support this blog while readers shop with no extra cost to the reader. 
Mineral Fusion Facial Moisturizer Intense Hydration — Mmmmm… my face hasn't felt this good in a LONG time. Remember how I just had a baby a couple months back? My skin has been whakadoodle for the past year and a half due to hormones and being too tired to self care properly. I was sent two different facial lotions and LOVE them both. These are not inexpensive lotions, but after using them for about a month now I know that I'm a life long customer. At 32 years old it is time to moisturize regularly.
Mineral Fusion Makeup Primer  — This stuff makes the makeup go on like buttah. When I have little to no time at all I'll slap on some lotion, follow with this primer and then dust on my loose powder. My skin looks less red and much more smooth in a matter of two minutes. Slide on some Lip Butter and mascara and I look put together and ready for the day.
Mineral Fusion Compact Pressed Powder Foundation — I'm a huge fan of loose mineral powder, but it isn't exactly travel-friendly and can be quite a mess if trying to put your makeup on in the car. I love the pressed powder foundation for the ease of use with similar results to the loose powder. Their bronzer and illuminating powder also come in compact form.
The final looks
I had no problem finding a shade that matched my pink fair skin tone. Of course, I usually don't! I topped my look off with lipstick in the shade Charming and loved the final look.
I was more concerned in whether my friends would find makeup to work with their skin tones. Alicia was able to easily work with the fair foundation and light powder to match her milky complexion.
We had an olive shade of foundation, olive shade of BB cream and olive powder for those with olive skin tones. Joan and Rachel ended up using both the foundation and the BB cream, topped with the powder, to get the foundation strength that they desired. However, the results were gorgeous!
Thoughts about the test
I have enjoyed using Mineral Fusion a lot since they sent the products and I tested them with my friends. I have gifted it a couple of times and gone back to purchase additional colors of eyeshadow. Overall, for me, that is the real test— will I purchase after I've used my samples? Yes. Yes, I will and have. They are at a high price point than your normal drugstore style makeup, but I feel like the purchase price is worth it.
About Mineral Fusion Makeup
"Our goal is to leave skin and hair in better condition than we found it. This includes selecting effective natural ingredients, as well as making our products free of gluten, parabens, talc, artificial colors, synthetic fragrances, SLS, and phthalates. We NEVER conduct animal testing, and never will, nor do we ask others to do so.We are committed to sustainability and utilize wind power, soy inks, packaging from recycled materials and packaging that is recyclable." — from the Mineral Fusion website
Mineral Fusion is sold in some Targets as well as most Whole Foods and New Seasons Markets. I'd highly suggest checking out their awesome store locator tool to find a store that carries Mineral Fusion near you. Or, hey, you can just buy online!
In addition to their dedication to sustainability, natural ingredients and safe testing practices Mineral Fusion donates a portion of sales to the National Coalition Against Domestic Violence (NCADV).
What is your favorite kind of makeup?