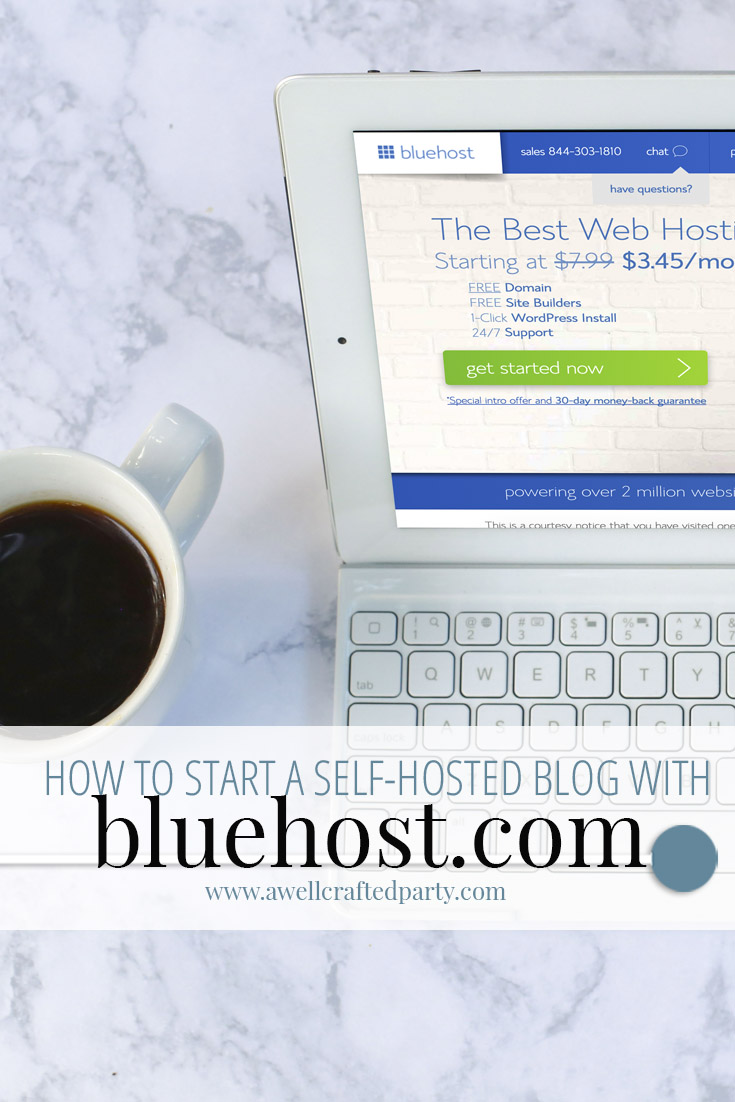 Before I get into the nitty gritty of How to Start a Blog, let me share some facts about me: I have run A Well Crafted Party for the better part of six years. In that time I've also began, designed, set-up, assisted with, and coached bloggers on starting and maintaining blogs. I run a local meet-up group and resource for bloggers where we have successfully hosted several different workshops for blogging skills. I have a free blog planner that I giveaway to help bloggers get to where they want to go. I've blogged and freelanced as a full-time gig and I've worked in Social Media and Marketing for a corporation that has eighteen sites in the United States in which I'm responsible for their social media platforms. I've spoken on panels and at state-wide conferences on Blogging and Social Media. I say all this not to brag. If I wanted to brag I'd share a whole different set of stats.
I say all this to explain why the question I receive most often is, "How do I start a blog?"
I also share it to say why I feel I am qualified to share the following steps. There are many, many ways to start a blog and while I'd love to go into them all, today I'll share my favorite tips for new bloggers.
This post does contain affiliate links marked with an *. I receive a portion of my affiliate sales at no extra cost to my readers. For more information on my affiliate programs and posting guidelines please visit my policies page.
The only absolute, you-can't-start-a-blog-without tip that I have is simple…
1. START
I can't stress this one enough. Planning the blog is great. Prepping content is awesome. But, at some point, you have to move from the planning and prepping to the actual doing. So, if you plan on starting a blog then make an investment upfront— whether that be purchasing hosting, buying your URL, or simply putting a big fat launch date out into the world so you have to stick with it— and get blogging! There are about a million ways to start a blog, but today I'm sharing how to start a self-hosted blog using BlueHost.com*.
2. Decide on a name — Pro Tip: Search for and purchase URL as soon as possible
Deciding on a name can be the hardest part of creating a blog! There are so many times when myself or someone I am working with have figured out an awesome name and finally went around to buy the URL and found that not only was the name taken, but there were several others using similar names.
Tips for creating a good blog name:
Think about your topic and what you'd like to blog about and search for name that fits that topic. Try to come up with a name that speaks to that topic. Search Engines love names that make sense. The easiest way to get a successful URL is to find a name that might be an exact match for your ideal reader. When creating this blog I started out blogging about crafting for parties and designing thoughtful parties that didn't break a budget—A Well Crafted Party felt like a perfect fit! I was happy to find that it was available and no one really had someone similar.
Stick with .Coms. This is a slightly controversial suggestion because there are so many different top level domains out there (i.e. .com, .net, .org) but the most common of those, .com, is the one most people will default to when trying to remember your blog URL. Government entities have .gov and non-profits do well with .org. Personally, I stick with .com for all of my URLs (and, yes, I own several).

For instance, when wanting to create a website for Portland Bloggers to discover or for people searching for Portland Bloggers to discover we instantly wanted… well, you guessed it, www.PortlandBloggers.com. We were sad to find out someone out there is sitting on that URL and hoping to sell it some day. I had to keep searching and finally landed on www.PDXbloggers.com.

Make sure there isn't competition out there with your chosen name. There is nothing worse than getting an idea in your head for a name and finding out that there are other sites/businesses out there using the same or awfully similar name. A couple of internet searches can easily tell you if there is competition out there utilizing your name. Stay away from super common names/phrases that other businesses use. You don't want to finally hit it big to just have to change your name because another company has rights to it.
Check your domain name here:
You can absolutely purchase your domain name now… or you can hop to the next step because you get a free domain name while signing up for hosting with Bluehost.
3. Purchase Hosting
There are a ton of hosting options out there and different blogging platforms to boot. Today I'm sharing the hosting platform I use for the majority of my websites, BlueHost.com. Signing up is easy. You simply need to select the big green button that says "get started now."
Selecting a hosting plan
This is where I feel like a lot of people get stumped. When you are just starting out then it is pretty easy to know that you don't want to put in a huge investment upfront. That is when the basic plan fits best. It starts to get confusing (and important) when you blog begins to grow. The majority of my websites run all on one plan— the plus plan. When I was blogging full-time I had increased my plan to the prime plan. I easily changed my plan when I needed less. I also know that if/when my blog becomes more of a full-time gig again I also have the option to upgrade my hosting to pro with even more performance increases.
Setting up your blog
The coolest thing that I've found with BlueHost is that setting up WordPress was seriously ONE CLICK. That is all! I was able to have my site up and running in just a few minutes.
What made you think of making the move to self-hosting? Are you self-hosted already? Why did you go that direction? Comment Below!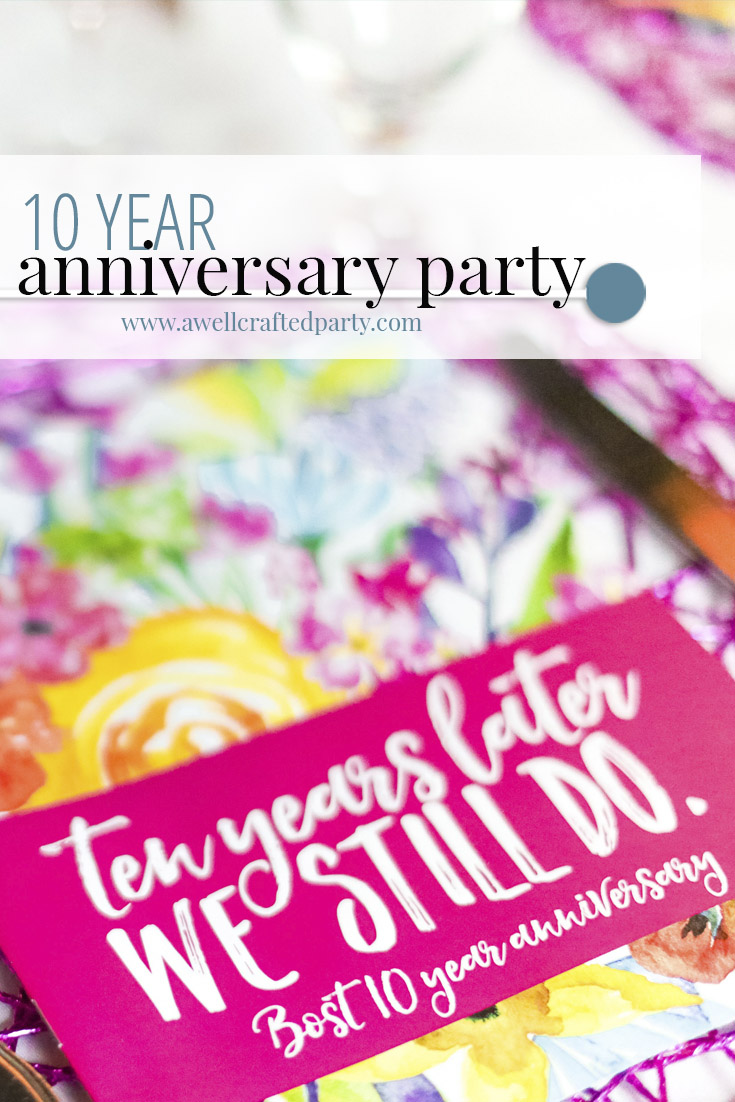 My husband and I got married right after I graduated college in 2006. We didn't have much of a budget or really any clue what we would really want in a wedding or large party. It was pre-Pinterest after all. We had a beautiful low-budget wedding with our friends and family that sparked my interest in throwing events. This party was ten years in the making and I am so excited to share the photos by Mary Boyden of our 10th Anniversary Party Decor! 
Why we decided to throw a 10th Anniversary Party…
Over the course of the years we grew our family and became close with new friends who didn't know us back when we got married. We knew that when our ten year anniversary came along that we'd like to take a moment to not only celebrate us, but to celebrate our friends and family a bit. We wanted to say thank you to those who had helped us make it the past few years as we have experienced the ins and outs of life. We believe in love and romance. But, we also believe in working on a relationship and the importance of a great support system. This 10th anniversary party was really our way of getting to say thank you. 
The look of the party has changed in my head over time, and didn't really get solidified until I chose our venue, but I couldn't be more thrilled with the way that it turned out. It was everything I had dreamed it would be and so much more. I still sit and dream about this day at times! 
Chosen venue for our 10th Anniversary Party in Portland, Oregon
We picked Andina for our party venue for a variety of reasons, one of which was that we LOVE the food and the other being that the Tupai room is a gorgeous space that fit our party perfectly. Once we chose Andina, with their clean modern venue space and bright dishes, I knew that we wanted to have a bold, clean and whimsical design.
Favorite 10th Anniversary Party Decor Details
Paper goods.
 I LOVE paper goods. Designing digital goods for events has been a huge passion of mine. It honestly was the most exciting part of the event for me as well as the most difficult. Once I finally nailed down the invitation designs that got me excited everything else fell into place seamlessly. I designed all the paper items and printed and trimmed them through a local print shop. I then put together the details by hand. It helps that this was a party for 35 rather than 300!
Flowers. 
My second favorite detail were the flowers. I knew I wanted to order some bright, slightly whimsical arrangements, but hadn't landed on a style until I found these fun geometric terrariums at Target. I then found the perfect mix of blooms through FiftyFlowers.com and built my arrangements using floral foam to help keep them sturdy. The larger arrangements featured blooms inside and outside of the terrarium. (Post coming soon!)
Programs.
 At our wedding I had created newspaper programs about the two of us since I had gone to school for journalism. For this party I created small magazines featuring our story, photos, order of events and our vows. We featured the newspaper on one of the tables so that guests could look through the past a bit. (Post coming soon!)
Escort Table.
 We wanted the party to be fun for our guests so we chose a "party animal" theme to help guide guests to their tables. We spray painted toy animals and gave the centerpiece animals a bit of a party upgrade with hats and bows. Each table had a different animal and the escort cards had the corresponding animal on them to let guests know where to go as they entered. We also had a fun photo backdrop created by using black and white 4X6 photos. Guests used an Instax camera to take pictures of themselves in front of the wall of photos from the past ten years. (Post coming soon!)
Favors. 
Our favors were bright yellow tote bags that read, "By the way, I'm wearing the smile that you gave me." They had a tag that read, "Enjoy a midnight snack. Salty and sweet, just like your friendship, an absolute treat!" We included a LaCroix flavored water along with a bag of chips and homemade sugar cookies. (Post coming soon!)
Photo Booth. 
I knew from the beginning that I wanted to have a photo booth. I also knew that I wanted to commemorate the many memories and people in our lives somehow. I decided to pull the two together and create a photo-wall photo booth. It is perhaps my favorite backdrop I've done yet. I can't wait to share more… post coming soon!
More Posts from this party:
Seriously Awesome Vendors and Resources
– affiliate links marked *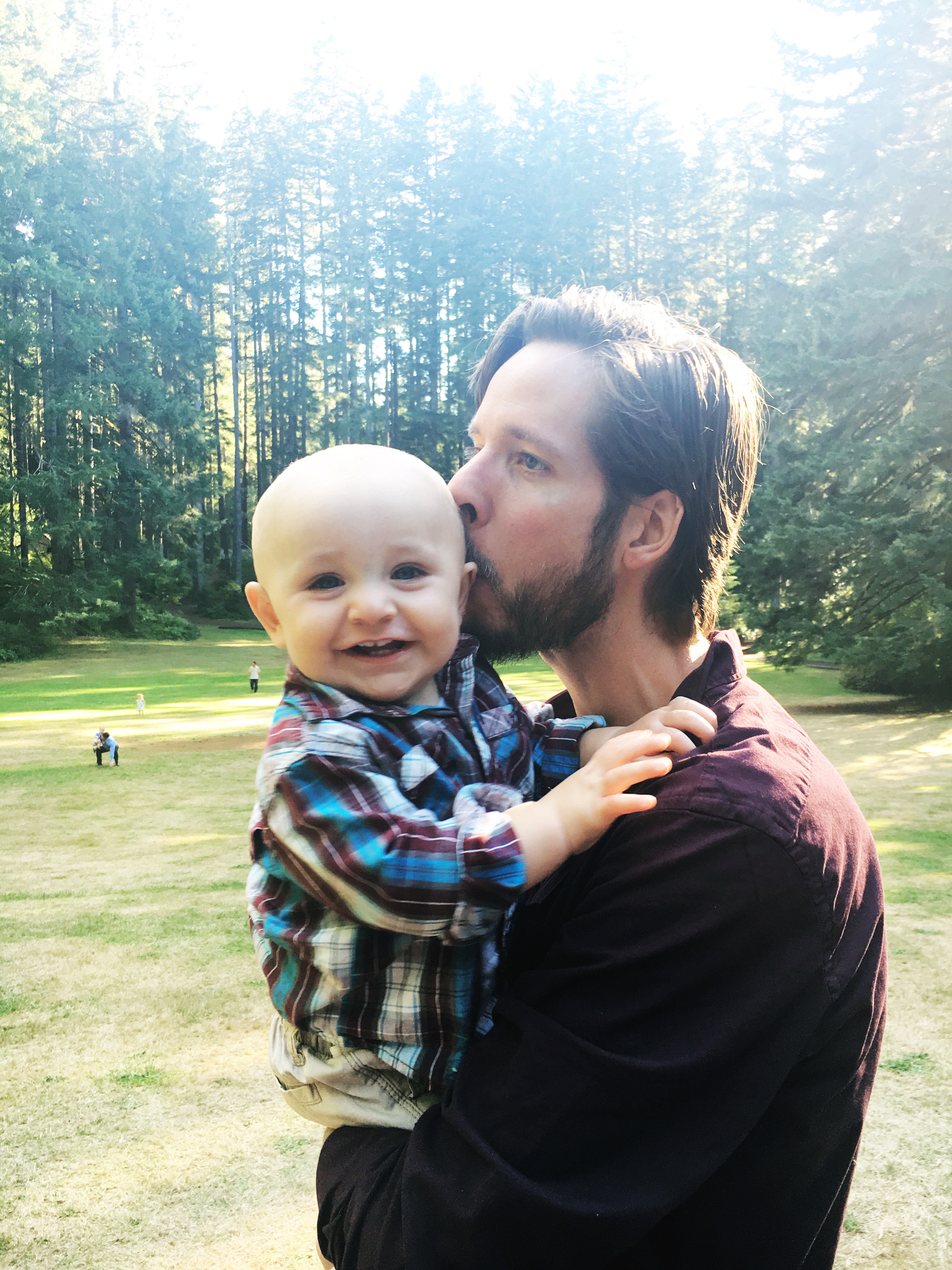 A long time ago I had a series on the blog where I shared more personal items with no real intent behind them other than sharing myself with readers and recording history. I'm getting back into that habit as I feel that it is a great way for you to get to know me! I'd love to hear about what YOU did this past week as well. Share a link or comment in the comment section below!
This weekend was a whirlwind weekend and it looks like the rest of the month is going to be the same.
Saturday we went to a wedding for a friend of my husband. It was set on a campground in Oregon. The weather was perfect, the beer was delicious, and the crowd was laid back and friendly. We enjoyed the sweet ceremony and delicious BBQ dinner afterwards. The couple even made a custom flag that they put up the flag pole after they wed. Sweet touches like that make me happy.
Mainly, we loved getting to spend time together as a family while celebrating someone else coming together as family. There is just something really special about that!

Today was the busiest day our little family has had in a long while. We started the day working the Walk to End Alzheimer's in Portland.
I work in the senior living field and this walk is always a big event for us. My personal experiences combined with my work really make the cause of fighting Alzheimer's a bit of a passion project for me. I love that my family and friends support the cause as well.
I painted around a ton of faces today and I'm pooped! But, it was so worth it!
After we ran home to get cleaned up from the walk we hopped back in the car to head to one of our favorite play cafes in Portland, Pied Piper!
Catherine, of Ten Thousand Hour Mama, hosted a little blogger and kiddos meet-up at the cafe. I met many local bloggers (and mommas) that I had only met online in the past. They were all so lovely. I wasn't sure if I was going to make it after such a long morning, but I'm glad I made the trip!
What did you do this weekend?