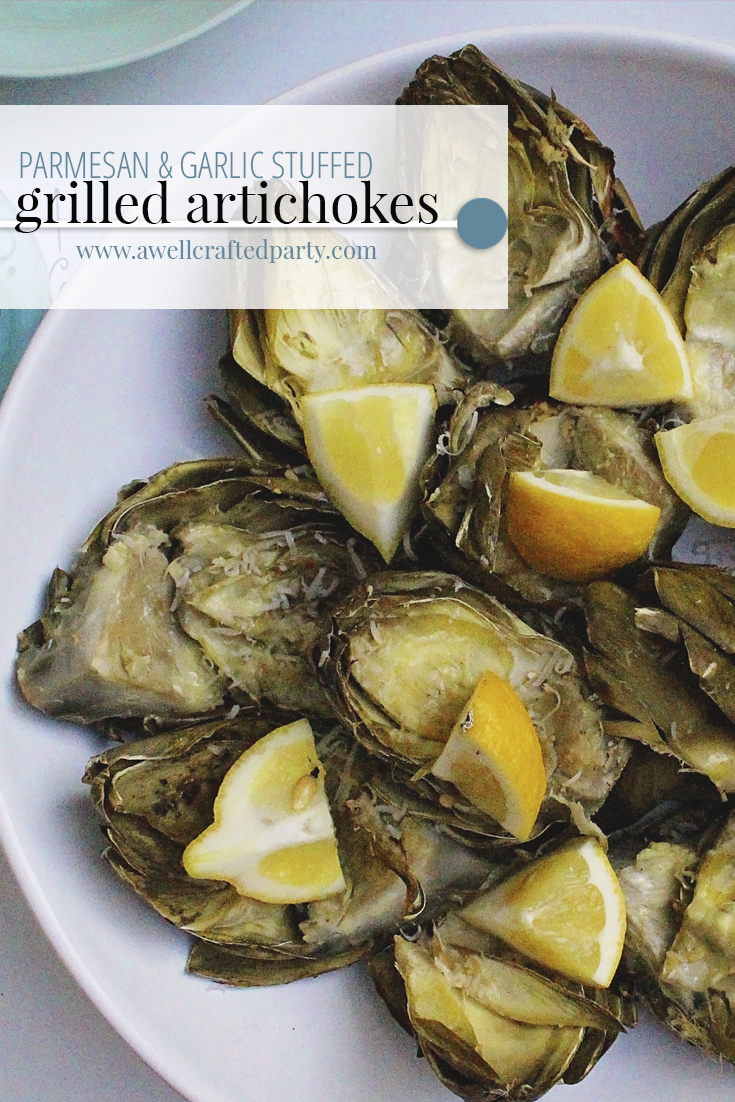 Growing up I was one of the children on the free lunch program at school. I often ate peanut butter and sugar sandwiches or hamburger helper because that is all we had available in our home. While we never starved—due to great programs available to us and parents and grandparents that worked very hard to make sure we were okay—we never did really get to try new things or enjoy different kinds of vegetables. A lot of what we ate was frozen, in a can or fast food.
The times that I did get to experience great foods, often at my grandmother's home where she would spend hours over the stove making home made spaghetti and meatballs or fresh strawberry topped pancakes, introduced me to a world with which I would someday fall in love. As I grew up and began to earn my own money and buy my own meals, I discovered my deep love for food— fresh, different, amazing food. My first year of marriage I think my husband and I spent $800 a month on groceries for just the two of us. YIKES! (Although, it sure is nice to have a partner that values good food as much as I do!)
We can't spend that much on food nowadays with more bills and a kid (and one on the way). Though, even when we struggle with money, our food budget is one area that I work hard to maintain enough budgeted money so that we can enjoy fresh fruit, vegetables and quality proteins daily. I meal plan weekly to make sure that we are spending our food budget wisely and getting to try new things. Trying new things, enjoying great food, and sharing that experience with others is pretty much what my life is about. Which brings me to this post… I just had to try artichokes because I had never really had any success with them before!
These crazy looking vegetables have always alluded me. I love them in an artichoke spinach dip, but the one time I tried making them myself I had no clue how to even approach eating them, much less cooking them! Recently I was craving a really amazing Italian meal. At this point in my pregnancy I just knew I had to give into the craving before it drove me really mad, so I planned an Italian themed dinner party with friends. I knew that this was the perfect opportunity for me to give artichokes another try. After googling how to eat the suckers, I researched several different recipes to get the knack of how to cook them, and then tackled the project for the party.
Note: Seasoned home entertainers will tell you to never make your guests your guinea pigs for meals. Thankfully, my guests never seem to mind… even the one time my husband burned the spaghetti! It is a good thing our friends love us because I like to experiment often and I often make my guests my guinea pigs.
After discovering just how easy artichokes can be, I've now made them a few times and love them more and more! Below are some tips for cooking (and eating) artichokes plus my recipe for Parmesan and Garlic Stuffed Grilled Artichokes.
Tips for cooking an artichoke:
The first time I tried cooking an artichoke I tried trimming, cutting and de-choke before cooking the artichoke. This led to a lot of pricks on my fingers, a bunch of furry bits all over my kitchen and most of the heart of the artichoke in my waste bin. It was an utter disaster and made me not want to try again. Thankfully, I found that doing just a tiny bit of prep and then steaming the artichoke makes the whole thing go much smoother.
Trim your artichoke. Trim your artichoke by first cutting off the first inch or so of the tip of the artichoke. This one swift action will take care of much of the prickly parts! Then taking a pair of kitchen shears and cut the tips of all of the outer leaves. Trim the stem to about an inch or less.
Steam your artichoke. Drop into a steamer basket with the stem side down. Steam for approximately 15 to 20 minutes. The bigger an artichoke is, the longer it will take to cook. I put a knife in mine to test doneness. Once the knife easily slipped into the artichoke I called it good!
De-choke your artichoke. You can then eat the artichoke as described below, taking out the choke once you get to it. Or, you can cut in half, remove the choke (the furry looking bit right above the heart of the artichoke) with a spoon and then eat the artichoke.
Make it even tastier! For an extra tasty artichoke check out my recipe below!
Tips for serving artichokes:
Serve with dip, lemons or olive oil drizzled across them. Artichokes have a great flavor, but really can be amazing with a little something extra.
Serve with a discard bowl. There are parts of an artichoke you just don't want to eat… give yourself and your guests a bowl or plate to toss their leaves so that the inedible bits don't end up back on the dinner plate.
How to eat an artichoke:
Go from the outside of the artichoke to the inside. Take the outer leaves of the (prepped and cooked) artichoke and pull from the stem. They should come off easily. The only edible part of the artichoke is actually the part that was attached the the stem. It will be lighter in color and look meatier than the rest of the leaf.
Dip (or not) into your favorite condiment and place the edible end in your mouth. Scrape the meaty bit into your mouth and discard the rest of the leaf. Note: As you get further into the artichoke you'll find that more of the leaves are edible and you'll get to enjoy more and more of the artichoke meat.
Get that heart! Once you get down to the heart of the artichoke (basically what is left of a prepped and cooked artichoke after all the leaves and choke have been removed) eat the heart whole! YUM.
What about the stem? The stem of the artichoke is also edible if trimmed and cooked, but can be stringy and woody.
Parmesan & Garlic Stuffed Grilled Artichokes Recipe
This recipe makes 12 quarters of artichokes that make for a great appetizer for a party of 8 to 12 guests or a hearty side for a meal for 6-8 guests.
Ingredients
4 large artichokes
1.5 cup shredded parmesan
4 garlic cloves minced
3 lemons - 1 halved to use for juice and the other two cut into 1/8ths for serving
olive oil
salt & pepper
Instructions
Trim the tip, leaves and stem of your artichoke.
Place in steamer basket over boiling water, cover pot and steam for 15 to 20 minutes or until a knife can easily pierce the artichoke.
While cooking artichokes prep your stuffing by mixing the minced garlic, parmesan and about 1/4 cup of olive oil in a bowl.
Remove artichokes from steamer pot and let cool.
A squeeze of lemon here will help preserve color a bit more and give the artichoke a great flavor. Use 1/2 of a lemon.
Slice artichokes in half.
Remove the choke (the stringy, fuzzy bit of the artichoke) using a knife to cut out around the heart area and then scooping it out with a spoon. It should come out fairly easily, but be careful not to take the heart with it.
Cut artichokes halves in half to make quarters.
Stuff the heart area and between the leaves with the garlic and parmesan cheese mixture.
Drizzle with olive oil and then place on a grill with medium heat with the hearts facing up (you don't want the mixture to fall out!)
Grill until the parmesan cheese mixture has fully melted, be careful to not leave the artichokes on the grill too long as they will easily burn.
Serve with lemon wedges and a drizzle of olive oil!
http://www.awellcraftedparty.com/2015/07/29/parmesan-garlic-stuffed-grilled-artichokes-recipe/
Great posts on artichokes with instructional photos:
— "Life lessons, artichokes, and hearts" from The Spicy Bee — Great photos showing how to cut the tips of an artichoke and a really sweet story that actually made me want to try artichokes again. Hers is so different from mine because she had been enjoying artichokes since she was a child. I hope my son looks back on food with the same fond memories!
— "How to cook and eat an artichoke" from Simply Recipes— Step by step directions for cooking and eating an artichoke. I loved the pictures for how to eat an artichoke. I would never have ordered an artichoke out before due to fear of having no clue how to eat them! This post can keep you from looking like a fool at the dinner table.
— "Prickly Treat" from Illustrated Bites— I love this illustration of how to cook and eat an artichoke SO much.
What was your first experience with artichokes like? Comment below!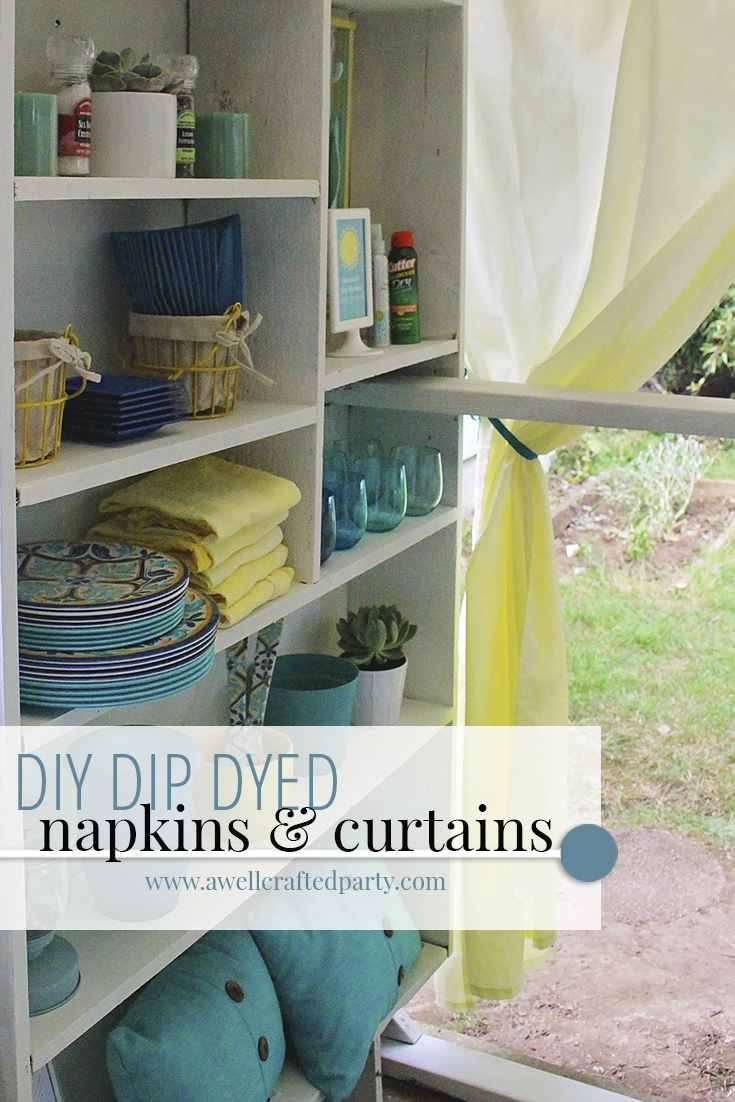 I don't know if there is any DIY I love more than dying fabric. I have used the technique on a variety of projects including party backdrops, napkins, curtains and clothing up-cycles. It is a quick, inexpensive and super easy way to make an impact.
For my Summer porch makeover I knew that I would want to have cloth napkins for the many parties that I would be having in my new space. They already had a space on the bookshelf that houses all my entertaining supplies, but I didn't have exactly what I wanted on hand. I wanted a fairly durable but inexpensive cloth napkin, ideally in a bright yellow or ombre yellow. People get messy in the back yard and BBQ meals don't really lend themselves to the really nice cloth napkins due to staining. I needed something that could get messy and wash up easily, but wouldn't be terrible to move into my cleaning cloth pile if stained. After searching unsuccessfully at all my favorite stores I landed on DIYing the napkins out of flour sack towels.
At the very last minute I also decided that we needed curtains for our porch area. One trip to Ikea and I came home with inexpensive white curtains that I was able to dip dye to coordinate with the napkins. The curtains are seriously my favorite part of the whole space and I hadn't even planned on doing them!
DIY Dip Dyed Linens
I used the same process on both my DIY Dip Dyed Napkins and my DIY Dip Dyed Curtains. The curtains were a slightly different material than the napkins so the dye didn't soak in quite as well and get the bright yellow look, but I loved the paler ombre look nonetheless. That is the joy of dying cloth… you never quite know what you are going to get!
(Some of the below links are affiliate links. Affiliate links help support this blog with no cost to you the reader.)
Supplies:
— Linens of choice in WHITE! For the napkins I purchased 12 Flour Sack Towels via Amazon for just about $22. The curtains I got at Ikea for $10!
— Rit Dye of Choice. Personally I have used the powder and liquid Rit Dyes for dying linens and have had good results both times. The biggest thing to remember when using the powdered dye is that you really need to mix in the powder well because if it isn't mixed in well you will get speckled results on your final product. Follow the directions on the Rit bottle. They are there for a reason and they really do help! I used the Golden Yellow liquid dye and one 8oz bottle was enough for all 12 napkins and two curtains with some to spare.
— Large pot for stove or bucket for dying fabrics. I used my canning pot for this project because it is huge and I can put it on my stove top to make sure the water stays hot enough. The package directions also gives options for large buckets or the washing machine, but the stove top has always been my choice of dying method.
How to Dip Dye Linens:
Prep your dye according to package instructions. My dye required super hot water and some salt because I was dying cotton items. It only took a few minutes to really get this all set up, the heating of the water taking the most time! As the water was heating I prepped my linens.
Prep linens by wetting them and ringing out. I've dyed things from dry before and just do not like the results as much as I like the results of dying from wet. I wet all of my linens and rung them out prior to dying.
Slowly dip linens into prepared dye. I am not one to take a lot of time in DIY projects. I just don't have the patience. So, instead of dip dying these one at a time I chose to do them all at once. I put each of the napkins in with about an inch of the fabric in the dye water. I let sit for about 5 minutes and then lowered each one more into the water. I continued this process until the first dipped ends were in for about 30 minutes. You can choose to not dye the very ends at all if you'd like the ombre look to go into a full-on white, or dip the ends in the dye for just a moment. I chose to have the entire napkin be covered in the dye with the top ends being slightly lighter.  The ombre on my napkins is very subtle. The ombre on my curtains is much more pronounced because of the difference in fabric. The fabric was a polyester blend and didn't soak in the dye quite as much as the cotton flour sacks.
Rinse and dry as directed on dye package directions. After rinsing out the dye in the sink a bit I threw in the washer for a good rinse cycle. I then dried the linens in the dryer.
I love how these came out and with the napkins costing around $2 each I could not have gotten the same results for the same price any where else. I was able to do the entire process in one evening as well, so that is my kind of DIY!
Check out my other Summer Porch DIYs:
Other great Linen DIYs from around the web:
Have you ever dyed fabric for a project? Comment below telling me all about the project! Links welcome.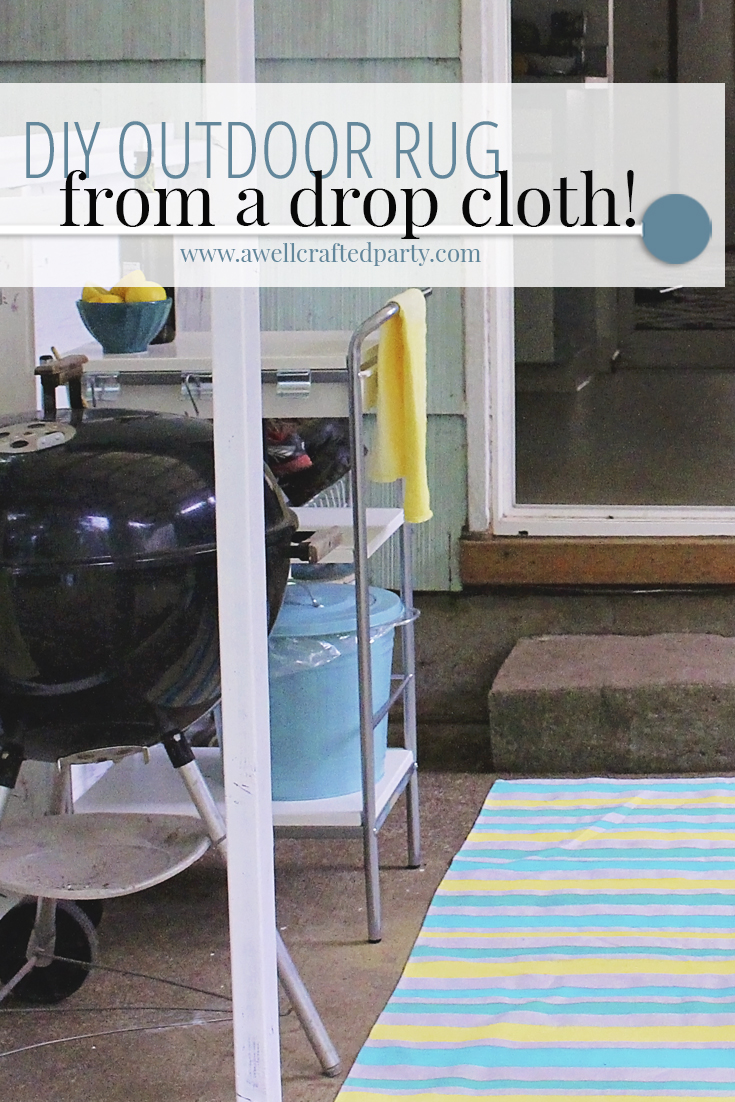 When working on my porch makeover for our rental home I knew that I wanted to cover up as much as the back porch's cracked and ugly surface as I could, but had to do so affordably. If you've ever looked up the cost of large outdoor rugs then you'd know that I was looking to spend a large portion of the very little money I had to do my porch makeover. I wasn't really willing to give up the cash, even when I found some really cool rugs. A quick reminder of what my poor porch area looked before the redo…
I had seen DIYs in the past where people had painted inexpensive outdoor rugs, painted drop cloths to make curtains, or even created their own rugs using thing like t-shirts! I knew I wanted to try out doing it myself, but I wasn't entirely sure what I was going to do until a trip to Home Depot really lucked out.
While getting my porch paint I decided to check out the drop cloths and see if any of them would work for a thin, inexpensive, and washable outdoor rug. I lucked out and found a 5X5 canvas drop cloth with finished hems and a leak proof backing for just $8! The drop cloth is reusable, which is great because all the shoes across it from our back yard have made it super dirty. We've been able to sweep it off easily and hose it off for bigger messes. I chose to paint the rug in multiple sized stripes in three colors that coordinated with the other items going in my back yard decor. The sample sizes were just right for this size of rug, but they only came in interior paint. I decided to go ahead and use the interior flat paint from Behr and then chose to spray it with a few layers of sealant after it dried.
The most exciting part of this project for me was the fact that it was so easy and inexpensive that I'll be making another one as the Fall season approaches to go with my outdoor Fall decor. Heck, we may even make a different one for the holidays!
DIY Outdoor Rug from a Drop Cloth & Paint
This entire rug cost me about $14 which I felt was a great price for a 5X5 rug! The DIY process was super easy and fast… even the drying process wasn't bad! I taped by rug up on a table and did in sections because I can't bend over easily now days, but you could easily put this on the floor on top of another drop cloth or paper (in case of paint accidents) to paint it all in one session.
Supplies:
(Below links may be affiliate links. Affiliate links help support this blog with no cost to you the reader.)
— 1 lined canvas drop cloth in the size of your choice (5X5 drop cloth via Amazon or grab at your local Home Depot)
— Painters tape (I used two different sizes of painters tape to add variety to my rug stripes, though you only really need one. Both were Scotch Blue painters tapes.)
— Paint ( I used Behr paint samples in Island Aqua, Upbeat, and Water Park)
— Paint brush (a roller would also work depending on size)
— Sealant ( I used a spray sealant.)
— Ruler if you want to be precise… I didn't care, so I didn't use one!
How to make a drop cloth into an outdoor rug:
Pull out your reusable drop cloth and adhere to a hard surface. Don't forget to protect your surface with a plastic drop cloth, paper or another drop cloth that you use for your painting projects. You don't want to accidentally get paint on a surface you don't want paint on! Tape down your rug using the painters tape so that it does not move while you are working.
Tape out your design on the rug. I went with imprecise stripes that were a variety of sizes. I basically just taped out the stripes trying to make sure my tape was straight. If you are a little bit more inclined to like things precise then I'd highly suggest taking a yard stick or ruler and marking out your stripes with a light pencil line before adding your tape.
Paint! The canvas soaks in the paint pretty well so this can take some time. But, it will also dry very fast.
Let dry then remove tape. I let my rug dry for just a couple of hours and it was ready to go. I tested the paint with my finger tips a bit before taking off the tape. The tape comes off easily!
Spray with sealant. Spray the rug with the sealant according to the directions on the sealant you purchased. Let dry overnight and your rug is ready for feet!
Note: These rugs do not help with cushioning the area or taking off mud at the door. If your needs require that then you'll want to look for an outdoor rug with more heft. (Check out the links below that show some other outdoor rug projects that you can do if you want a different look/feel to your DIY rug.)
Check out my other Summer Porch DIYs:
DIY Dip Dyed Napkins & Curtains (coming tomorrow!)
Check out these great porch DIYs from around the web:
Where could you use a rug like this in your home?