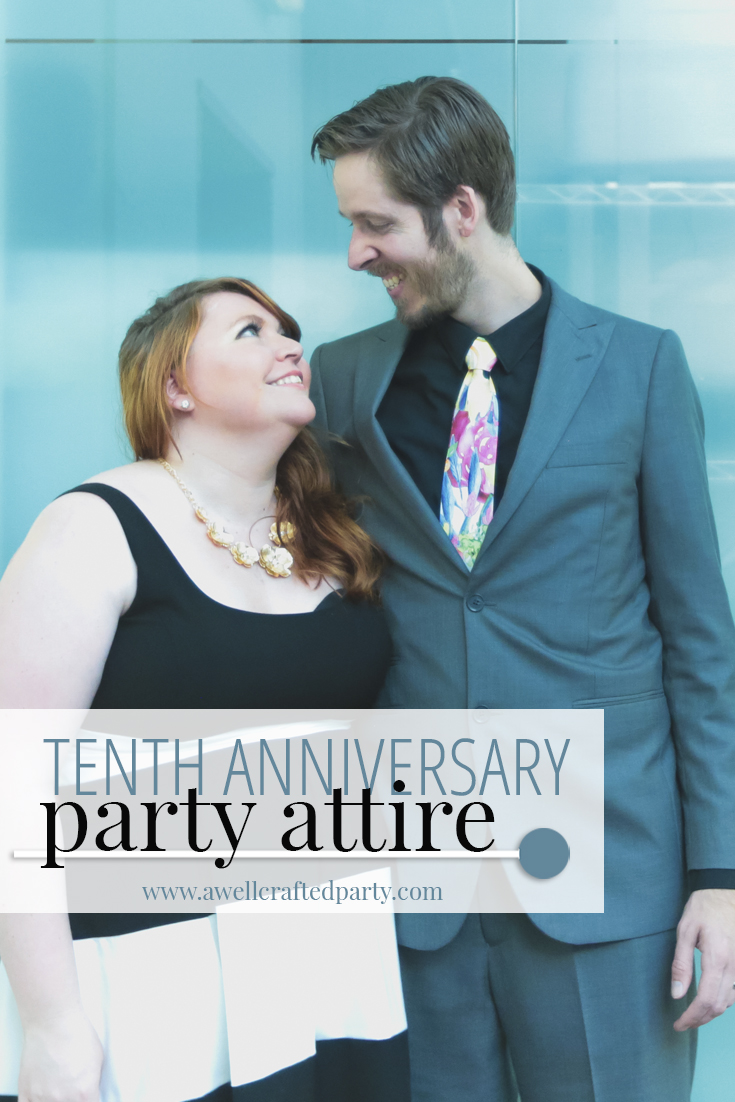 I love getting dressed up every now and again. Planning out my outfit, and let's be honest… my husband's outfit, was both fun and a little stressful. I'm thrilled with what we ended up pulling together for our 10th anniversary party attire.
 I knew I wanted to have a fun party dress but I wasn't attached to a certain color or style. I was approximately 7 months post-partum and not feeling my most slim and attractive. Searching for a dress ended up being my least favorite part of the whole plan– though, my shopping partners and the eventual finding of the dress made it worth it.
A little background, let's go back ten years or so to the time when I was searching for "the" dress, my
wedding dress
. I love clothing, but I do not like the type of shopping that goes with finding a once in a lifetime outfit. I really disliked needing help getting in and adjusting myself into a way too expensive dress. After trying on a few dresses at two different bridal shops I ended up hopping online and purchasing a dress online. If it wasn't perfect I didn't care. Thankfully, it pretty much fit perfectly and I didn't need helping getting it on. Looking back I realize that it wasn't the most flattering for my shape, but I felt beautiful in the moment and that is what matters.
I originally planned on wearing a white party dress or a brightly colored cocktail dress for the party. I thought it would be a fun way to coordinate with the event. I went to several shops before trying on dresses at Macy's. While at Macy's I loaded up my arms with dresses in my size (there were not many) and tried them on with more than a little disappointment in how they looked. I found one that I liked enough if I ordered a larger size online and began to reserve myself to doing that when on a last minute decision to walk through again put a beautiful black and white striped dress in my hands. I gravitated to the black and white stripe mainly because of the black and white striped element in the party invitations and paper goods I had designed. I fell in love. The dress was a tiny bit snug and didn't completely hide my baby belly… but, I felt fantastic in it!
The idea of coordinating with the
invitations
was then implanted in my brain. I figured my husband would wear his grey suit, but I didn't know what style of tie to go along with it. I dreamed for a little bit about making him a custom tie using the design I had on the invitations. I knew I could order custom fabric, but didn't think I'd have time to actually sew a tie. That's when I thought to google "custom printed ties" and found that there is a whole world of custom print items out there! (This is very dangerous!!) I was able to have a tie printed through
Zazzle
in the design I created and it didn't cost an arm and a leg. While he wasn't stoked at first about the brightly colored floral tie, he ended up liking it in context with with party.
Overall I think we looked pretty snazzy! Don't you?
Outfit Details:
Dress: Lauren Ralph Lauren from Macy's
Tie: Designed by Jenni Bost and custom printed through Zazzle.com  
Seriously Awesome Vendors and Resources
– affiliate links marked *
More Posts from this party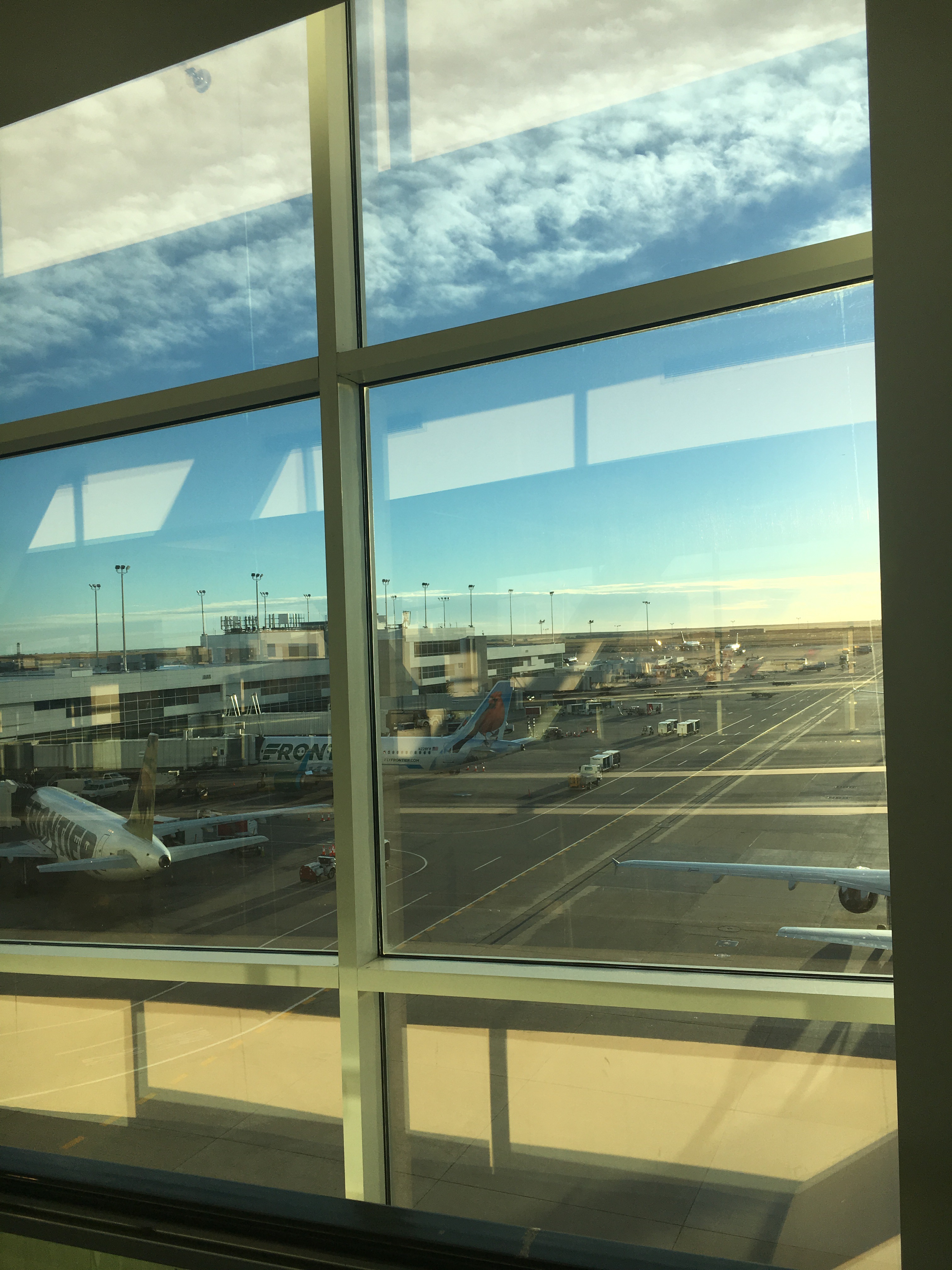 My hiatus from the blog was unintentional, but necessary. My normal work week entails a daily grind from 8 am to 5 pm, quick dinner with the family, clean up (sometimes), and then opening up my computer to work on the blog. My weekends are filled with a mix of family and blog work. This week however I had a work trip. My days entailed 12 to 14 HARD working hours and at the end of the day when I finally got to the hotel all I could think of was Netflix and bed. This weekend was spent entirely with my boys, family, and friends. I only opened my computer for an hour. This next week is looking to be similar since I have another work trip coming up. Busy, busy, busy.

I left the Portland airport at super early in the morning on Tuesday last week. I had to take an obligatory #pdxcarpet photo of course. Don't mind my ragged looking shoes. These are my favorite work flats and boy are they getting worn.
The trip didn't start out wonderfully. We had to wait for two hours for our rental car (one we had reserved) and it ended up being a bit of a dud. The next day it got a flat tire which ended up with us sitting at a tire shop next to this lovely establishment (pictured). Thankfully there was somehow a really amazing independent coffee shop right next to the tire shop. Why I took a photo of the run down inn rather than the amazing coffee shop? I have no clue. If you're in Aurora, Colorado I highly suggest Jubilee Roasting Company.

The purpose of this work trip was to help with a grand re-opening. This required a lot of wine–two carts full of wine to be exact! I did not get to partake in much wine this week. Though, I was sure to pick up a can or two of Union Wine for a nightcap in the hotel.
While the trip was very successful… I couldn't wait to get home to my boys. This was the longest I had been away from either boy. I don't know if I would have made it through the week if it hadn't been for nightly FaceTime calls. I loved seeing my boys light up when they saw my face. It was also essential to ease my worries a bit. I love FaceTime (or video sharing in general) and don't know how people with families traveled away from their loved ones with out it!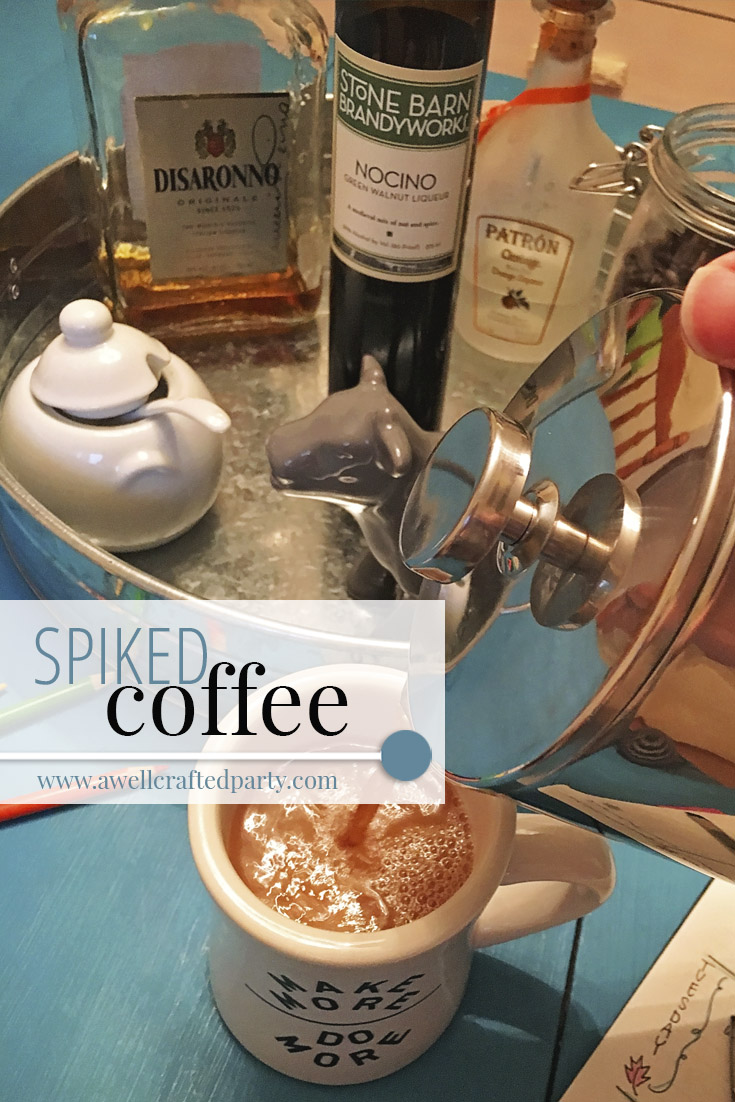 Coffee is basically life… amiright? Well, it is pretty important in MY life if it isn't quite an equivalent. I have coffee EVERY day. When I don't want caffeine I drink decaf coffee. Coffee is a must. It is only natural that I bring my love of coffee and my love of cocktails together at times in creating tasty spiked coffee cocktails for brunches or night caps to fabulous dinner parties. While I absolutely love to craft wonderful more complicated coffee cocktails (and will share some of my favorite recipes soon) today's post is sharing some of my favorite liquors to spike a coffee with to make a simple and satisfying coffee drink.
Easy to Make Spiked Coffee
Affiliate Links marked with *
To make spiked coffee you simply need to make a good cup of coffee— we typically use our french press* or pour-over*, but any good coffee maker will do— and introduce your favorite liquor. You can add cream and sugar (if needed) but, mainly, it is all about the coffee and liquor!
My favorite Coffee Add-Ins:
Amaretto — I've already professed my love for Amaretto in a past post. Amaretto is a sweet, almond-flavored liquor. This is good all by its lonesome with coffee or with just a touch of cream. (Side note: Amaretto makes an awesome ice cream topper too!)

Irish Cream

— typically I use Bailey's, but you can absolutely make your own Irish Cream! Irish Cream is just a mixture of cream, Irish Whiskey, and flavors of coffee, chocolate, and vanilla typically. If you use this in your coffee you can skip the cream and sugar entirely! Of course… you can always just spike your coffee with Irish Whiskey and add in the cream and sugar as needed. You won't have some of the other flavors, but it will still be a delicious treat.

Coffee Liqueur

— Some people think it is a tad silly to spike a coffee with a coffee flavored liqueur, but I think it is delicious. You can add in a touch of Kahlua or (one of my favorites) Crater Lake Spirit's Hazelnut Espresso Vodka with a bit of cream and make a wonderfully decadent coffee. 
Green Walnut Liqueur— What? I had never even heard of green walnut liqueur until a recent tasting introduced me to Stone Barn Brandyworks' Nocino. We bought it on the spot. I've found that this is one of my favorite mixers in my coffee. A little Nocino, almond milk creamer, and coffee and you have a tasty night cap on your hands!
Whiskey— There is nothing more classic (or satisfying) than a bit of whiskey spiking a cup of coffee. This is a favorite treat especially while camping or sitting around a fire pit!
Okay, now I'm off to enjoy my Saturday. I've got my bullet journal (hello new organizing obsession), pens, and my favorite mug ready to go. Well, that and a splash of something tasty in my coffee. It is Saturday, after all!
What is your favorite way to spike your coffee?