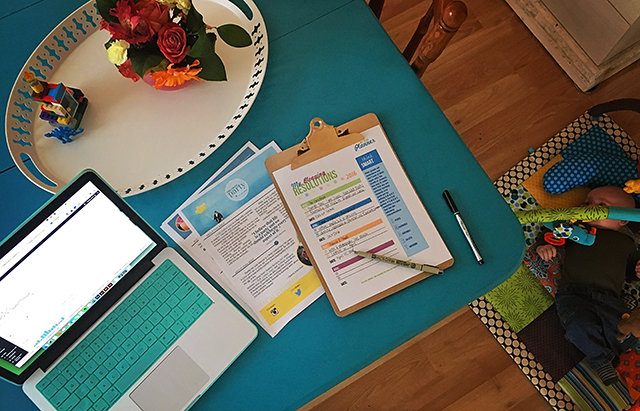 The freshness of the new year is starting to wear off now that I seem to be able to remember to put 2016 on all my paperwork. While I am still feeling good about my resolutions and blogging goals for the new year, I'm not feeling the fire to accomplish my goals quite as intensely as I was around the 1st.
I often see bloggers (including myself) starting strong in the new year and then petering out as the year gets going. It is natural after all, but I am trying my best to not let that happen again this year by setting achievable focused goals.
I published the 2016 Free Printable Blog Planner earlier this month and have just now started working out exactly how I want to put MY personal blog planner together using the sheets. In putting my book together I've decided to take some of the sheets that I use often and explain how I use them here on the blog.
How to make achievable blogging goals:
Do I want 100,000 page views this month? Yes, of course. Is it really feasible when I'm currently averaging around 20,000 in a month? No, probably not. I am pretty sure the biggest downfall of New Year's Resolutions is that often we set unachievable dreams as our goals for a year. Then, when things don't really start to pan out as quickly as they need to so that we hit that dream, well, we give up. Do I want to be debt free? YES, that is the dream. Is it possible this year? Not unless I won the lottery, and well, that didn't happen. Is it possible that I pay off a few credit cards so that I am well on my way to living the dream? Absolutely. When taking the time to sit down and write out my goals I do the following steps to help make sure that they are achievable:
Write down the dream: Where do I want my goals to eventually lead? I want those 100,000 page views in a month. I want to be debt free. I want to lose 50 pounds. Whatever your dream is, write it down and get that out of the way.
Go through the steps (goals) that need to happen in order to achieve that dream: I then think about the steps that need to happen in order for me to achieve that dream. For my page views it may be writing regular content and becoming more consistent with my postings. Steps may include guest posting or being featured on blogs that I admire. Whatever those steps are, I write them down in detail and in order in which they need to happen. Those steps then become my goals.
Prioritize the steps. In writing out the steps I try to write them down in the order that they need to happen in order for me to reach my goal. However, sometimes, a lot of items could help me reach my goal and there is no discernible order so I need to prioritize those steps. In prioritizing the steps I think about which items are easiest to achieve and which will garner the best outcome. 
Plan my course of action: Finally, I make my plans. What do I need to do in order to have consistent blog posts that will eventually help me reach the dream of 100,000 page views? I need to have a content calendar that I can follow and post on planned days. I then need to schedule out those posts on my calendar and get working on writing. Setting small, manageable goals such as a workable content calendar with weekly deadlines will go a long way in helping me achieve the steps that lead to me realizing my dream.
Ways to KEEP your blogging goals:
What is the use of setting blogging goals and spending time assessing and planning out your dreams if you aren't going to work at achieving them? Sure, blogging can be a lot like dieting and while you know what is good for you it is easy sometimes to let things go at times. Heck, life can simply get in the way (see my entire last year with the pregnancy and birth of my second child). A few ways I help myself KEEP my goals throughout the year:
Make small, manageable goals: As I said above, I like to take my dreams and really break them down into small steps that lead me to where I want to eventually end up. These smaller steps help make big dreams seem doable. When I achieve each of those smaller steps I have reason to celebrate and faith that I will eventually hit that goal. If I were to simply say, "I will hit 100,000 page views in a month this year" then each month that I don't hit that goal would knock me further down in my faith in reaching that goal. However, if I say that I am going to consistently post two days a week for three months and then hit that goal I will see progress and feel more confident that I will eventually get to those 100,000 page views.
Set deadlines: Maybe it is because I was trained as a journalist, but deadlines motivate me like nothing else. I set deadlines to reach certain goals in my calendar with reminders that email me at certain intervals before the deadline so that I don't forget. I will also put up checklists on the wall (washi tape is an awesome way to post goal sheets for a reminder until a goal is hit!)
Blogging Resolutions
One of my favorite pages from the 2016 Free Printable Blog Planner is the Blogging Resolutions page. It has area for 5 big goals or "dreams" that you have for your blog, space to break those dreams into steps, and a place to mark a deadline for the goal. There is also a short description of how to make a S.M.A.R.T goal. Sign up for my newsletter to access your free printable blog planner including the blogging resolutions page as well as access to all of the subscriber only printables and posts.
What are your blogging goals for 2016? Comment below!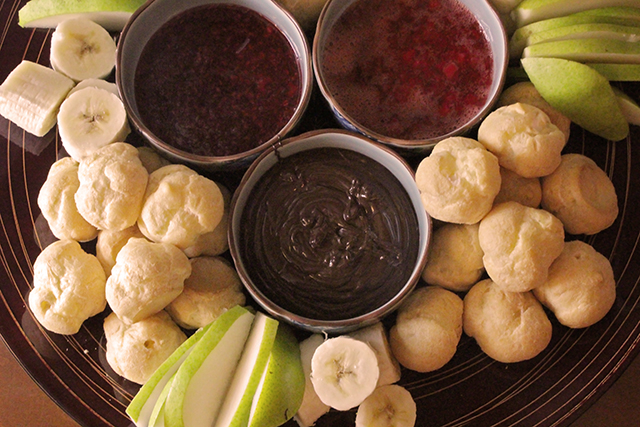 I'm not gonna lie… sweet, romantic meals  and moments with my husband are a lot harder to come by now that we have both a toddler and an infant. We try to steal moments of romance where we can, including the small time after bedtime where we are still awake and the baby is still sleeping. Whipping up this sweet, utterly romantic and easy fondue is made super simple by pourable fruit.
Yes, you can make your own pourable fruit by macerating fruit and smashing it up… but, that takes TIME people! Time is absolutely of the essence right now. I'm taking advantage of this no fuss and super yummy product to steal back moments in the day that would have been spent in the kitchen working and now I'm able to spend them dipping things in deliciousness. It is a good trade off, especially since I still get to enjoy the Oregon berries that I love so much.
This dessert can be made for a crowd (as I have in the pictures above) or for two by just changing up the quantities of dippers and pouring just a tad less of the dips. I can't even call this a recipe as you are simply assembling the platter!
Ingredients/Supplies for this easy fondue dessert:
Please note that this dessert is entirely flexible and can change according to your tastes.
Pourable fruit of choice OR purred fruit of choice — We used both Strawberry and Raspberry Oregon Fruit Pourable Fruit Topping
12 oz Chocolate of choice for melting— I chose dark chocolate chunks to melt, but a milk, white, or semi-sweet would be fine as well
1 and 1/4 cups Heavy Cream— This will be used with the chocolate to make it nice and dippable
Dipping items— This is the fun part! Choose what you'd like to dip! I chose cream puffs, pears, and bananas. Other good options would be shortbreads, pound cakes, marshmallows, donuts, apple slices or other fruits.
Microwave, Double Broiler or heat proof bowl over pot of simmering water
Directions:
There really couldn't be anything more simple than this dessert. The only thing you have to prepare at all is the chocolate dip and it is as simple as slowly heating your cream and adding your chocolate to melt.
1. Assemble everything but the chocolate
Assembling this desert is super simple. You only need to cut and put dippers on a platter and fill small bowls with the pourable fruit.
2. Melt chocolate
Microwave: Heat your cream in the microwave careful not to boil the liquid. I heat it in 15 second bursts for about 1 minute. Every fifteen seconds I give it a little stir. After the cream is heated add in your chocolate and let it sit for a bit. Stir to incorporate. If the chocolate didn't all melt go ahead and put back in the microwave for short bursts of 15 seconds until melted. Chocolate burns easily, so the short bursts of heat is needed to not burn the chocolate.
Double Broiler or Heat Proof Bowl Over Simmering Pot of Water: Heat your cream in the top bowl, stirring occasionally. Once cream is at a slow simmer (do not boil!) take off the heat and add in the chocolate. Let the mixture sit for a moment. Once you see the chocolate starting to melt. Stir until incorporated. If chocolate doesn't completely melt, put on heat for just a moment more, stirring the whole time.
 3. Pour chocolate in bowl and serve!
Finally, pour your fondue chocolate mixture into a bowl and serve. The fondue mixture will harden without heat. You can always put the chocolate into a fondue pot, (this tealight warmer (aff link) is a great little fondue pot for a simple chocolate fondue) or extend the time for the dippers by pre-heating your bowl before adding the chocolate.
Dipping items into the fruit puree breaks up this fondue dessert and makes it feel a lot less heavy than a traditional fondue. It is an absolute pleasure to the tastebuds!
Pourable Fruit
Pick up pourable fruit with actual Oregon grown berries in your freezer section at the grocery store. Visit the Oregon Fruit website to use the product search feature to see where you can pick some up locally. I found mine at the local Fred Meyer, but Portland area has several different grocery stores carrying the Pourable Fruit product.  Or, you can also order pourable fruit in cases  (aff link) from Amazon and pop into your own freezer to be used when you need it! Find out more about Oregon Fruit Products and their pourable fruit by visiting their website OregonFruit.Com.
Thank you to Oregon Fruit Products for sending me a complimentary sample of the pourable fruit — I've bought several more since!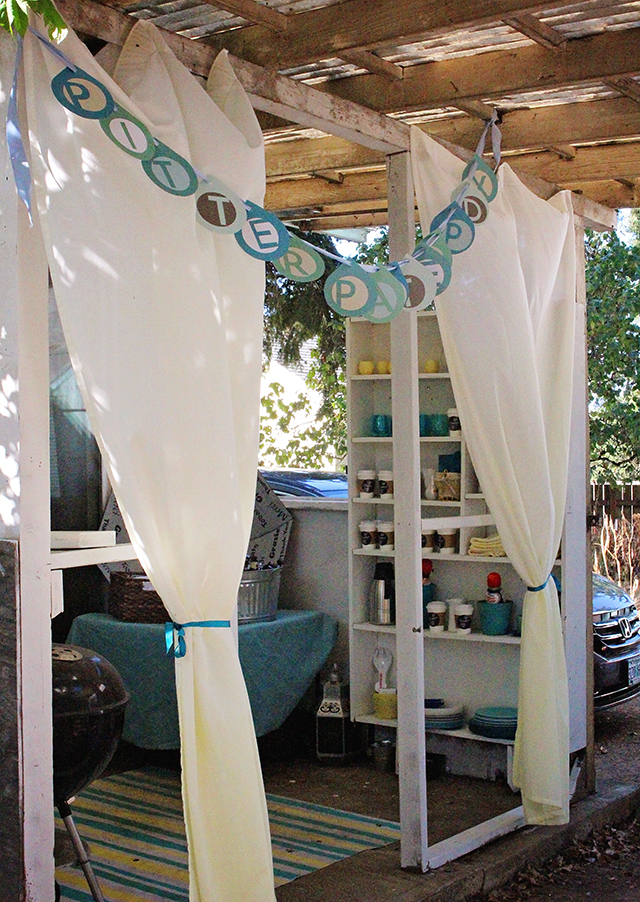 I was absolutely honored when my friend Joan offered to host a sprinkle for me and my newest baby. A sprinkle is similar to a shower, but is designed to be a smaller celebration for a second child because the mother likely has some items from the first time around. I was super touched that she would want to throw me a party in the midst of her own move into a new home. My friend Alicia jumped in to help with the sprinkle and the two of them even outdid the amazingness they pulled off in my first baby shower that they hosted together— A Robot Themed Baby Shower. I offered up my backyard for the party and they based the color scheme to match my newly decorated porch area. This is a LONG post with lots of ideas for hosting a Portland-rain themed baby shower as well as some free downloads! If you enjoy this post, I'd be super duper happy if you PINNED an item to your Pinterest board or SHARED via your favorite social media platform.
This post contains some affiliate links. Purchases made from affiliate links do not cost readers any money, but does help keep this blog running. Thank you for reading and supporting A Well Crafted Party. To learn more about my for-profit policies click on over to my policies page! 
They themed the party around the "Sprinkle" theme as well as my love of all things Portland, Oregon. The Pitter Patter in PDX Baby Shower was born and with it came Food Truck-themed foods and rain drop decorations. We even got to be spoiled with some local gourmet ice cream! I ordered event sized portions of King Creamery's amazing ice cream flavors. It went perfectly with the theme… also, the champagne pear sorbet was simply the most amazing sorbet I'd ever tasted in my life.

Rain Themed Baby Shower Decorations
Joan is an amazing graphic designer and she created a beautiful rain themed items to use throughout the event including the above Facebook invitation cover. (The image is free for personal use in case you'd like to throw a Portland rain themed baby shower! Just click on the image, right click to save to your computer and upload to your Facebook event cover area!) She built a cloud out of balloons and pillow stuffing utilizing this great "How to Build a Cloud" tutorial from The Farm Chicks.
Baby Shower Party Favors
Joan utilized the graphics she used on the invite on the labels she created for the awesome party favors she put together. Utilizing the same graphics and color scheme in different areas throughout your party can help pull together different elements to make the party look professionally put together! Joan found corn on the cob from a local farm that simply goes into a paper bag with a little oil and is instantly microwave popcorn! How cool is that? I have a fantastic umbrella that has the "Thank You" in several different languages printed on the inside of the umbrella. We added that detail at the last minute because it went with the theme AND was the perfect addition to the favor table!
Baby Shower Beverages
We kept the beverages for this party pretty simple with sparkling waters, coffee, tea and—because it was a Portland theme— beer! Joan created little tags for the coffee cups to make it coordinate with the Portland theme. She named the coffee shop "Bumptown Coffee" a play on words from the famous Stumptown coffee! Seriously one of my favorite details. The coffee cups and sleeves (aff link) were totally affordable from Amazon and she simply printed up her label on round 2-inch sticker sheets (aff link). An affordable and simple way to bring the coffee bar up a notch for a party!
Food Truck Themed Party Food
My absolute favorite detail of the party was the food. Now, that isn't JUST because I was 8 months pregnant and eating everything under the sun. Though, that helped. The girls came together with different ideas for Food Truck themed food. Joan then made these amazing little food trucks using a great free template sourced from The Fox is Black and an artist by the name of Goopymart. The food trucks included Mac and Cheese, Please!, Sweet Elvis PB&J, Nom Bowl, Taco Taco Taco, and The Waffle Beneath My Wings. The food containers such as the paper food trays with wax paper and the bamboo bowls (affiliate links) added to the whole "food truck" feel. And, of course, we had a REAL Portland food vendor present with the cute little event size King Creamery ice creams. They do home delivery of their monthly flavors with their club membership, but they also cater events.
Baby Shower Activities
I don't have any photos of the cute little activity that Joan put together for the event. She had hand cut out felt items so that guests could help put together a mobile for the baby. (There is a great little tutorial for felt mobiles over at Craftiness is Not Optional.) I seriously prefer crafts and activities over baby shower games, so this was perfect for me! In addition, she whipped up cute little cards with a link to a meal train that she had set up for me on mealbaby.com. It was amazing to have food delivered those first few weeks after the baby was born.
Joan, who has a rad little business with her husband called Stogle Studios, put together these fun designs for the party's food trucks using the template from The Fox is Black. You can download them and use for free for your next party! Want to create your own? The template is free to download over at The Fox is Black's Food Truck Design Contest Post! (Personal Use Only)
Directions for printing and putting together your free food truck party paper food truck:
Click here to download your five free printables, download by right clicking the image and saving the PDF to your desktop.
Print on 11X17 paper — you can also choose to "fit to print" to 8.5X11 paper or 8.5X14 paper, but please know you will have a smaller food truck if you do that.
Cut out along outer edges of design.
Fold along solid lines and glue along flaps. Cut out the window area and put in your food truck window as the pictures show.