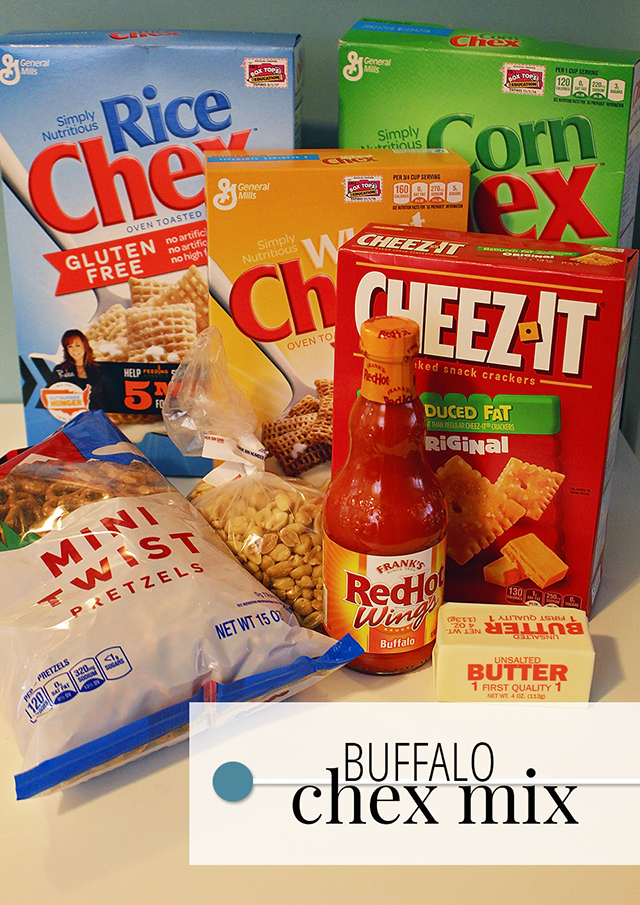 The Summer holidays are coming around quick (Memorial Day is this upcoming Monday!) and with that comes the opportunity to spend time with the people in your life celebrating, remembering, and just enjoying each others company. It likely will also bring together a lot of hungry people! Enter Chex Party Mix… Chex Party Mix is super versatile and can feed a crowd. I came up with a couple easy recipes for an "All-American Chex Mix" flavors in honor of Memorial Day and Fourth of July. Though, they'd also work for any get together or even as a great camping snack.
I chose Buffalo flavor as one of my "All-American" flavors just because it reminds me of Summers back home in Oklahoma. I'm a huge fan of Buffalo Chicken Wings—especially during grilling season! Check out my first "All-American" Chex Party Mix recipe below and don't forget to enter to win a $50 Visa Gift Card from Chex!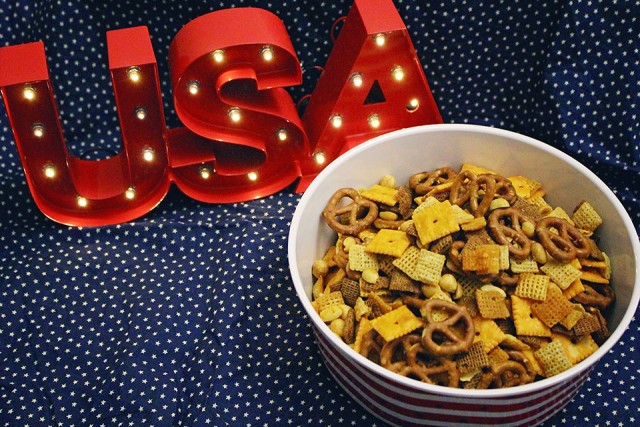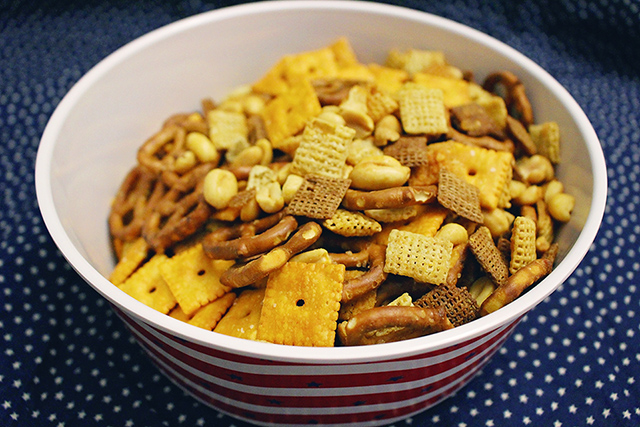 I really wanted an easy, "All-American" feeling Chex Party Mix to feed a crowd. Because I didn't want to overwhelm everyone with spice, I only used the Franks Red Hot Buffalo Sauce as a spice. However, if you want to kick it up a notch then you could also mix in a packet of Zesty Ranch Seasoning or a tablespoon of cayenne pepper. I used the oven for this recipe because I enjoy how the roasted cereal tastes. Microwave instructions for Chex Party Mix can be found on the side of your Chex cereal box.
Ingredients
3 Cups Wheat Chex
3 Cups Corn Chex
3 Cups Rice Chex
2 Cups Roasted, Shelled & Non-Salted Peanuts
2 Cups Pretzels
2 Cups Cheez-It Crackers (I used original, but white cheddar or a spicy version would also be delish!)
6 Tablespoons of Butter Melted
4 Tablespoons of Franks Red Hot Buffalo Sauce
Instructions
Pre-heat the oven to 250 degrees Fahrenheit.
Mix the Chex cereals, peanuts and pretzels in a large bowl. Leave out the Cheez-It crackers for the time being.
In a separate bowl, mix the melted butter with the Franks Red Hot Buffalo Sauce.
Slowly pour the Buffalo Sauce & Butter mixture over the cereal mixture, stirring as you go to make sure that everything is well coated.
Pour out the cereal mixture on to a baking sheet. Make sure the cereal mixture is out flat and not piled up on itself. I had to use two baking sheets.
Roast the mixture at 250 degrees Fahrenheit for 1 hour, stirring the mixture every 15 minutes.
Once out of the oven, mix in the Cheez-It crackers and package in an airtight container.
http://www.awellcraftedparty.com/2015/05/20/buffalo-chex-party-mix-50-giftcard-giveaway/
Chex.com has a great site full of even more delicious Chex Party Mix recipes along with a bunch of other recipes that can be made using Chex! I'm also not the first person to come up with a Buffalo Chex Mix recipe… there are a ton of great ones out there. Mine is a fairly mild version that only gives you a little taste of that yummy buffalo sauce. Don't forget to check back again soon for my other "All-American" Chex Party Mix recipe!
The fine people at Chex are giving away a $50 American Express Gift Card so that one lucky reader can go buy as much Chex Mix ingredients as they could need for future snacking needs! Winner must be in the United States. Please read the giveaway terms and conditions for more information.
Enter to Win!
Sources: The USA Marquee Sign and patriotic travel mixing bowls came to me compliments of the Kohl's Summer Entertaining Mailer. Check out your local Kohl's for your Summer entertaining needs!
This post and giveaway was in partnership with Chex. Recipe and opinions are my own. Thank you for reading and participating in posts that help support this blog!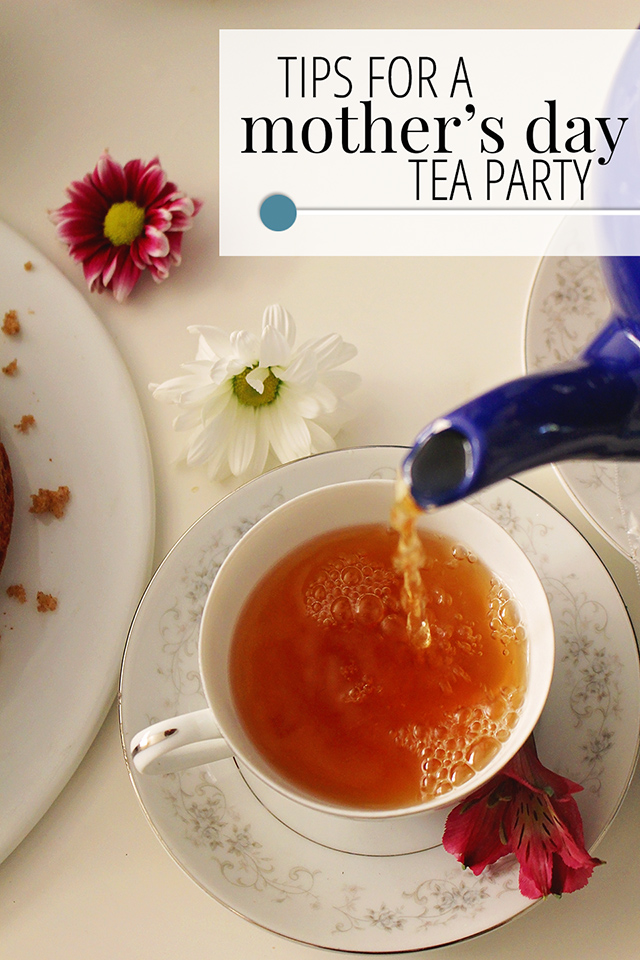 Tea parties are such a special way to take a moment and connect with someone. Many little girls have memories of playing tea party with their moms (or dads!)— the little plastic cups and pretend tea. Growing up I always love the way tea sets looked and how dainty I felt when using them. One of my favorite things about going to my grandmother's house was getting to see her beautiful china tea sets that she had in her china hutch. I've now had a tea party or two with my son and he likes it just as much as I did when I was a little girl. But, then again, he likes anything that involves sandwiches and cake!
When Plum Deluxe asked me if I'd like to try some of their tea, I immediately thought of creating a Mother's Day tea party. Enjoying conversation over a pot of tea, tea sandwiches and sweets makes for a lovely way to connect and can make anyone feel special– especially mom! Read on for some tips for throwing a Mother's Day Tea Party and to learn more about Plum Deluxe.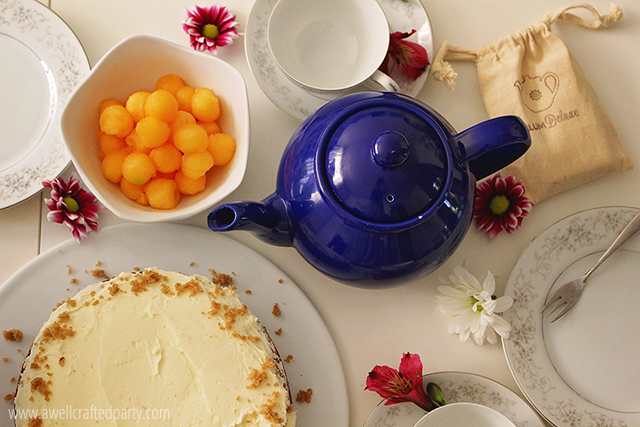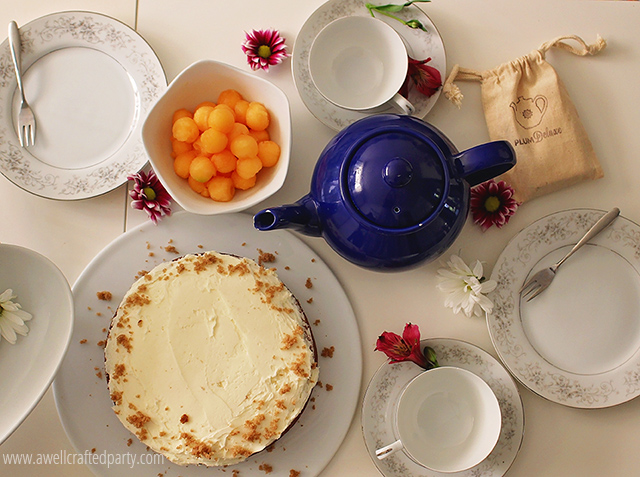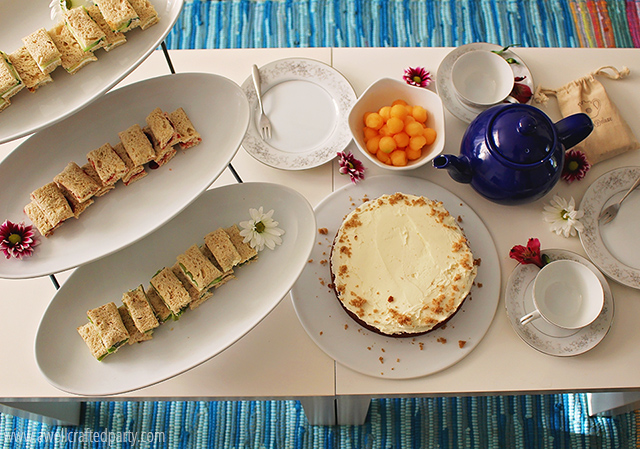 Tips for a Mother's Day Tea Party
The cool thing about tea parties is that you can do so many different styles of tea parties from classic English tea party to a modern Japanese tea party. The key to a successful tea party is light treats, a pot of tea and some good conversation. Below are some of my suggestions for creating a great tea party: (affiliate links are used in this post*)
 Pick a few simple, but delicious food items that are a mix of savory and sweet. You don't need a lot of variety. Tea party foods are mainly just for snacking. For this tea party I went with classic tea sandwiches, cake, and fresh melon. (See below for links to recipes!) If I were serving a delicious green tea I might go with a selection of sushi, sweet filled mochi and fresh fruit. If I did a breakfast tea with milk and sugar cubes I might serve scones with crème fraîch and jam. Really, anything goes! Pinwheel sandwiches and petit fours are other great thing to serve at a tea party. Tea is often served between meal times, so don't worry about needing to fill your guests tummies. Instead, focus on a few special treats that will pair nicely with the tea you are serving.
Pick one great tea to fill a pot, or put out a selection of teas served with hot water. If you tea party is for two then you probably just need to make a single pot of tea, choosing a tasty variety that you know your guest will enjoy. If you are throwing a larger tea party, you might think of having a selection of different teas and serve with hot water! Make sure your guests have the tools they may need to make their tea. Either opt for tea bags or put a couple of tea strainers/infusers with the tea. For this tea party I used the Plum Deluxe Oregon Breakfast Black Tea. It didn't even need any milk or sugar due to the bright notes of orange and hazelnut the tea had.
Don't forget to make the table pretty! Tea itself is pretty. The tiny bite size treats are pretty. Don't leave out the table! Throw some flowers out on the table (Yes, I mean literally throw! I snipped the heads off some blooms and decorated the table with the blooms for this tea party.) Use a variety of coordinating dishware. You don't even have to have tea cups if you don't already have them. You can use some of your favorite mugs instead if you'd prefer.
Tea Party Recipes
There are a ton of great recipes out there for making tea party food. I like to keep my tea party food as simple as possible and make sure the flavors are fresh and not too heavy. Below are some of my favorite go-to recipes for tea party food: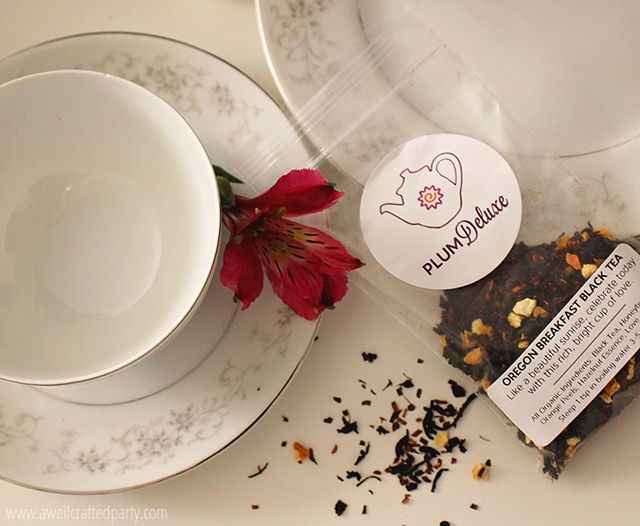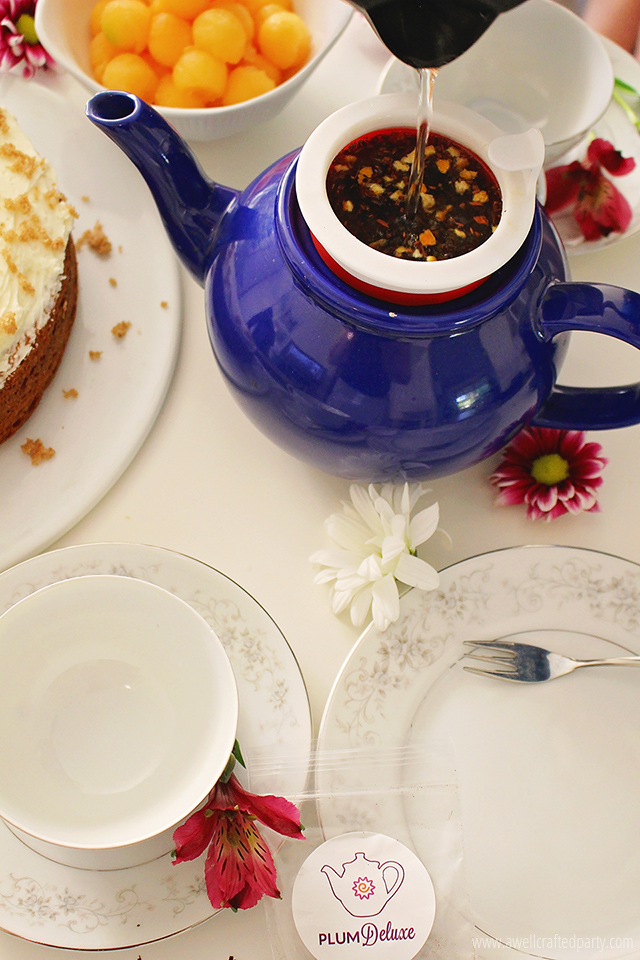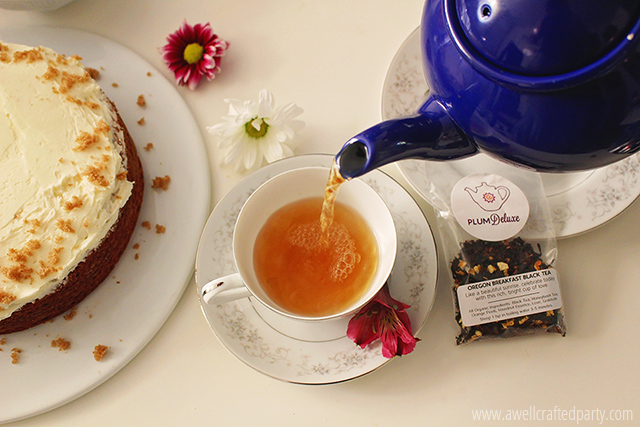 About Plum Deluxe
I love the story behind the Plum Deluxe website and tea subscription. Owner Andy Hayes shares about his purpose and how his mother inspired the website that helps readers create moments that matter. The articles and resources available for free on Plum Deluxe is supported by the Plum Deluxe signature and organic line of teas. The teas are available in as a part of a monthly subscription service or sold by the ounce.
A gift subscription to the monthly club would be a fun gift to give at a Mother's Day tea. Not only does mom get to enjoy an afternoon of discussion and treats, but gets the promise of a new tea each month that they can in turn share with you for future tea dates!
This Mother's Day take a little tip from Andy's mother that he shares on his site, "My mom taught me that no matter your circumstances, you can choose to create moments that matter, every day." Take a moment to make a moment that matters this Mother's Day weekend.
Thank you to Plum Deluxe for sharing some complimentary tea for my review. All opinions are my own. Some affiliate links are used in this post. Incremental amounts of items purchased using these affiliate links help support this blog at no cost to readers. Thank you for supporting  A Well Crafted Party. Check in soon for a free Tea for Two Mother's Day card printable!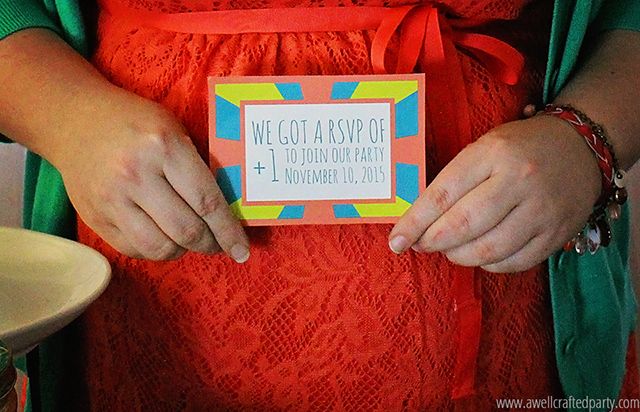 A few months ago we got the news that we are adding one more to our little party. The new addition has RSVPd for November 10, 2015 and we can't wait to welcome him or her to our family!
If you know me, you know I like to celebrate the tiniest of moments. Sharing the news that we are having our second child feels like just the right type of thing to celebrate! I've struggled with the fact that the second pregnancy doesn't feel as special to me as the first one did. I'm just as happy about it, just as excited for baby number two, but if feels a little less celebrated none-the-less. It became important to me to make sure I took a little time to celebrate the news of this baby. Of course, we are saving our pennies for the second baby (we know how expensive these things are now!), so didn't want to do anything over-the-top, but still wanted to celebrate the new addition.
I partnered with Kohl's to help me celebrate baby number two. Kohl's is currently striving to be top of mind for families as they celebrate the special moments in life, big or small, together. Their current goal to help be present in the everyday and the extra special moments in life made me very excited to see how they could help me celebrate my second baby. I already love Kohl's and shop there often. The deals that they offer are hard to beat, and I can find something for the entire family in one shopping trip.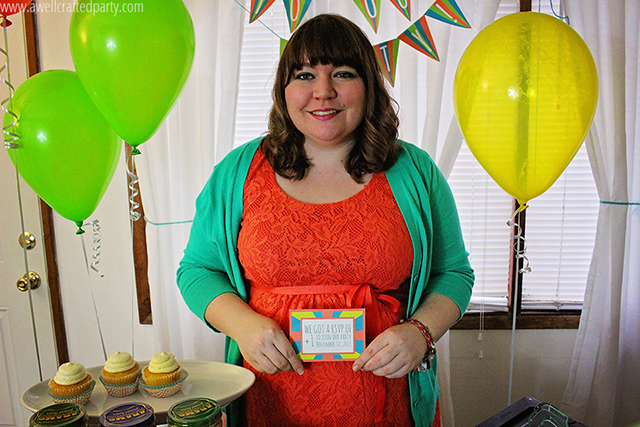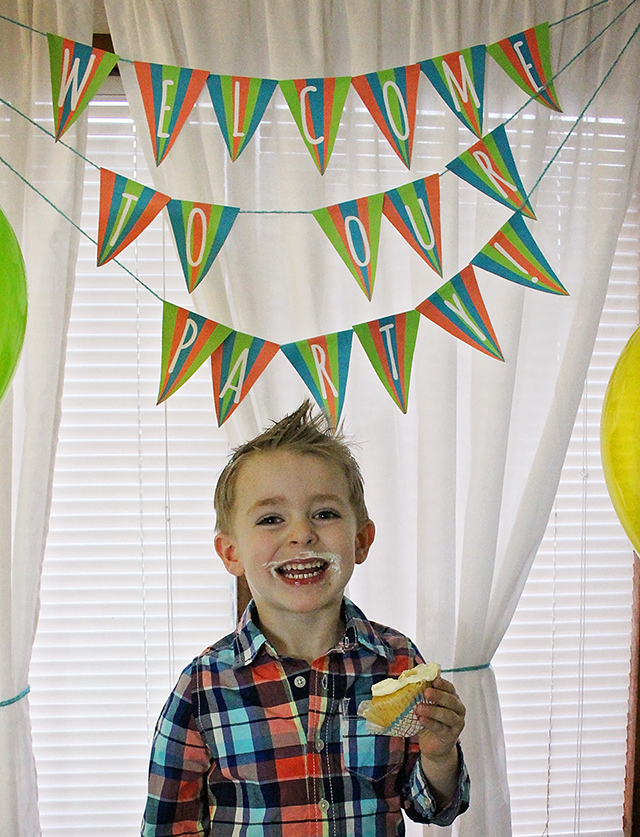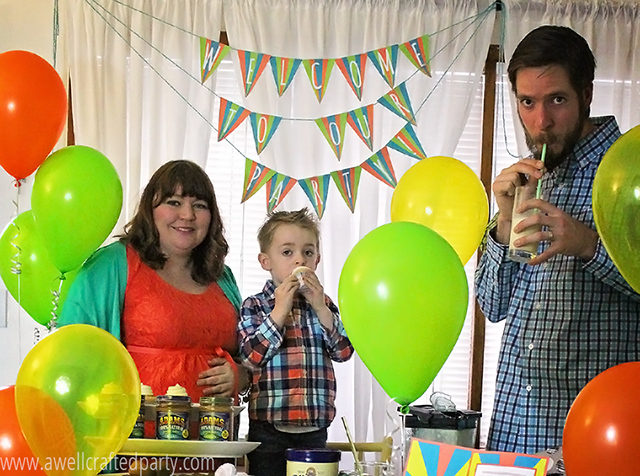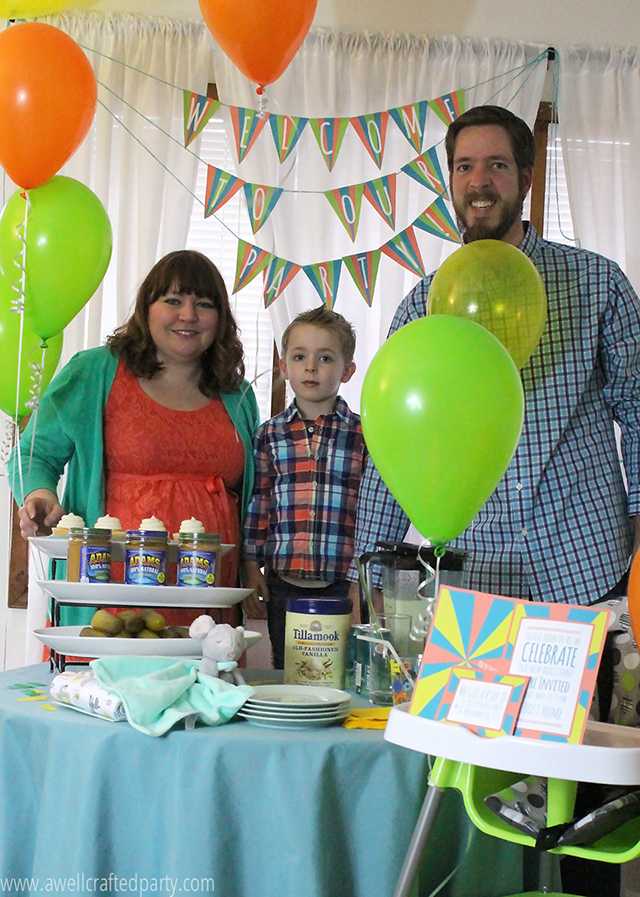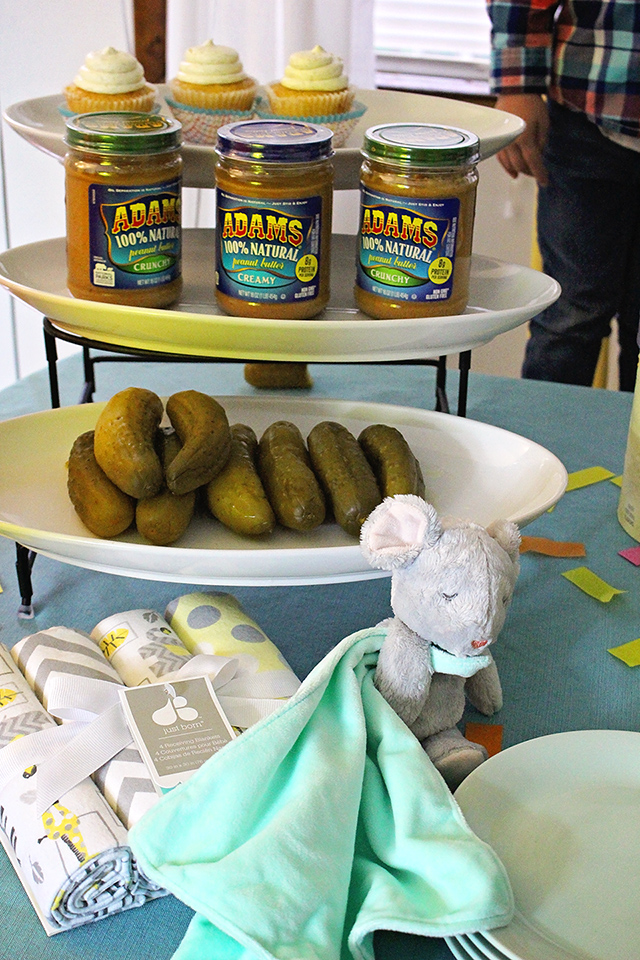 Kohl's helped us celebrate in a variety of different ways! I knew I'd be able to find the men in the family some clothes for the party, but what I didn't know is that they also carried baby items, housewares AND maternity wear! The items we found at Kohl's included:
Ninja Blender which is not only good for a daily smoothie packed full of nutritious items that are good for the growing baby, but will come in handy after the baby is here and I'm making his or her food. (Stay tuned for a fun non-alcoholic dessert smoothie coming to the blog this week!)
Food Network's Three Tiered Party Platter…awesome for all the obvious reasons.
Evenflo Convertible Highchair – We gave away nearly all of our baby items from when my son was a baby. Finding an affordable high chair on Kohls.com that would grow with the baby made my day. This highchair comes apart and becomes a small chair and table that is perfect for a toddler!
Just Born Security Blankets – these are my favorite blankets to swaddle the little one with after delivery. I was thrilled that Kohl's had them in the grey and yellow print.
Small cuddle toy with blanket
The best part is that I was able to get all of the above items with a savings of nearly 50% off if I had gotten them all at full price. It made our money go further, which is more important than ever right now!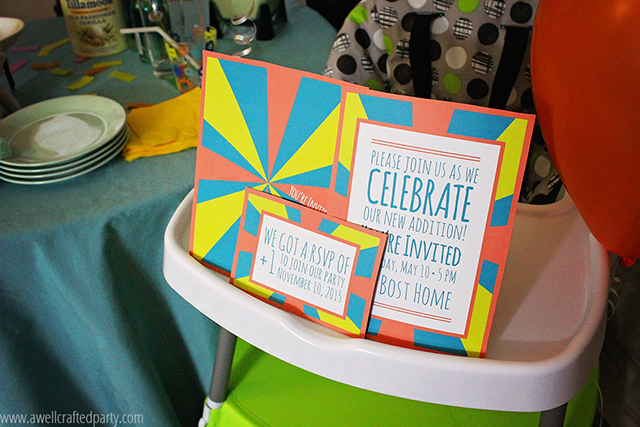 You know me… no party is complete without free printables! Click the items below to download and print off your own celebration!
Thank you to Kohl's for sending me a gift card to explore how your products could help me celebrate a life event. I've been a fan of Kohl's for some time and spent my own money as well as the gift card. All opinions are my own. Thank you to readers for supporting the companies that help support this blog. 
Thank you to Fromager d' Affinois for sending me a variety of cheeses to try and photograph for this post. All ideas and opinions are my own.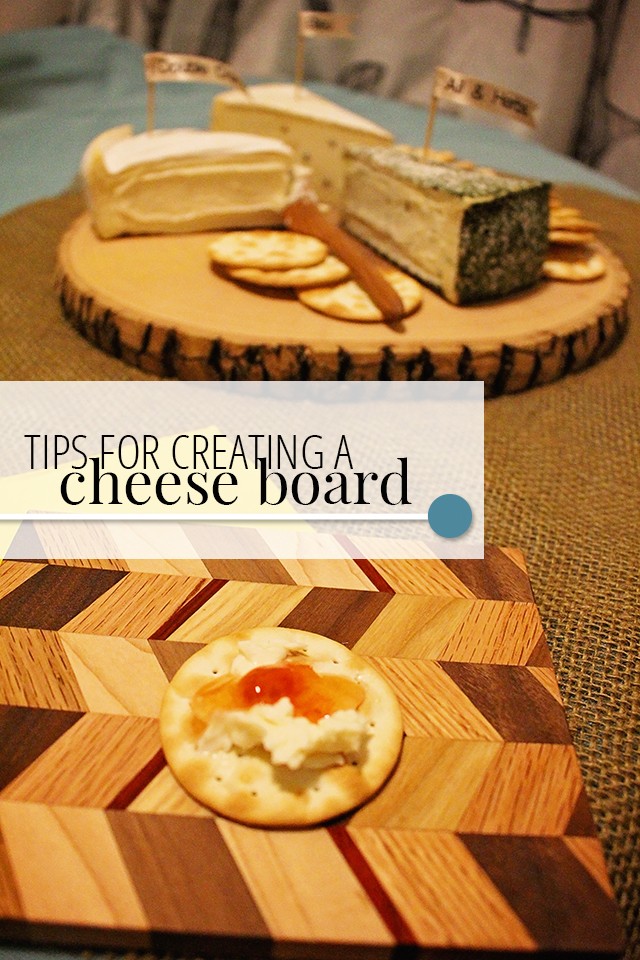 If you entertain often, then cheese platters are your friend.* Not only are they delicious, but they are filling and SO easy to put together! When pressed for time, or bring an appetizer to a potluck party, or even when I just have a lot going on, I reach for my cheese boards and hit the deli section of my local grocery store.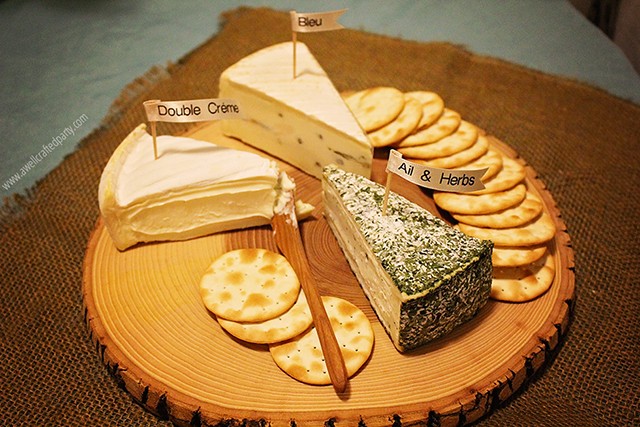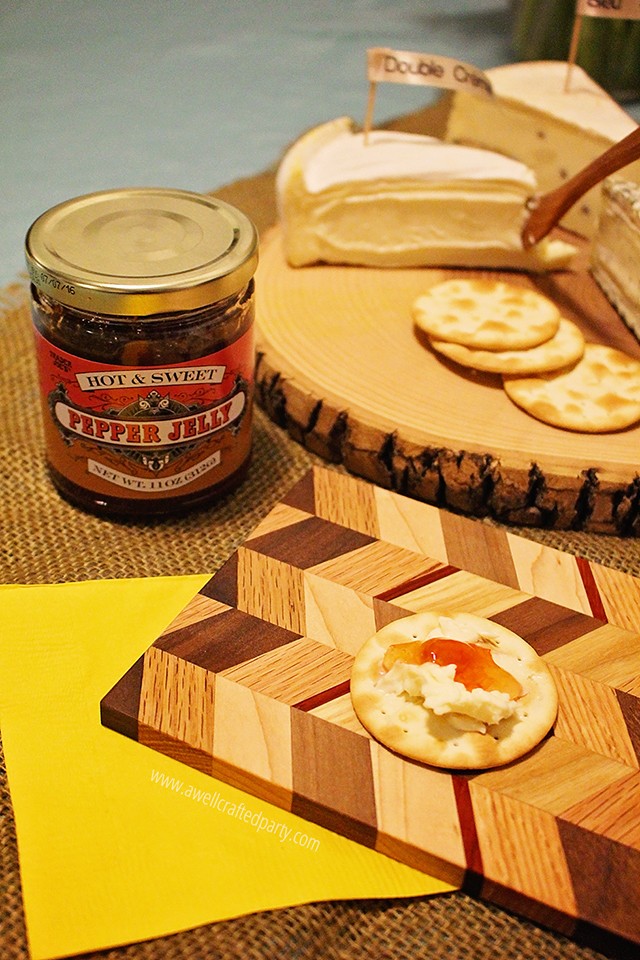 Tips for creating a successful cheese platter:
Buy a few different cheeses, but cap it at five different cheeses. Choice is awesome, but being overwhelmed by choice is not so fun. Keep your platters simple by choosing three to five cheeses to feature. For this platter I used three different flavors of cheese from the same brand of cheese, Fromager d'Affinois. By going with the same type of cheese, with different flavors, I am able to let my guests enjoy discovering the differences in one type of cheese. You can also go with selections from different types of cheese to give additional variety.
Make sure the cheese is easy to serve. There is nothing more awkward then trying to get some cheese off of a cheese platter that is too difficult to cut or there isn't a cheese knife around to help get the cheese from the platter to the cracker. To ease the cheese serving conundrum pre-slice hard cheeses, put out cheese knives that are sturdy enough to cut the cheeses available, and make sure you have something to spread soft cheeses onto crackers. This platter features there soft cheeses (which I LOVE for entertaining) that are really easy to cut through with a simple cheese knife and spread onto a cracker.
Serve cheese at room temp. You certainly don't want your cheeses sitting out for hours, but cheese straight from the fridge won't have the depth of flavor or ease of serving as one that has gotten to room temperature.
Label your cheeses. I don't know if there is anything quite as alarming to the palette than to think you are about to enjoy a nice double creme brie to get a tangy goat cheese flavor in return. While I'd love both types of cheese, it sure does help to know what is coming my way! It becomes even more important when you have the option of tasty accompaniments or toppings.  Whether you simple write out cheese names on a piece of paper and lay it next to the cheese or get fancy and print out specific labels, your guests will appreciate you taking the time to label!
Don't forget the accompaniments! Crackers are great for serving up with a good cheese platter. They are easy to store in the pantry for use at a moments notice, they make it easy to serve the cheese from the plate to your belly, and generally, can go with almost any kind of cheese. If you want to have a little more fun with your cheese platter you might think about alternative food items that might serve as a good cheese-to-belly delivery tool. Some cracker-alternative options include sliced cured meats, vegetables, breads, and different types of fruit. Is there anything better than a slice of aged cheddar on a crisp, ripe apple slice?
Toppings set your platter apart. You've got the cheese all to temp and labeled, and your accompaniments are at the ready… it is time to think about what might really set your platter apart and make your cheese choices sing! Toppings such as pepper jelly, fig jam, apricot spread or even honey all make for tasty additions to a cheese platter. Have some fun putting out toppings so guests can mix and match.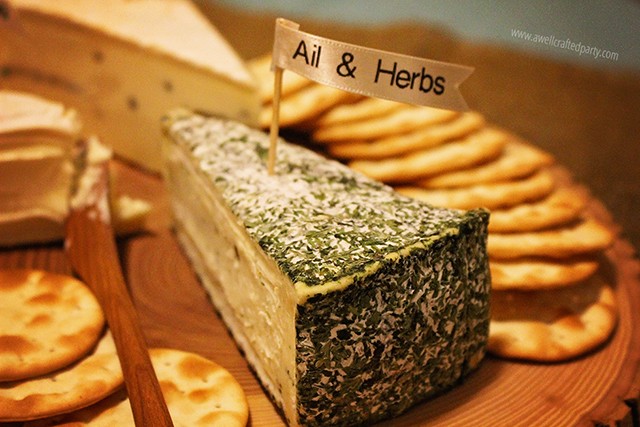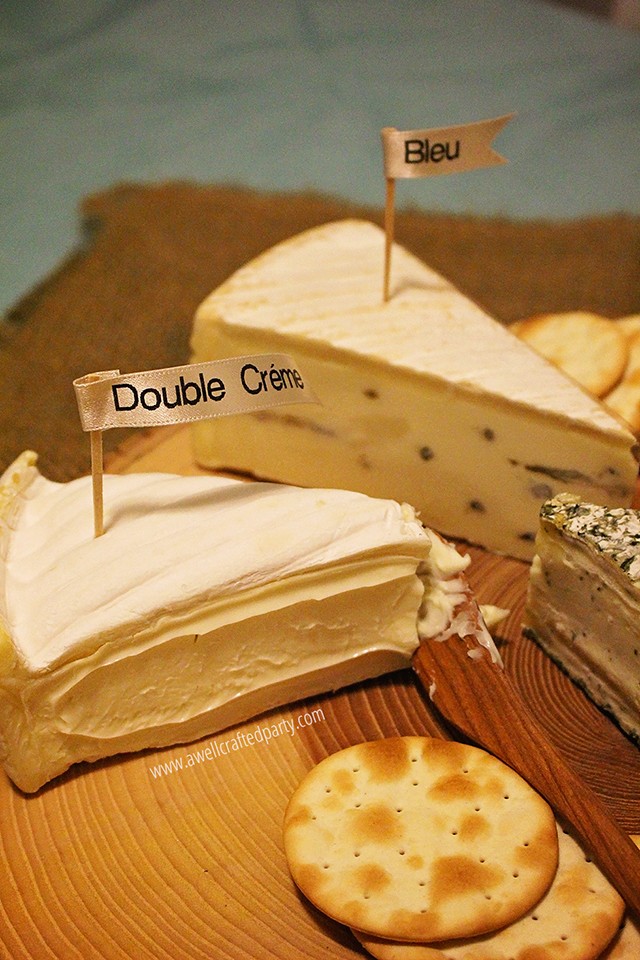 More ideas for your cheese platters:
About Fromager d'Affinois:
Fromager d'Affinois is the top-selling cheese for Fromagerie Guilloteau. It is a smooth double cream cheese expresses that has been delicately matured. In addition to the original Fromager d'Affinois, this cheese also comes in flavors of Garlic & Mixed Herbs, Olive, Truffle, and Pepper. I tried the original, mixed herbs bleu and pepper varieties— all of which were creamy and flavorful! The high fat-content of this cheese positions it halfway between a traditional Brie and a triple-cream cheese. I was able to find this cheese at my local Whole Foods Market.
*Cheese platters are your friend unless you do not eat dairy, or your guests do not eat dairy. In that case, you may want to make other entertaining friends.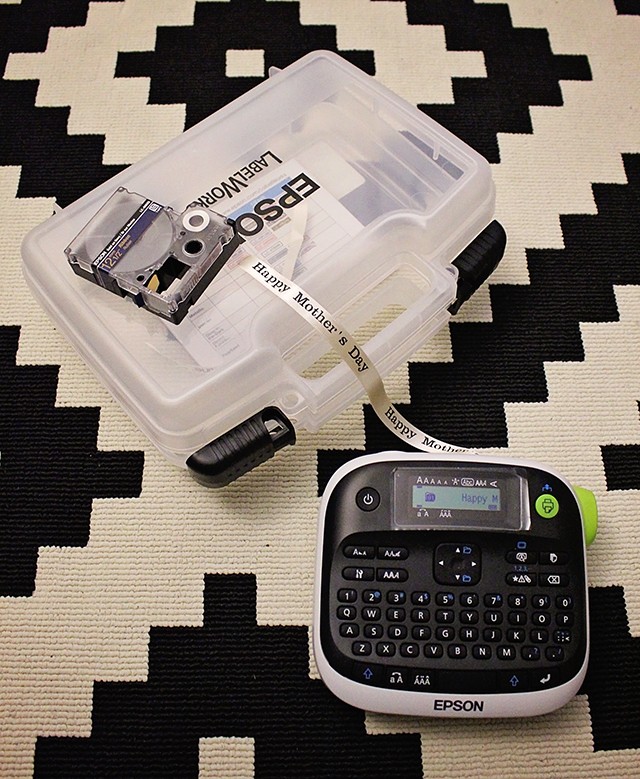 A while back the good people at Epson sent me this fun little Epson LabelWorks Printable Ribbon Kit  to try out. I'm a big label maker fan and finding out that Epson made ribbon cartridges so that the label making didn't have to be restricted to label paper alone, well, it made my day. It has also happened to make nearly all of my gifts just a little bit more special!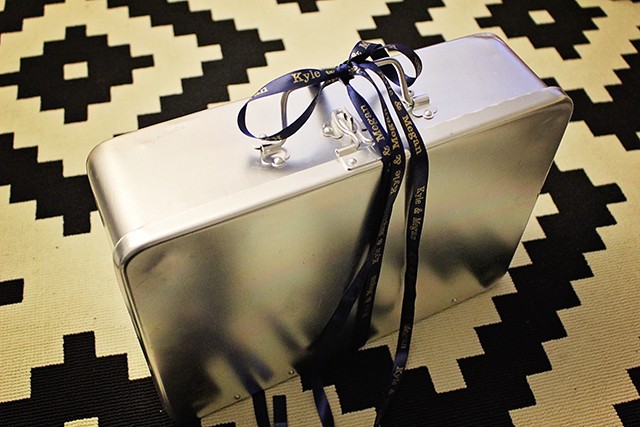 Five Ideas for How to Personalize Your Gifts with Custom Ribbons
Make a simple package stand out by using your recipients names on the ribbon. The image above is a photo of a recent gift I put together for two friends getting married. I found a fun suitcase style metal box and filled it with lots of goodies. I didn't want to wrap the box because it was so unique… so, topping it off with a personalized ribbon made it look festive while not taking away from the fun package. Bonus– the ribbon can now be used by the recipients in their home or as a tag on a gift that they give!
Forget tags! Use a custom ribbon instead of traditional tags and cards. You can put a cute message on it or simply your "to" and "from."
Make your own fortunes. Create custom fortunes or messages of love and print onto the ribbons. Use the ribbons in homemade fortune cookies or as a surprise book mark in a gifted book. As I was perusing the Epson site I ran across this awesome idea sharing another way to utilize the ribbon cartridges with the Epson label maker to share messages— Surprise Poppers with Ribbon Messages.
Wrap a message around a bundle of flowers. Spring is here and flowers make for wonderful gifts. Go down to your local market and pick up a bundle of tulips or daffodils, write a sweet message using the label maker and print a ribbon that can be wrapped around the stems of the flowers. Your recipient will end up surprised and delighted with the flowers, and then again when they read your sweet message!
Use them to share a gift that can not be easily wrapped! I love the idea of surprising a loved one with a special gift such as a trip or special outing by printing the gift message on the ribbons, tying around balloons, and delivering to your loved one. I can just imaging someone's eyes lighting up as they see the balloons and begin to read the message. Wouldn't that be such a fun way to propose too? Maybe even put the ring INSIDE the balloon!
You can be sure to see some custom ribbons in future posts on this blog. They are so versatile, inexpensive and fun!
What would you use a label maker with ribbon cartridges for?
Thank you to Epson for sending me a label maker with ribbon cartridges to try out for this blog. All opinions and ideas are my own.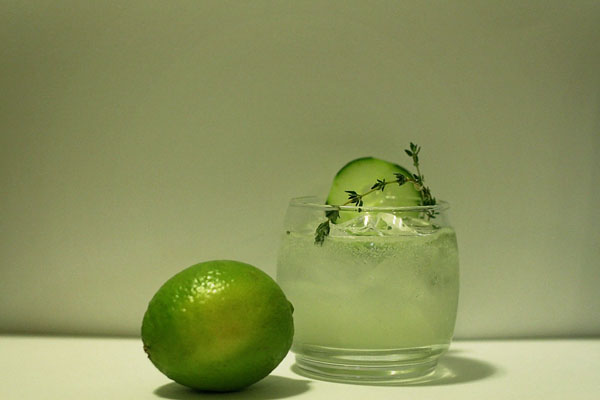 My favorite thing about Spring is the emergence of all the fresh herbs. This cocktail is the perfect mix of fresh herbs and the wonderful aromatics of gin.
Ingredients
Shaker
Muddler
Ice
Rocks glass with Ice
4 Slices of Cucumber (3 for beverage and 1 for garnish)
1 sprig thyme for garnish
1 oz Basil & Thyme Simple Syrup (See recipe below)
½ oz lime juice ( ½ of freshly squeezed lime)
1 ¼ oz Gin
2 oz Sparkling Water (Or Soda Water)
Directions
1. Put ice, 3 slices of cucumber, 1 oz of basil & thyme simple syrup, squeeze of lime juice, and the half of the lime into a shaker—Muddle
2. Pour gin into shaker, cover, and shake vigorously
3. Strain into a rocks glass filled with ice
4. Pour in sparkling water and garnish with cucumber slice and thyme sprig
5. Enjoy!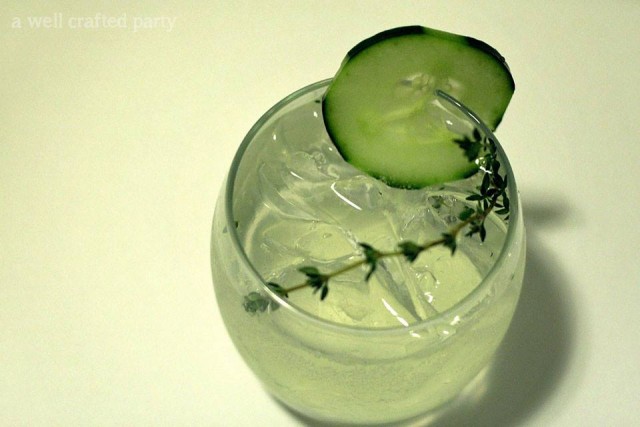 How to Make a Basil & Thyme Simple Syrup
1. Put a handful of basil leaves and several sprigs of thyme into a small sauce pan with 1 cup of granulated sugar and 1 cup of water. 2. Stir the mixture as it heats on medium-low heat until the sugar has completely dissolved (about four minutes) 3. Remove from heat and let it sit for 30 minutes to 1 hour. 4. Once cooled, taste to see mixture as it sits to get your desired herbal flavor. 5. Once you have your desired flavor pour mixture over a sieve— to strain the solid from syrup—into a jar.The mixture can be stored in an airtight container in the fridge for up to one month.
Originally published on InComplete Magazine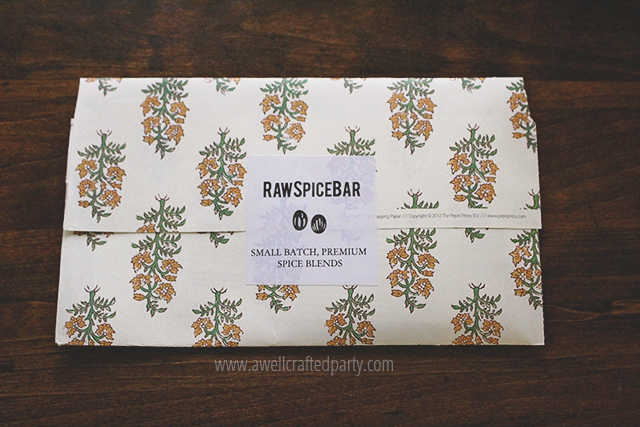 I love cooking. You can take one look at my "A Well Crafted Pantry" section of this blog for proof of that. However, one thing you won't find in many of my recipes is a variety of spices. I'm sort of simple when it comes to using spices in my cooking. I like using fresh and dried herbs in cooking, but even that I typically limit to two or three different ingredients. Because of that I've stayed away from cooking some of my favorite styles of foods. Part of the hesitation is not knowing if I'll like a certain spice or spice combination. The other is whether I'm going to use it very often. Then of course, there is the cost! Buying ten different spices to create one dish is not easy to do when living on a budget. Cooking with spices always seemed intimidating and expensive.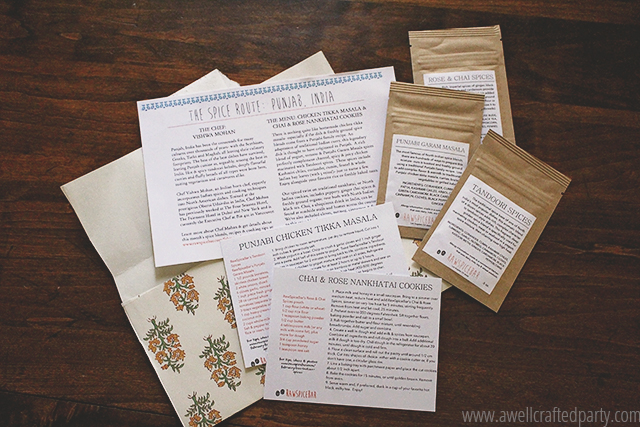 Enter my new favorite subscription service. I love subscription services. I'm a member of several for my entertainment, to my blog work to simple pleasures we want to enjoy at home such as food or beverages. I was thrilled when asked to try out a new spice-centric subscription service.
The RawSpiceBar is a subscription service perfect for people like me who want to try different spices and spice combinations, but don't want to spend an arm and a leg trying them out.
For $6/month you get a small batch of spices delivered to your door with a short story about the spices and the region that they come from along with some recipes. The past three month spice batches included:
How much fun is that? I have never cooked ANYTHING with any of these spices. It is a whole new world of cooking at my finger tips.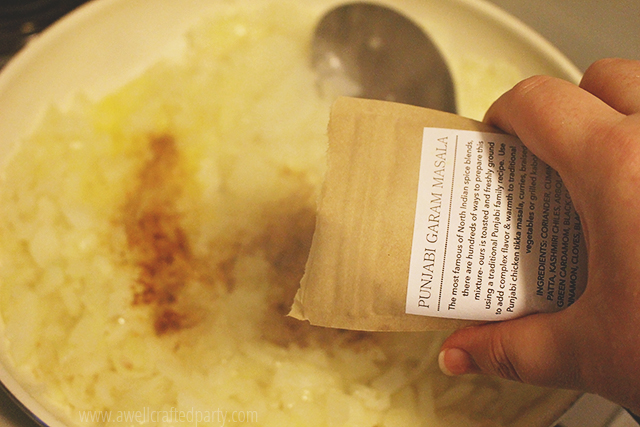 I originally wanted to try creating my own recipe with the spices. But, since I had never worked with ANY of these spices before, I decided to try out one of the recipes that were provided.
I made the Punjabi Chicken Tikka Marsala using the Punjabi Garam Masala spice mix and the Tandoori Spices. One of the directions on the recipe was to bring the spices back to life by heating them in a dry saucepan on the stovetop. I cannot describe the amazing smells that were in my kitchen. I want to do this with ALL my spices now!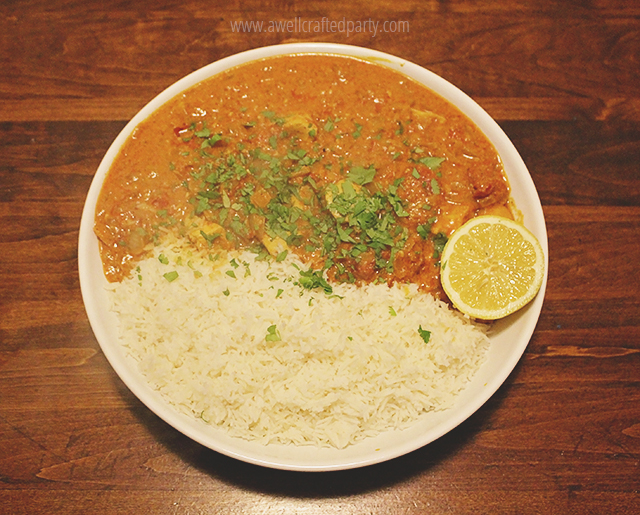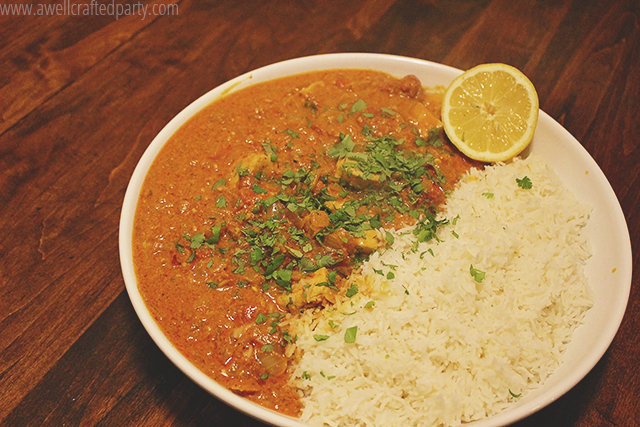 I made this meal for myself, my husband and my toddler. All three of us ate as much as we could and there was enough for at least 4 more grown adults! I love that the recipes create enough for a crowd. Perfect for when I want to try out a fun new dish with friends.
I do have to say that the recipe card was missing a few bits of important information while cooking. But, the online recipe fixed any of my questions. So, if you read through the card and have questions, jump on the RawSpiceBar website and use the online version of the recipe instead.
Want to give it a shot? Enter the giveaway below for your chance to win one of two 3-month subscriptions to RawSpiceBar! Or, hop on over to RawSpiceBar now to sign up for just $6 a month!
Please read giveaway guidelines. Giveaway begins today, March 26 and ends 12AM PST April 6. Giveaway open to readers in US & Canada only. 
Thank you to RawSpiceBar for providing me with a sample subscription to try the RawSpiceBar services and share with readers as well as the giveaway subscriptions. All opinions and images are my own.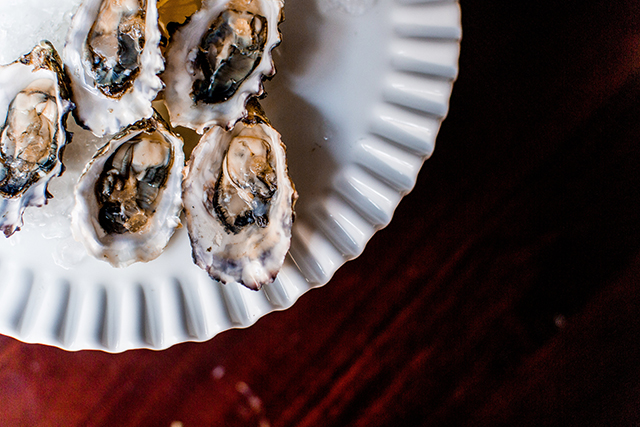 Photo via Mary Boyden – Tabasco Shaved Ice Oyster Topping 
Just recently I had the opportunity to visit a conference in Portland, Oregon all about food! I learned a lot from the FoodWorx sessions that I was able to catch…more-so, they got me thinking a lot! I've got copious notes and many great sources to connect with to bring some more food-centric posts to this blog. However, one of these talks has been resonating under the surface for a while now and I feel that I need to share my thoughts… One short talk that has stayed with me was from Ian Rubin of Whole Self Wellness titled "Rewriting Your Food Story."
What the heck is a food story? Well, in very simplified terms, it is how life and circumstances has shaped your relationship with food. I've known for several years now that my food story (though not entirely unique) has made me look at food different then a lot of my friends. While someday I may get into my food story here on the blog, that isn't what this post is about. Ian's talk about rewriting a food story made me remember something a co-worker once lamented about…
"Why do people always want to get together for dinner or drinks? Why can't people get together for something other than eating!?"
Food in celebration is a part of many different culture's "food stories." There are Sunday dinners at grandma's house, big beautiful birthday cakes, holiday meals that people spend months prepping for… the list goes on and on. Food is a big part of celebration!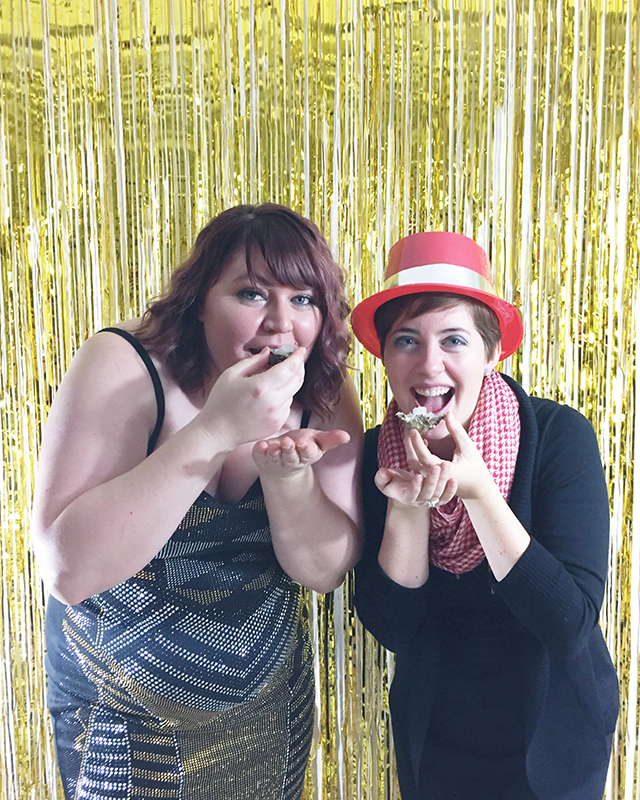 Photo from my 31st birthday shindig 
I actually LOVE this part of my food story. I love how food brings us together. A large portion of this celebration-centric blog is FOOD. I enjoy brining foods to work for people to share and enjoy. I enjoy planning party menus. I enjoy random dinner parties that I throw just because.
However, with a philosophy that everyday is worth celebrating, I have started to re-think this part of my food story a bit.
I've started to ask myself questions regarding the role of food in a celebration. Does all celebratory food need to be healthful and consider my guests nutritional intake? No! Not in my book, I'm definitely going with a decadent cake if it fits the occasion. Perhaps it can add to the wellness of the soul rather than the body when eaten as an occasional treat. Though, a little consideration of the nutrition of guests is never a bad thing.
Over the past couple of years I've been trying to be more thoughtful in my selection of foods for celebrations. While many of my parties are still planned with food as a central part of the celebration, I try to consider the food stories of those in attendance. When brining food to work I no longer grab delicious donuts or homemade cupcakes. Instead I opt to bring more healthful and substantial offerings. (I'll still eat the donuts if YOU bring them to me though!)
Other changes I've made in food in celebration is that I really look for quality over quantity as much as possible now days. I will opt to have fewer celebrations, or sometimes fewer guests, in order to be able to purchase higher quality ingredients or meals.
What traditions do you have with food in celebration? What changes have you made as you've grown older in this area?
How does Food in Celebration fit into YOUR food story? Comment below.
Many, many years ago I met the guy that turned out to be my husband. At that time I had no desire to ever be married. I had no desire to plan a wedding. Something strange happened to my very unromantic soul in dating my eventual husband. While I am still pretty sure that he is as happy as I am in the choice to marry, I am not sure he was prepared for what the planning of the wedding awakened in me… a love for weddings that would just NOT die.
I'm excited to be participating with a team of some of Portland's very best wedding vendors to create a wedding space at the upcoming The Toast Wedding Showcase hosted by Elli.
When I say the very best in Portland's wedding vendors I mean it! I've been inspired and incredibly excited by the ideas and work coming from my teammates for this event. We have a 10X10 space that we are creating with our inspiration coming from selected stationary provided by Elli.com.
I'll be creating a DIY wedding backdrop that I'll eventually share here on the blog. In addition I'll help with the styling of the space. Our rental company Something Borrowed Portland Vintage Rentals is bringing out all the stops with some really fabulous vintage rentals… including a brand new custom built item that will see its debut in this show! Lane' will also be helping us style the space. The food elements are being put together with a custom menu by local northwest-style catering company, White Pepper. I've seen the custom menu and can't wait see how it all looks! No wedding is complete without some gorgeous floral elements and our florist, Intimo: An Intimate Occasion Florist in Portland, has designed something truly spectacular. Local calligraphy artist Kelsey Malie is lending us talents to help really put the icing on this oh-so-gorgeous cake.
This event won't only be a great way to gather inspiration and DIY wedding tips, but it also be a way to connect with wedding vendors in Portland that truly care about your event and their craft. In addition to seeing all the cool curated wedding spaces designed just for this event, attendees will also get:
Complimentary Appy Couple wedding website and app.
Entry into drawing for chance to win a free engagement photo shoot.
Gorgeous and festive photo booth pics courtesy of Happymatic.
Bridal style showcase with looks for events leading up to your big day.
First 125 attendees receive a gift bag full of surprises.
Complimentary food and drinks.
Click here to purchase your super affordable tickets to Toast Wedding Showcase today! 
I'm also giving away two sets of two tickets! Bring your mom, your groom, your bride or someone from your bridal party! Make a girls/guys night of it or a romantic evening for two.
Please enter the below giveaway only if you are going to be in the Portland area on March 7th and wish to attend the Toast: Curated Wedding Showcase. Winners will receive notification by March 3rd.
I had never even heard of a marionberry until I moved to Portland. Now, these native to Oregon berries are just one of the many reasons I'm in love with this place. One of the other reasons I love Portland is that we like our beverages here! Mixing the two just seemed natural.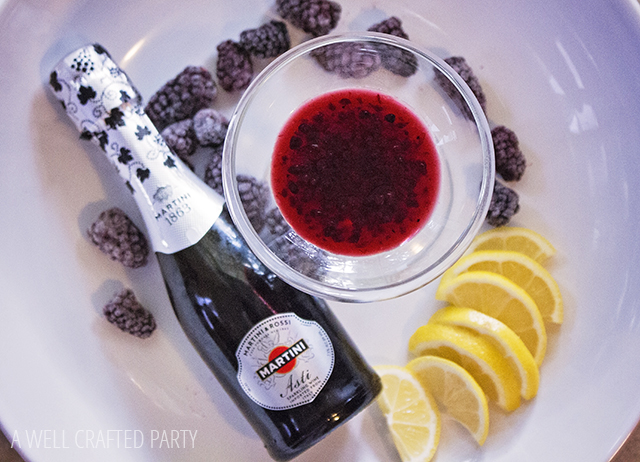 When then fine people from "Eat your Oregon Berries!" contact me and asked me if I'd like to develop a recipe with berries grown right here in the area I knew immediately that I wanted to make a cocktail. One bag of the Columbia Fruit Marionberry Blackberries was way too much for just one recipe… so, I made a couple and will be sharing them over the next few weeks!
 Marionberry Cocktail Syrup:
To make this cocktail you'll first need to make a syrup with the berries. You can choose to strain the seeds from the syrup or you can choose to leave them in like I did. This recipe will make approximately 8 oz of syrup.
Ingredients:
2 cups frozen marionberries
Fresh squeezed lemon juice of two lemons (approximately 3 oz)
1 cup of refined sugar
3/4 cup water
Directions:
Combine the water and frozen marionberries in a saucepan over low to medium heat. Cover with a lid and let simmer down. Stir occasionally. The berries will break down and the juice will be watery and red.
Once the berries are broken down, mix in the cup of sugar. Stir until the sugar is dissolved completely.
Pour into a container, set in fridge and let cool.
After cool mix in the lemon juice. The syrup should be slightly thickened, but not quite the consistency of a maple syrup.
Make a cocktail with the syrup or pour over ice and top with soda water for a refreshing marionberry soda!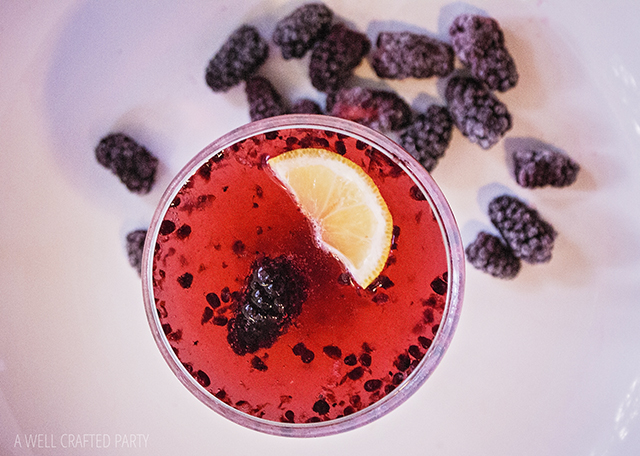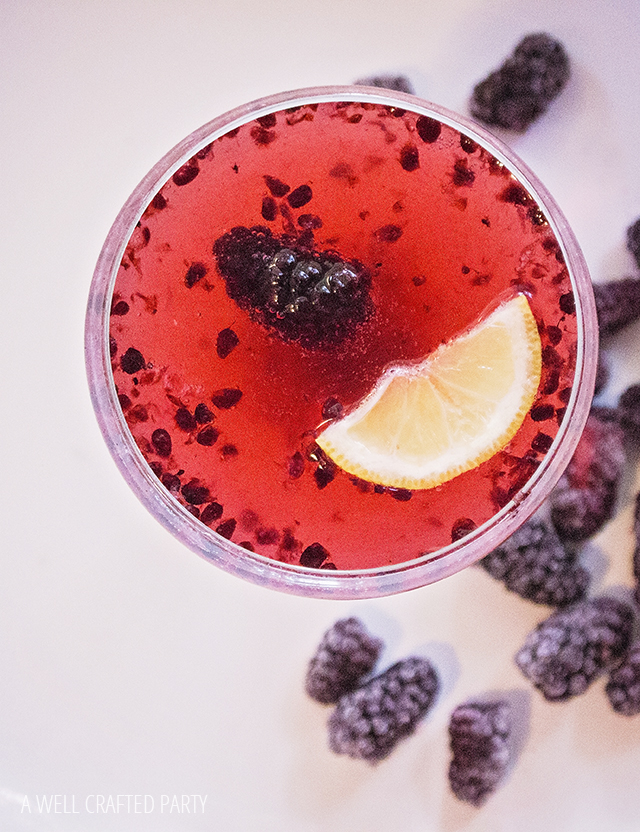 Marionberry Champagne Cocktail Syrup:
I love champagne cocktails for all kinds of occasions. A little sugar, a little citrus, and a lot of champagne and I am a happy camper. A traditional champagne cocktail will have a sugar cube and some bitters. This cocktail is a variation on that using the syrup in place of the sugar and the lemon in place of the bitters.
Ingredients: 
1 oz marionberry cocktail syrup
4 oz sparkling wine
garnish with marionberry and a slice of lemon
Directions:
Combine ingredients in a champagne glass, garnish and enjoy!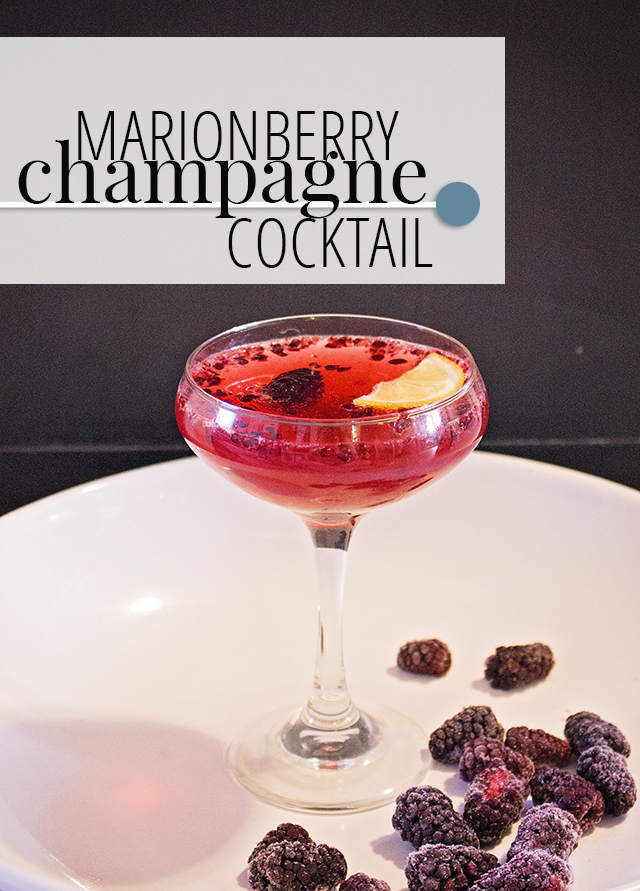 Ingredients for this post were paid for by the great people at Oregon Berries with a gift card to our local New Season's Market. I found the Columbia Fruit Marionberry in their freezer section. Thank you for supporting the companies that help me bring fresh and tasty new content to the blog! 
It's here! If you are a subscriber to the newsletter then you've already seen that I've released the 2015 edition of my free printable blog planner. If you haven't subscribed, then what are you waiting for!? The newsletter doesn't go out too often and when it does it always has a free printable for you! Some printables are blogging related and others are just about celebrating life in general.
Scroll down to subscribe to the newsletter. After your confirmation you'll receive an email within the hour with a link to your fresh new printables! Subscribers will receive first dibs at all updates to this file! If you've already subscribed and love the new printables then I would appreciate you sharing this post! Just click one of the SHARE buttons at the bottom of this post or pin the images directly! (Lots of thanks for sharing!)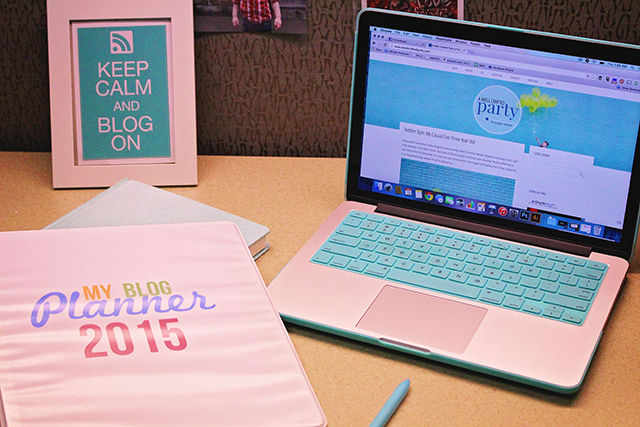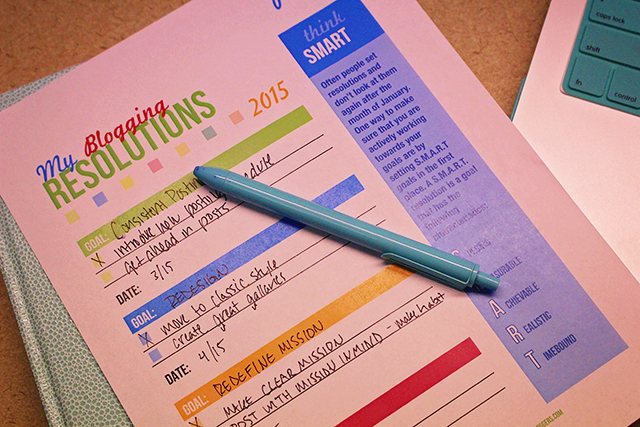 Here is what is new in this year's set of free blogging printables:
I created this printable file with the same basic bright colored designs from the past two years. That way, if you have already printed out pages previously of the original design, then they should coordinate! That is all well and good… let's get on wit what is NEW!
Option to download only the pages you want or a huge file of a basic planner already put together for you! The whole point of this planner is to build the planner that will be most useful for your blog, not try to make someone else's dream planner work for you.
Six new brainstorming and planning pages
Cover pages! A whole schlew of new cover pages for the months or sections of your binder.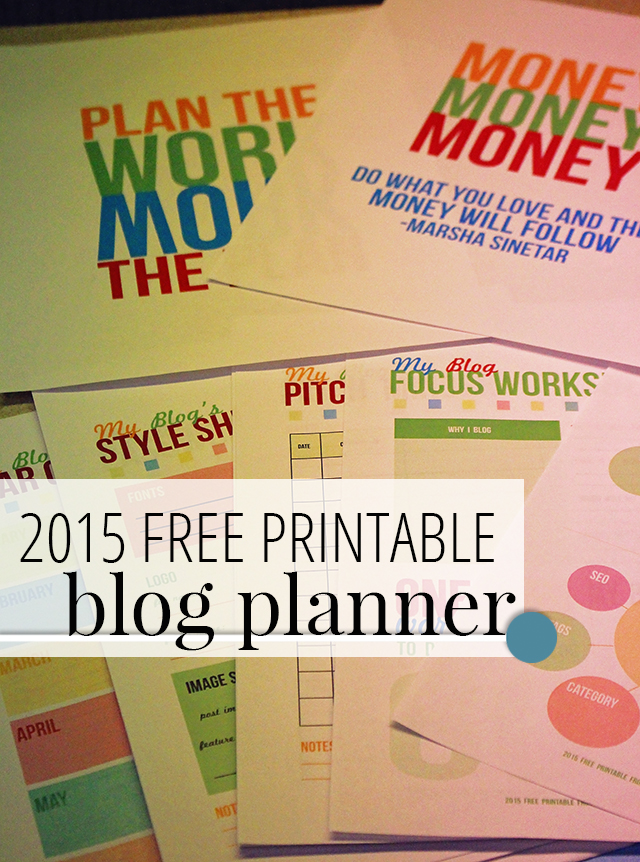 The full list of pages available to download this year:
Brainstorming for Your Blog:
Blog Resolutions
Focus your blog worksheet
Post Brainstorming Worksheet
Year of Ideas NEW!
Tools for Maintaining Your Blog:
Affiliate Program Tracker
Finance Tracker
Pitchminder
Project Budget Worksheet
Sponsor Tracker
Collaboration Tracker
Stylesheet Worksheet
Password Tracker NEW!
Analytics Tracker
Planners for Your Blog:
Month at a Glance Planner  (List) NEW!
Monthly Blog Post Planner (Calendar View)
Weekly Blog Planner (7 Days)
Three Posts Weekly Planner (3 Days) NEW!
Three Posts Daily Planner (For those over-achievers out there or large blogs out there) NEW!
Single Post Planner NEW!
Covers:
2015 Blog Planner Cover
Plan the Work, Work the Plan
Money, Money, Money
January 2015
February 2015
March 2015
April 2015
May 2015
June 2015
July 2015
August 2015
September 2015
October 2015
November 2015
December 2015
January 2016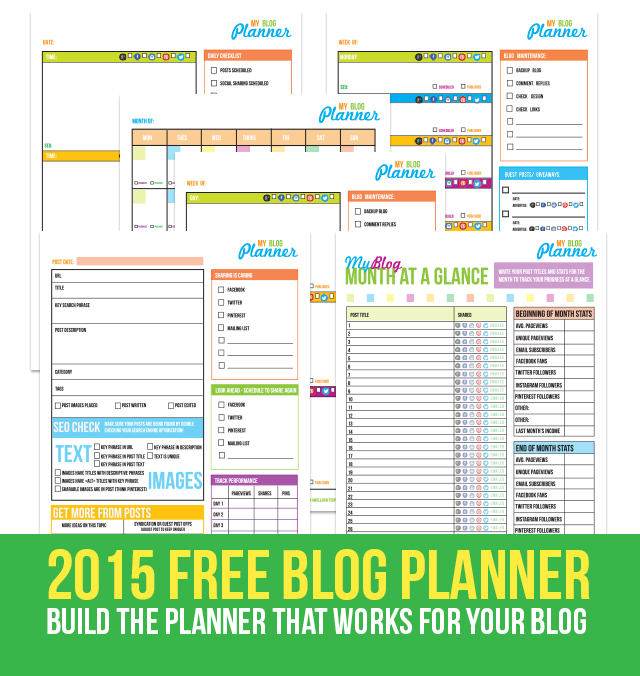 Like what you see? Subscribe today! After your confirmation you'll receive an email within the hour with a link to your brand new printables.
Do you want to know what is really strange for me about being a mom? It is the fact that after 28 years of not having a child, I can't really remember my life before my son. That is sort of difficult to explain. It isn't that I don't remember life pre-motherhood or that I don't cherish that time as well. He is just such a part of me now that I can't imagine my life without him. He has changed me in so many amazing ways, and yet I'm still the same person.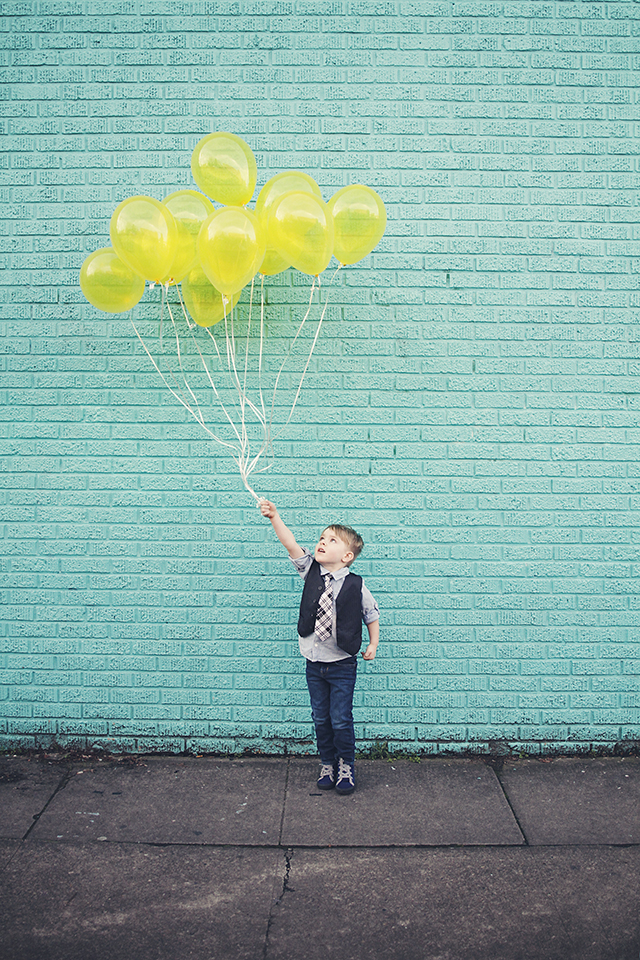 I haven't posted about my kiddo much in the past year because I'm finally seeing his little personality and have been unsure if I wanted to share it on my blog. He has his own personality that is no longer just a reflection of my husband and me, but is just him! In the end I finally decided that I will abide by some personal rules when posting about him, and if and when he decides that he doesn't want to be featured on my blog I'll respect that. Currently he loves the camera. If you can't tell by these amazing shots taken by Macey from Moments by Macey.
Casual Cool Toddler Style – Hiding the Threenager
At three years old we are dealing with a variety mood swings. Sometimes this little guy will be the most polite and amazing child. Brian and I will look at each other with "what in the world happened to him?" Other times it is FIT city. From everything I've read from mothers and fathers of 3 year olds… we are right on track.
The day we took these photos with he was on his best behavior. You would never had guessed that just hours before he had thrown an epic fit because he didn't want to nap and then another epic fit because he didn't want to wake up. By the time we got to the wall and had a bunch of balloons he was the happiest and sweetest kid on the block. He loved his casual cool toddler style look, making sure his hair was just right in the mirror. But, really… it was all about the balloons. Man, balloons are amazing.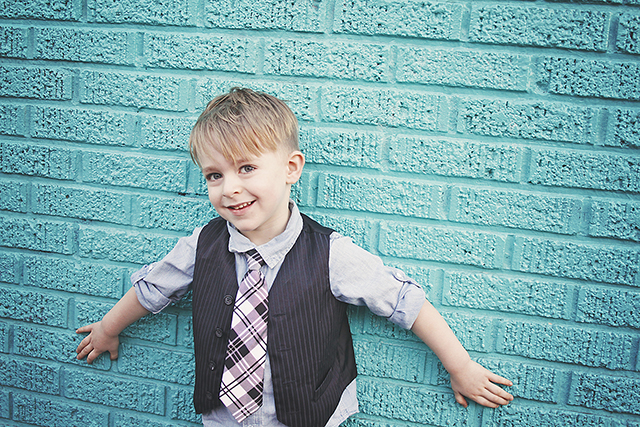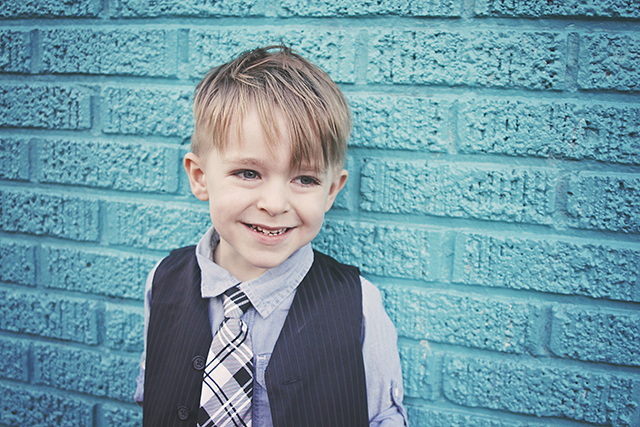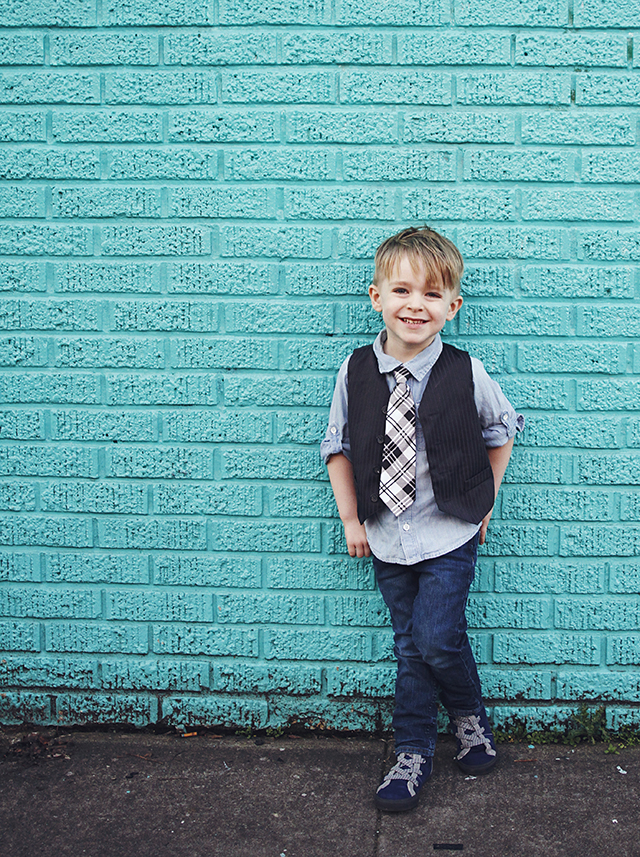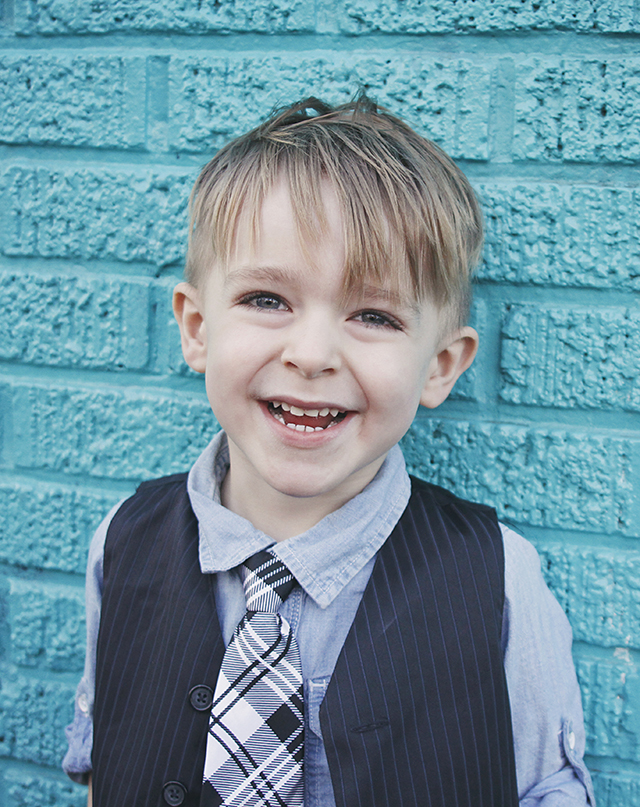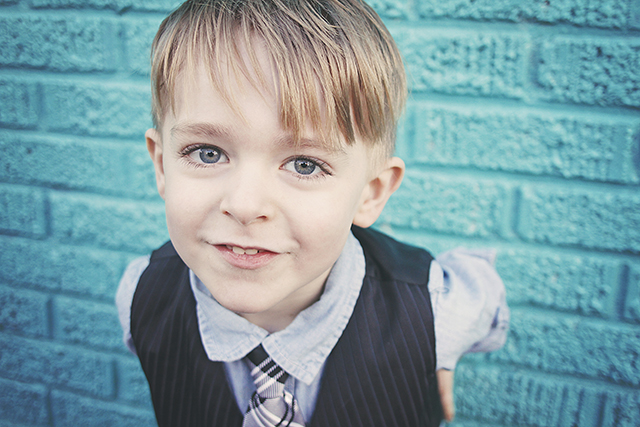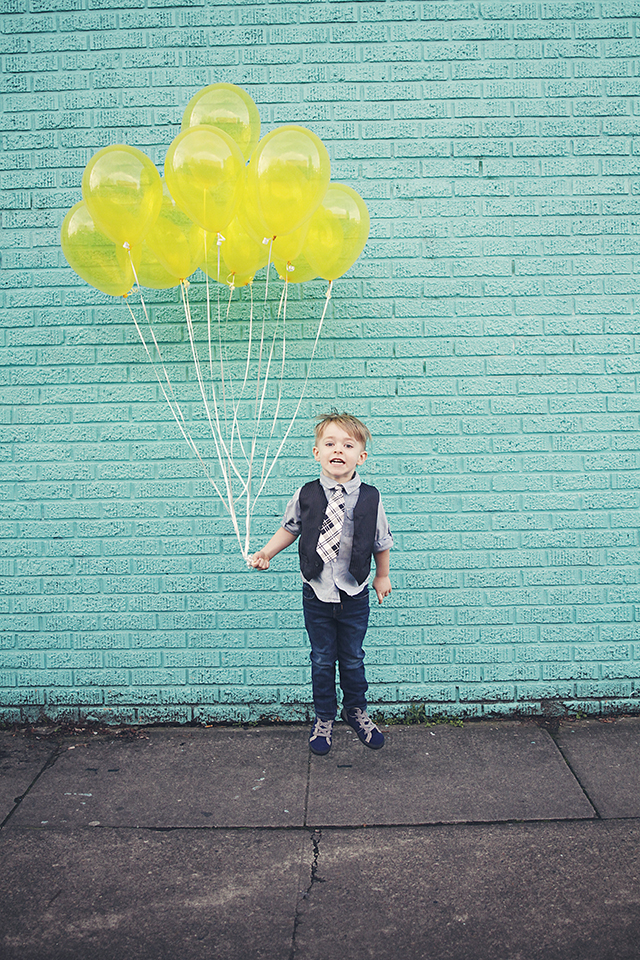 Outfit details: (affiliate links may be used) 
High top two tone shoes via Old Navy // Skinny Jeans via Gap // Chambray Rolled Sleeved Shirt via Old Navy // Vest via a three piece set from Burlington Coat Factory (Similar via Amazon) // Tie was a gift (Similar via Amazon)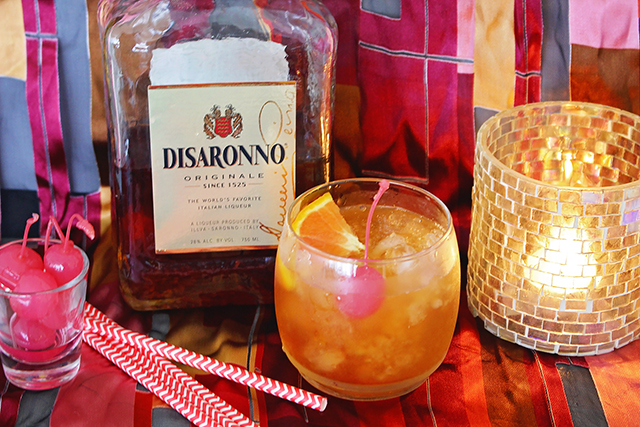 Happy Valentine's Day! Today is one of my favorite holidays. Not for all the mushy stuff. That is great and all, but that isn't what I love about today. I love chocolate, sweets, red, pink, decadent foods, the phrase 'I love you!,' little notes of love, and so much more.
When I was a little girl my dad always made a point of getting my sister and I something small for Valentine's Day each year. Even when we couldn't really afford anything, he made a point to tell his girls we were special this day. When I got a little older I loved making valentine's for my friends. I might have tried my best at hiding a crush or two within friendly valentines. I guess I was pretty good at the hiding part of it all, because no one ever seemed like they found out! Whooops.
It never was a "romantic" time even after meeting my husband. I worked in the restaurant industry for so long that Valentine's Day usually meant I had to work. Because of that time I never really like to go out on Valentine's Day. I prefer to stop by the grocery store and grab some delicious ingredients that we don't get to use often. Tonight is no exception. Tonight I'm going to run by Whole Foods for their Steak & Lobster special (seriously, once you see this Herb-Roasted Lobster Steak recipe you'll want it too!) and bunch of their roses that are on sale. We are doing a small dinner party with friends. I can't wait!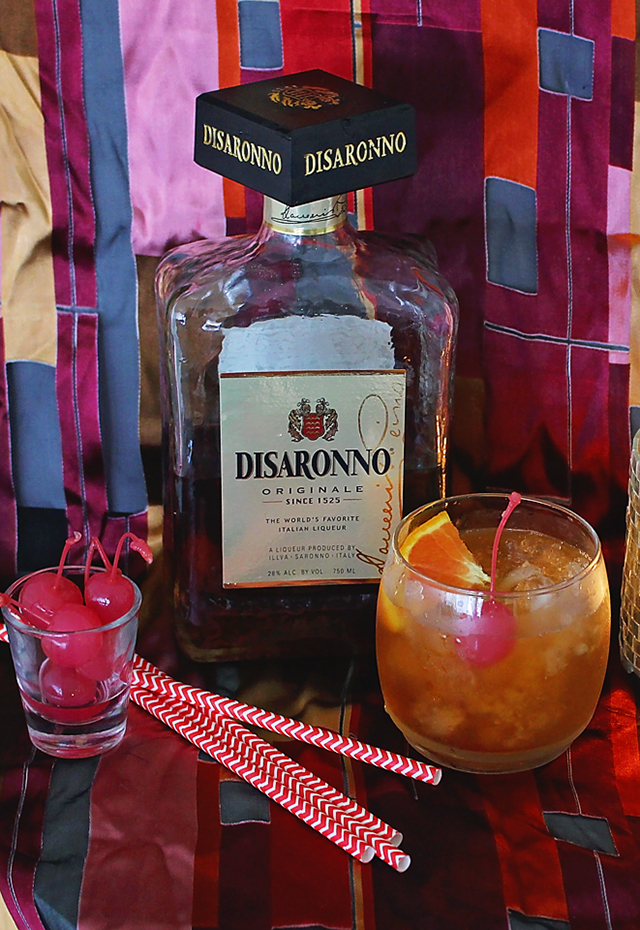 In planning my menu for tonight I knew I wanted to use one of my most beloved liqueurs in a drink. Amaretto is one of my favorite ways to give a little sweetness to a drink. Amaretto is a sweet almond-flavored liquor that is made from a base of apricot pits or almonds or both. Funnily enough though sweet and delicious the name Amaretto comes from the Italian word Amaro meaning bitter.
Good ole' wikipedia says this of the word, "Conflation of amaro ("bitter") and amore ("love") has led to associations with romance." I guess I'm just going to be a part of all those people that have trouble distinguishing the two, because I definitely amore my Amaretto.
I've always believed drinking a good Amaretto Sour felt like enjoying a really great make-out-session. Don't believe me? Make one and find out! Or, scroll down a little further and find ways that Amaretto can enhance other favorite beverages to make them even more lovely.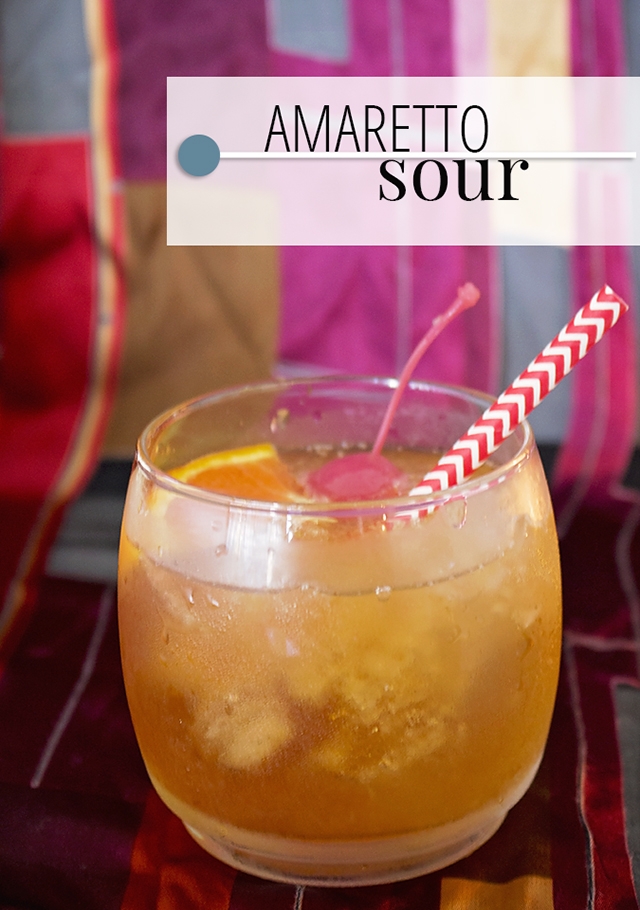 How to make an Amaretto Sour:
Ingredients:
2 oz Amaretto
3/ 4 to 1 oz home-made Sour Mix (to taste)
A good maraschino cherry (check out my thoughts on a good maraschino cherry here)
Orange Slice (optional- I just love the flavor of orange and amaretto
Ice
Directions:
Pour the amaretto and sour over ice. Crushed ice gives this drink even more 'kissability'. I like to garnish with a a good maraschino cherry and a slice of orange!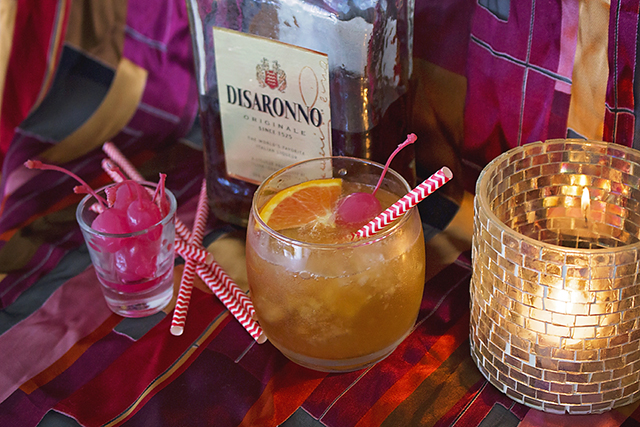 Use Amaretto in these drinks to make them even more lovely:
Margaritas— Enhance the orange flavors and lend some sweet to your sour by adding Amaretto to your Margarita. To make a great margarita with Amaretto rim your glass with sugar rather than salt and pour the following ingredients over ice or blend in a blender together: 1 1/4 oz tequila, 3/4 oz amaretto, 2 oz sour, and 1 0z of fresh orange juice. YUM.
Spiked Coffee— Put 3/4 oz to 1 oz of amaretto in a hot coffee, top with a dollop of freshly mixed whipped cream and top with a dash of nutmeg.
Sidecar — Someday I'll share my very favorite side car recipe with you… but, for now, consider trading out the cognac in a sidecar with Amaretto! To make pour the following ingredients over ice in a shaker, shake, and then strain into a chilled and sugar rimmed martini glass. Garnish with a twist of orange peel. Ingredients: 1 3/4 oz Amaretto, 1 oz Orange Liqueur, and 1/2 oz fresh squeezed lemon juice. So good.
Have the happiest of Valentine's Day… may it be sweet and not sour at all!
Do you have a favorite drink featuring this lovely liqueur Amaretto? Comment below with your recipe!