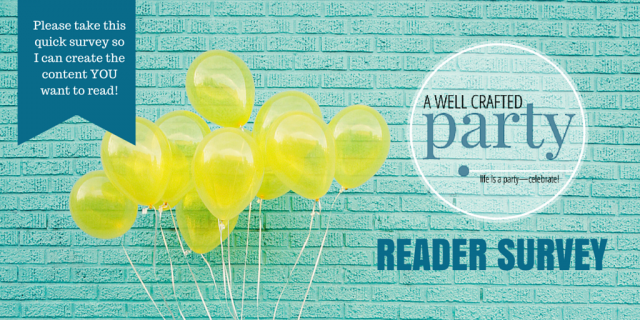 Dear Well Crafted Readers,
I've hit one of those times in my blogging journey that I've got lots of content ideas and opportunities, but not near enough time to do them. It is a great problem to have, but it is still a problem. I want to make sure that the content I choose to focus on for this blog is not only something that I enjoy writing and sharing about, but also something that provides YOU with something special.
Whether you are just visiting my blog for the first time or are a long time reader, I'd like to know what you think, what you want to read, and what posts help you out the most. Please take a moment to answer this quick three question anonymous survey. I appreciate it and will make sure the content that comes out of this survey is the best possible content I can create!
Cheers!
Jenni Bost, A Well Crafted Party
A couple of weeks ago I got to help coordinate and attend another awesome Portland Bloggers' Meet-Up. We always to try mix times, themes, styles of meet-up each time that we meet. This time we went for a speed networking style meet-up in the morning/early afternoon… due to the time of day we knew that we wanted to serve up some brunch items.
Brunch is one of my favorite meals and serving it up at a party is always a great choice because you can mix all types of favorite breakfast and lunch items, sweet and savory. We were thrilled with Bowery Bagels offered to bring in some of their delicious NY style bagels and schmears. Of course, planning the event, all I could think about was where we were going to place the table and how we were going to set it up to accommodate the needs of knives, spreads, toasters and all the fixings for a really great bagel spread.
Thankfully, Bowery Bagels did something that I would have never in a million years thought of (though, I sort of can't believe I never did because it is so simple and smart) that made the entire brunch spread easy and beautiful. I mean really, there is no way to really make a bunch of plugged in toasters look super pretty unless you go out and get a bunch of coordinating toasters.
The simple fix that Bowery did to serve up the bagels? They pre-toasted and schmeared the bagels and cut them up into little perfect bites.
I would have been worried about soggy bagels, but their New York style bagel was perfect like this and the bagels lasted throughout the whole event and the leftovers even lasted in the fridge for a few days more of bagel goodness. In addition to creating the bagel bites with the cream cheese schmear, Bowery thought of the vegans or dairy-free attendees by also making a platter of bagel bites with a vegan non-soy cashew spread.
A big thank you goes out to Bowery Bagels for introducing the Portland Bloggers to their bagels and introducing this simple, but GREAT party tip into my life. This post is not sponsored, however, I am the owner of Portland Bloggers to which the bagels were donated for an event. All opinions are my own! 
What party tips do you have for making a brunch style party go off without a hitch? Comment below!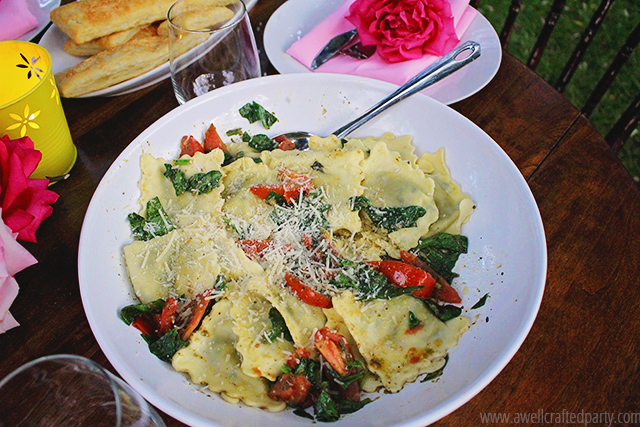 I love eating outdoors as soon as the weather calls for it. A great outdoor meal to me doesn't always have to incorporate cooking outside (ie grilling) but, it does need to be simple and easy to transport outdoors. The below outdoor meal entree is not just INCREDIBLY simple to make and holds up to my outdoor meal criteria, but also was extremely affordable to make.
When Grocery Outlet sent me a gift card to try out some of their deals, I went in with no idea what kind of meal I was going to make. But, after just a few minutes perusing the aisles and checking out their ad I had a plan in place. I picked up all of my ingredients in one trip to Grocery Outlet and had the meal on the table in thirty minutes after getting home. Today I'm sharing the main course item that took about 10 minutes from start to finish. This entree would be perfect for an easy weeknight meal alfresco!
Stuffed Ravioli Tossed with Spinach, Tomatoes & Pesto
Ingredients
1 package of stuffed ravioli from the freezer or refrigerator section of your local grocery store (Get whatever stuffing sounds good to you. I found a spinach and chicken stuffed ravioli that was delicious!)
1/3 of a bag of pre-washed baby spinach from the produce section of your local grocery store
3 Roma Tomatoes (or any ripe tomato will do) sliced into thin wedges
2 Tablespoons of Olive Oil
2 Tablespoons of Basil Garlic Pesto (I used Rising Sun Farms Pesto)
Shredded Parmesan Cheese, Salt & Pepper to Taste
Instructions
Boil water and cook stuffed ravioli according to package directions.
While ravioli is cooking, heat olive oil and pesto in a sauté pan on Medium heat.
Sautée tomatoes in the olive oil and pesto mixture for approximately two minutes, until tomatoes are just a little soft.
As pasta is finishing cooking, save back 1 cup of pasta water and then drain pasta.
Add cooked pasta into sauté pan with tomatoes, pesto and olive oil. Add in the cup of pasta water and spinach.
Mix the items in the pan and cook until spinach is just wilted.
Can be served hot, room temp or chilled! Top with parmesan cheese, a little bit of salt, and a few turns of freshly ground pepper.
http://www.awellcraftedparty.com/2015/06/02/easy-dinner-idea-stuffed-ravioli-tossed-with-spinach-tomatoes-pesto/
This post was created in collaboration with Grocery Outlet. All opinions are my own. Thank you for reading and sharing posts that are created in partnership with brands that help support this blog.Grocery Outlet operates 210+ stores in California, Idaho, Nevada, Oregon, Pennsylvania, and Washington.Visit the Grocery Outlet website to find a store near you and sign up for notifications when their new ad comes out!