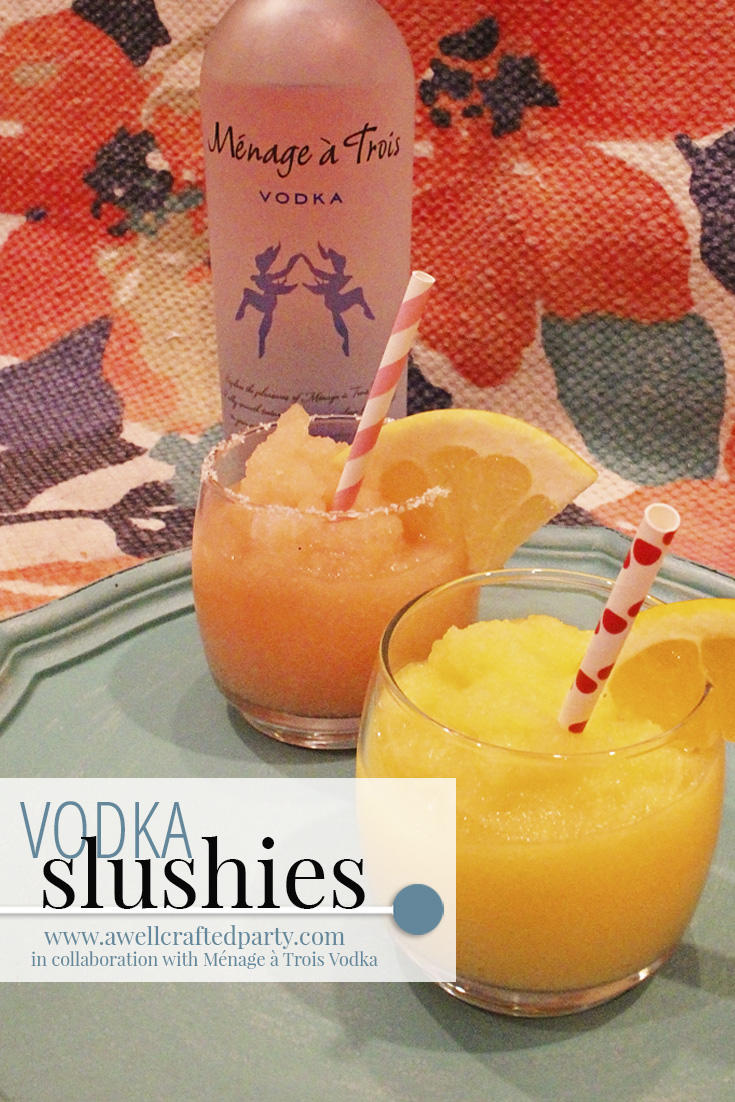 Two words—Vodka Slushies. My first job was at a drive-in that served delicious, sweet slushies in a variety of flavors. I drank those things ALL SUMMER LONG. Now days I try to stay away from that much sugar and typically enjoy my sweet drinks in the form of an adult beverage. So, for today's Saturday Spirits I combined my summer-time favorite and favorite vodka cocktails for two fantastic vodka slushies featuring Ménage à Trois Vodka. I was sent a bottle of  Ménage à Trois Vodka for purposes of creating a recipe to share with readers. All opinions are my own. For more information about my sponsored content please visit my policies page. 
Vodka Slushies Inspired by Classic Cocktails
Vodka is such a versatile beverage. It is one of my favorite cocktail ingredients hands down. My bar ALWAYS has vodka stocked. I love all the classic vodka cocktails from a classic vodka martini to a bloody mary.  Two classic vodka cocktails inspired these delicious vodka slushies that are perfect for summer— a salty dog and screwdriver! Read on to see how to make both the classic versions of these cocktails and the slushie version!
Classic Screwdriver & Classic Salty Dog
These two drinks are good ALL day long from brunch to sundown.
Ingredients:
2 oz Ménage à Trois

Vodka (or your favorite brand vodka)

4 oz of fruit juice (either Orange or Grapefruit)
Ice
Rocks Glass
Screwdriver
Fill a rocks glass with ice. Top with 2 oz of vodka then add 4 oz of orange juice. Stir to incorporate. Garnish with an orange and enjoy!
Salty Dog
A Salty Dog is a Greyhound cocktail with salt on the rim. To make a Salty Dog rim a rocks glass with kosher salt, fill with ice, pour 2 oz of vodka on ice, and then add 4 oz of grapefruit juice. Stir to incorporate. Garnish with a grapefruit wedge and enjoy!
Make them into slushies
There are two ways to make these classic cocktails into slushies. The first is if you are in a rush. the results will be tasty, but they won't have quite the same consistency as the second.
First Method:
Pour your completed cocktail into a blender and blend away! Pour the blended cocktail into a glass serve with garnish and a straw!
Second Method (preferred method):
The night before you plan to make the cocktails fill a few ice cube trays with your juice of choice and freeze. Use the frozen fruit juice to build your drink in the blender. Each drink takes approximately 6 ice cubes to 2 oz vodka. Garnish and then serve with a straw!
Pro Tip: Keep frozen fruit juice cubes in a ziplock in your freezer for impromptu vodka slushies or deliciously cold mimosas!
Tell me… what is your favorite cocktail that features vodka?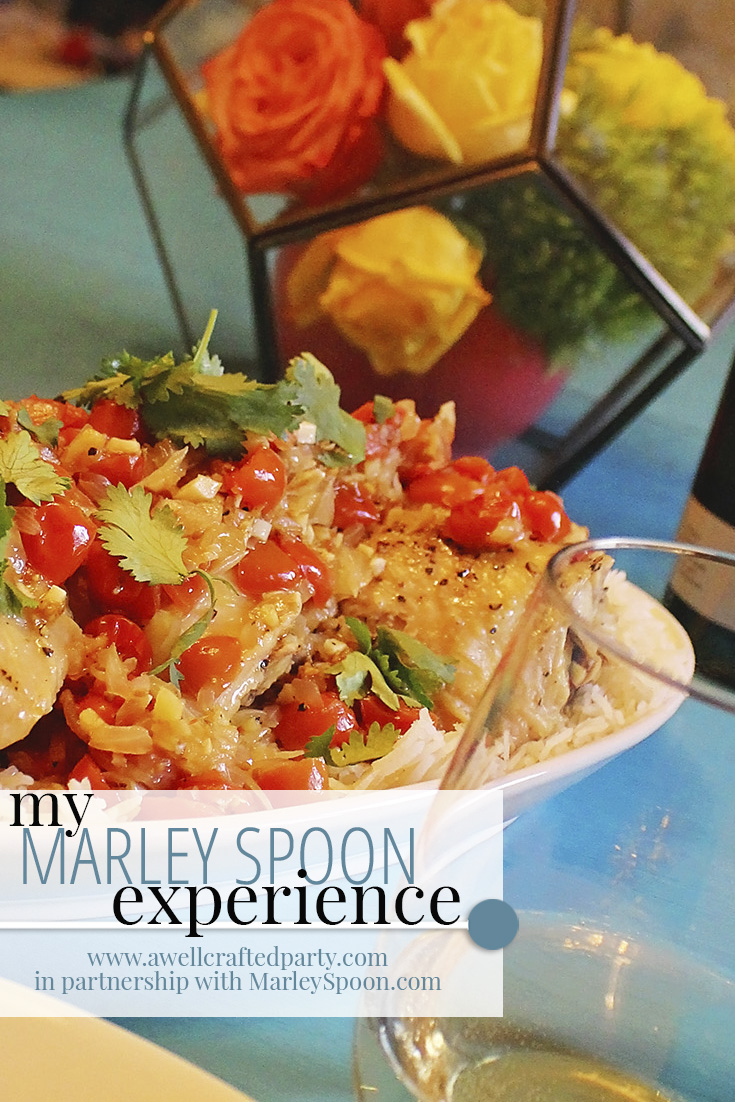 Marley Spoon offered me complimentary meals from their service to explore some easy weeknight dinner solutions. All content and opinions are my own. To learn more about my posts regarding sponsored content please visit my policies page.
I love cooking and I love putting a homemade meal on the table. However, I spend a huge chunk of time each week with meal planning, shopping, prepping, and cooking. (Note: All of this time is in addition to the time my wonderful mother-in-law puts in to prepare and cook meals throughout the week as well.) I currently work full-time and then part-time on my blog. I don't have a ton of free time throughout the week. Which means, every moment I'm working on a meal plan or shopping for ingredients I am also not spending quality time with my kiddos or working on other necessary projects.
When Martha + Marley Spoon asked me if I'd like to try their meal service I jumped at the chance for three reasons:
I love Martha Stewart. Martha + Marley Spoon is a collection of Martha's recipes delivered to your door with all the ingredients and six simple steps to getting dinner on the table. I often peruse Martha Stewart's website while looking for meals for the week. Might as well have them delivered to my door.
While I enjoy planning meals for the week, I don't really have the time every week to do 7 dinners and plan for breakfasts and lunches. Having a few of the meals off of my plate while still knowing that I will not only have all the ingredients in my house, but that it will be delicious. WIN.WIN.
I work a lot. When I get home from work I don't want to spend a lot of time in the kitchen. I'm very fortunate right now to have my mother-in-law—who is a good cook in her own right— staying with us and helping with dinners most night. Even then though, I'd love for dinner prep to be as simple as possible. Having a recipe and ingredients all delivered to my door make for an easy weeknight dinner.
My Experience Creating an Easy Weeknight Dinner with Martha + Marley Spoon
I chose two family sized meals that are meant to feed two adults and two kids. The meal photographed is the chicken, rice and tomatoes meal which is no longer an option because meals change weekly, but I'm sure it'll come back on the menu because it was super tasty!
The service offers both meals for two adults as well as a meal solution for two adults and two children. The pricing, compared to my grocery bill, makes sense for the number of meals you receive and the added bonus of not needing to do the grocery shopping or meal prep. While it won't be a budget solution for those who are using meal planning to stretch their dollar, it is an option for someone who is time strapped.
Ingredients:
This meal came with everything needed—including coconut oil—other than salt and pepper. It also came with a whole head of garlic even though it only needed a few cloves. Nothing came prepped in the box, which while it adds a little time, preserves the overall flavor of the dish. A lot of vegetables tend to lose flavor and freshness once cut and left open to air.
Directions:
The directions were simple to follow. This dish was created in two pans, one for the rice and another for the chicken and tomatoes mixture. The whole meal, with prep, probably took around 35-40 minutes.

Size of Meal:
I was pleasantly surprised with the size of this meal. My husband, son and I enjoyed large portions and still had a little bit leftover for lunch the next day. We did add a green salad on the side because while the dish included garlic, ginger, tomatoes and cilantro there wasn't a full on green vegetable side. I'm a bit of a stickler about having a green vegetable at every meal.
Taste:
I don't know if there is anything better than chicken thighs that have been cooked well. Combine them with the tomatoes, ginger, garlic and rice. Well, it was one I'd happily put in my meal rotation. Kiddo finished his plate too!
Have you ever tried a meal delivery service? If so, what did you think?
Thank you Martha and Marley Spoon for sharing your services with me and A Well Crafted Party readers!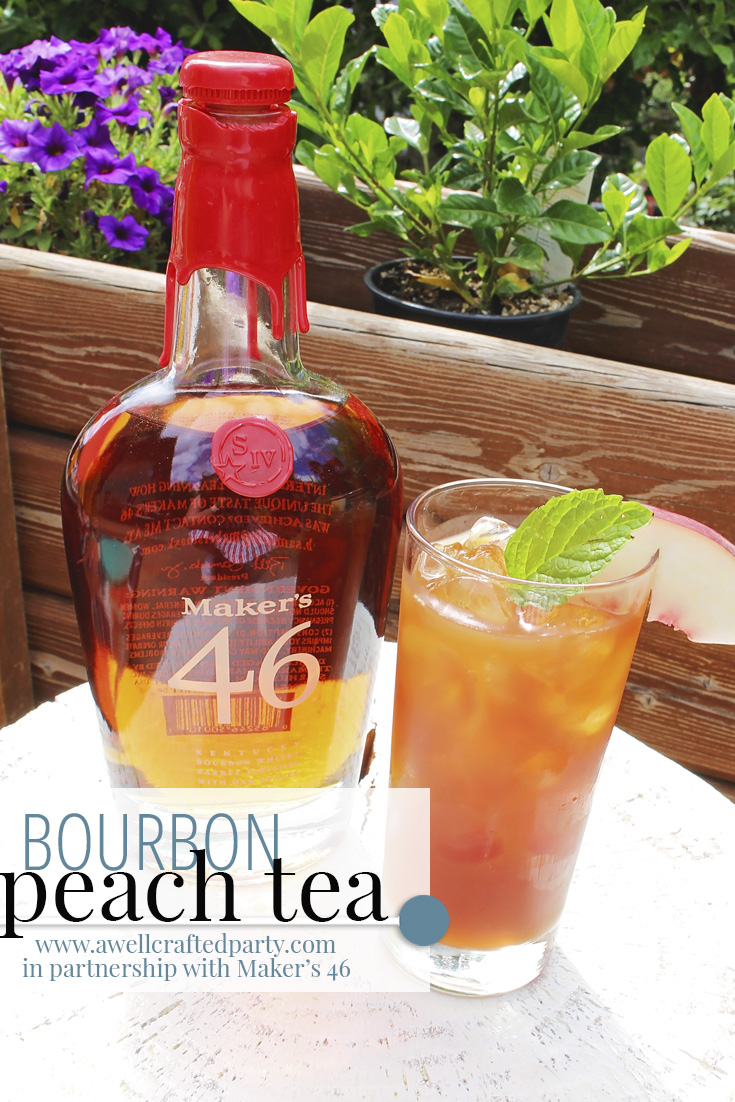 Summer just calls for a nice iced cocktail. While I typically go for bourbon straight or in cocktails fit for Fall, I was excited to try creating a tasty Summer recipe of Bourbon Peach Tea featuring Makers 46 Bourbon. I was sent a bottle of Makers 46 for purposes of creating a recipe to share with readers. All opinions are my own. For more information about my sponsored content please visit my policies page. 
Over the Fourth of July weekend we hosted our annual low country crab boil. The Southern speciality just called for a sweet tea beverage to be served alongside it. Peach Tea is my favorite sweet tee, the vanilla and spice notes of Makers 46 just makes it even better.
Perfect Summer Cocktail – Bourbon Peach Tea
First off, yes, you can just add bourbon to your favorite peach tea. However, the below concoction is a little bit more concentrated and would be good over ice or as a cocktail straight up.
Ingredients:
1 3/4 oz Maker's 46 Bourbon
1 3/4 oz Peach Syrup (see recipe below)
2 oz concentrated black tea (see recipe below)
1 collins glass filled with ice (or shaker with ice and a martini glass for those who wish to enjoy this beverage straight up)
1 spoon
mint and peach for garnish
optional – raw sugar to rim glass
Directions:
Optional: Rim your glass in raw sugar. I chose not to do this because it was sweet enough for me, but it would be tasty and beautiful touch whether served over ice or straight up!
In Collins Glass:
Pour the Maker's 46 Bourbon, Peach Syrup and Concentrated Black Tea over ice.
Stir.
Garnish with mint leaf and peach slice.
Enjoy!
Straight Up:
Pour the Maker's 46 Bourbon, Peach Syrup, and 1 3/4 oz (not two ounces as in the collins glass) Concentrated Black Tea over ice in a shaker.
Shake well.
Strain into a chilled martini glass.
Garnish with mint leaf and peach slice.
Enjoy!
How to make concentrated black tea:
I used the Lipton Iced Tea bags that are family size, though you could use any black tea bags that you like. I did 5 tea bags for 32 oz of boiling water to make my concentrated tea. Once the bags steeped for 8 minutes I pulled them out and let the tea cool before using in my cocktail.
How to make peach syrup:
Combine 1 16 oz bag of frozen peaches, 2 cups water, and 2 cups sugar in a saucepan over medium heat. Cook, stirring occasionally, until all the sugar has dissolved and the peaches begin to break up. Smash peaches into the mixture. Strain mixture using a fine mesh colander over a pourable container. Store the peach syrup in a sealed container in the fridge for up to two weeks.
What is your favorite Summer cocktail?