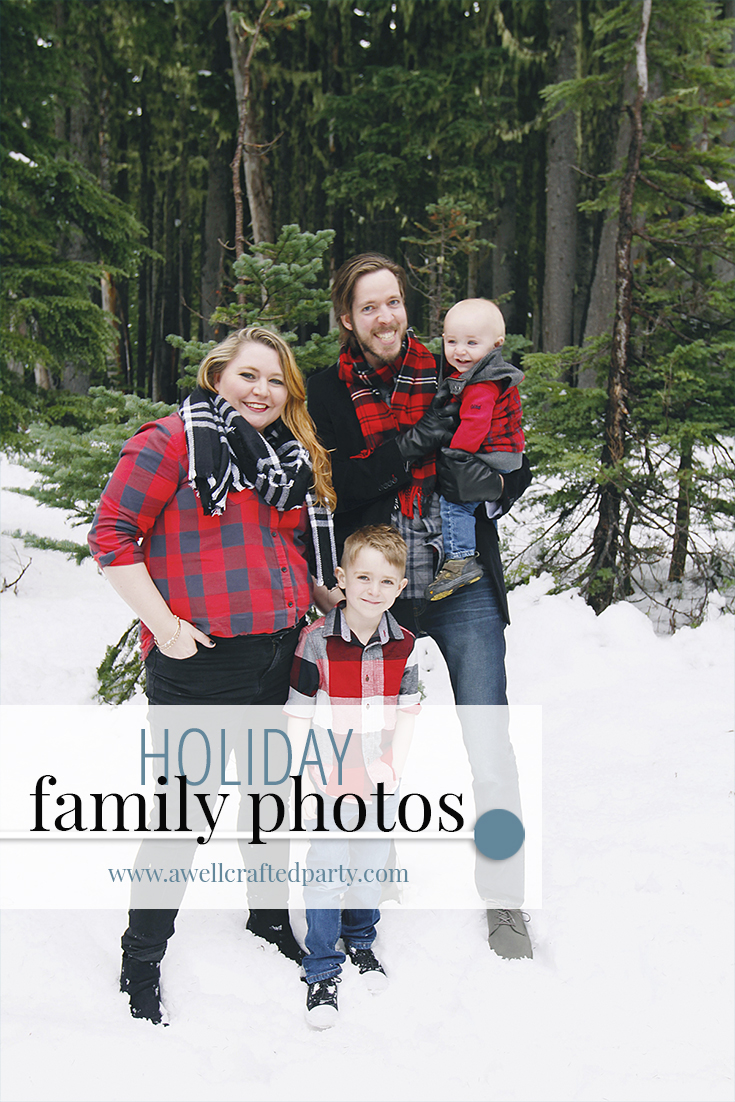 We try to get family photos a couple times each year to really capture the growing boys and important moments in our family. Holiday photos have become sort of a new tradition for us since having kiddos so that we can have a new set of image for our holiday cards. Last year Macey Snelson Photography joined us as we picked our Christmas tree out. This year we decided a trip out to Mt. Hood to play in the snow was in order. What I didn't realize is that both my husband and I wore the SAME SHIRTS two years in a row. HA!
Even with the same shirts on two years in a row we managed to get completely different images and really wonderful memories from Macey Snelson Photography. Here are some of my favs:
At the end of the session Macey also snagged a couple of new headshots of me for the holiday season. Snow made them magical.
I'd love to see YOUR holiday family photos! If you've posted them drop a link or share your profile with me so that I can see them!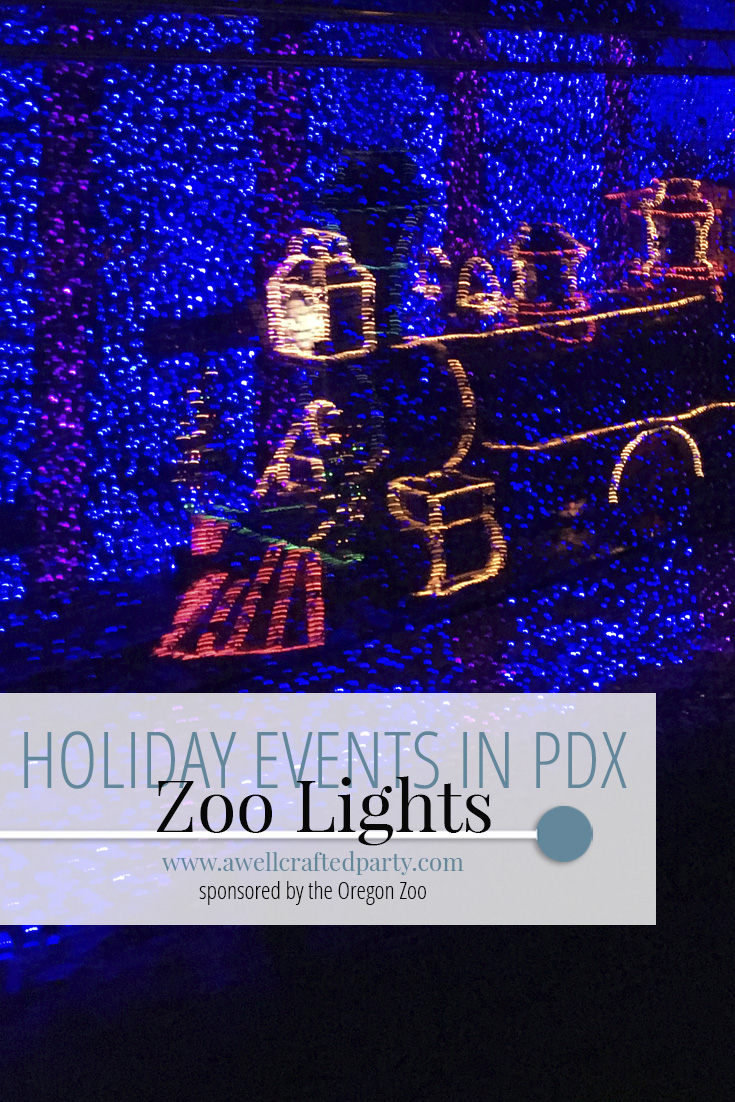 What are your favorite holiday traditions? My little family have begun traditions over the past few years that I hope will last our lifetime and possibly end up as traditions my kids keep with their kids someday. One of my favorite holiday traditions that we try to do every year is visiting Oregon Zoo's Zoo Lights. This year the whole family attended and I got to share my joy of holiday lights and zoo animals with two very excited little guys! Read on to see my tips for an enjoyable #ZooLightsPDX experience, cute photos of kiddos, and a chance to win a package of 4 tickets to this year's Zoo Lights!
This post is sponsored, all opinions are my own. To learn more about my posting policies regarding sponsored posts please visit my policies page. As always, thank you for reading more about the companies that help support this blog. 
If you were following my Instastories or Snapchat last week you might have seen my very, very excited posts about Zoo Lights. I just can't help it. I LOVE the feeling that this season brings and the twinkly lights just push it over the moon for me. Don't even get me started on how I feel about Santa and snow this season. Heart eyes all day long.
Tips for Making the Most out of Your Zoo Lights Experience
Plan your trip— Zoo Lights this year has some pretty great hours and fun extra opportunities. Plan your trip to make the most of your budget and experience. ZooLights is open 5 PM to 8 PM on Value Nights and 5PM to 9PM all other nights. ZooLights is open 7 days a week until January 1st with the exception of December 24th and 25th. Zoo Members get discounts on food purchases, gift store purchases, the carousel, and train.
Take advantage of Zoo Value Nights: Monday through Thursday November 28th through December 15th tickets are $9.95 (adults), $7.95 (seniors), and $4.95 (youth) with $1.50 off with proof of Trimet fare.
Tip: Take public transportation! While we had no problems with parking on a Thursday night and found that the parking fee was reasonable… I do recommend taking public transportation. Public transportation can drop you right off at the zoo and will give you a discount for your tickets. If the parking lot is full there is a parking shuttle from the overflow parking area, but it can mean some waiting in the cold. Might as well do a park and ride and make your trip less of a hassle.
Dress appropriately— It is Oregon in winter. It often rains and up where the zoo is located is often cooler than other areas of Portland. Dress for cold weather. We have gone to zoo lights for nearly 5 years now and I think this was the first year that we REALLY dressed for it. We had many layers on, a blanket for the kiddo in his stroller, and outerwear that was rain resistant. Thankfully we barely got a drizzle while there, but I was glad that we were prepared.
Get tickets for the Zoo Train— Maybe it is just because I have two little boys who love trains… but, this was my favorite part of the whole trip. The trains are decorated and drive through the zoo where you get to see the lights all while in a comfortable little cart. I had been waiting for huge lines at the train, but was pleasantly surprised to find that they gave us tickets for certain times which meant that when we went to the train we had a less than 5 minute wait!
Get your family photo in the tunnel of lights! There are so many great photo opportunities at Zoo Lights, but this is my favorite. I am so glad that it is a staple in the zoo light decorations and comes back year after year.
Win 4 Tickets to Oregon Zoo's Zoo Lights 2016
Must be 18+ years of age or older, and a US resident to enter to win. Winner will be notified via email, so please leave a valid email address within your comment on with Rafflecopter. Winner will have 48 hours to respond to winning email to claim their prize. If they do not respond a new winner will be chosen. Upon confirmation, tickets will be placed in will call at the zoo under the winner's name. Tickets are valid for one-time use from completion of contest through the last night of ZooLights (January 1, 2017). Visit the Zoo Website for more information about ZooLights. Value of four tickets is $59.80. No cash value. Non-transferrable.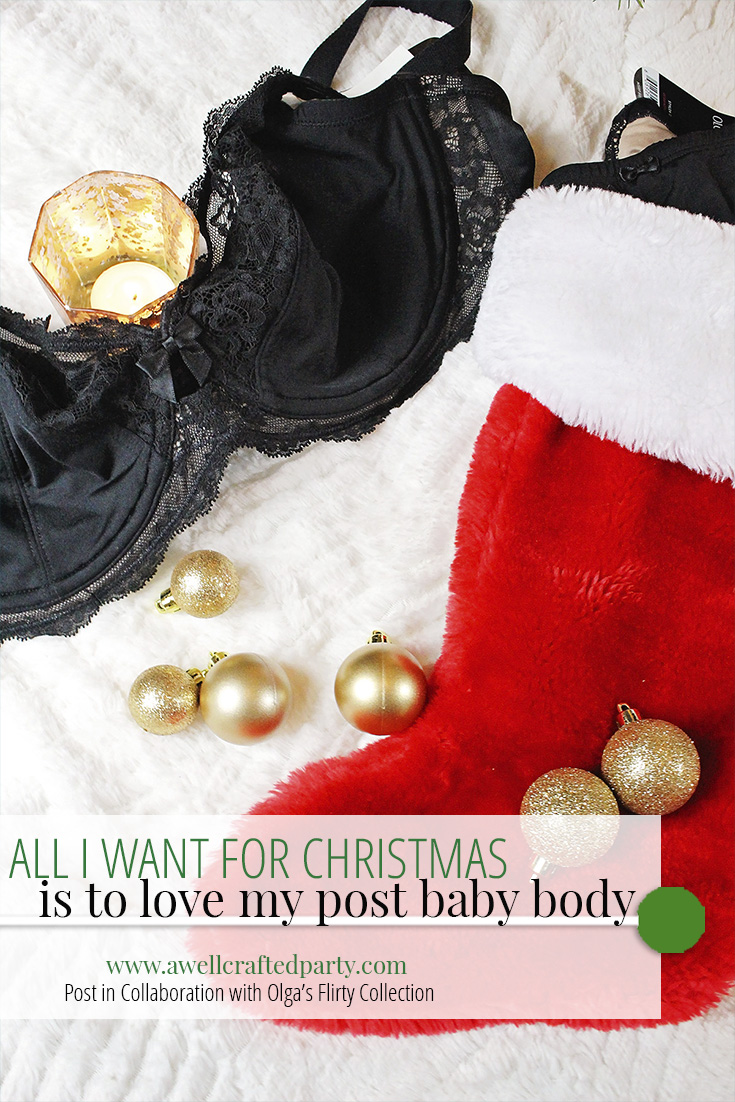 I'm now nearly a year postpartum and am still learning to work with the new shape of my body. While my weight is the same as when I got pregnant and my size is the same, my clothing does not fit the same. I was excited to partner with Olga for their new intimates collection Flirty as the biggest discovery I've made this postpartum experience is how important it is to love yourself and feel comfortable in the skin you are in at the moment. This post is in partnership with Olga an intimates company that specializes in intimate apparel for curvy and busty women. All opinions are my own. Olga's Flirty collection may be found at Macys and Kohls.
How having kids has changed my physical appearance
Having a baby does some pretty crazy things to your body. It is basically stretched, pulled, swollen and deflated all in the course of a year or so. My body bounced 'back' a little easier after baby number one than it has with baby number two. Though I have technically lost the weight gained during pregnancy, my body is different than it was after my first pregnancy and certainly different than it was pre-kiddos.
I can't blame ALL of these changes on the kiddos, because, in fact… I have AGED over the past six years. It is funny. In my head I'm still 25, but when I look at myself in the mirror I now see my mother and grandmother looking back at me. Between my changing body due to both aging and having babies, I really need to learn to love my body all over again. This holiday season I am really working on taking steps to feel comfortable in my new skin while making efforts to be healthier overall.
Tips for Loving Your Post Baby Body
There has been so much this past year that I've struggled with both silently and pretty loudly depending on how well you know me or how close you've been to a melt-down. One of those struggles has (obviously) been appreciating my body as it is now and feeling good about myself in total. I'm gonna be totally honest, the tips below are from someone who doesn't have it all together. These tips have worked for me in the past. These tips have come from friends who have dealt with these same struggles. But, they are from a totally imperfect person who is still trying to follow them all.
1. Appreciate what  you have now, stop dwelling on what you had then.
There have been so many times this past year where I've ran across a photo of me five, ten, or more years ago and have been caught up in wishing I still had the slender frame I had then. At some point I even broke down in tears for not really appreciating what I had then when I had it! Then it hit… that is the key. We are getting older. As much as I would love to not get another wrinkle or roll of funny mole on my back I also really, really want to keep getting older. (The alternative is really not a fun option.) So, my biggest tip is to take a moment and appreciate what you have right now in this very moment in time. Do you love your eyes? Think your ankles look great in those shoes you bought? Find the things about yourself that you LOVE and celebrate them. Focus on them. Appreciate them.
2. Dress in a way that makes you feel good about yourself
A bit of TMI here (though, isn't this whole post really?): I wore my stretched out underwear and old nursing bras WAY past their expiration dates. When your panties are falling off you while you walk because the elastic doesn't work anymore it is time to get new underwear. I had been waiting. I'd been waiting for my wonderful sleek figure that was just gonna suddenly appear. I was waiting until I had time to hit the gym more often or for my thyroid meds to finally make a difference. At some point I thought, It is time to STOP WAITING. Finding beautiful, comfortable, and well-fitted underwear, bras, and clothing items made me feel so much more comfortable in my own skin.
I don't care if you feel best about yourself in a pair of yoga pants or some heels and earrings. Dress in a way that you can really feel comfortable and beautiful.
Side note: I have always had difficulty finding bras that are actually comfortable in my plus size figure. I even threw down way too much money at a popular plus-size clothing retailer to NEVER wear the bras that they custom fit to my body. They pulled and pinched and were so HEAVY. Enter in Olga's Flirty Collection. I loved the look of them when the team at Olga sent over the lookbook, but was still weary that I'd actually like the selection. I can't even begin to tell you how happy I've been with the quality, styles, fabrics, and fits of the Flirty bras and underwear I received. If you are looking to buy yourself (or a loved one) some really nice (yet affordable) intimate wear items then I'd highly recommend this brand. The sizes range from 34 C to 46 H.
3. Make healthier choices
This is the part I really, really struggle with on a day-to-day basis. I know what is good for me. I know that exercising and eating healthy will go a long way in making me feel better. I do overall make fairly good choices. However, I also know that when I am feeling down and out about things it is SO much easier to make the unhealthy choices. No judgement from me here and I will take no judgement on this as well, thank you. This is human. Sometimes we don't always act in our own self-interest. I feel that moms especially don't take enough time focusing on their needs because they want the needs of their family to be fulfilled first. So, whether it is committing to drinking more water, walking more steps, cutting certain indulgences… making a commitment to your health with invariably help you feel better about yourself. It is not going to fix it all right away and I really stress BALANCE in this area. Going into extreme lifestyle changes with high expectations is a sure fire way to get burned out and feel worse about things.
4. Get in the photograph
One of the hardest parts of these changes for me is not so much seeing myself in the mirror, but seeing myself in photographs. I've cringed and cried at the site of me in photos with my sons. I've focused on those rolls of fat or the swallow looking skin. I've made myself get in the photographs anyways. I've made myself STOP focusing on what I deem as imperfections in me and instead focus on how HAPPY I look or how beautiful my family is in that moment. I don't want to get to sixty to look back and not see me in my photos of my family. I've found that making myself get in more photos and making myself look at the good in those photos has had the side effect of me actually liking myself in photos more and more often.
Well, now that you've seen my underwear and quite a bit of the most vulnerable side of me at this moment in time… tell me, what do YOU do to make yourself feel wonderful about yourself?
About Olga's Flirty Collection:
With the launch of Flirty at mass department stores, Olga now provides sexy solutions for curvy women everywhere, encouraging and empowering women to be #FearlesslyFlirty because "sexy comes in every shape and size."
The collection features four bra styles ($45 each) – deep plunge, balconette, unlined underwire, and deep plunge with lace. It also features coordinating hipster panty ($12.50) in playful colors and prints. I chose a deep plunge and balconette bra and coordinating panties to test. I am in LOVE with both though the deep plunge is worn more often simply because I got it in the nude shade.
Olga's Flirty collection may be found at Macys and Kohls.