Today was a LONG day. But, man… was it fun! We had our Portland Bloggers' Family Picnic today. Sunshine, friends, good food, and blogging… sort of my favorite things wrapped up in one! I'll be back a different day sharing some of the professional photos that Macey of Motormouth Studios shot, but I wanted to share a glimpse into today! Photos are iPhone photos via my Instagram, the Portland Bloggers' Instagram, and the Portland Bloggers' Facebook Page.

It's Picnic Week here on A Well Crafted Party. My wife bought me beers to try so I could tell you which ones I'd bring to a picnic. It's a hard, hard life. Check out the other picnic-related posts, but only after reading about the beer!
---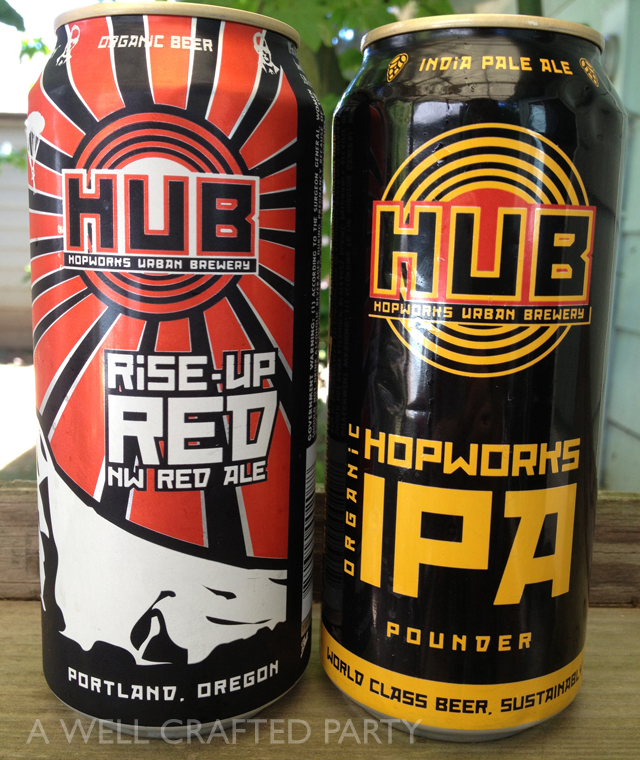 Beer in a Can, Perfect for a Picnic
Beer comes in cans or bottles, usually. We once thought that beer in cans was cheaper, not as tasty, and only for frat boys and hipsters. It still is, but the audience is widening. Around 2009, craft breweries starting canning in addition to bottling. That lead to a shift in perception, and there are a few good reasons for breweries to offer their beer in cans. Cans don't break like bottles do, and are cheaper to ship. For beer drinkers, the beer quality is actually better in cans, since no light can penetrate them, and the seal is tighter than bottle caps. The green consumer will also be happy that cans recycle much more efficiently. So let's get tasting.
Right now I'm trying the "Sweet As" Pacific Ale by GoodLife Brewing Company. They're a brewery in Bend, Oregon (can we call Bend Portland's tomboy sister, and get away with it?), and it's a satisfying pale ale for an Oregon summer. The Pacific in the name refers to the two hop varieties used in this pale ale: Galaxy from Australia, and Pacifica from New Zealand. The galaxy hops give the beer a slight citrusy, passion fruit profile, and overall, it's not so hoppy to fall into the IPA category of bitterness. If you're a fan of Widmer's Drifter Pale Ale, you'd probably like this summer brew by GoodLife.
Hopworks Urban Brewery IPA is next. The hops hide behind the malt – the aroma's all sweet and malty, and you don't really know you're drinking an IPA at first. I'd recommend it to beer drinkers who want to like IPAs, (oh, you're from Portland? You must like IPAs, right?) but find that most are so bitter they shrivel their tongues. Now, I may be losing beer snob cred here, since Hopworks claims this beer is 75 IBU. But taste it, then taste something like Ninkasi's Tricerihops. The HUB may indeed be a better picnic beer, but it's not overly hoppy for an IPA.
Another selection from HUB: Rise-Up Red, NW Red Ale. This seasonal beer was only made available in cans this year. It's full bodied, thicker on the tongue than a pale ale or IPA, but delicious. It's brewed with the northwest mainstays, Cascade and Centennial hops. I prefer more refreshing beers for picnics, but might go with the Rise-Up Red on a hiking trip in the spring. By the way, Centennial hops are also used in many other Oregon beers, like Bridgeport Brewing's Hop Czar, Rogue's Independence Hop Ale and Double Mountain Brewery's Pale Ale.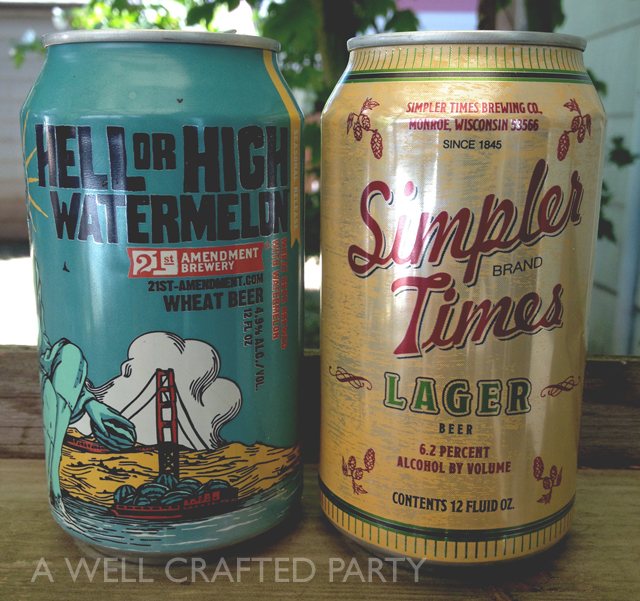 21st Amendment Brewery's Hell or High Watermelon is an American wheat beer, with watermelon added during second fermentation. I love eating watermelon, but I've never really been a fan of anything watermelon-flavored. When I tasted this beer, I did first notice the watermelon, but it really wasn't overpowering. It ended up being really thirst quenching. I would pair it with campfire food or burgers.
Looking for a cheap, session beer? Some picnics call for trunks full of beer, but you just can't stoop down to the level of Bud and Coors. And PBR makes you feel like you're trying too hard. Our local  Trader Joe's stocks the Simpler Times Lager, from Minhas Craft Brewery, in Wisconsin, IL. Set your expectations to low, and you'll be happy with this affordable (under $5!) six pack.
If bottled beers are allowed in parks where you live, like they are in Oregon, I'd also recommend 10 Barrel Brewery's Swill. It's a summer sipper, a berliner weisse infused with grapefruit. You might not find it to your liking, if you've never had a penchant for fruit beers. I loved the taste, and the look on people's faces when they take a sip. It's surprisingly good. And even the most machismo of men can maintain their masculinity while partaking in this fruity picnic beer. Maybe they'll sell it in cans, after they read this post? C'mon 10 Barrel, you liked my tweet that one time, about your beer; you know you owe me for the free advertizing.
For the perfect picnic, my recommendation is just to try them all. If I had to pick one, I'd suggest the Hell or High Watermelon Wheat. I had two at the Portland Blogger's Family Picnic this afternoon, and it just felt right.
What are your favorite canned beers?

In honor of this weekend's Portland Bloggers' Family Picnic I decided to make it Picnic Week here on the blog. Use the ideas gathered here to create a fun Summer time picnic at home or, if you are in Portland, bring your newly found ideas to the meet-up! I've already shared my favorite picnic supplies and a quick pasta salad recipe, there is so much more coming though! So, pop back in throughout the week for more picnic goodness.
---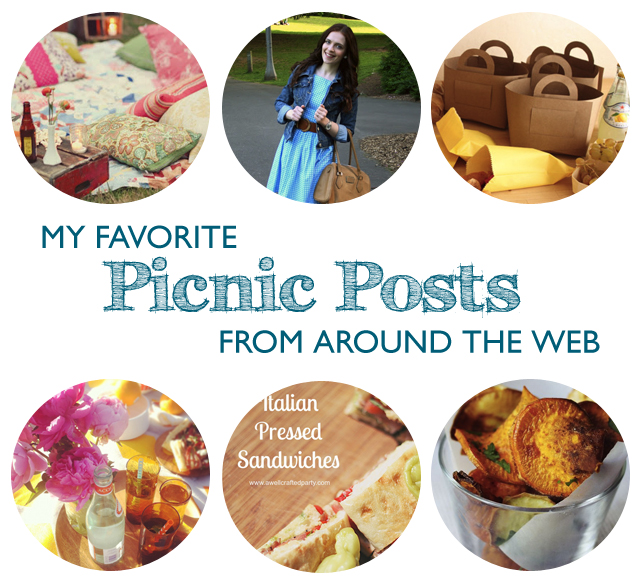 photos via: BashPlease.Com featured on Design Sponge / How to Wear DIY from Adventures in Dressmaking / Butcher Paper Picnic Basics from Oh Happy Day! /Ombre Picnic Blanket from Design Love Fest / Italian Pressed Sandwiches from A Well Crafted Party / Sweet Potato Chips from A Beautiful Mess
My Favorite Picnic Posts Round-Up
I'm not the first, nor will I be the last, to post lots of pretty pictures and great ideas about picnics. Below is a list of some of my favorite picnic themed posts found across the internets. Can't get enough picnic goodness? Then follow along with my Picnic Pinterest Board for more inspiration as I come across it.
Pretty Picnics to Inspire
DIY Picnic Projects
What to Wear to a Picnic
Picnic Food
Whoa! That was a lot of picnic fun… Now I've gotta go get to work on prepping items for the Portland Bloggers' picnic. I have no idea WHAT I am bringing after checking out all the fun inspiration on this list one more time.
Tell me about YOUR favorite picnic experience!

I'm posting a series of picnic-themed posts this week in honor of the Portland Bloggers' family picnic that is happening this weekend. The first post was all about fun picnic supplies to make for a pleasant picnic in the park (or wherever). Now, onto the food!\
---
One of my favorite things to make for a picnic is my super easy and delicious pasta salad. It doesn't have any name that I know of… I learned it from word of mouth from a friend and have been making it ever since. It doesn't have any mayo so it is pretty heat friendly. You can add in things or take them out as you like. I'll share the base recipe I use and then one of my favorite modifications!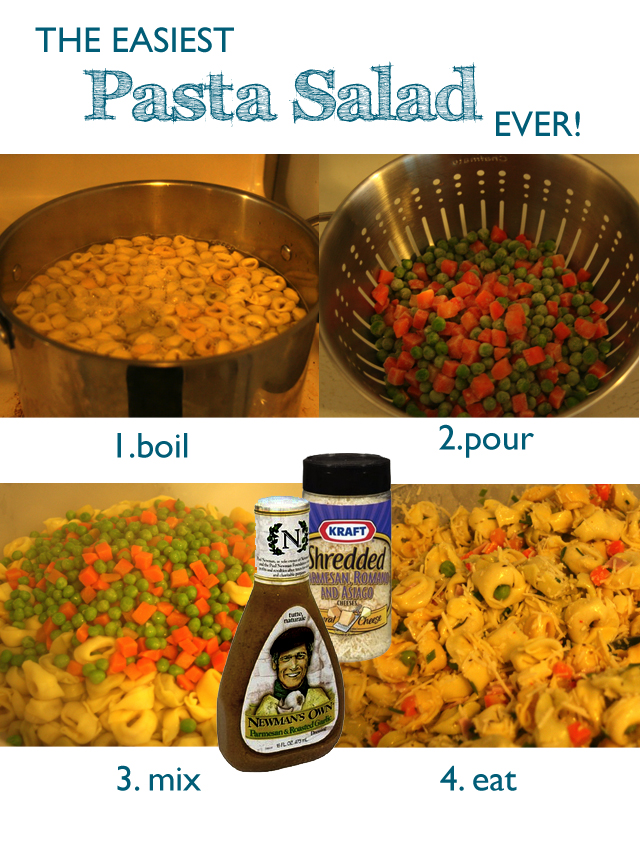 A Super Easy and Delicious Pasta Salad
Serves a whole bunch of people… I really can't even estimate well, but over 12 side dish portions.
Ingredients:
Approximately 6 cups of tortellini (You can decide the filling, I typically go with cheese filling or half cheese and half spinach)

1 16oz bag of frozen peas and carrots
1 bottle of your favorite Italian dressing— I've used everything from Wishbone to Olive Garden. My favorite is Newman's Own Roasted Garlic and Parmesan Italian Dressing (Affiliate Link)
1 bag of shredded parmesan cheese— approximately 5 to 8 oz of cheese will be used. I sometimes shred my own. I sometimes get it in a bag. The pictured KRAFT Shredded Italian Cheese Mixture (Affiliate Link) would work nicely as well.
Directions:
Boil the tortellini as you would any pasta— tortellini tends to float to the top when done. I always give it a taste test to check for sure.

Pour the frozen peas and carrots into a colander and put in sink while the tortellini is boiling.
Pour the finished pasta and boiling water into the colander after the pasta is al dente. The hot water will cook the veggies!
Rinse with cool water until the whole mess of yummy food is cool.
Pour in a BIG bowl.
Then add up to 1 full bottle of dressing (to taste, I typically use 1/2 to 3/4 a bottle) and the parmesan cheese to taste (I usually use the whole bag)
Cool and enjoy!
See, so easy! Now, here is my most recent modification. I used all of the above ingredients, but I added diced ham and chives at the end! One of the best things about this recipe is you can make it as simple or as gourmet as you want. If you want to go supremely foodie on this picnic favorite then get some fresh tortellini, make your own Italian dressing, grate your own super nice parmesan, and add in some prosciutto.
A great way to serve this dish is to just put them in individual canning jars. The jars can be the food storage containers and double as dinnerware.
Want some more awesome pasta salad ideas? Check out my friend Bee's Pasta Salad with Zucchini and Sun-dried Tomatoes or Rebekah's Six-Ingredient or Less Greek-ish Pasta Salad.
What food do you love bringing to a picnic?

In honor of the Portland Bloggers' Family Picnic happening this weekend I wanted to feature a post about picnics. My love for picnics and my ideas for picnic-related posts covered an entire sheet of brainstorming paper though, so instead of ONE post, I'm posting several throughout the week! You'll see ideas for creating beautiful picnics, picnic supplies, picnic clothing ideas, picnic-ready recipes, some free picnic printables and MORE. Are you as excited as I am? 😉
---
To get the party started I wanted to share some of my favorite picnic supplies out there ready for your next picnic. I like to mix some handmade items with store bought, and vintage with modern to really set the scene for the perfect picnic. Pictured below are a selection of store bought items that I think could really put together a very pleasant picnic. Throw in some items of your own, make a few selections, and pick up one or two of these fun picnic supplies to put on a perfect Summer picnic.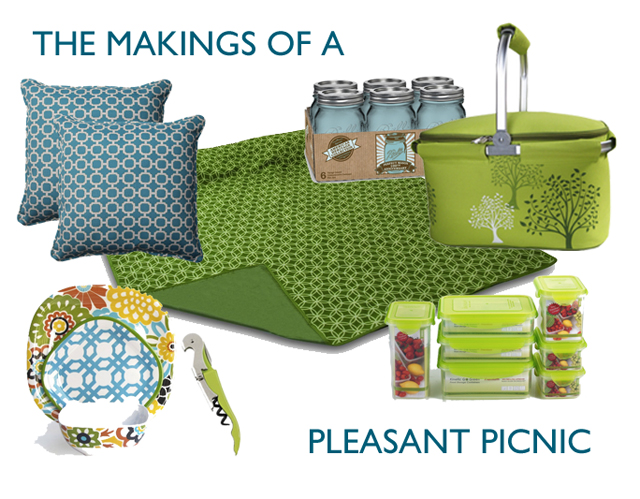 Picnic Supplies for a Pleasant Summer Picnic
*The following are affiliate links— Affiliate Links help support the bloggers that post them. I only post products/brands I use and love or have been coveting for some time. See my policies for more information.
Water resistant backed picnic blanket (You can also make your own… check out later this week to learn how!)
A cooler of some sort. You can try just a regular everyday cooler like this one from Coleman, or a cool collapsable tote (pictured above).
Wine Key— I've always been a fan of the traditional waiter's wine key that has a foil cutter, corkscrew, and bottle opener all in one cool too. This lime green one needs to find its way into my cupboard!
Cups and Plates— Picnics are a great time to bring out the outdoor dinnerware and use them instead of throwing away a lot of trash. This is especially great when picnicking somewhere that doesn't have available trash containers. Campware tableware sets are great for picnics. I'm also a huge fan of these cute melamine plates and cups that look like the disposable kinds. My favorite type though are the ultra pretty ones, like the dinnerware pictured above from Waverly, that can bring a little cuteness to the practicalness of a picnic spread.
A few throw pillows— this old lady can't sit on the ground without a little cushion. I happen to love the pictured throw pillows because they are totally outdoor friendly!
Great reusable containers to carry delish food and drinks in. While I love the above food storage containers from Kinetic, I'm a big fan of good old fashioned Kerr Jars or Ball Jars.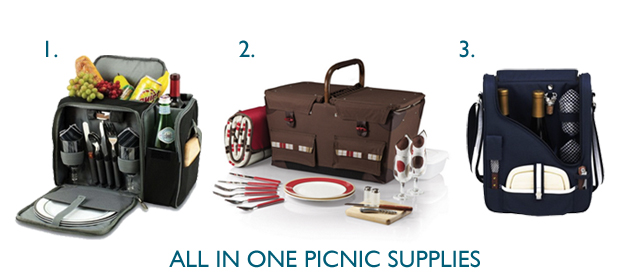 Okay, so you want something that is all in one and super portable? I LOVE my picnic backpack that has an insulated area, wine holder, plates, cups, etc. We got our backpack years ago… but, these packs look awesome as well: (The following links are affiliate links.)
Picnic Time Pioneer Picnic Basket, Moka— For the traditionalist who still wants to bring a basket to the picnic
Picnic at Ascot Bold Lux Wine and Cheese Cooler(Perfect for when you just need the necessities— wine & cheese!)
What must-have item makes an appearance at all of YOUR Summer picnics?