My friend Megan from The Boho Mama is here today sharing an awesome company that she is working with that does great work AND is giving away a beautiful Aqua Scarf today to one lucky reader. Read on and see how you can help Trades of Hope to help women around the world.
---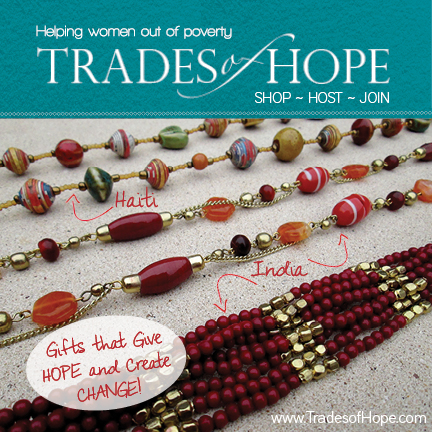 Trades of Hope is a Fair-Trade, women-owned business that works with artisans and organizations that are helping women in difficult circumstances. Some women have been rescued from sex slavery. Others are raising handicapped children alone. Some are in war torn countries and others have AIDS. These women have never had the chances we've had, yet they are just like us in so many ways. They love their families and hope and dream of a better life for them. We help by marketing their products so they can put food on their table, a roof over their head, get medical care and an education for their children.
The 
Nepali Aqua Scarf 
is made in Nepal, one of the poorest countries in the world with an unemployment rate of 42%. Many women are lured into the sex trade to survive, they are sold, stolen or forced into brothels. The women making these scarves are given a way to support themselves and their families, earning a fair wage, and living with hope and dignity.
I joined Trades of Hope because the mission resonated deeply with me – I have a passion for maternal and infant health, and coupled with my small business making and giving ring slings to mothers in need, through Trades of Hope I can also help more women on a larger scale. It's something fun, doesn't come with a lot of pressure, and the products are gorgeous and make beautiful and thoughtful gifts.
Enter to win the Nepali Aqua Scarf from Trades of Hope below:
---

This post is part of A Well Crafted Party's Giveaway Week… we are cleaning out the editorial calendar and sharing the love with free printables, party good giveaways, and more! Don't miss out on any of the giveaway posts by following along via BlogLovin, Twitter, or Facebook!
[tabs] [tab title="PNW Blogger Event"]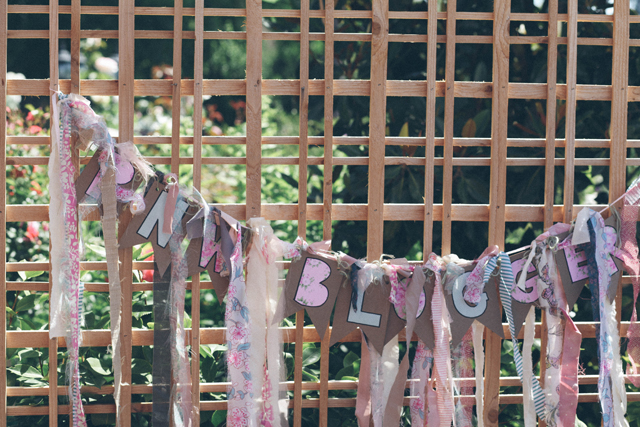 I feel so fortunate to be in a community rich with collaboration, networking, and support. For those bloggers who read my blog… I can't even begin to say how important it is to find other bloggers to connect with off-line! It helps to ground me, inspire me, and put things into perspective for me over and over again. For those of you out there reading who aren't bloggers… It is still important to find a great community to be involved in! Whether you enjoy crafting, reading, beer-making, biking, or something entirely different you can find a group of people that enjoy doing those same things. I google like crazy when I am looking for a community group. Other places to look are on Facebook and Meetup.com.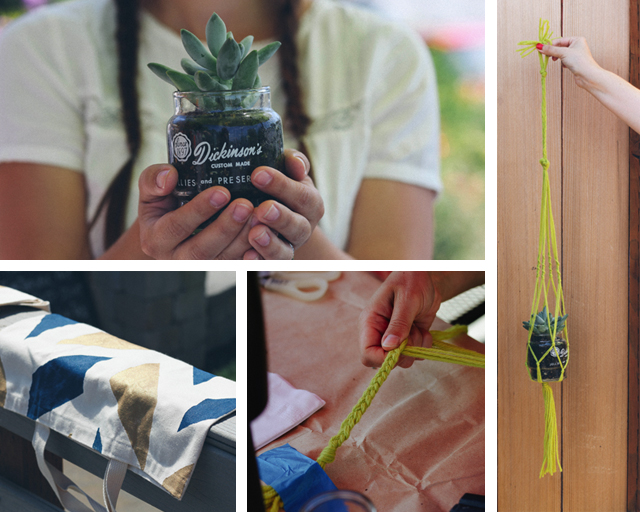 At the last Pacific Northwest Blogger meet-up I got to combine two of my joys together… blogging and crafting! I was able to meet a great group of bloggers who also enjoy the crafting. I also got my photo taken by the lovely local photog Cara Denison. I had JUST cut my hair off and was excited to get pics of my new 'do!
We crafted a tote bag from Brit + Co, a macrame project from The Paper Mama, and (though we didn't have time) a small party set from me! Click the "PNW Bloggers You Should Know" tab above to see a list of great PNW blogs that were in attendance!
Onto my hair cut…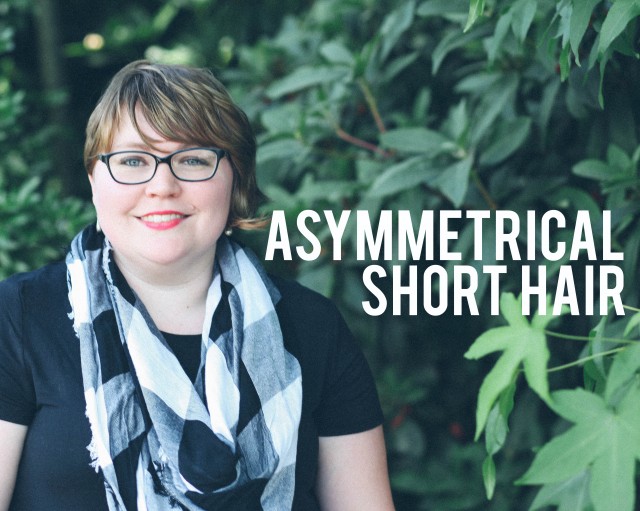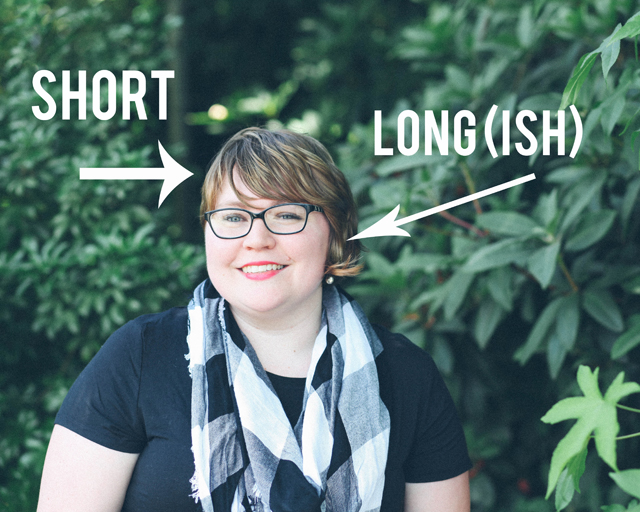 Okay, so I've been wanting to do the Asymmetrical haircut for forever now. But, I just didn't get the guts until recently. I finally took the plunge and got a cut where one side was longer than the other! I didn't do as drastic as I could have… but, it was certainly a change. I mostly love the cut. It is a lot of fun and I've been getting a ton of compliments.
What I don't like… photos of me with the cut! What!? I think it plays into the whole "beauty is symmetrical" idea and I just cringe at every photo I see of myself with this cut. So weird. I look in the mirror and LOVE it. See a photo and go, "meh." I don't know what to look at I think. I currently need a hair cut again and will still be going with the asymmetrical cut for a tad longer. I am going to keep my longer side as long as it is now and cut the shorter side short again. It will be just a tad more dramatic than before and I'm stoked. Hopefully I'll also figure out a way to pose that shows off the haircut for its true cuteness. Next month I'll share some of my favorite styling tips and tricks for asymmetrical short hair.
---
[/tab] [/tab] [tab title="PNW Bloggers You Should Know"]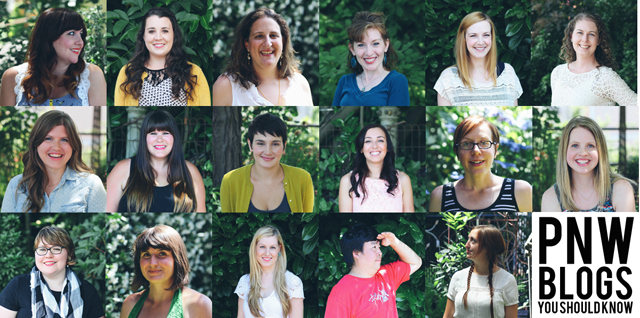 There are SO many awesome PNW blogs out there… this list doesn't even come close to covering them all. But, these awesome people were in attendance at the last meet-up and have awesome blogs. Check them out and maybe you'll find a few new blogs to follow! (Above photos by Cara Denison) (Also, I feel like a bonehead because I completely couldn't remember a few of the bloggers blog URLs and didn't put them here on the list. If you were there and didn't get on the list I AM SO SORRY.. please let me know!)
PNW Blogs You Should Know: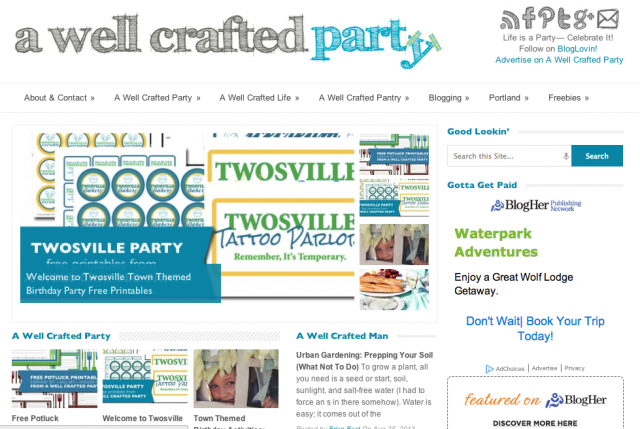 So, I totally put a ring on it with Passionfruit Ads. (If you haven't yet… the free month is up in September and the offer for getting a year for just $50 is up as well!) To celebrate my new commitment I thought I'd do a little giveaway and discount code for advertising on my site. I really want to use my site to help promote the companies and people I believe in, in addition to sharing a bit of my crazy world. So, if you would like YOUR site or business to be something that I share with readers and the world read on, read on.
The ad spaces sold for my site appear on all pages of the site and move up along the sidebar and rotate area on the sidebar depending on the page and purchased ad. That way you have the most opportunity to get seen on my site. But, in addition to an ad on my site, I include a mention within a blog post and social media mentions (more or less depending on ad space purchased.) This way you get noticed by more than just the people who are visiting the site on their personal computers. Prices for my ad spaces begin at just $15.
Wanna win a FREE ad space on A Well Crafted Party? Fill out the Rafflecopter below for your chance to win!
Prize: A Well Crafted Sponsor Ad Space worth $50—My most comprehensive package yet! Blogs/Shops purchasing this spot will receive the following: 1 Blog Post featuring a review of a product (if sent)/ Guest Post Opportunity/ or intro to their site , 1 300X300 Ad space that resides on ALL pages of the website for 30 days, a short feature in my "Sponsor Spotlight" each month, & 5 pins or tweets throughout the month! These sponsors also have the opportunity to provide a giveaway item for any giveaway worth $50 or more. (This could include ad space or product.)
Rules: This giveaway is open to anyone with a blog or business worldwide as long as the blog/business does not violate the following rules: 1. Is a SPAM site 2. Is not family friendly (promotes sex, the sale of alcohol without a splash page, or inappropriate language or content). Family members of A Well Crafted Party's owner are not allowed to win. Giveaway winner will be chosen via Rafflecopter and notified via email. The winner will have 48 hours to claim their prize or another winner will be chosen. Giveaway begins today, August 29 and runs through Sept. 6 at 12:00 am PST.
I'm also offering a 20% off coupon code for the remainder of the giveaway time. If you purchase an ad space and WIN the prize above you will get a full refund of your purchased ad space. Use the code GIVEAWAYWEEK for your 20% discount!
---

This post is part of A Well Crafted Party's Giveaway Week… we are cleaning out the editorial calendar and sharing the love with free printables, party good giveaways, and more! Don't miss out on any of the giveaway posts by following along via BlogLovin, Twitter, or Facebook!
At the recent Tapas Competition that I helped to host I created a set of printables to coordinate with the Tiny Prints Potluck invitation set that was provided for the event. I wanted to share these printables along with a few others I created. The below sets include: recipe cards that can be used for sharing recipes at a potluck or just in the home; potluck cards to display in front of donated dishes at a potluck; and printable forks. We cut out the forks and used them as a fun confetti throughout the party. They'd also be great for use in floral arrangements or as decorative items. I created a fall set and a holiday set so that you can be prepared for any upcoming potluck parties! If you use the sets I'd LOVE to see photos of the events!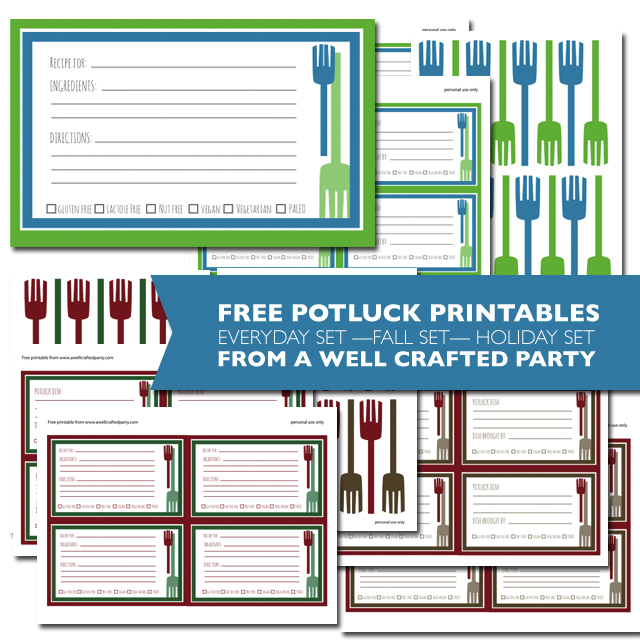 Free Potluck Printables:
Potlucks are such fun ways of sharing hosting responsibilities and getting to taste dishes from many of your friends and family. One way to make potlucks look more like a coordinated party is to use sets of printables to connect everything together. In this day and age when people are being careful about what they are putting into their bodies or are aware of their allergies, it is also important to label items at potlucks.
Instructions: Print items on cardstock in full color and cut out.
All of my free printables are for personal use only. Please email me if you'd like to use them for your business. Need a particular color scheme? I'll change the color scheme and send you all three printables for $5! Email me at jenni[at]awellcraftedparty[dot]com.
Loving all these free printables and want to fuel more free printable designs?
Cups of coffee are appreciated!
---

This post is part of A Well Crafted Party's Giveaway Week… we are cleaning out the editorial calendar and sharing the love with free printables, party good giveaways, and more! Don't miss out on any of the giveaway posts by following along via BlogLovin, Twitter, or Facebook!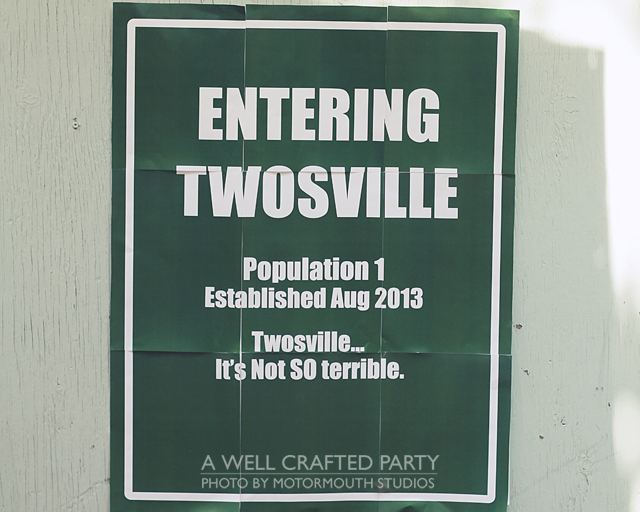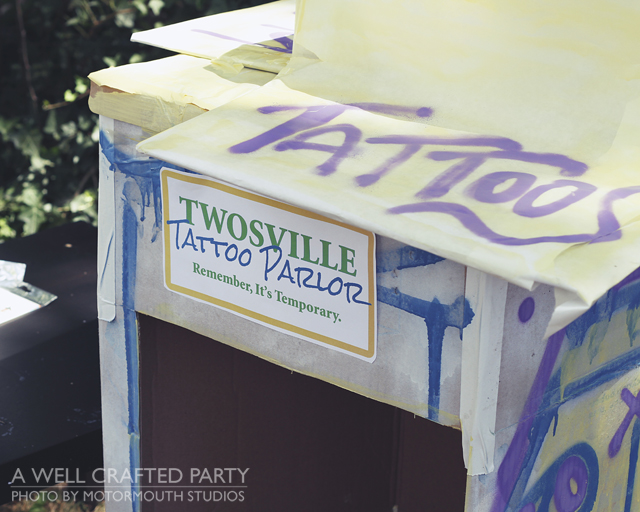 I'm excited to share some of the printables I made for my son's "Welcome to Twosville" town themed birthday party. You can check out the many images and ideas from the party by checking out all of my Twosville posts.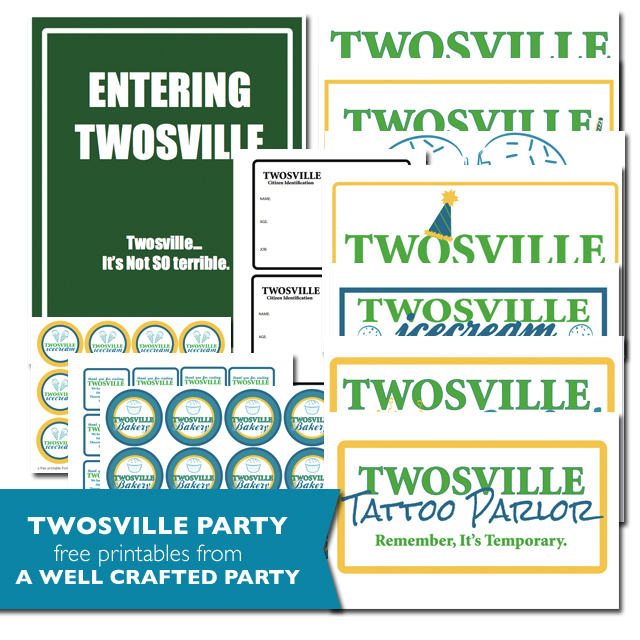 Printables included in this collection:
Want something for a town themed party you don't see above? Email me at jenni[at]awellcraftedparty[dot]com! I will create a custom package for you for $25.
While these printables are completely free of charge for use they are intended for personal use only. Please do not sell these products or send files as they are your own. Please link to this post if you want to share on your blogs.
Loving all these free printables and want to fuel more free printable designs?
Cups of coffee are appreciated!
---

This post is part of A Well Crafted Party's Giveaway Week… we are cleaning out the editorial calendar and sharing the love with free printables, party good giveaways, and more! Don't miss out on any of the giveaway posts by following along via BlogLovin, Twitter, or Facebook!
[tabs] [tab title="2nd Birthday Activities"]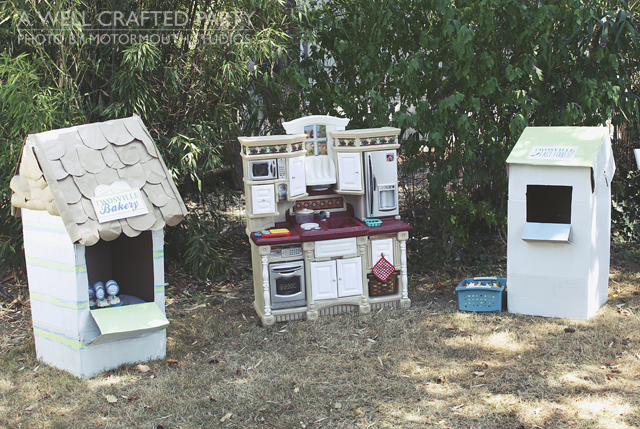 I bet you thought I was DONE sharing party posts from my son's second birthday party… hahah, I'm NEVER done. Actually, we just had so many different photos that I wanted to split this up into posts about the decor, food, favors, and activities. Of course, I'll be back again later today with free set of printables from this party AND a giveaway. Too much fun going on right now. (No such thing.)
Town Themed Birthday Activities
The activities for this party were fairly simple. I don't know about you, but trying to wrangle a bunch of 1-5 year olds does not sound like a fun activity to me. So, I set out items for a couple of activities, focused on making the whole party area a fun place to play, and let the kids and adults play and chat throughout the event. If the group had been a bit older I might have made the whole thing just a little more structured. But, for this age group I think the party turned out well.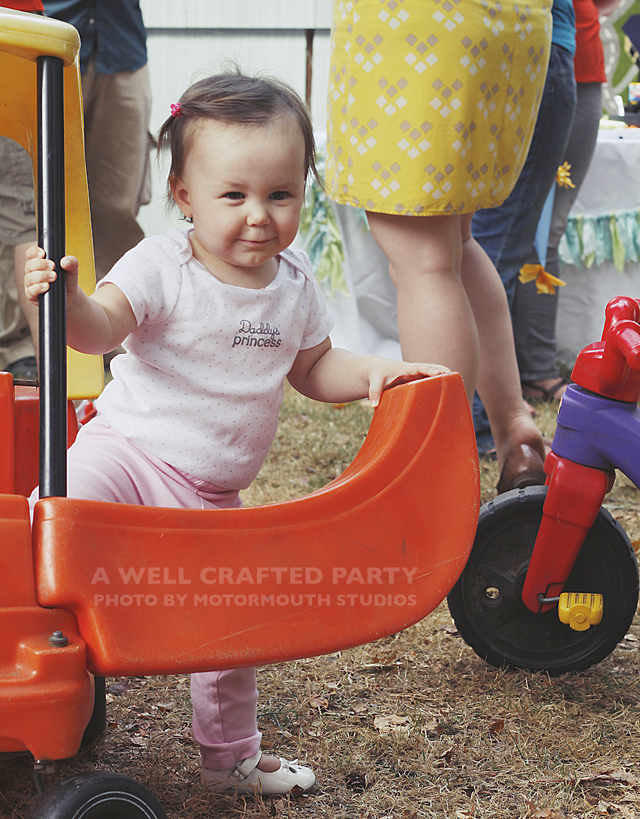 Make the whole party area a fun play space.
Creating the cardboard buildings for the town was my first real project in creating a fun space for the kids. What kid doesn't like a cardboard box? We made some of the buildings with doors and windows the kids could play in. The only one that was totally off-limits for playing was the ice cream truck due to some construction issues, and because it didn't have a door the kids automatically stayed away from it. I added in toy vehicles and a toy kitchen to help give the "town" feel while giving the kids more hands-on activities. The toys were nearly as big of a hit as the cardboard buildings and they were just items we already had on hand!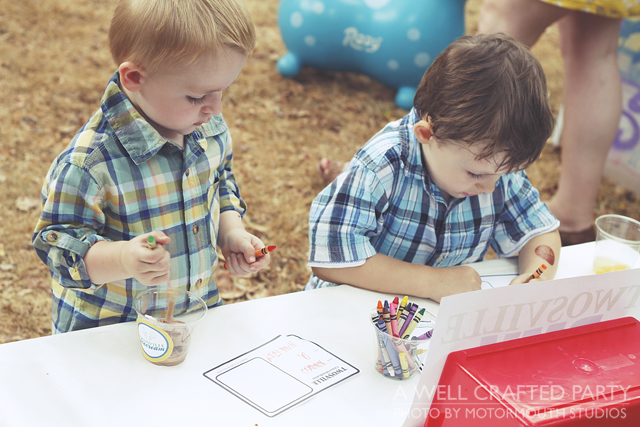 Coloring Sheets
Coloring is great for older toddlers and young children. We put out coloring sheet "Identifications" and let the kids draw their own IDs. Most of the kids just did squiggly lines, but all of the kids above the age of two wanted to color. No crayons were eaten either. So, that's a plus.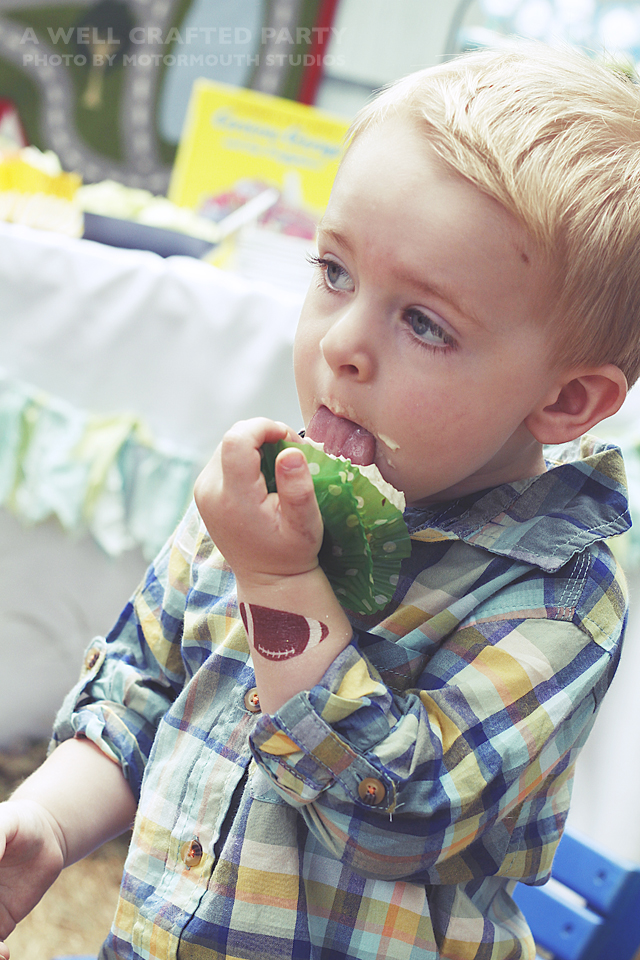 Temporary Tattoos
I have no idea why kids find these thing so amazing… but, they do. My son and every other kid at the party wanted a fake tattoo. He went around the rest of the day showing off his football that he chose and patiently sat through getting it applied. So much cleaner and easier than face painting, comes off easily in the bath, and makes the kiddos smile. Why not?
Want even more ideas for town themed party activities? Click on the above tabs for ideas for toddlers, young children, and older children. Have ideas? Leave them in the comments so I can add them to the lists! If I use  your idea I'll link your site (if you have one!) Want more Twosville posts? Click here to check out all of the twosville posts. Want free printables? Check back here at 1 PM PST.
[/tab] [tab title="Toddler"]

Toddler Town Party Activity Ideas
I seriously had a whole list of activities we could have used to fit the theme. But, I didn't want to overload the kids with activities or take too much time/money prepping the party. The below activity ideas would be great for toddlers:
Library & Story Time— Create a library cardboard building, put out some books, have a story time with the kids.
Market— Create a market area with real or fake fruits and vegetables. Allow the kids to "shop" and play.
Toy Store— Create a toy store and fill it with small toys that the kids can shop for and play with.
Pet Store or Pound— Put out stuffed animals that kiddos can adopt!
Do you have more toddler friendly ideas? Leave them in the comments and I'll post them along with a link to your site (if you have one!)
[/tab] [tab title="Young Children"]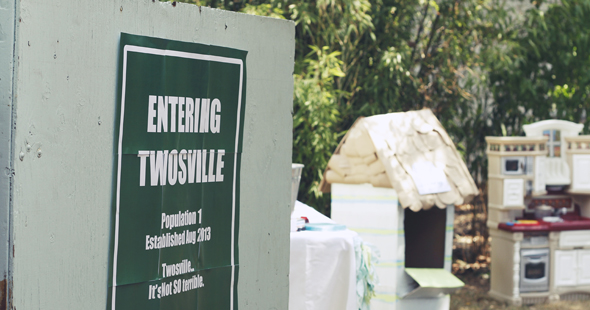 Town Party Activity Ideas for Younger Children:
Any of the toddler activities or activities used in the original party work work for children above the toddler age, but still not old enough to really be able to handle a lot of structure. The below activity ideas would be great for a town-themed party that has children from ages of 3-5:
Drive In— Make cardboard cars and put up a sheet to project a favorite kid's movie on as soon as it gets dark outside. After playing in town all day the kiddos can relax and watch a movie at the town's drive in! It would also work well in front of the TV for an indoor party.
Clothing Store or Job Center—Kids love playing dress up! Stock a clothing store with fun outfits or create a job center with uniforms for the kids to try on.
Do you have more young children town activity ideas? Leave a message in the comments and I'll add it to the list along with a link to your site. (if you have one!)
[/tab] [tab title="Older Children"]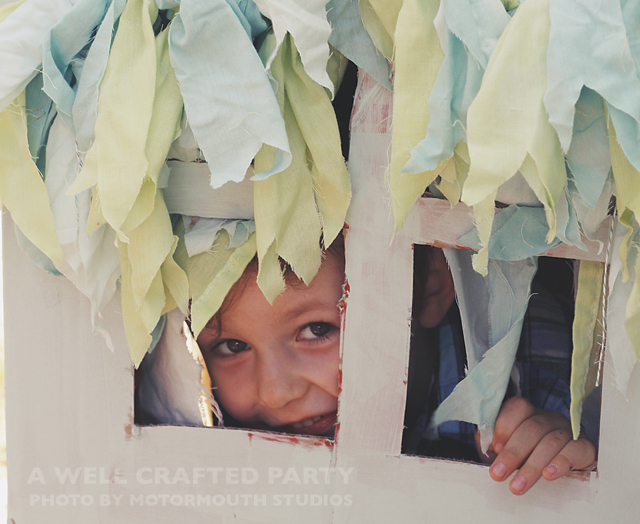 Town Party Activity Ideas for Older Children:
Many of the other activities listed on these pages would work for older children. But, once they get older you can also have fun incorporating more activities. Check out my ideas for activities for a town-themed party that has children from the ages of 5+:
Jobs & a Bank— Create jobs for the kids, have them dress up and play at their job, and then give them paychecks! This may seem silly or contrite to some who find work a not-fun experience or want kids to be kids for as long as possible… but, I think it is fun for kids to play as adults. I remember loving that when I was a child.
Photo Studio—Create a photo backdrop and put up props for the kids to take pictures in the photo studio
Theater or Stage— Does your kid love to sing or act? Create a stage with props or a microphone and let them practice being the start that they are.
Do you have more ideas for town-themed party activities for older children? Leave them below in the comments and I'll add them to the list along with a link to your site (if you have one!)
[/tab] [/tabs]
Disclaimer: I received free product to use in the pictured party and to give away to readers. No further compensation was provided. All opinions are my own.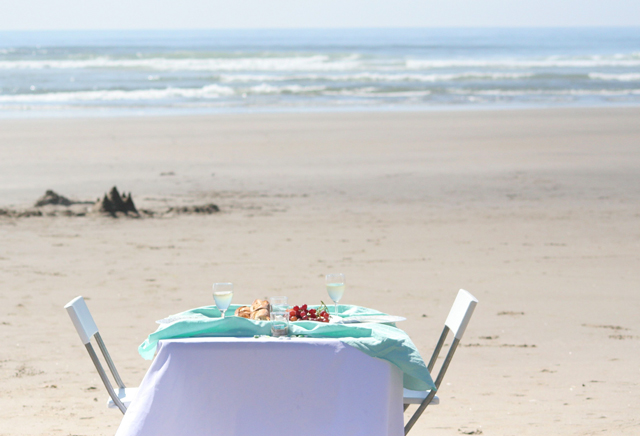 Ocean Pop-Up Party
When MADHOUSE collection contacted me about their party goods I was over the moon because I had actually not only been eyeing their products, but had been planning on doing a pop-up party at the Oregon coast. When things like this happen it sort of just feels serendipitous, right? Unfortunately, life got in the way and the pop-up party kept getting postponed and people kept canceling due to the craziness of the Summer. Last weekend I just couldn't wait any longer so the hubs and I loaded up the car and drove out to the beach for a fun pop-up party for two. We got some looks on the beach when we were setting up this lovely little table and eating our lunch in style. But, it was one of the nicest dates I've had in quite some time and one of the best beach visit's we've ever had. Even better? No sand in our lunch from eating on the ground!
About MADHOUSE Collection from Michael Aram Designs:
Michael Aram is a sculpture and designer that specializes in beautiful home and dining goods. His work can be seen in stores such a Macy's and Nordstrom. MADHOUSE is a project created to reflect the way that people are entertaining today. The collection makes an effort to allow people to entertain in an elegant style no matter the occasion. The collection includes dinnerware, service ware, and drinkware of both disposable and reusable items in gorgeous designs.
MADHOUSE Collection Ocean Paper Products Giveaway:
I'm really excited to be able to give away some of the gorgeous items that I used in the above photos. MADHOUSE provided a set for me and a set for YOU. Enter in the Rafflecopter below for your chance to win the following from A Well Crafted Party and MADHOUSE Collection. Giveaway open to US Residents of 18 years of age or older with a US mailing address. Entering the giveaway means that you have read and complied with the giveaway's rules and regulations. The contest goes from today until the end of the day on Sept. 1 (Sept. 2nd at 12:00 am PST).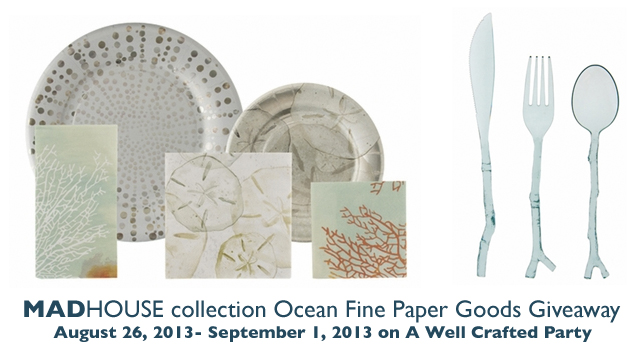 Two Sets of Translucent Twig Cutlery / 1 Set of 8 Ocean Fine Paper Dinner plates / 1 Set of 8 Ocean Fine Paper Luncheon Plates / 1 Set of Ocean Paper Luncheon Napkins / 1 Set of Ocean Paper Beverage Napkins / 1 Set of Ocean Paper Guest Towels 
---

This post is part of A Well Crafted Party's Giveaway Week… we are cleaning out the editorial calendar and sharing the love with free printables, party good giveaways, and more! Don't miss out on any of the giveaway posts by following along via BlogLovin, Twitter, or Facebook!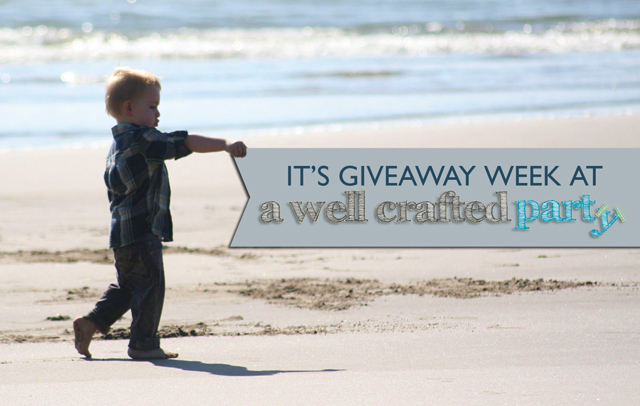 I let things get backed up in my blog logs for quite a while and ended up with a whole bunch of freebies and a fun giveaway that still needed to be written about and shared.
So, in honor of cleaning out the editorial calendar I worked and worked this weekend to make this week extra fun. I'm dubbing it, "Giveaway Week!" (Super creative, right?) I've got 6 posts coming up this next week with goodies for you! There will be an awesome discount, a couple of giveaways, and three sets of free printables.
I might be a little crazy releasing all this fun in one week- but, I have so much content coming up next month that I have to get these items out NOW!
Check back today at 1PM PST to see a little party I threw last week and the opportunity to win some gorgeous party goods.
If you don't want to miss any of the freebies then follow along via BlogLovin, Facebook, or Twitter!
To grow a plant, all you need is a seed or start, soil, sunlight, and salt-free water (I had to force an s in there somehow). Water is easy; it comes out of the faucet, and I point it at the garden plot until it's soaked, twice a day. Sunlight's easy, though I should have planned my plot for a sunnier patch of the yard. I'll talk about seeds in another post, since first I want to tell you about our soil.
What I should have done
I should have tested the soil to check its pH balance, then correct it to a veggie conducive growing chemistry. I read (flipped through) the chapter in the veggie garden bible, Growing Vegetables West of the Cascades, by Steve Solomon, but I didn't retain much. I remember something about loamy and silty soil being good, I think…but I never found out what category mine fell under. When digging our plot, my brother and I removed all the large rocks, anything bigger than a potato, and that alone filled a bucket. If we tried to get all the rocks smaller than that out, it would have taken days of back-breaking effort. Besides, my mom said a few small rocks help keep the soil wet, or something like that.
I also should have supplemented our poor dirt with some quality soil and compost. I started a compost pile last year, but didn't really keep up with it (noticing a pattern yet?), so dumping non-decomposed – is it just called composed? – eggshells and coffee grounds wouldn't do much to engender growth in my veggies. Maybe the pile will be decomposed by next spring's garden.
What I actually did
Squat. I'm the lazy gardener. Sometimes I put in the minimal amount of effort to get the payoff that minimally satisfies. I am proud of the veggies we've eaten so far: a few handfuls of green beans, 3 cucumbers, lettuce, spinach, and basil. They were surprisingly tasty. To supplement the soil, I did buy two bags of organic soil and mixed that into the plot. For a garden the size of mine, I should have used six bags. We've gotten some edible veggies so far, but my neighbor's garden makes me jealous. I guess the saying is true: you reap what you sow. And I'm a shoddy sower.
Luckily, I have amazing neighbors. Four out of the five houses around ours have gardens, and besides sharing their veggies, they're sharing their tools and expertise. Check out this sharp-bladed contraption:
With just a few minutes of arm-jarring steering of the bucking rototiller, our plot was plowed. You can rent them cheaply from your local hardware store if you lack generous neighbors. Using the machine got what would have been 2 hours of effort done in 15 minutes. And remember my last post, where I said gardening should mostly be done by hand? Ha! I recommend using at least a gas rototiller to other lazy gardeners out there.
What other tools have you used to spruce up your soil? Or if you went the hands-only route, how did you prep your soil?
I'm excited to be working with Beyond the Wanderlust for their Portland Wedding Inspired Shoot out this September! I'll be styling some pretty bridal photo opportunities for participating photographers. I can't even tell you how excited I am about our concept and venue. For now we are keeping it under wraps… but, it is going to be gorgeous.
What is a shoot out?
From the event website, "A shootout is an awesome opportunity to build your photography portfolio, meet other photographers, models and local vendors. We will do all the work, select beautiful models, hire professional hair and makeup artists, stylists, and prop designers, and pick a beautiful location. All you need to do is show up with your gear and shoot!"
How can I participate?
There are a few spots still available, but space is very limited. Beyond the Wanderlust shootouts are kept small so that participants get one-on-one time with the models, vendors, and other professionals. Click over to the shoot-out event site for more information or to purchase your spot.  Spots in the class cost $199 per person, however there is currently a 25% off flash sale that will last until Sunday!
I hope to see you there!

Tapas Potluck and Wine Tasting:
I love tapas. The Spanish small plates style of dish is one of my favorite ways to eat. Seriously, give me all the appetizers any day over a full meal. I like the option to try lots of different flavors and dishes without feeling like I need to be rolled out from under the table. So, after a recent wine tasting with some of my foodie friends I had the idea that we NEEDED to have a tapas party with the area food bloggers. (Anytime I can get someone to cook for ME I'm a happy girl.) After a bit of deliberation and collaboration the idea for a Tapas Competition and Spanish Wine tasting was born. Food bloggers brought dishes to the friendly competition, Whole Foods Market hosted a informative (and tasty) wine tasting, and several companies came together to award the winners with prizes! It was a grand time. Enough with the talk… onto the pictures! All the amazing photos are taken by food blogger extraordinaire (and my friend) Bee of The Spicy Bee.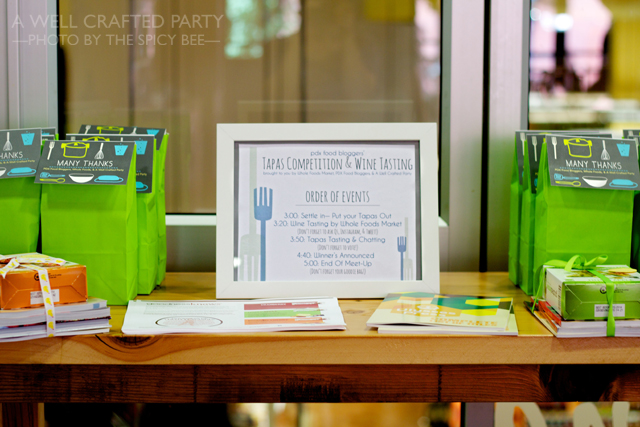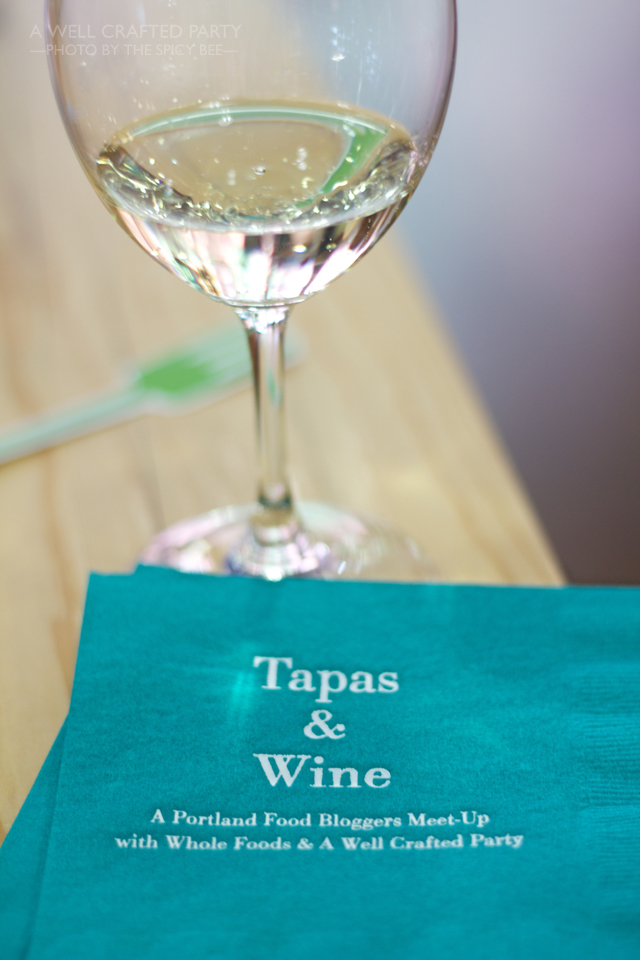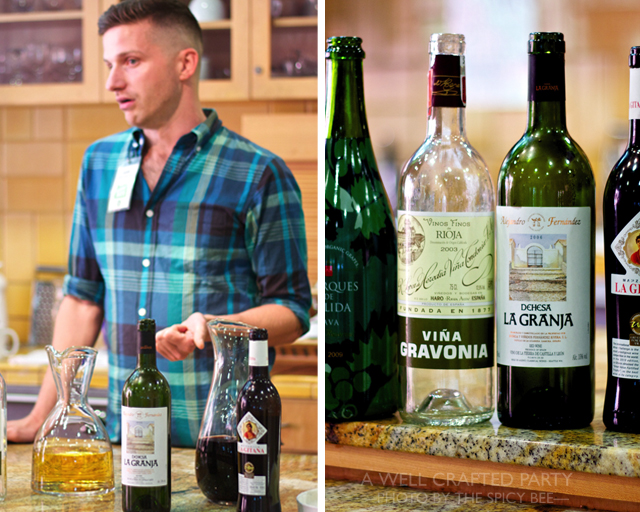 Our evening started out with Justin from Whole Foods Market in Portland pouring and teaching about four Spanish wines. If you were going to recreate this at home you could use the wines listed and read a little information about each, or pick your favorite Spanish wines and try pairing them with cheeses. Wines we tried: Marques de Gelida Brut Reserva Cava 2009 (light and refreshing white wine); R Lopez de Heredia Vina Tondonia Vinos Finos de Roja Vina Gravonia 2003 (I wouldn't even try pronouncing that one, but it was amazing if you love a rich white wine); Dehesa La Grania 2006 (A tasty Tempranillo); and finally, a Manzanilla La Gitana Sherry.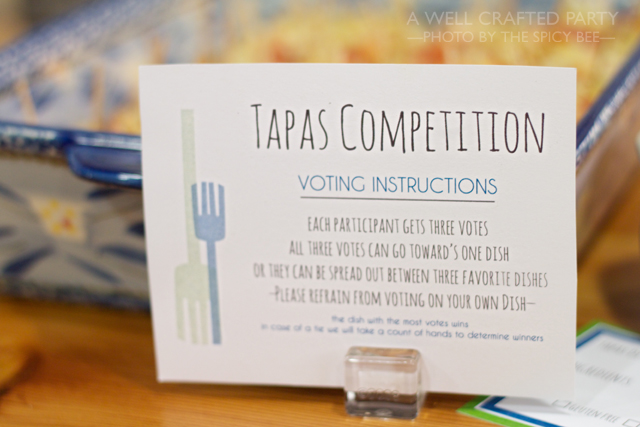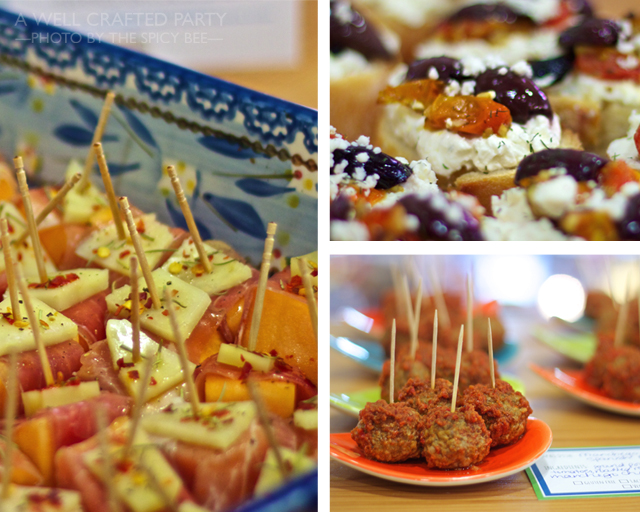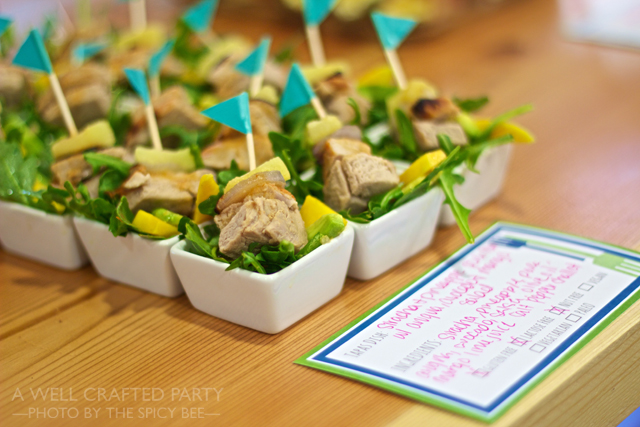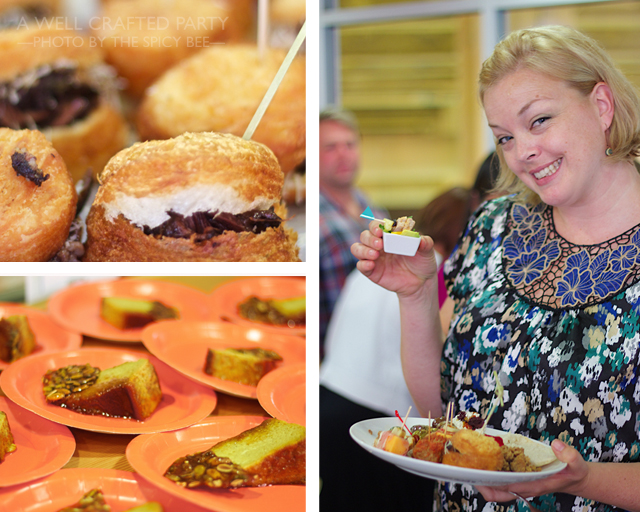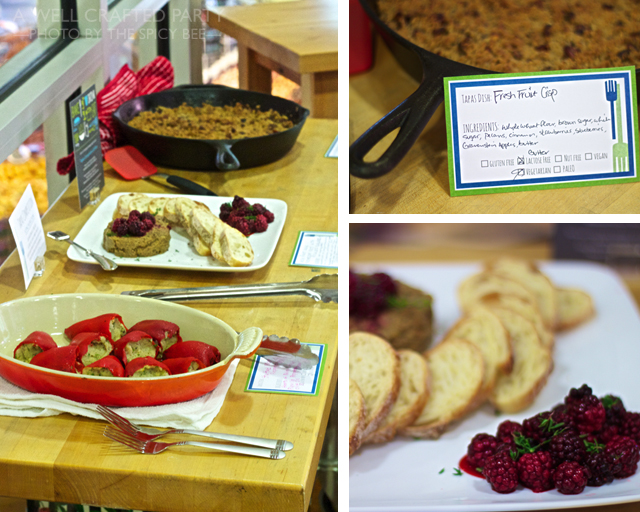 Recipes Galore
You get food bloggers together and have them bring food items that they've made and then you suddenly also get a full deck of recipes that you've tried yourself. It is amazing and I will be utilizing this tactic in many more events. 😉 If you are drooling from the photos above then check out these recipes (I'll add more as they are published):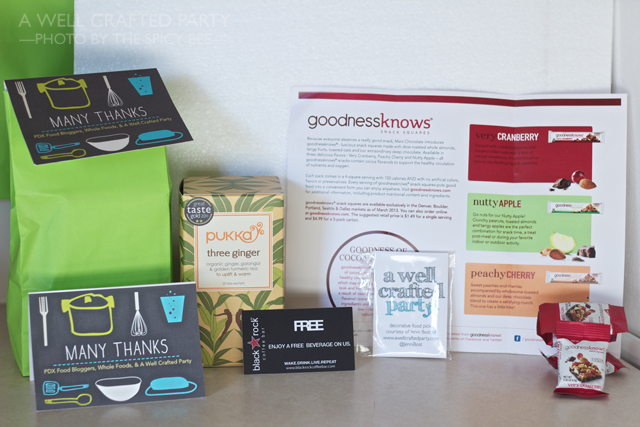 A gigantic thank you to…
A huge thank you goes out to all of the companies and people that made this shin-dig possible. Obviously, the Portland Food Bloggers group is awesome and I was so excited to be able to work with them on this project. Whole Foods Market is one of my favorite local companies because they continually make efforts to teach, interact, and just plain get-to-know their customers and local influencers. Tiny Prints provided the beautiful printed signs, thank you cards, and personalized napkins. Ulysses Press provided books for the winners of the Tapas Competition— You've got to check out their awesome titles. I'll be reviewing one of their titles in the near future. Goodness Knows donated snack squares and coupons to the goodie bags and prizes— seriously tasty and handy sized snack squares for kids and adults alike. Black Rock Coffee provided gift cards for the gift bags. Pukka Herbs sent an array of teas for the blogger's goodie bags— I've tried the "Love" blend and thought it was the perfect way to end an evening with my hubby. And, thank you to all the lovely bloggers who attended, brought food, and shared about the event.
Can't get enough?
Check back next week for free printables that coordinate with the Tiny Prints Potluck Invitation designs. I'm dubbing next week giveaway week because I'll be giving away some awesome party goods and lots of free printables throughout the week. Follow along via BlogLovin, Facebook, or Twitter to make sure you don't miss out on all the fun!
To learn more about the sponsors connect with them on Twitter:
Disclaimer: Companies donated products, event space, and services to help make this event happen. I was not financially compensated for working on or posting about this event. All opinions are honest and my own!
A Tapas Potluck featured on Tiny Prints
I'm excited to say that some of my work on a recent Tapas Potluck is featured over on the Tiny Prints blog today! Go check it out! And, don't forget to come back here later to see more images from the event, get links to some of the tasty recipes, and receive some free printables to coordinate with the Tiny Prints items used in the party. Photos and recipes go live later today and the printables will be a part of my "giveaway" week next week. Follow along via BlogLovin, Twitter, or Facebook so that you don't miss out on a full week of giveaways and free printables!
A few words about Tiny Prints: I've now ordered three orders from the company and I can't begin to tell you how awesome they are. The website works with ease, you can have a designer look over the work before printing, the print quality is AWESOME, and each order arrived in a timely manner. I've ordered business cards, invitations, gift tags, and personalized napkins. All beautiful. Definitely check out their website and pin a few items for future events. Since registering on their site I've also received discounts in my inbox. Sign up on their site for a free account to see discounts in your email inbox as well.
Follow Tiny Prints via social media: Twitter / Pinterest / Facebook
Disclaimer: I was sent complimentary party invitations, thank you notes and personalized napkins from Tiny Prints and The Wedding Divas in exchange for using the products in a party and sharing it with the Tiny Prints blog. No other compensation was received and all opinions are my own.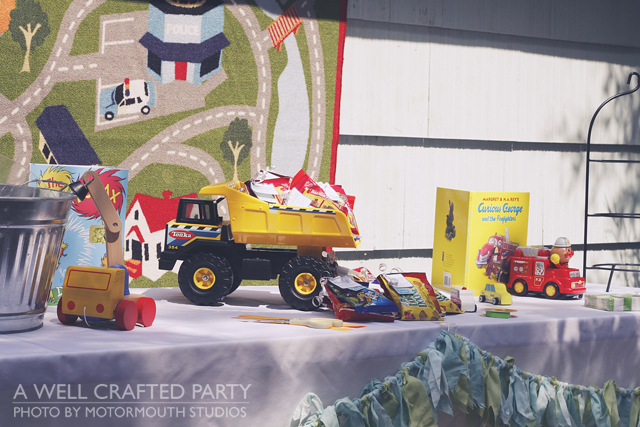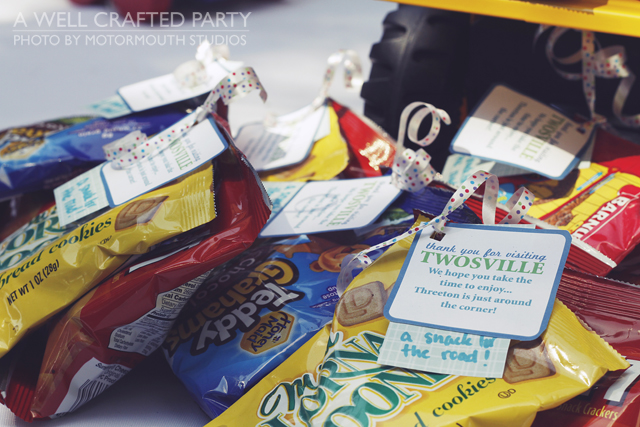 Party favors are sometimes difficult for me– I don't want to send home a bunch of plastic, useless items that will just create clutter and end up in a landfill. I also don't want to spend a ton of money because parties are expensive enough without lots of extra costs from items like favors. I do love party favors though- and rarely like throwing a party without sending guests home with something.
For the little man's town-themed party I went with edible snacks "for the road."I got a lot if great suggestions and ideas from Twitter and Facebook however and thought I would share some of those ideas and other ideas that crossed my mind for a town-themed birthday party.
**Photos from Portland lifestyle photographer Macey of Motormouth Studios. To see more Town Themed Party ideas check out the town themed party pictures and town themed party food idea posts!
Party Favors for a Town Themed Birthday Party
Snacks for the Road- "Thanks for visiting Twosville. We hope you take time to enjoy…Three Town is just around the corner!"
Job Uniforms- give kids dress up items for different jobs in the community like a police officer or nurse.
Toy of Choice- create a toy store and let kids go shopping
Candy- create a candy shop and let kids fill goodie bags with their favorite treats
Pay checks- give kids paychecks and have them cash them at the town bank. Use $2 bills for a two year old's party!
Wrapped Sugar Cookies- stock the town bakery with to go treats
What would you give for a town themed party favor?