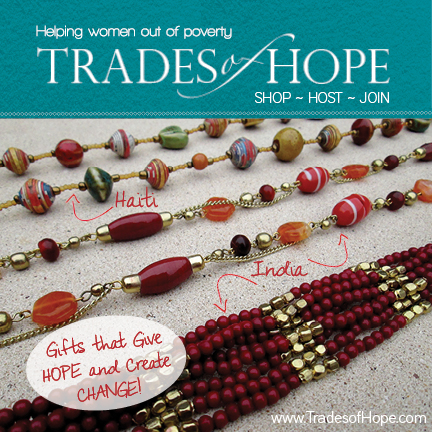 My friend Megan from The Boho Mama is here today sharing an awesome company that she is working with that does great work AND is giving away a beautiful Aqua Scarf today to one lucky reader. Read on and see how you can help Trades of Hope to help women around the world.
---
Trades of Hope is a Fair-Trade, women-owned business that works with artisans and organizations that are helping women in difficult circumstances. Some women have been rescued from sex slavery. Others are raising handicapped children alone. Some are in war torn countries and others have AIDS. These women have never had the chances we've had, yet they are just like us in so many ways. They love their families and hope and dream of a better life for them. We help by marketing their products so they can put food on their table, a roof over their head, get medical care and an education for their children.
The 
Nepali Aqua Scarf 
is made in Nepal, one of the poorest countries in the world with an unemployment rate of 42%. Many women are lured into the sex trade to survive, they are sold, stolen or forced into brothels. The women making these scarves are given a way to support themselves and their families, earning a fair wage, and living with hope and dignity.
I joined Trades of Hope because the mission resonated deeply with me – I have a passion for maternal and infant health, and coupled with my small business making and giving ring slings to mothers in need, through Trades of Hope I can also help more women on a larger scale. It's something fun, doesn't come with a lot of pressure, and the products are gorgeous and make beautiful and thoughtful gifts.
Enter to win the Nepali Aqua Scarf from Trades of Hope below:
---
This post is part of A Well Crafted Party's Giveaway Week… we are cleaning out the editorial calendar and sharing the love with free printables, party good giveaways, and more! Don't miss out on any of the giveaway posts by following along via BlogLovin, Twitter, or Facebook!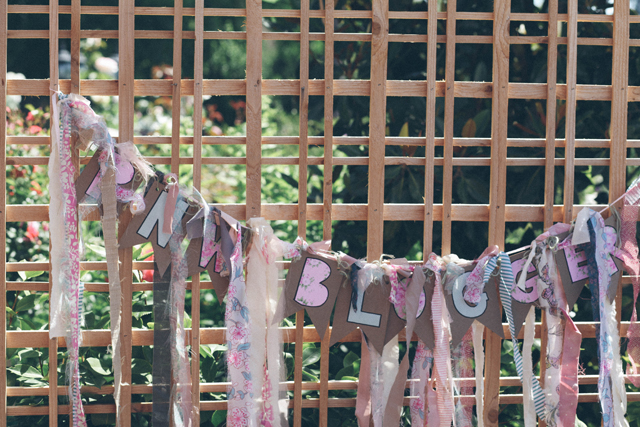 [tabs] [tab title="PNW Blogger Event"]
I feel so fortunate to be in a community rich with collaboration, networking, and support. For those bloggers who read my blog… I can't even begin to say how important it is to find other bloggers to connect with off-line! It helps to ground me, inspire me, and put things into perspective for me over and over again. For those of you out there reading who aren't bloggers… It is still important to find a great community to be involved in! Whether you enjoy crafting, reading, beer-making, biking, or something entirely different you can find a group of people that enjoy doing those same things. I google like crazy when I am looking for a community group. Other places to look are on Facebook and Meetup.com.  
At the last Pacific Northwest Blogger meet-up I got to combine two of my joys together… blogging and crafting! I was able to meet a great group of bloggers who also enjoy the crafting. I also got my photo taken by the lovely local photog Cara Denison. I had JUST cut my hair off and was excited to get pics of my new 'do!
We crafted a tote bag from Brit + Co, a macrame project from The Paper Mama, and (though we didn't have time) a small party set from me! Click the "PNW Bloggers You Should Know" tab above to see a list of great PNW blogs that were in attendance!
Onto my hair cut…
Okay, so I've been wanting to do the Asymmetrical haircut for forever now. But, I just didn't get the guts until recently. I finally took the plunge and got a cut where one side was longer than the other! I didn't do as drastic as I could have… but, it was certainly a change. I mostly love the cut. It is a lot of fun and I've been getting a ton of compliments.
What I don't like… photos of me with the cut! What!? I think it plays into the whole "beauty is symmetrical" idea and I just cringe at every photo I see of myself with this cut. So weird. I look in the mirror and LOVE it. See a photo and go, "meh." I don't know what to look at I think. I currently need a hair cut again and will still be going with the asymmetrical cut for a tad longer. I am going to keep my longer side as long as it is now and cut the shorter side short again. It will be just a tad more dramatic than before and I'm stoked. Hopefully I'll also figure out a way to pose that shows off the haircut for its true cuteness. Next month I'll share some of my favorite styling tips and tricks for asymmetrical short hair.
---
[/tab] [/tab] [tab title="PNW Bloggers You Should Know"]
There are SO many awesome PNW blogs out there… this list doesn't even come close to covering them all. But, these awesome people were in attendance at the last meet-up and have awesome blogs. Check them out and maybe you'll find a few new blogs to follow! (Above photos by Cara Denison) (Also, I feel like a bonehead because I completely couldn't remember a few of the bloggers blog URLs and didn't put them here on the list. If you were there and didn't get on the list I AM SO SORRY.. please let me know!)
PNW Blogs You Should Know:
Chutzpanit
Life by Lindsay
A Well Crafted Party (That's me!)
[/tab] [/tabs]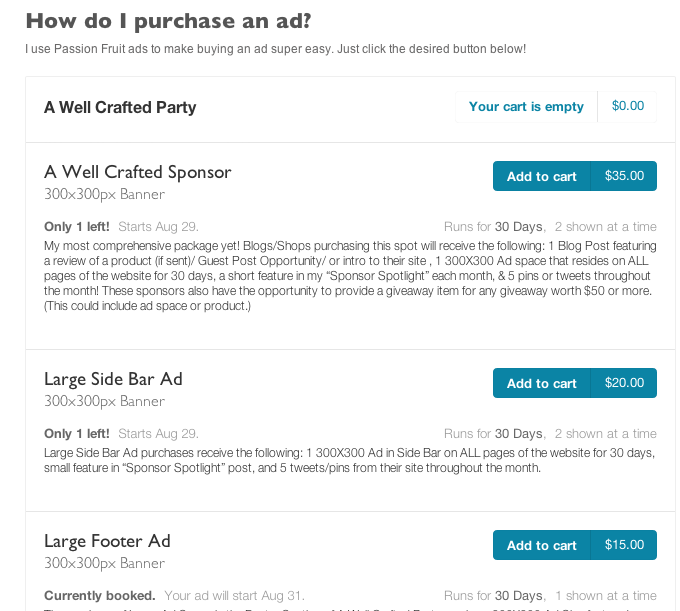 So, I totally put a ring on it with Passionfruit Ads. (If you haven't yet… the free month is up in September and the offer for getting a year for just $50 is up as well!) To celebrate my new commitment I thought I'd do a little giveaway and discount code for advertising on my site. I really want to use my site to help promote the companies and people I believe in, in addition to sharing a bit of my crazy world. So, if you would like YOUR site or business to be something that I share with readers and the world read on, read on.
The ad spaces sold for my site appear on all pages of the site and move up along the sidebar and rotate area on the sidebar depending on the page and purchased ad. That way you have the most opportunity to get seen on my site. But, in addition to an ad on my site, I include a mention within a blog post and social media mentions (more or less depending on ad space purchased.) This way you get noticed by more than just the people who are visiting the site on their personal computers. Prices for my ad spaces begin at just $15.
Wanna win a FREE ad space on A Well Crafted Party? Fill out the Rafflecopter below for your chance to win!
Prize: A Well Crafted Sponsor Ad Space worth $50—My most comprehensive package yet! Blogs/Shops purchasing this spot will receive the following: 1 Blog Post featuring a review of a product (if sent)/ Guest Post Opportunity/ or intro to their site , 1 300X300 Ad space that resides on ALL pages of the website for 30 days, a short feature in my "Sponsor Spotlight" each month, & 5 pins or tweets throughout the month! These sponsors also have the opportunity to provide a giveaway item for any giveaway worth $50 or more. (This could include ad space or product.)
Rules: This giveaway is open to anyone with a blog or business worldwide as long as the blog/business does not violate the following rules: 1. Is a SPAM site 2. Is not family friendly (promotes sex, the sale of alcohol without a splash page, or inappropriate language or content). Family members of A Well Crafted Party's owner are not allowed to win. Giveaway winner will be chosen via Rafflecopter and notified via email. The winner will have 48 hours to claim their prize or another winner will be chosen. Giveaway begins today, August 29 and runs through Sept. 6 at 12:00 am PST.
I'm also offering a 20% off coupon code for the remainder of the giveaway time. If you purchase an ad space and WIN the prize above you will get a full refund of your purchased ad space. Use the code GIVEAWAYWEEK for your 20% discount!
---
This post is part of A Well Crafted Party's Giveaway Week… we are cleaning out the editorial calendar and sharing the love with free printables, party good giveaways, and more! Don't miss out on any of the giveaway posts by following along via BlogLovin, Twitter, or Facebook!