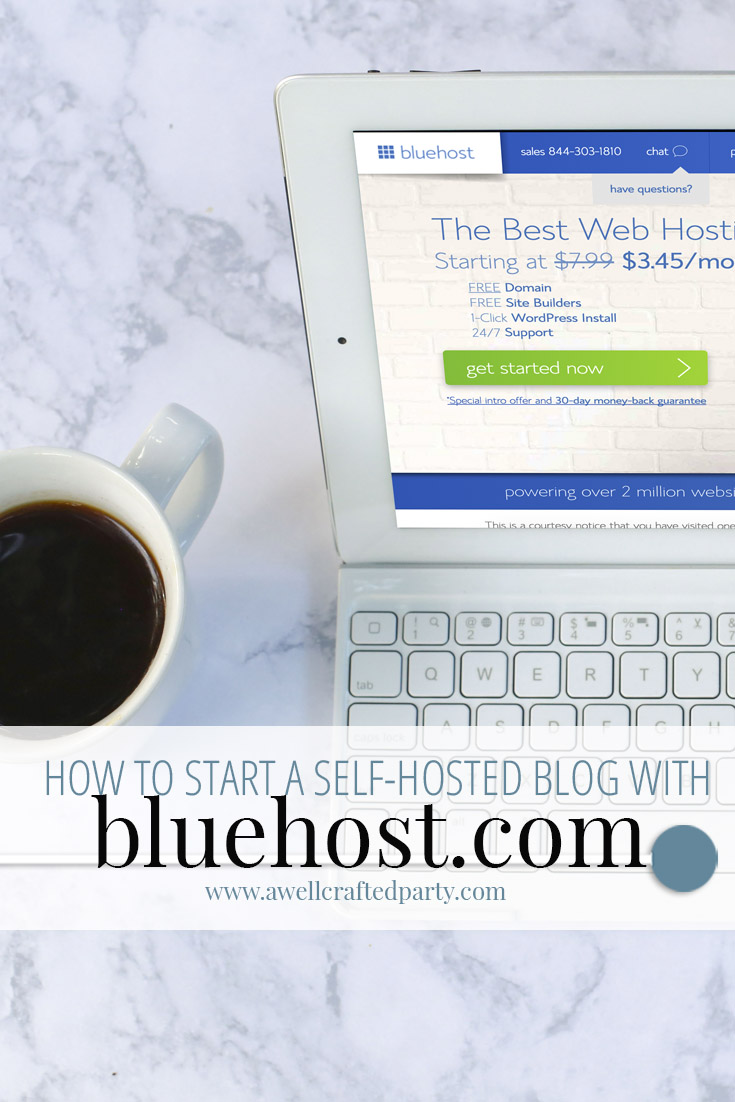 Before I get into the nitty gritty of How to Start a Blog, let me share some facts about me: I have run A Well Crafted Party for the better part of six years. In that time I've also began, designed, set-up, assisted with, and coached bloggers on starting and maintaining blogs. I run a local meet-up group and resource for bloggers where we have successfully hosted several different workshops for blogging skills. I have a free blog planner that I giveaway to help bloggers get to where they want to go. I've blogged and freelanced as a full-time gig and I've worked in Social Media and Marketing for a corporation that has eighteen sites in the United States in which I'm responsible for their social media platforms. I've spoken on panels and at state-wide conferences on Blogging and Social Media. I say all this not to brag. If I wanted to brag I'd share a whole different set of stats.
I say all this to explain why the question I receive most often is, "How do I start a blog?"
I also share it to say why I feel I am qualified to share the following steps. There are many, many ways to start a blog and while I'd love to go into them all, today I'll share my favorite tips for new bloggers.
This post does contain affiliate links marked with an *. I receive a portion of my affiliate sales at no extra cost to my readers. For more information on my affiliate programs and posting guidelines please visit my policies page.
The only absolute, you-can't-start-a-blog-without tip that I have is simple…
1. START
I can't stress this one enough. Planning the blog is great. Prepping content is awesome. But, at some point, you have to move from the planning and prepping to the actual doing. So, if you plan on starting a blog then make an investment upfront— whether that be purchasing hosting, buying your URL, or simply putting a big fat launch date out into the world so you have to stick with it— and get blogging! There are about a million ways to start a blog, but today I'm sharing how to start a self-hosted blog using BlueHost.com*.
2. Decide on a name — Pro Tip: Search for and purchase URL as soon as possible
Deciding on a name can be the hardest part of creating a blog! There are so many times when myself or someone I am working with have figured out an awesome name and finally went around to buy the URL and found that not only was the name taken, but there were several others using similar names.
Tips for creating a good blog name:
Think about your topic and what you'd like to blog about and search for name that fits that topic. Try to come up with a name that speaks to that topic. Search Engines love names that make sense. The easiest way to get a successful URL is to find a name that might be an exact match for your ideal reader. When creating this blog I started out blogging about crafting for parties and designing thoughtful parties that didn't break a budget—A Well Crafted Party felt like a perfect fit! I was happy to find that it was available and no one really had someone similar.
Stick with .Coms. This is a slightly controversial suggestion because there are so many different top level domains out there (i.e. .com, .net, .org) but the most common of those, .com, is the one most people will default to when trying to remember your blog URL. Government entities have .gov and non-profits do well with .org. Personally, I stick with .com for all of my URLs (and, yes, I own several).

For instance, when wanting to create a website for Portland Bloggers to discover or for people searching for Portland Bloggers to discover we instantly wanted… well, you guessed it, www.PortlandBloggers.com. We were sad to find out someone out there is sitting on that URL and hoping to sell it some day. I had to keep searching and finally landed on www.PDXbloggers.com.

Make sure there isn't competition out there with your chosen name. There is nothing worse than getting an idea in your head for a name and finding out that there are other sites/businesses out there using the same or awfully similar name. A couple of internet searches can easily tell you if there is competition out there utilizing your name. Stay away from super common names/phrases that other businesses use. You don't want to finally hit it big to just have to change your name because another company has rights to it.
Check your domain name here:
You can absolutely purchase your domain name now… or you can hop to the next step because you get a free domain name while signing up for hosting with Bluehost.
3. Purchase Hosting
There are a ton of hosting options out there and different blogging platforms to boot. Today I'm sharing the hosting platform I use for the majority of my websites, BlueHost.com. Signing up is easy. You simply need to select the big green button that says "get started now."
Selecting a hosting plan
This is where I feel like a lot of people get stumped. When you are just starting out then it is pretty easy to know that you don't want to put in a huge investment upfront. That is when the basic plan fits best. It starts to get confusing (and important) when you blog begins to grow. The majority of my websites run all on one plan— the plus plan. When I was blogging full-time I had increased my plan to the prime plan. I easily changed my plan when I needed less. I also know that if/when my blog becomes more of a full-time gig again I also have the option to upgrade my hosting to pro with even more performance increases.
Setting up your blog
The coolest thing that I've found with BlueHost is that setting up WordPress was seriously ONE CLICK. That is all! I was able to have my site up and running in just a few minutes.
What made you think of making the move to self-hosting? Are you self-hosted already? Why did you go that direction? Comment Below!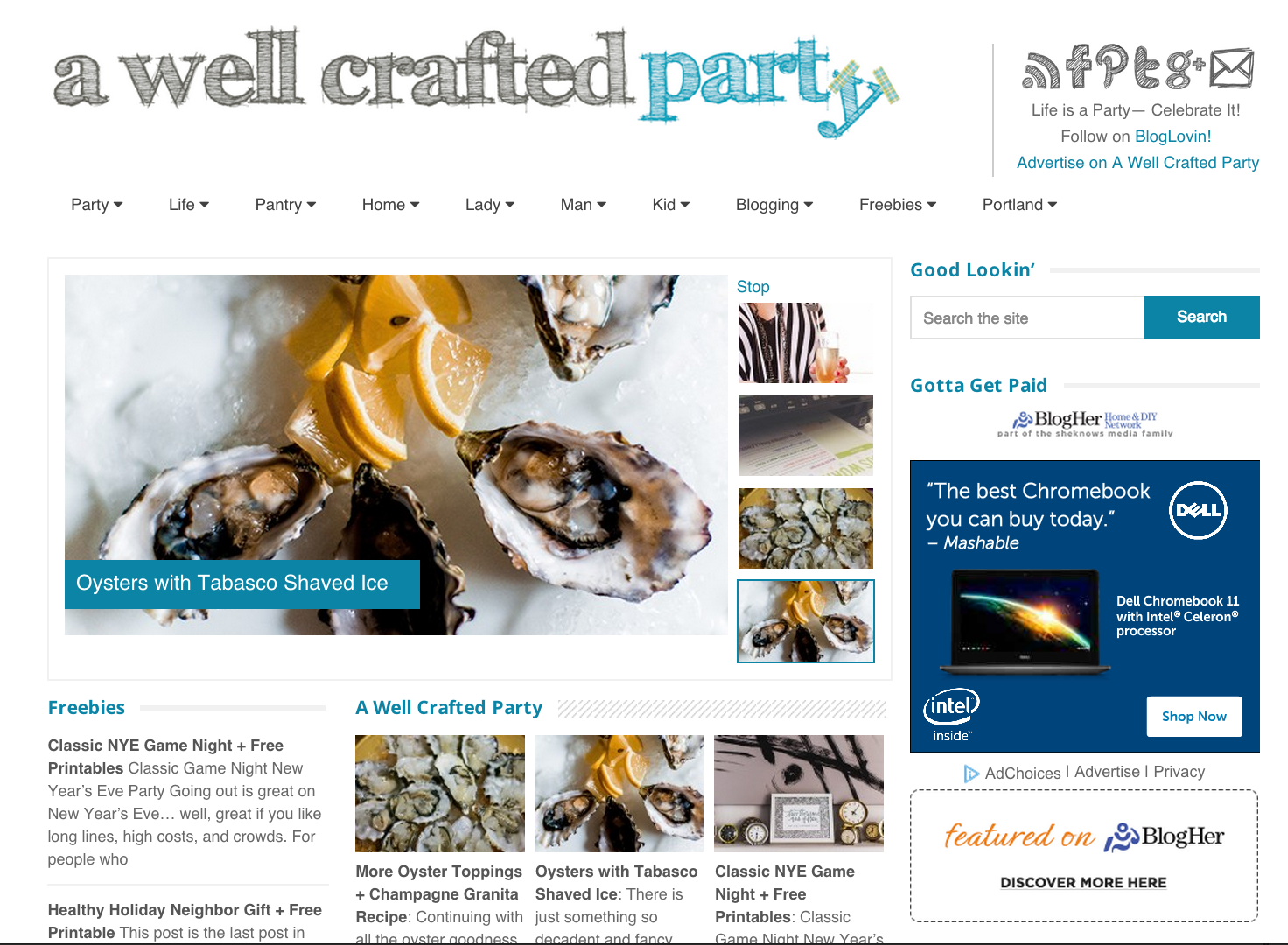 I've been blogging at A Well Crafted Party for nearly five years now and it has gone through its fair share of change as my life changed along with it.
Content over the past few years
This little blog started as a way to share my DIY party ideas and has morphed into a community where I share everything from recipes to updates on how life is with my toddler. It went from a very niche blog to a wide array of topics. Sometimes, the wide array of topics ended up hurting the overall feeling of the site and didn't allow for readers to get to know me and my blog the way I'd prefer. Sometimes it allowed for content I never thought I'd possibly have the opportunity to share and the blog has benefited from that.
I brought in guest bloggers often… sometimes to the delight of readers and sometimes, not-so-much. My husband even started his own series called "A Well Crafted Man" but soon slowed on his postings.
The blog has had its highs and its lows. There have been times where I've had so much content and TIME to share that I was posting nearly a dozen posts a week. There have been weeks of silence on the blog.
Design over the past few years
The design started as a very basic blogger setup with a terrible pixelated header, to professionally designed, to WordPress continuous blog format to a WordPress magazine layout. The logo started out as a crude purple scripted logo all the way to the current clean fonts with elements of blues, greens and yellows.
Mission over the past few years
My mission started as sharing unique party ideas for celebrating life on a budget. It gradually morphed into sharing unique ideas and stories about celebrating life and ways to celebrate moments on a budget. I still feel strongly about both of those missions, I just want to make sure I'm living up to it in my posts.
Life over the past few years
All of these changes almost directly correlate with the changes in my life. When I started I was a part of a married couple with a non-creative job craving a creative outlet as a hobby. I increased my content schedule and updated the blog look as people began to take notice of that little hobby. Then all of the sudden I was pregnant and about to have a son. I stopped throwing as many parties and wanted to start sharing more about life. That is when I made the switch to a lifestyle blog rather than a parties and event blog. When I became a work-at-home mom picking up freelancing jobs I shifted A Well Crafted Party into a career blog, making "career blogger" moves such as moving to WordPress and increasing my content schedule. When I was sharing so much content in a variety of topics I made the move to a magazine style layout. Then I got a full-time, out of the home job that took me away from this little space I had created.
What has changed?
Everything. Well, almost everything.
I tried ( I really, really tried) to keep up with a more consistent and fruitful schedule of posts in the many topics that I like to post about. I tried taking the time to comment on other people's blogs, keep up with all the social media, reply to every comment on this site. At some point I realized that I just can't do it all, no matter how much I want to! One area of responsibility would be going really well, and I'd be failing at so many other areas. So… that leads me to my new view of A Well Crafted Party.
A Well Crafted Party's Mission
I've been thinking a lot about my blog's mission. I mean, why in the world am I spending my time and energy brining my ideas to this little side of the internet? Some bloggers make bank on  their work and I support them in that endeavor. However, with my focus on my full-time job, this blog is more of a hobby than a career. It needs to be something that I am passionate about if it is going to continue.
In all of my reflection on what I am truly passionate about and WHY I started the blog to begin with I came up with a simple mission statement that I feel I can get behind in everything I do and which supports my personal goals.
A Well Crafted Party is a blog where I celebrate life. My tagline is 'Life is a Party—Celebrate!' because I believe that there is something in every day that is worth celebrating and something within every person that deserves to be celebrated. My mission is to explain, inspire and educate others in celebrating the everyday.
A Well Crafted Party's Content
Honestly, this is the hardest part for me… I want this blog to be a true reflection of myself, even if it is just the little bits of me and my family that I wish to share. My content will support my blog's mission. I aim to post three times a week— currently aiming for Tuesday, Thursday and Saturday if you are someone who prefers to just check in on posting days rather than following along via a blog reader or social media. I will be posting my usual array of parties, recipes and cocktails. I will also continue to occasionally write about blogging, curvy fashion, non-fussy beauty and family. Though, every post will keep my mission in mind.
A Well Crafted Party's New Design
I wanted to bring elements of what I have to celebrate every day to the blog in my refreshed blog design. Macey from Moments by Macey took me and the family out to take the images that I've shared in the design. I plan on changing up the photos throughout the seasons, but for now it is exactly what I wanted to share with my new mission. I also went with a cleaner and easier to read logo design. Because I am no longer posting several times throughout the week the magazine layout no longer worked for my blog. I've reverted to a more traditional blog layout using the Master Theme from Mojo Themes. As I find time I am making my landing pages even more clean and easy to navigate so it is easy to peruse the many posts that the blog contains. The A Well Crafted Pantry page is already up and working and I couldn't be happier!
The Future of A Well Crafted Party
Goodness, who knows!? I'm sure it is going to continue to change along with me and my life. I love that I get the opportunity to look back and track my changes through a series of posts and photos. Just like life there are moments of embarrassment and pride. I do hope that I continue to live up to my mission in the future of this blog. I also plan to really strive to be a more consistent blogger. Finally, I have a project up my sleeve that speaks to my mission more than anything I've ever done before. I'm so excited to bring share it in March and get the ball rolling on a year long effort!
Thank you for reading A Well Crafted Party. It means a lot to me that you not only stop by these pages, but that you take the time to take it all in. I'd love to know…
What do you think of the new design and mission? What would you like to see more of (or less of) in future posts?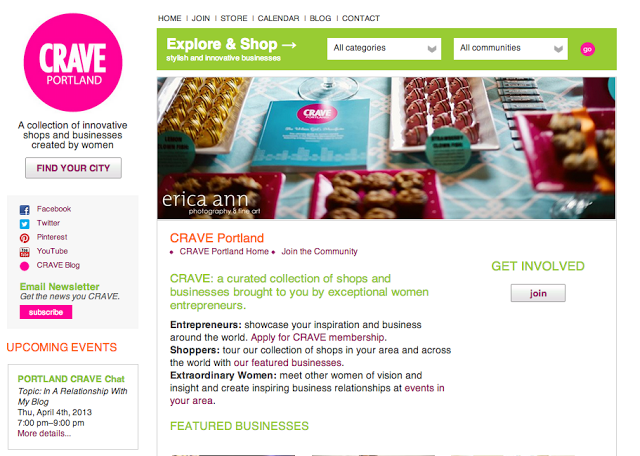 Tomorrow evening I am speaking at The CRAVE Company's meet-up titled, "In a Relationship with My Blog." I'm speaking with four other blogging professionals and I am so excited to have been asked to speak!
We'll be talking all about blogging….from beginning blogging, blogging tips, blogging for business, and building a brand. I spent the evening preparing some of my thoughts about it all and now I am just BUZZING from it all.