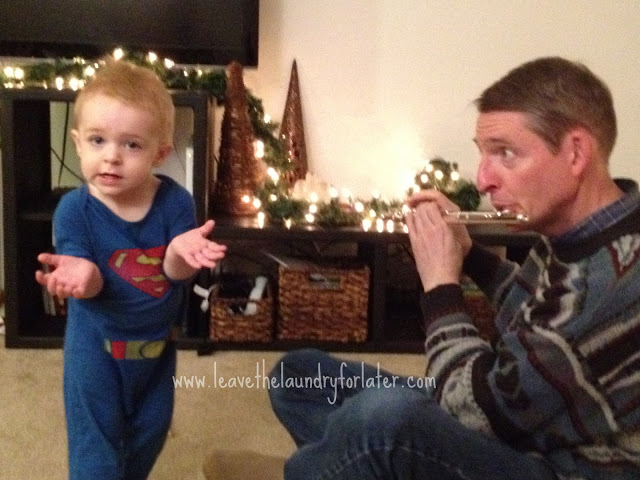 X on Christmas evening listening to his Grandad play his flute. Photo taken by my lovely SIL.
I hope you all had a very, merry Christmas. We sure did! (I'm sure I'll come back over the next couple of days to tell you about all the frustrating things that happened over the holidays. A toddler with a home full of visitors—while trying to adjust to a toddler bed and teething— is a story all on its own.) We had lots of fun with gifts this year because he enjoyed opening the presents and playing with them. The little man actually only got a pair of pjs (that he wore on Christmas eve) from me and his daddy. But, he opened nearly 30 gifts from his aunts, uncles, odd parents, and grandparents… they went a little crazy over him. But, we sure did appreciate it and he loved every second of it.
My absolute favorite memory of the year was the evening of our Christmas celebration when X's grandad played Christmas music on his flute. X was SO good! He did his best not to touch the flute, only gave in to temptation once or twice. He stood right in front of his Grandad with a look of pure awe on his face. He'd clap at times. He sang. He'd sign "more" when the music stopped. And, then, he looked around and did the above expression and looked at us all like we should join in on the fun! If I had just been able to use the above image for this year's Christmas card! It would have been PERFECT! The flute experience was amazing, and hilarious. X's uncle shot a video of the fun as well… enjoy!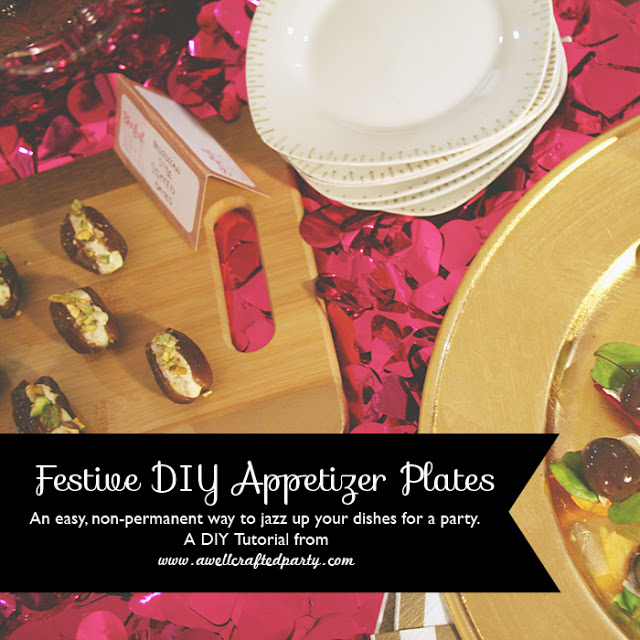 I try to use real plates and glassware at many of my parties so that I am not wasting paper goods or spending extra money on plates and napkins. (Don't get me wrong though… I love a pretty paper item!) However, sometimes using my plain white plates at every event gets boring. I don't want to go out and buy a ton of new dishes at every event… so, I came up with an easy and non-permanent way to upgrade my party dishes.


To upgrade your appetizer plates or glassware in a festive, non-permanent way you'll need the following:
— Plates/glassware of choice. I used white dessert plates that I bought at HomeGoods for little money!
— A Sharpie in your color choice (I used gold)




Instructions:
Using your sharpie, draw around the edge of the plate in a simple design. I usually sick to something like dots or lines to just give a little pop of a design. Keep your design at the edge of the plate, or away from the rim of a glass. Sharpie markers are not food safe.

You're DONE! Told you it was easy. The sharpie will last throughout the party. To wash the marker off let it sit with dish soap applied directly to the marked area for about thirty minutes and wash off.

If you want the marks to be permanent then you can cure them in an oven by putting them in a cold oven and then letting it get up to  350˚ F, leave for half an hour then turn the oven off. Let them sit in the oven until cool. I like to then leave them unused for 24 hours. Using a pen made for writing on porcelain, like the Porcelaine 150 pen, will garner more permanent results than a Sharpie.
---
If you liked this post then check out these posts from the same party feature!
Follow along this week and next for more of this party, first featured on Pizzazzerie.com! I'll be featuring a tasty cocktail, an appetizer recipe, a few DIY projects, and some DIY party tips for your NYE party!
A BIG thank you to my NYE party collaborators— 
Photography: Macey of Motormouth Studios
---
*Occasionally links on this blog are affiliate links that help support this blogger. This is a for-profit blog.  To read my Advertising Guidelines please click here.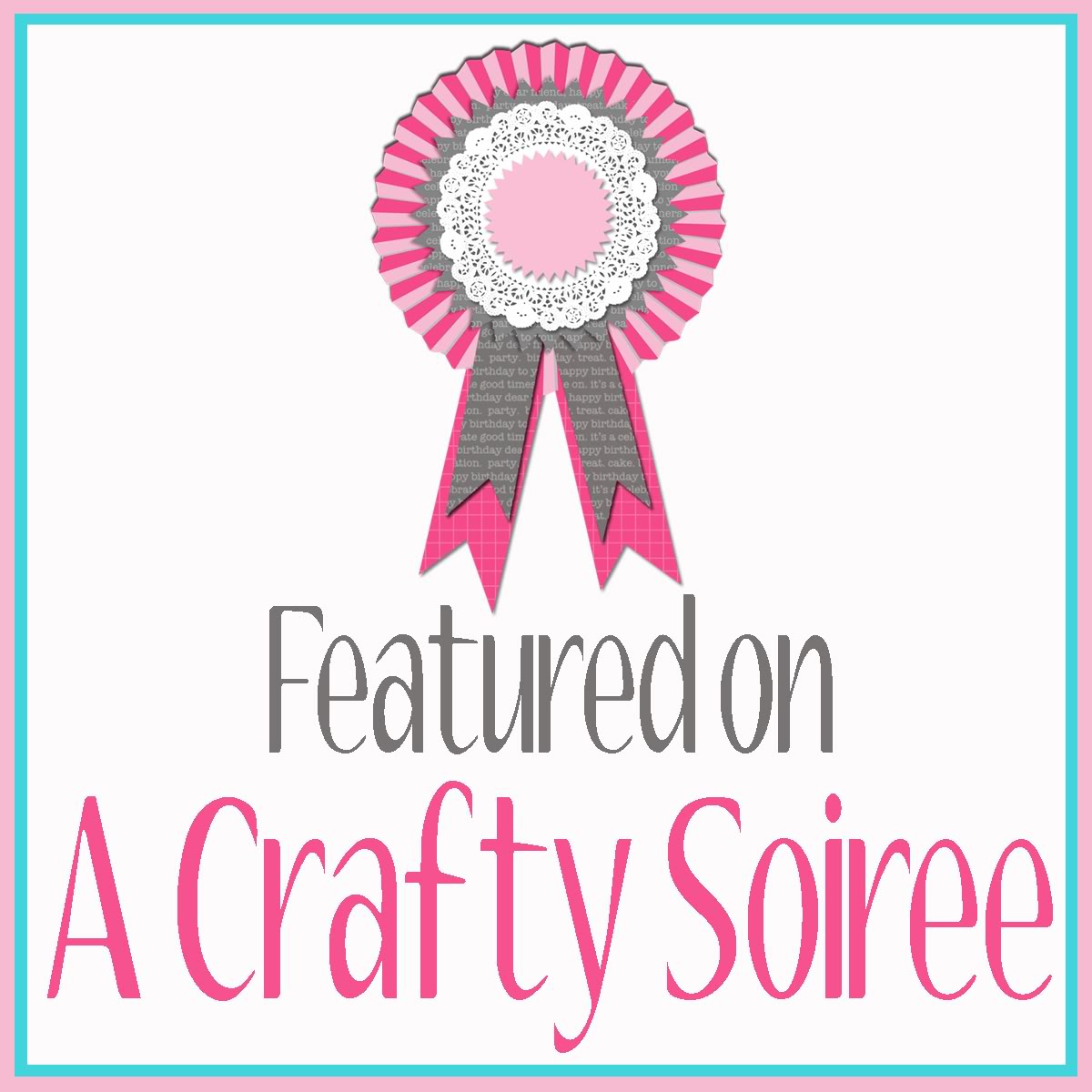 I got a very sweet comment today letting me know that my NYE printables are being featured on Yesterday On Tuesday's round up of last week's A Crafty Soiree linky party links! There were so many fabulous links on there that I was super excited to hear that she featured my printables! Hop on over participate and check out the awesome links on this week's A Crafty Soiree link party!
And, if you'd like to check out the Printables or other NYE Party goodies please check out these links:
More coming up this week here at A Well Crafted Party! 
A BIG thank you to my NYE party collaborators— 
Photography: Macey of Motormouth Studios
---