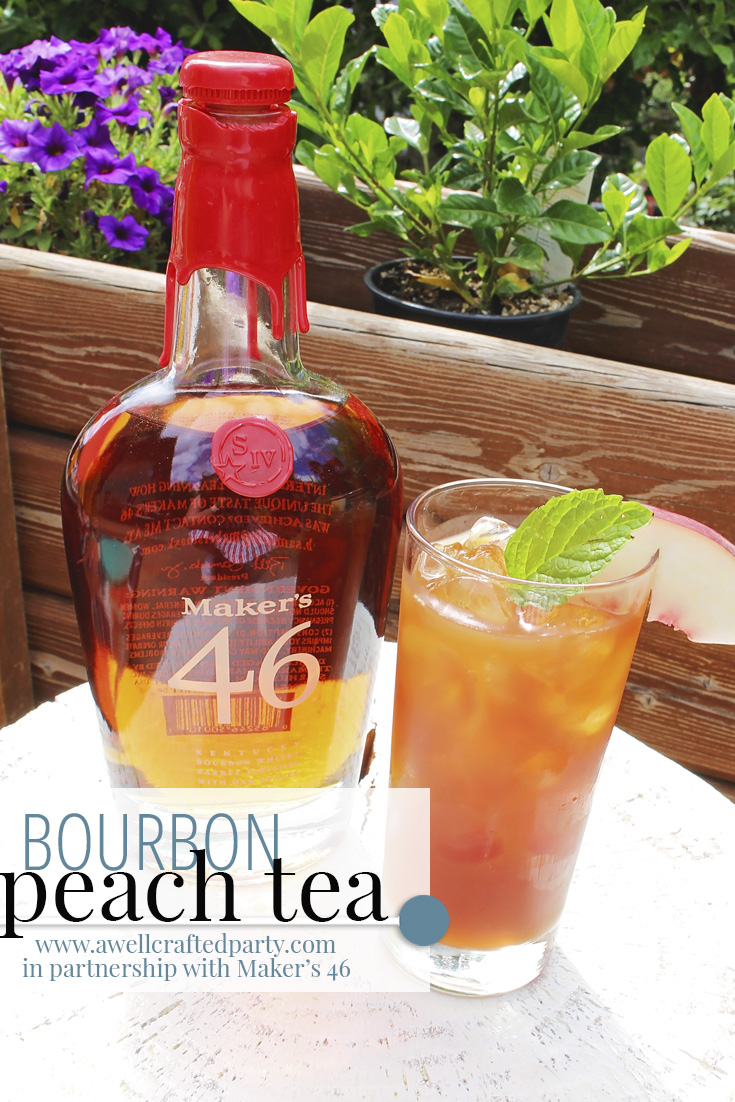 Summer just calls for a nice iced cocktail. While I typically go for bourbon straight or in cocktails fit for Fall, I was excited to try creating a tasty Summer recipe of Bourbon Peach Tea featuring Makers 46 Bourbon. I was sent a bottle of Makers 46 for purposes of creating a recipe to share with readers. All opinions are my own. For more information about my sponsored content please visit my policies page. 
Over the Fourth of July weekend we hosted our annual low country crab boil. The Southern speciality just called for a sweet tea beverage to be served alongside it. Peach Tea is my favorite sweet tee, the vanilla and spice notes of Makers 46 just makes it even better.
Perfect Summer Cocktail – Bourbon Peach Tea
First off, yes, you can just add bourbon to your favorite peach tea. However, the below concoction is a little bit more concentrated and would be good over ice or as a cocktail straight up.
Ingredients:
1 3/4 oz Maker's 46 Bourbon
1 3/4 oz Peach Syrup (see recipe below)
2 oz concentrated black tea (see recipe below)
1 collins glass filled with ice (or shaker with ice and a martini glass for those who wish to enjoy this beverage straight up)
1 spoon
mint and peach for garnish
optional – raw sugar to rim glass
Directions:
Optional: Rim your glass in raw sugar. I chose not to do this because it was sweet enough for me, but it would be tasty and beautiful touch whether served over ice or straight up!
In Collins Glass:
Pour the Maker's 46 Bourbon, Peach Syrup and Concentrated Black Tea over ice.
Stir.
Garnish with mint leaf and peach slice.
Enjoy!
Straight Up:
Pour the Maker's 46 Bourbon, Peach Syrup, and 1 3/4 oz (not two ounces as in the collins glass) Concentrated Black Tea over ice in a shaker.
Shake well.
Strain into a chilled martini glass.
Garnish with mint leaf and peach slice.
Enjoy!
How to make concentrated black tea:
I used the Lipton Iced Tea bags that are family size, though you could use any black tea bags that you like. I did 5 tea bags for 32 oz of boiling water to make my concentrated tea. Once the bags steeped for 8 minutes I pulled them out and let the tea cool before using in my cocktail.
How to make peach syrup:
Combine 1 16 oz bag of frozen peaches, 2 cups water, and 2 cups sugar in a saucepan over medium heat. Cook, stirring occasionally, until all the sugar has dissolved and the peaches begin to break up. Smash peaches into the mixture. Strain mixture using a fine mesh colander over a pourable container. Store the peach syrup in a sealed container in the fridge for up to two weeks.
What is your favorite Summer cocktail?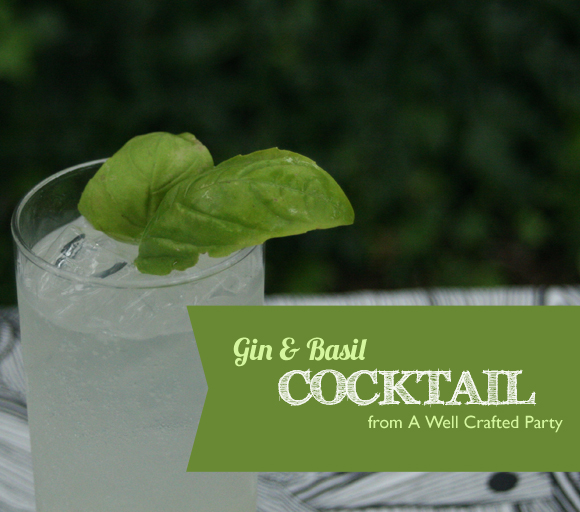 Gin and Summer go hand in hand in my book. This simple and refreshing cocktail is perfect for a hot summer evening. Make it in single servings or mix it up in a batch to serve a crowd. I recently made a batch of this to serve at my husband's Farm to Table Birthday Party. I also made a batch of Fruity Whiskey Collins. The two drinks went FAST and were perfect for an evening celebrating out in the garden and backyard.
Simple, Refreshing Gin and Basil Cocktail Recipe:
Gin and Basil Cocktail for one
Ingredients:
 2 oz of your favorite Gin
 1 oz of Lemon Juice (approximately 1 lemon)
1 oz of Basil Simple Syrup
4 oz soda water
ice
glass (at least 8 oz glass)
stirring spoon
garnish of Basil
Directions: 
Pour 2 oz of Gin, 1 oz of Lemon Juice, 1 oz of Basil Simple Syrup, and 4 oz of soda water over ice in a tall glass.
Stir
Garnish with Basil leaf
Enjoy!
Gin and Basil Cocktail for Eight
Ingredients:
 16 oz of your favorite Gin
 8 oz of Lemon Juice (approximately 8 lemons)
8 oz of Basil Simple Syrup
pitcher (at least 32 oz)
stirring spoon
Soda Water to be used at time of serving)
Measuring cup for 4oz (1/2 cup)
glassware, ice, stirring spoons, instructions sign and garnish of Basil for guests to make their own.
Directions: 
Pour 16 oz of Gin, 8 oz of Lemon Juice, and 8 oz of Basil Simple Syrup into a pitcher
Stir
Set out with sign, glasses, stirring spoons, ice, measuring cup and soda water so guests can make their own.
Pour 4 oz of the mixture over ice, top with soda water, stir, garnish with Basil and enjoy!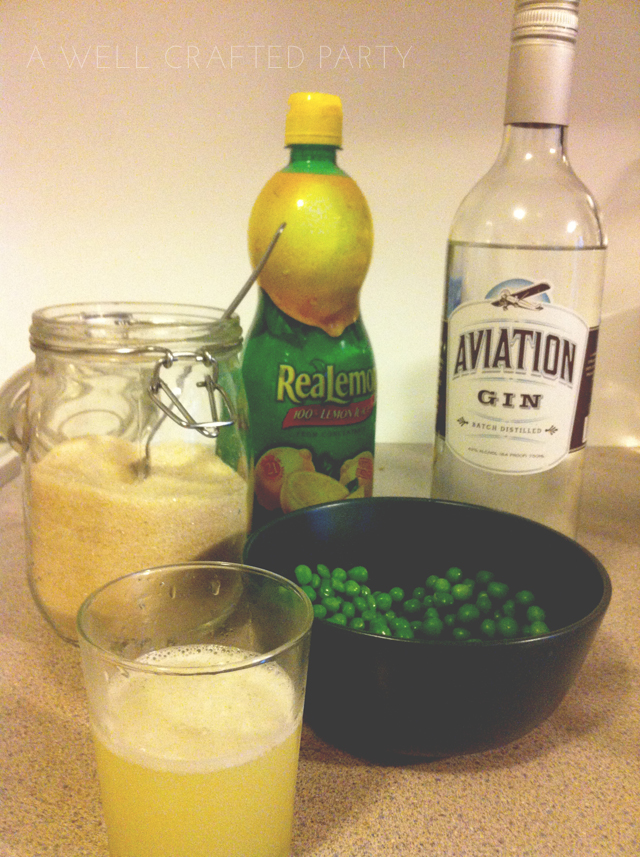 When I heard of the Sweet Pea cocktail I really had to think a bit before I decided to try it. I mean really, peas? In a cocktail? Well, I'm so glad I tried it! I found the original recipe at the Bon Appetit blog. I changed a few things to make it more my taste. I tested it out on friends who enjoyed it… so, I feel pretty safe in saying that this is a great cocktail for Spring or Summer.