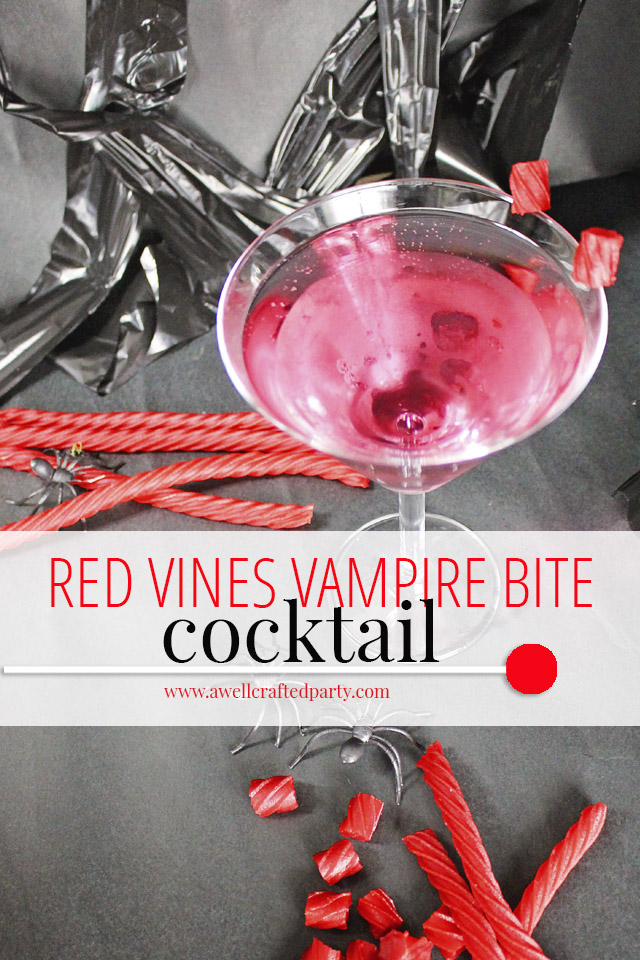 This Halloween drink post is sponsored by RedVines.  #RedVines candy is always fat-free and made without preservatives. It is "made in small batches, using artisanal techniques passed down through five generations, RedVines candy has a rich heritage built on our dedication to consistent quality, flavor and freshness." All opinions are my own. To learn more about my posting policies regarding sponsored posts please visit my policies page. As always, thank you for reading more about the companies that help support this blog. 
(This post contains affiliate links marked with *)
If you haven't been able to tell from previous Halloween posts… I like vampires. I was the kid dressed in black reading Anne Rice's Vampire Chronicles* throughout most of my formative years. It certainly lead right into my love of Halloween. (Check out these fun Halloween Vampire Portrait free printables!) When creating a recipe out of my favorite red licorice it was an easy jump to vampires. I love how the little bite-sized RedVines Twistettes* made perfect little "vampire bites" on the rim of the glasses.
Halloween is an all-ages holiday in my book, so I wanted to make sure that I had a fun non-alcoholic version of the Vampire Bite drink so that the kids could get into the fun.
Halloween Cocktail – Vampire Bite Cocktail with Red Vines
As with all of my cocktail recipes this is intended for people of legal drinking age. Keep scrolling if you'd like to find a fun non-alcoholic version of this drink. As always, practice safe drinking.
Ingredients:
-3/4 oz of Cranberry Juice (or Cranberry Grape Juice)
– 1 and 1/4 ounces of your favorite vodka
– 1 oz of your favorite orange liquor
– 1.5 oz of dry cherry soda (must be a clear soda)
– 1.5 oz of dry blood orange soda (clear soda again)
– RedVine Twistettes to garnish rim
– Shaker with Ice
– Chilled Martini glass that can hold approximately 6-8 oz of liquid (don't want it too full!)
Directions:
Garnish the chilled martini glass with the RedVines Twistettes about 1.5 inches apart (should be approximately where the canine teeth would go in the mouth).
Pour 3/4 oz of cranberry juice into a chilled martini glass.
In a shaker full of ice pour the orange liquor and vodka. Shake well to chill. Strain into glass.
Top drink with equal parts of blood orange and cherry dry soda.
Enjoy!
Halloween Drink – Vampire Bite Non-Alcoholic Beverage with Red Vines
Sometimes you just don't want to drink alcohol or you want to give the kiddos a special treat as well. This non-alcoholic versions of the Vampire Bite cocktail is DELICIOUS and pairs perfectly with the little Twistette bites on the rim of the glass.
Ingredients:
– RedVines Twistettes for the rim of the glass
– 2 oz Cranberry Juice or Cranberry Grape Juice
– 3 oz Dry Cherry Soda (must be clear)
– 3 oz Dry Blood Orange Soda (must be clear)
– Glass with ice and a straw
Directions:
Build the drink on ice by first garnishing the glass with RedVines Twistettes to resemble a vampire bite.
Pour in the cranberry juice so that it sinks to the bottom of the glass.
Top with equal parts of Cherry and Blood Orange Dry Soda.
Pop in a straw and Enjoy!

Giveaway- Win a gift bag from Red Vines!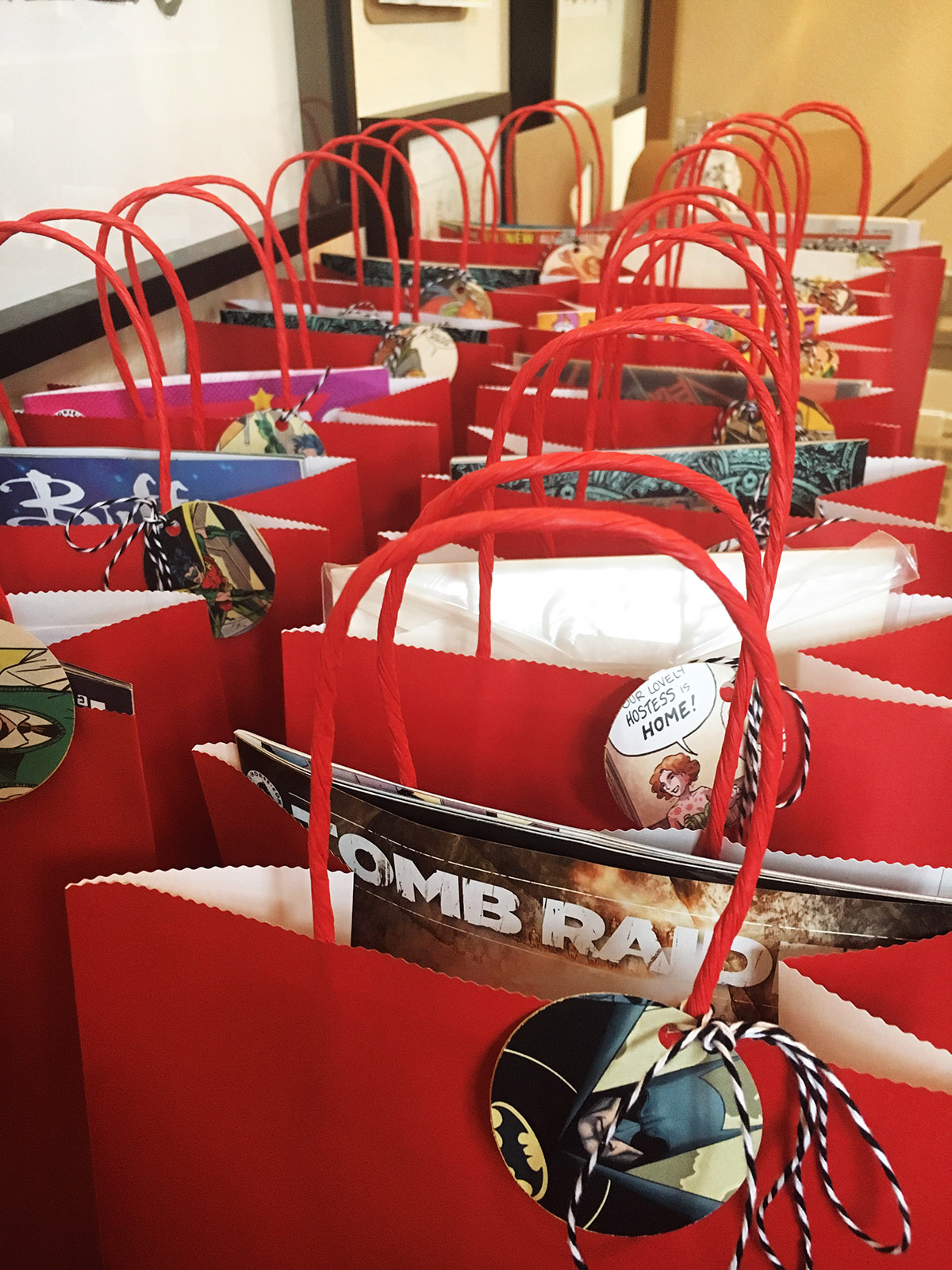 This weekend I had some much needed down time. Last week was insane at work and I couldn't seem to get a moment to work on anything blog related much less see my kiddos. In the midst of the errand running and general hanging out with the family that I did, I also got to spend a couple of hours prepping for Halloween. Our comic book themed Halloween party is starting to come together! (Now that my Felicity Smoak costume is complete I'm moving on to party decorations.)
My week/weekend in snapshots:
I had to add in this photo because it is just too fun. Our work had our yearly conference this year in which I take a big part in putting together. We always go ALL OUT with our theme and this year's theme was Rock and Roll. I pretty much want purple hair and a tattoo sleeve now.
The party prep has involved cutting up a lot of old comic books I found while thrifting. We used the comic books to decorate tags, cups, juices, and more.
The biggest project I tackled this weekend was creating LARGE paintings of comic characters. I utilized a projector to help guide the paintings. I first drew the outline and then painted in the large sections of color and then finished the details. My son even got in on the painting!
I got a lot done this weekend, but I still have lots more to do to be ready for this next weekend.
Are you ready for Halloween? If so, what are you planning on doing for the holiday?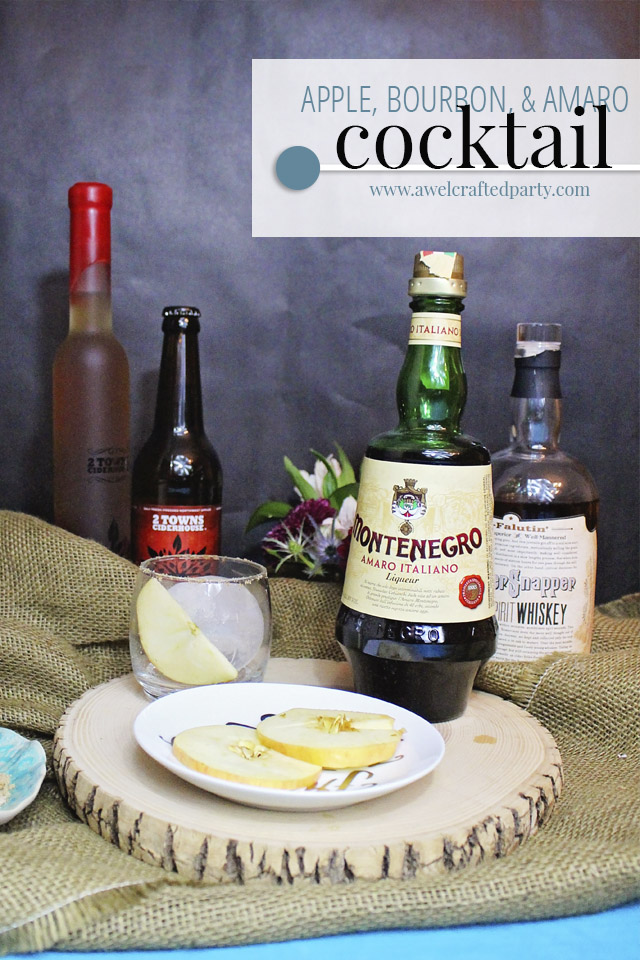 A lot of cocktails are simply too sweet for my tastes. Don't get me wrong… I like a sweet drink on occasion, but the sweetness can often be overpowering and give me a headache the next day. When a drink is smooth and has a complicated, but tasty profile I really dig it and come back to those type of drinks over and over again. In the Summer I gravitate towards refreshing flavors of free herbs and (usually) Gin. In the Fall I want spices and (often) Bourbon. The drink I'm sharing today is absolutely a Fall cocktail. I received a complimentary bottle of Amaro Montenegro for purposes of review. All opinions are my own. Please enjoy the Fall cocktail recipe I created plus a few tasty fall cocktails from Amaro Montenegro! This post is intended for readers of legal drinking age. 
Amaro is an Italian bitter herbal liquor that is often served as an after-dinner digestif. Amaro Montenegro has an alcohol content of 25%. Due to the bitter sweet flavor of the Amaro I decided that I would use it similarly as I would a bitters or vermouth in a cocktail. It gives the cocktail a complex layer of flavor that keeps it from being overwhelmingly sweet.
I knew from the moment I tasted Amaro that I wanted to use it to create a Fall cocktail that was complex in flavor. For a while I was really stumped on the type of cocktail I'd make. But, then I went to an Apple Cider tasting and found some beverages I felt would really pair well with the flavors of the bitter liquor. I chose to pair it with a dessert wine made from apples, a spiced apple cider, and bourbon. The flavors ended up going really well together. It is a pretty strong beverage however, so proceed with caution! This drink would be perfect for sipping next to a fire pit on a cool Fall evening.
Fall Cocktail with Apple, Bourbon, and Amaro Montenegro
Ingredients:
– 1 1/4 oz Bourbon of choice
– 1/2 oz Amaro Montenegro
– 3/4 oz Apple Wine
– Top with about 2 oz of a spiced apple cider
– Mixture of Brown Sugar, Granulated Sugar, and Cinnamon to rim your glass (optional)
– Apple slices for garnish  (optional)
– Ice (you can choose to shake over ice, strain and serve up or serve over ice)
– Glassware of choice (martini glass for serving up and rocks glass for serving over ice)
Directions: 
For Serving Up: Wet the outside of your glass by rubbing an orange slice around the rim or dipping the rim into some of the apple wine. Dip the rim into the sugar and cinnamon mixture to give it a light coating. Then, combine the ingredients except for the spiced apple cider into a shaker filled with ice. Shake until well chilled and strain into a large martini glass. Top with approximately 2 oz of spiced apple cider. Garnish with apple slice and enjoy!
For Serving on Rocks: Wet the outside of your glass by rubbing an orange slice around the rim or dipping the rim into some of the apple wine. Dip the rim into the sugar and cinnamon mixture to give it a light coating. Then, combine the ingredients except for the spiced apple cider into your glass on ice. Stir well to combine. Top with approximately 2 oz of spiced apple cider. Garnish with apple slice and enjoy!
Some other yummy cocktails to create with Amaro Montenegro:
Monte Jack-O-Lantern – Derek Brown, Underdog:
1.5oz Amaro Montenegro
1oz pumpkin puree
1.5oz rye whiskey
3/4oz cinnamon syrup
3oz heavy cream
Nutmeg
Cinnamon
Autumn in New York – Derek Brown, Underdog
1.5oz Amaro Montenegro
1/2oz Allspice Dram
Hard Cider
Orange wheel
Stir Amaro Montenegro and allspice dram in a glass with ice. Top with hard cider and garnish with an orange wheel.
Shake all ingredients except cream over ice and double strain into a coupe glass. Pour heavy cream into a shaker and shake until thickened. Float the cream on top and dust with freshly grated nutmeg and cinnamon.
Have you ever tried Amaro? If so, what is your favorite way to drink it?