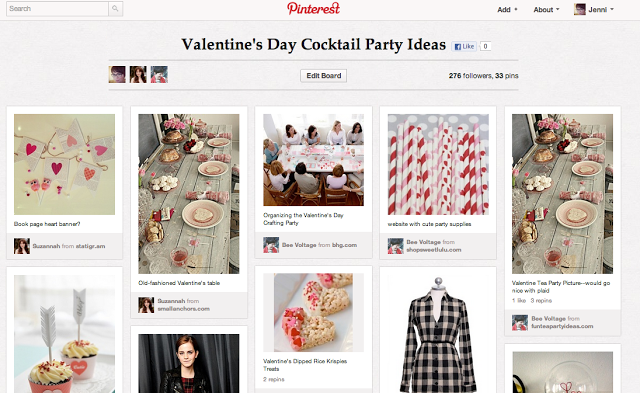 Can you believe that Valentine's Day is just around the corner? I still feel like I am recovering from Christmas and New Year's Eve celebrations… but, a walk through your local store and you'll be reminded that the time of hearts, flowers, chocolate, and PINK is just around the corner. Now, I know that this day isn't for everyone… but, I love it. I loved it when I was single. I love it now. Sure, there are things about it I'm not a huge fan of… but, I try to focus on the parts I like. You know me… any excuse for a party!
A few ladies and I are getting together in a couple weekends for a ladies' night. We're having a sort of cocktail party with a hot toddy bar, photo booth, valentine exchange, and good company. I wanted to steer away from a large amount of pink and ultra-romantic stuff Although, there will be some pink and of course there will be hearts. But, I have thrown a lot of parties with pink as a main color lately and I'd like to move in a different direction. So, we decided to do a Cozy Flannel Valentines' Day theme.
I'm excited to bring flannel into the decor and to push myself to stay away from super traditional Valentines' Day party looks. The above Pinterest board has some of the ideas for the party. I'm really loving some of the pins.  The pictured supplies above give you a real feel of my ideas for the party. I'm loving all of the hand lettered party signs and have been practicing my calligraphy. Can't wait to pull it out for this party. I also got some feathers, leather, yarn, old sweaters, and flannel to add to the cozy/natural feel of the party.
Are you planning anything for Valentine's Day?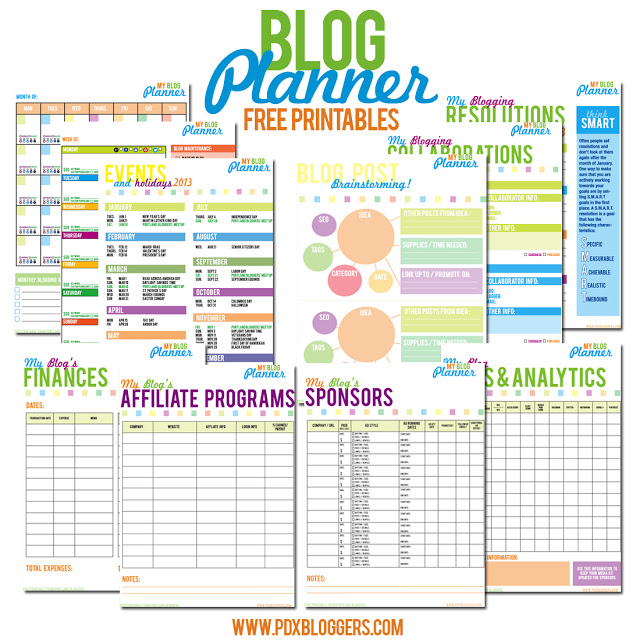 We hear over and over again that planning is the key to successful blogging. For some people, it is! Planning and organizing out blog posts, collaborations, affiliations, sponsors, and the like can get overwhelming easily. It is a good idea to keep your plans all in one central location whether it be on your computer, online, or on paper. For people out there that LOVE the feel of paper in hand, or want a place that is non-tech based to hash through post ideas, or even have a way of posting up your schedule so that you can see it everyday… I made these printables!
I created a set of free printable blog planning sheets for the Portland Bloggers' January Meet-Up from this past weekend. I've been utilizing them in my own planning now and am finding them super helpful. Check them out and hopefully you'll find one or two that can help make your blog planning go a little more smoothly.
The free printables in the blog planning package include:
Monthly Blog Post Planning Calendar— Each sheet has an open month calendar so that you can put the month and dates in. Each day on the calendar has popular social networking symbols with check boxes so that you can check off when you've promoted a post.
Weekly Blog Post Planning Calendar— Some people prefer to plan out their blog posts in more detail and on a weekly basis. The weekly calendar also has social networking symbols. It also has an area for weekly blog maintenance and SEO planning prompts.
Events and Holidays— A list of events and holidays. This is not a comprehensive list by any means… it also has all of the dates for the upcoming Portland Bloggers' Meet-Ups.
Blog Post Brainstorming Worksheet— A blog post planning sheet
Blog Collaboration Worksheet— A place to track collaborative projects and responsibilities.
Blog Resolutions Tracker— A place to write and track blog goals and resolutions
Finance Tracker— A place to record income and expenses
Affiliate Programs— A place to track affiliate programs
Sponsors— A place to track sponsors, payment, and responsibilities.
Stats & Analytics— A place to record your stats and analytics monthly
The above links go to a downloadable FREE PDF of each sheet of the printable planner. Download the ones you need!
(PS. I'd love to know what you think of the free blog planner, what items you'd like to see on an update, and how you are using them for your blog!) There will be a new set of printables out near the end of the year, so get your suggestions in soon!
* I created these free printables for personal use only.
Want more blogging resources? Check out these great sites and ebooks!
(Affiliate links may be used below. Affiliate links help pay for the great free content on this blog with no additional cost to you, my lovely readers!)
Who doesn't want to blog about something they love AND make money? I found this e-book by Kelly Bejelly super useful: How to Make Money Blogging Blueprint
Sometimes this whole blogging gig can get overwhelming and it is easy to think– am I doing this right? should I be doing this? I found Joy Cho's book "Blog, Inc" incredibly inspirational.
You know those amazing blogs that give you so much information that you have to keep coming back to the posts over and over again? The Co-Schedule blog is that for me. I save the posts, share them, print them, USE them every week. It is a great free resource for bloggers who want tips on marketing their blogs.
ProBlogger is another website I go to often. Their e-book "ProBlogger: Secrets for Blogging Your Way to a Six-Figure Income" is chock-full of great tips.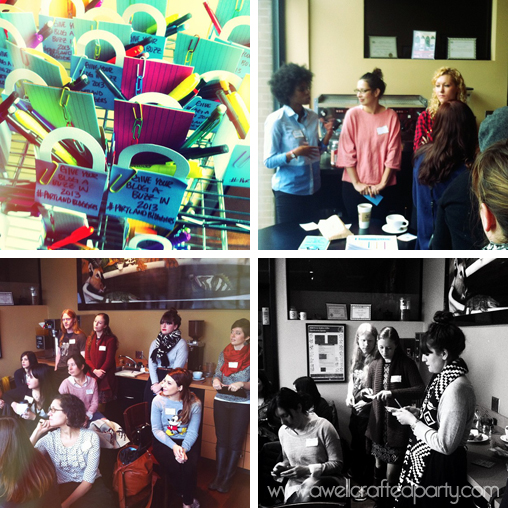 Ahhh… what a weekend! I was BUSY, as usual… but, it was such fun and so refreshing! This weekend I enjoyed a Girls Night with some old friends, met up with the Portland Bloggers' group, helped a friend refresh her blog design, and did some major blog planning for my own blogs. While I am now EXHAUSTED I am also feeling super excited about all my goals and plans.
Saturday's Portland Bloggers' Meet-Up was better than I could have imagined. I actually anticipated the meet-up to be a smaller one because it is the first one of the year… but, we had double the people I guessed we would. There were old faces and new faces… lots of great input on our theme, "Give Your Blog a Buzz in 2013!" I'll be posting a full review on the Portland Bloggers' website later this week. I'll also be posting some free printable blogging planners that I created. Speaking of…
I used the printables to FINALLY work on some plans and lists for my blogs. I've got a lot of changes in store for this little blog. I promise they will be grand though! I'm getting around to resolutions late this  year. I'm still recovering from the holidays. But, as I finally have the next few weeks planned out… let me tell you that you'll be seeing some fun Valentine's Day items coming soon!
Finally, I helped my lovely friend Sam from Sam Rosen refresh her blog design. She has fabulous tastes and I loved that she went with such a simple design so that her images and posts really stand out. If you love a little sparkle in your life, some really great outfit ideas, and some fun party images then head on over to Sam's blog and FOLLOW!
So, friends… what did YOU do this weekend?
If you do a weekend in review post then I'd love to see it! Feel free to link it up here: