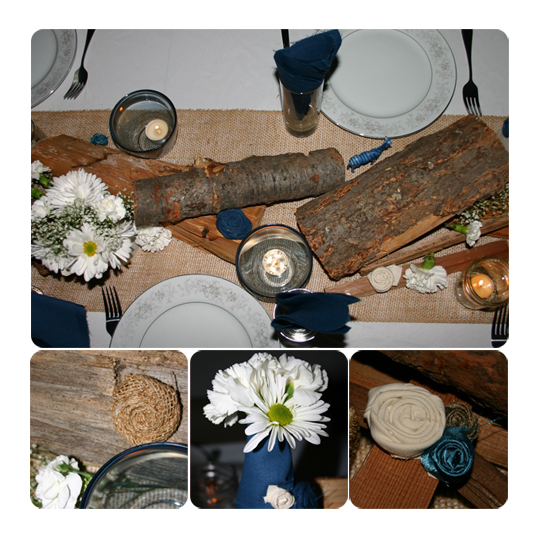 I went back and forth about whether I was going to put a "round-up" post up on the blog… but, as I enjoy reading everyone's yearly round-up posts, I decided to go ahead and put one up. So, without further ado… here are my top 12 party posts of 2012!

In January I featured a Rustic Dinner Party that I threw for a friend's birthday… my favorite details were the spray painted animal figures that found their way into the centerpieces and, of course, all the burlap. I'm pretty sure that 2012 was my year to use the heck out of burlap!
It's the last year of my 20s… the world is over! 😉 My 12/12/12 birthday party had an end of the world theme in honor of the (then) upcoming dooms day! Loved my glittered dinos the most.
12. Features/Guest Posts:
Have a wonderful and safe end to your 2012!
I'd love to see YOUR favorite 2012 post on your blog/twitter… leave a link in the comments!
See you next year!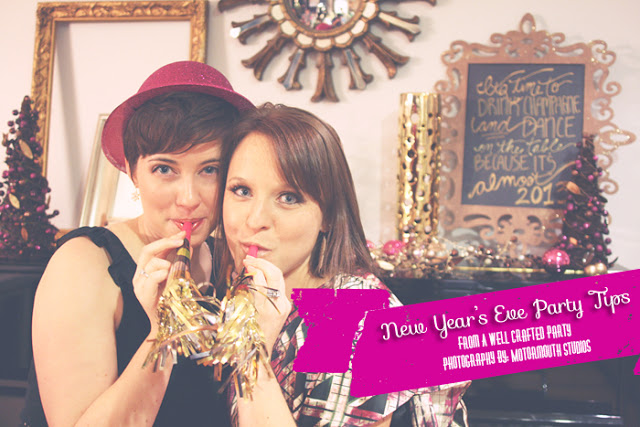 There is nothing quite like a fabulous, last minute party. I love planning out a party as much as any party-obsessed person out there. But, sometimes, I decide at the last minute that I want to throw a shin-dig and I pull out some items from my party closet, print off some free printables, use my home (and holiday) decor items, and whip together a few easy recipes (or have people bring some food items). There is NO reason you can't throw a fabulous, inexpensive New Year's Eve bash…. even if you didn't decide to do it until TODAY! Check out these easy tips (and beautiful photos) on how to throw a festive NYE event in just two days.
Quick New Year's Eve Party Tip #1:
Quick New Year's Eve Party Tip #7:
Have fun!! Fun is absolutely contagious. Even if you didn't get EVERYTHING you wanted to get done finished… enjoy your party and enjoy welcoming the New Year. Your guests will certainly enjoy themselves more if you are leading the way in having a good time!
---
If you liked this post then check out these posts from the same party feature!
---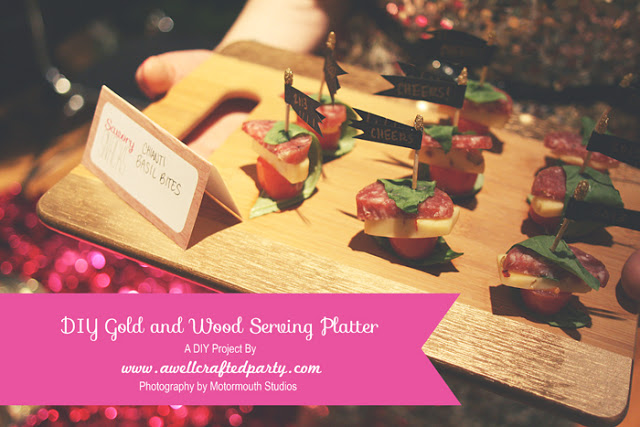 There are so many tutorials out there for fun, DIY platters. I wanted something that I hadn't seen before, was inexpensive, and could be used on a table or as a passed hors d'oeuvre platter. I decided to create these fun DIY Platters out of cutting boards so that the area the food goes on would be completely food safe.

To make these platters you'll need:

I chose to only do one side of my board so that if needed I could use the opposite side as an actual cutting board. But, you could choose to do both sides! 




Instructions:
Tape off the center area of the board with painters tape. I wanted thick strips of gold on each side, but enough space in the center to artfully arrange the hors d'oeuvres. If you are using a very large board then  you might want to cover the center with paper and tape that down instead of wasting a bunch of tape.

Spray the board with the spray paint following the instructions on the can.

Once the paint is dry, remove the tape. Voila! You have yourself an easy, inexpensive platter that will show off your food nicely!

My boards are still holding up after several hand washes. I recommend that you dry the board immediately, or possibly add a sealant, to avoid water spots on the paint.


---
If you liked this post then check out these posts from the same party feature!
Follow along this week and next for more of this party, first featured on Pizzazzerie.com! I'll be featuring a tasty cocktail, an appetizer recipe, a few DIY projects, and some DIY party tips for your NYE party!
Photography: Macey of Motormouth Studios
---
*Occasionally links on this blog are affiliate links that help support this blogger. This is a for-profit blog.  To read my Advertising Guidelines please click here.