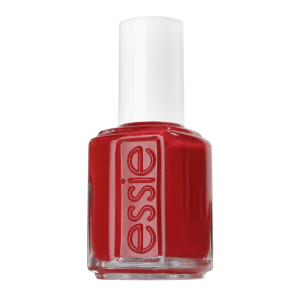 I'm currently working on helping  a few friends with bridal showers, bachelorette parties, and weddings. It is a ton of fun and the ideas just keep coming. So, when I saw a tweet wondering about Bachellorette party themes I knew I couldn't just post 140 characters about it. So, below are some ideas for Bachellorette party themes. Now, with most of these themes you can do many different things. You can go out, you can stay in. Whatever… this just gives it a little something extra:
* A lot of these themes have comments for brides-to-be who are of age, and enjoy alcoholic beverages.  I'm certainly not saying that is how a bachelorette party NEEDS to be. I threw my sister a wonderful "Love & Ice Cream" bachelorette party that involved an Ice Cream bar rather than a bar. These themes are just to get people started with some fun ideas.

Essie Really, Red Nail Polsih
1. Paint the Town Red
Guests wear black, Bride to be wears red
Stop off and get mani/pedis (or do it at home)— of course, in red
Give red lipstick to all guests— Red lip prints will be everywhere that night. On napkins with phone numbers, glasses, and cheeks a plenty.
Have a signature RED drink. Manhattan anyone? 
 2. Up All Night
Plan an ALL night affair that starts with dinner, goes on to dancing, then heads out to an all night diner for fries and milkshakes. 
Have guests don their favorite "Nighty"—Could be pajamas or a cute corset top with jeans!
Give guests fuzzy slippers to end the night in after they've danced and walked all over the town in heels.
 3. Last Taste of Singlehood
Do a "tasting" theme all evening long. Stop off at a wine bar for a tasting flight, then head to a Tapas style restaurant, move on to a club that offers a little taste of all the fun night life options (comedy, jazz, piano bar, dancing, you name it!) and end the evening with a taste of ice cream or other sweet treat. 
Have the guests and bachellorette hand out some of their favorite "tastes" to all the cute singles. These can be gum, suckers, etc.
Give guests a pack of Tums for the next day… a night of tasting might need it. 😉 
4. Diamonds are a Girl's Best Friend
Bachelorrette parties are a time for girls to be with their best friends. Why not add in a little bling? 
Sprinkle "diamonds" throughout the evening with fake, BIG jewels and crystal clear beverages. 
Start the evening with a champagne flight at a local wine bar.  
5. Like a Lady
Have a bachellorette party with some "mad men" flair. Have all the ladies dress up in their favorite "lady-like" looks. 
Serve classic cocktails like the Manhattan, Classic Martini, Old Fashioned or a Cosmopolitan.
Shower the bride to be with classic garter belts and thigh highs.
Some other ideas:
Have a bachelor party—For a bride who loves to live it up like the boys… go golfing, go to the races, enjoy a cigar, drink your whiskey neat.
Hike— I just recently went to a bachellorette party for a friend who loves the outdoors. The guests hiked up a trailed to be greeted with a sweet picnic of bread, cheese, and wine.
Girls Night In— Always fun… hire a massage therapist and enjoy an evening of relaxing at home.
What are your favorite bachelorette party themes? I hope this list helps inspire some to throw an extra special event! I'd love to see photos if you use any of the above themes!

If you've been reading this site for a while you know that I help run the Portland Bloggers' Meet-Ups here in Portland, Oregon. For the past several months I've been using e-mail, twitter, and this blog to help keep people informed about the meet-ups and other events/news. But, not anymore! 
I've been working on this idea for months now and finally it is up and running.
 (This project came to fruition due to the help and drive of Suzannah from
Adventures in Dressmaking
. I could not have done it without her help!)
So, while I'm sure to add photos of future events if they relate to our party theme here at A Well Crafted Party, most of the updates and reviews of future meet-ups will stay over at the new site. 
~*~ 
And, if you are thinking that I'm crazy for starting ANOTHER site when I am currently taking a break from both of my personal blogs… well, you are right. But, I thankfully am not working on this site on my own. Currently the site is being ran by two people, but we are seeking contributing authors, guest posters, and bloggers from the Portland-area to feature.

Hello all! Just stopped in to share a project that I've been working on for a while… the Portland Blogger's website is now up and running!
Go check it out!