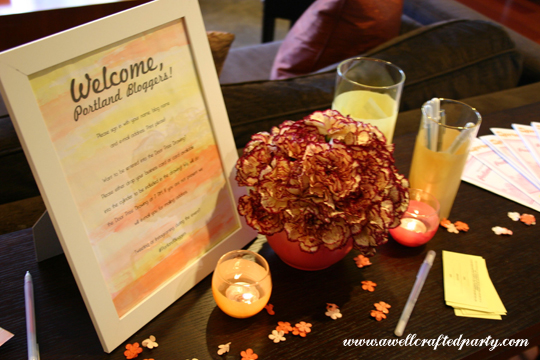 I love real, fresh flowers at events.
 I think they just really give an event a little something extra. 
Sometimes I go the super market route and buy a pre-made bouquet and throw it in a vase as nicely as possible. If I am feeling flush (which, is usually about never) I'll go to a florist and buy a pre-made centerpiece. I appreciate a good florist's work more than the average person…
but, this blog is called "A Well Crafted Party" for a reason.
 I love crafting up inexpensive solutions to party decor—that includes floral decor.
When thinking about Spring decor for the Portland Blogger's Meet-Up I really wanted to have some beautiful flowers filling the room. I spent a large portion of time working out the costs of the amount of flower's I'd need for the event. For even the simplest arrangements I was looking at quite a bit of money AND limits on the type and amount of flowers I could find at the market. 
So, enter in the wonderful sponsorship with
FiftyFlowers.com
. I contacted FiftyFlowers because I'd used there services for
my sister's wedding
and fell in love with the quality of the flowers, the
wholesale flower
prices, and the excellent customer service we received.
FiftyFlowers.com provided the Portland Blogger's with the beautiful
yellow and purple carnations
shown above. During the ordering process I had a question about the flowers and was surprised to find out that the site had on-line chat support. My question was answered in exactly 1 minute of waiting. Then, soon after putting in my order I received a phone call from FiftyFlowers.com explaining where my flowers were shipping from, making sure my order was correct, and explaining the best way to take care of my flowers. Oh, and did I mention, there was free shipping? 
The flowers arrived on Thursday.
Not even thirty minutes after the flowers were delivered did I receive a call from FiftyFlowers asking me how the flowers looked and to tell me how to take the best care of the flowers. I snipped the ends of the flowers and placed them in a large bucket of water. 
The day of the event (two days after receiving the flowers) I got all the tools together to create my centerpieces. These are very simple arrangements that can be adjusted for your needs.
Tools:
—1 Vase
—Flowers 
(I went with all the same kind of flower, but you could also do this with a mixture of blooms)
—Water
—Good Shears
Optional: You could use floral foam or floral tape to stabilize your arrangements. I opted to use many blooms crossing their stems to stabilize the arrangements. 
They stayed together traveling to and from the event!
Step 1: Fill vase with water.
Step 2:  Cut stems to just above the top of the vase. Arrange in a circle, crossing the stems. 
Step 3: After the perimeter is set cut a few more stems just a bit longer than the previous stems and begin filling in the holes of the arrangement.
Step 4: Stand back and admire! The great thing about carnations is they can be a great arrangement on their own, or they make a beautiful filler flower. This same arrangement could be brought to the next level with the addition of some
beautiful roses
.
All together they are pretty eye-catching, don't you think? 
Want to win some flowers? 
FiftyFlowers.com has a monthly contest on their facebook page where you can win $500 worth of flowers! A new winner is picked EVERY MONTH!
Full Disclosure: The Portland Bloggers were gifted flowers from the above company to help support the Portland Bloggers. The sponsor was given signage at the event.  Personally, I have a journalism background and don't believe in exchanges of promises of positive reviews for products. I will not do that on either of my blogs nor suggest that other bloggers do that. I contacted this company personally because I believe in their product and have experienced great service with them. I hope you enjoyed this DIY floral arrangement post and think about FiftyFlowers.com next time you are looking for flowers for your events because I had great service from them!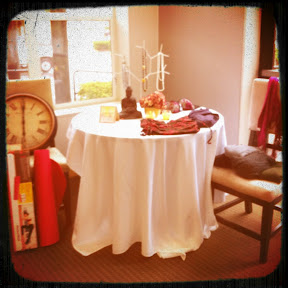 Today I spent the day working on a clothing swap party. Basically, everyone brought clothing, accessories, or home goods that they no longer wanted and swapped it for new-to-them items. We had a good evening and I got some cute stuff. I think everyone else got some cute items as well. More photos and how to posts coming next week. In the meantime here are some iPhone pics:
– Posted using BlogPress from my iPhone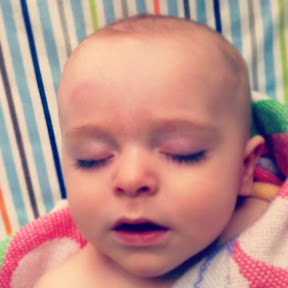 The one thing I feared the most when they told me I was having a boy happened today. Today my rough and tumble baby really hurt himself. Not just a face plant in the carpet or a small bump on his noggin. Not even a tongue biting (happened last week). Today he tried standing while playing with a box, tumbled over the box and smacked his head HARD on the TV stand.
The coffee table has pads on the corners. The sockets have covers. The kitchen a gate. But, he somehow hurts himself on the tiny ledge of the TV stand.
Scariest noise I've ever heard. Then, seeing a dent in his perfect little head- an immediate bruise. My heart stopped for a moment. His scream was the worst I've heard yet (and, he has been teething for a while now).
Moments later he was back to smiling and playing. The nurse I talked to seemed to think he was okay, but gave me things to look for just in case. His naptime I checked on him every ten minutes. Tonight we are sleeping close to him.
I'm pretty sure he is just fine. And, I'm pretty sure I have a lifetime of worry ahead of me!
X during his nap with a bump on his head.
X after his nap–happy as a lark!
– Posted using BlogPress from my iPhone