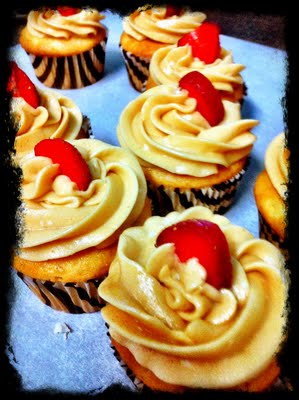 *This post was orginally posted on
A Well Crafted Party
*
During this pregnancy I really have craved one thing more than anything else:
Before getting pregnant I could have gone through one jar of peanut butter about every 3-4 months. Nowadays we buy a new jar weekly.
So, when making a batch of cupcakes I thought it would be fun to make a cupcake that reminded me of a really good PB&J sandwich. And, let me say… these were the best cupcakes I've ever made. 
Peanut Butter & Jelly Cupcakes
Ingredients:
Cream Cheese (2 boxes) Room Temp
Smooth Peanut Butter (4 Tablespoons) Room Temp
Butter (1 stick) Room Temp
Powdered Sugar (2 Cups-make sure it is fresh!)
A little bit of milk or cream
Jelly in your favorite flavor… I went with Strawberry
Strawberries for garnish
* If you use a basic cake mix try making it a little more special by adding in some extra vanilla extract
Tools:
Cupcake Tin 
Cupcake Liners
Piping Liners & Tips
Small Cylindrical Object or possibly a spoon I used a Piping Tip
Big Bowl & Hand Mixer 
(or… if you are lucky enough to have one a stand mixer works great)
Directions:
1. Bake Basic White Cupcakes according to your favorite recipe.
Let cool while you make your delicious peanut butter frosting!  
2. Make frosting by mixing together cream cheese, peanut butter, butter and powdered sugar. Add in milk or cream if needed to get desired consistency. This takes a LOT of mixing so be patient… it'll be worth it. Then spoon into a piping bag fit with the tip of your choice. I used a larger star-shaped tip.
3. Take your cupcake and cylindrical object of choice and get ready to make some holes in your cupcakes. We are going to be filling these holes.
Cupcake and a piping tip that will be used to break into the cupcake
Use cylindrical object to put a hole in the cupcake's center. And, by hole I don't mean go out the other side… just need a big empty space in the middle of the cupcake.
Making the Hole
See how perfect it came out!
I was going to use the insides of the cupcakes to make cake balls… 
but, instead I ate them. They were very tasty.
4. Fill holes with the jelly you have chosen. 
The jelly can be added using a piping bag… but, I just used a spoon.
5. Pipe on peanut butter frosting and top with a strawberry for garnish!
(Or raspberry if you went with a raspberry jam…etc.)
YUM!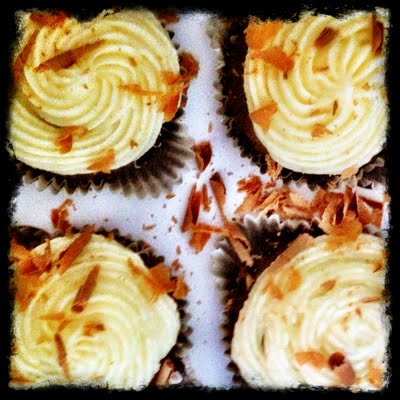 *I'm a big fan of cupcakes.*
They are the perfect ratio of cake to frosting for me. I really love collecting cupcake liners and creating fun cupcake combinations… So, today I'm going to give you recipes to two cupcakes I made this year for my husband's birthday.
First up: Mocha Cupcakes!
*This post is a little picture light as I forgot to take step by steps of this recipe. But, it is easy and I've got some great links for you!*
Whenever I make a basic chocolate cake I look to Martha for a good recipe.
The following includes the changes I made to give them more of a Mocha flavoring.
—1 cup Dutch Process Cocoa Powder
—1/2 cup plus 2 tablespoons brewed coffee
—3 3/4 Cake Flour (Martha calls for sifting but I rarely sift)
—1 1/4 teaspoons baking soda
—3/4 teaspoon coarse salt (I used ground sea salt)
—3 3/4 sticks butter (softened)*
—2 3/4 cup sugar (I use baker's sugar because it is a little more fine)
—1 Tablespoon + 1 Teaspoon Vanilla Extract (only the real stuff people!)
— 5 Large Eggs (Room Temp)*
—1 1/4 Cup Whole Milk flavored with coffee beans**
* I don't do microwaves and like most people (I assume) leave my eggs in the fridge… so, when I start getting out ingredients and getting ready to put all these things together I always set my butter and eggs out on the counter first. Hey, while you are at it go ahead and set more butter out because you'll need it for the yummy frosting.
** This is the secret to making these puppies taste like a good cup of Mocha rather than just a delicious choco cupcake. I learned how from the Cupcake Project.
(yep, an entire blog devoted to cupcakes. swoon.)
Pre-heat oven to 350 degrees. Put liners in cupcake tin.
1. Mix cocoa and hot brewed coffee in a bowl until smooth. Let cool.
2.
Mix flour, baking soda, and salt into a medium bowl.
3. In a large bowl beat butter and sugar with a mixer on medium speed until pale and fluffy, 3 to 4 minutes. Beat in vanilla. Add eggs, 1 at a time, beating well after each addition and scraping bowl as needed.
3.
Pour coffee flavored milk into cocoa mixture in a slow, steady stream, whisking until smooth.
4. With mixer on low speed, add flour mixture to butter mixture in 3 additions, alternating with cocoa-milk mixture, starting and ending with flour mixture. Use immediately.
Pour into cupcake liners. I like to pour them in about 2/3 full to get a flat top to put yummy frosting on… but, I'm not great at this and sometimes I get a rounded top. Check out this awesome post by Kelly Neil regarding
filling cupcake liners
!
Bake approximately 22-25 minutes. This will depend on your oven and the weather most likely… I always check after about 20 minutes and see how they are doing. If in doubt at all stick a toothpick in them… if the toothpick comes out clean they are DONE!
Cream Cheese Vanilla Frosting:
I am LAZY with my frosting. I do make it from scratch…. but, I stay away from any frostings that call for cooking things or that deal with egg whites. Give me a good butter frosting. yum. This frosting is a basic butter frosting with the addition of cream cheese because I don't like my frosting too sweet and it pairs really nicely with the mocha goodness of this cupcake. Well, and everything is better with cheese.
—2 packages of cream cheese (8 oz each)
—1 stick of softened butter
—2 cups powdered sugar (the fresher the better)
—1/2 teaspoon salt (or to taste)
*Another yummy way to do this is to substitute the vanilla extract for vanilla bean and 1 tsp. heavy cream. So tasty!
Mix all ingredients for what seems like forever, until it is a smooth, frosting-like consistency. 
Put in piping bag and pipe away! 
After putting on frosting I then shaved some milk chocolate onto the top for garnish. 
Another great garnish would be chocolate covered espresso beans.  
I'd love to know if you end up making these!!