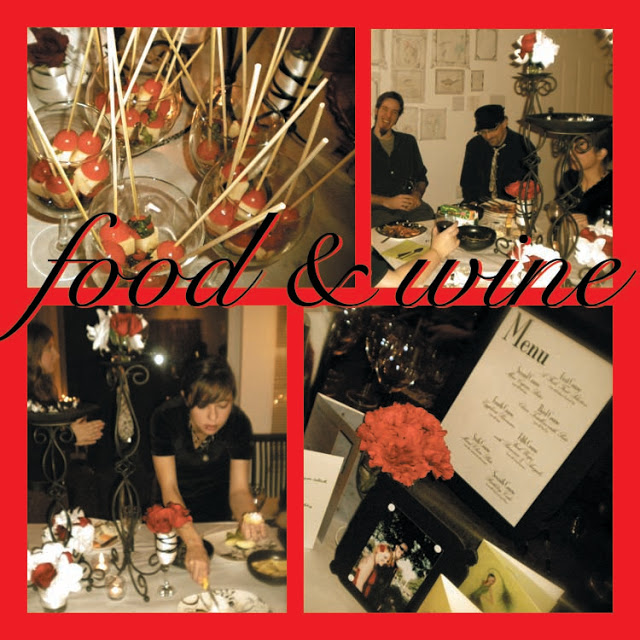 To continue the wine tasting theme I wanted to post my birthday party from last year: A Wine Pairing Party in Black and White.
We didn't want to go crazy so we used only things that we already owned for decorations and spent our birthday budget money on good food and wine. We had a seven course tasting menu that lasted throughout the entire evening.
The menu including a fruit plate, caprese skewers, tortellini with pesto, eggplant parmesan, steak wraps, cheese plate and a black forest cake. Each course was complimented with a different delicious wine. With this many courses each wine was served in approximately 3 oz pours so that everyone could safely enjoy each wine.
I had a roll of white paper and had seen  a beautiful hand drawn wallpaper somewhere on the internet so I got the idea to hand draw all the decorations for my party. This was a much LARGER job that I had first anticipated, but I was thrilled with the results.
Hand drawn picture frames, bookshelves and furniture lined nearly every surface of the party space. I left most of the frames empty except for 5 frames that were drawn on one main wall. In those frames I drew goofy cartoons explaining how to taste wine with food using the five senses.
To continue the theme of picture frames throughout the party we filled picture frames with a "thank you" photo that would later be replaced with photos the guests took in the photo booth at the party. The only regret I have about this favor is it tended to look more like a shrine to all things "Jenni" rather than a great display of party favors.
The photo booth was a big hit at the party. With everything else being black and white we hung red curtains up for the photo booth's background. It made the whole room pop. I cut out a black frame from foam board and it made a fantastic prop.
The last bit of entertainment was actually held in the decorations themselves. While guests waited between courses they used the colored pencils and crayons to fill all the empty frames that filled the walls.
By the end of the party all of the frames were filled and I had my choice of art made by all my friends.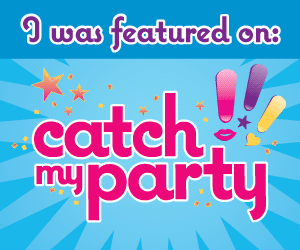 My Bewitching Ball is being featured as
Catch My Party's
Catch My Party is a party sharing website with gobs of inspiration from party throwers out there just like me and you. You can submit parties for all to see (or just select people). I'm excited now that not only one but two of my parties have been featured as the party of the day.
If you head over to Catch My Party today then you will see my party (along with two other fantastic parties) scrolling along on the front page. Otherwise you can visit the party directly by clicking the link below. 
Love the idea of a wine tasting but can't get out to the wineries? Throw a tasting at home! Grab a few bottles and some great snacks to pair it with and you have yourself a PARTY! But, just in case you need a little help or inspiration for the wine tasting I've thrown together a few items for today's Friday Finds.
A good book can certainly point the way to a fun event. 
My home library is full of great cookbooks, event books and everyday novels that inspire me constantly. Below are a few of many great books about wine and paring. I personally own a couple of them and have longingly looked through the others at the bookstore.
Clockwise from top left: What to Drink with What You Eat: The Definitive Guide to Pairing Food with Wine, Beer, Spirits, Coffee, Tea – Even Water – Based on Expert Advice from America's Best Sommeliers; Wine Tasting Notebook by Steve De Long; De Long's Wine Grape Varietal Table; Janis Robinson's How to Taste: A Guide to Enjoying Wine
Side Note: "What to Drink with What You Eat" is a long-winded read. But, it really is the thing to inspire great wine and food pairings. It is also great for inspiration for foods that will go great with drinks like milk and water. It's amazing!
Now, the supplies are really the thing for putting an everyday wine tasting over the top. You don't have to have fancy glassware but I highly suggest stemmed, glass wine glasses. Below are some of the fun items I either have and use frequently for tastings or
WANT so very badly
.*
Clockwise from top left:
Ikea's SVALKA Red Wine Glasses $4.99/6 —Okay, seriously, I use glassware in almost all of my parties. I am not a fan of the platic cup. Ikea came to my rescue with their SVALKA wine glasses– at around five dollars for half a dozen I can buy as many as I need for my many parties and not feel a bit worried when one is broken.
The Wine Tasting Party Kit by Chronicle Books— I've been wanting to do a blind tasting for a very long time… but, I'm waiting for Santa to drop this dream kit off in front of my Christmas tree before I try to tackle it.*
Glass of Pinot Stationary from Le Belle Vie Designs on Etsy — A hand written note on this stationary would be the perfect invitation to a wine tasting.
Wine Tasting Drink Charms by Clinks— When you have a lot of glassware going around a party you need drink charms. These simple, yet adorable charms would be a delightful way to get guests mingling as well as keep drinks with their owners. "Have you seen the drink that say's 'Meeny'?"
Wine Country Appetizer Plates from Uncommon Goods— Serve the nibbles on something scrumptious. These great wine themed appetizer plates are the perfect size and fit the theme beautifully.